Relocation of Prescot Street restaurant after 25 years sees east London welcome chef to quayside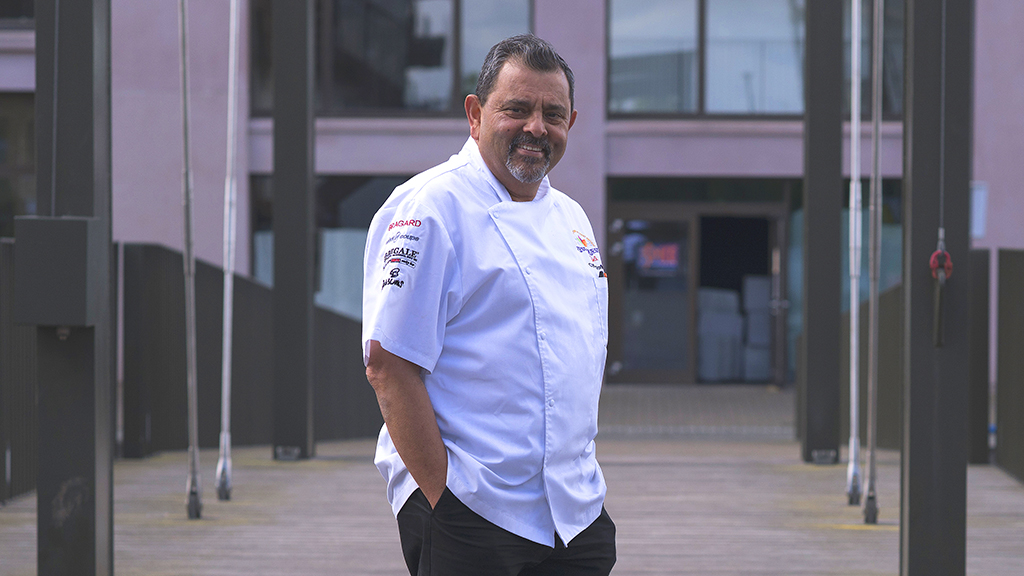 Aldgate's loss is the Royal Docks' gain. After more than a quarter of a century operating in Prescot Street, Cafe Spice Namaste – the flagship restaurant in Pervin and Cyrus Todiwala's family business – has been forced to relocate, after losing its lease to a new landlord with an eye on redeveloping the venerable red brick building it occupied, as offices.
With the pandemic biting and hospitality reeling, the couple initially looked at opening on Commercial Street in nearby Shoreditch before a former employee, living in east London, got in touch.
"She said: 'Why don't you come to Royal Albert Wharf? It would be nice for a little cafe'," said chef patron Cyrus. "So we looked at it and decided in the end to establish a wider business.
"There are lots of plans in my brain, which gradually we will put into action and, fingers crossed, we will succeed."
At the heart of everything will be a fresh incarnation of Cafe Spice Namaste, set to open in August and located on Lower Dock Walk, less than 10 minutes on foot from Gallions Reach DLR.
While the setting – overlooking the waters of Royal Albert Dock towards the University Of East London, Excel and London City Airport – provides the backdrop, there's little doubt that the food will be the most potent draw.
It would be easy to fill the remaining space on this spread by simply listing Cyrus and Pervin's many achievements – not least holding a Michelin Bib Gourmand for nearly two decades, which would make the new restaurant the farthest east in the capital (by some distance) to trouble the guide, should it be similarly recognised.
But rather than cover the same ground as a recent episode of BBC Radio 4's The Food Programme – which has already done a great job of distilling and presenting the background to the Todiwalas' current situation (including their notice to quit their old premises, Cyrus' successful battle with cancer and the story of Bombay Duck) – we're going to focus on the future.
Cyrus intends to start things off with a few informal evenings for those signed up online to his Greedy Pigs Club before opening the venue officially.
He said: "We always had a splash of colour and I think that will come here too. This space is a lot more modern, with big windows, so it will feel different, but we want to bring back as much of the feel of the original Cafe Spice Namaste as we can. The food is a variety of Indian cuisine, not stuck to any one region or area, though we do have an emphasis on my own style of cooking which is Parsee and we do a lot of Goan food because of my background working there for several years. We try to bring in as much of the sub-continent as possible. At the new restaurant, the classics that our regulars will be familiar with will remain – the rest will evolve.
"We will do specials around seasonal British produce and we're also thinking that, in this area, it may be easier for people to have more shared plates, which will be small plates so we can present a bigger variety and bring more choice to the menu. We'll also hold supper-club style events once a month that people can register for online."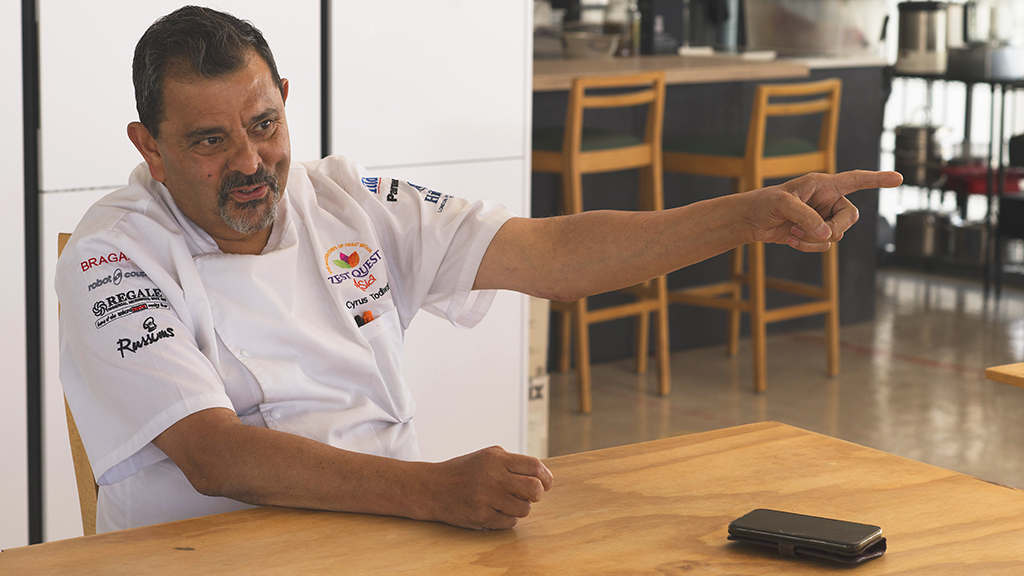 Without the goodwill and support of its loyal group of regulars, it's likely Cafe Spice Namaste wouldn't be coming to the Royal Docks or anywhere else, for that matter.
It was hit especially hard by the pandemic because of its location in the City – losing almost all passing trade – and never having focused much on takeaways, so a group of three customers led a funding drive, raising nearly £50,000 to help with the move.
Cyrus said: "That felt really amazing – where else would you have customers willing to put money in and help you relocate and re-establish yourselves?
"That money gave us a big stepping stone. Hospitality has been decimated and we were certainly not alone in many of the difficulties we faced, but we had other problems and issues as well. We weren't able to benefit from local sales as the City was deserted."
His other restaurants, based in Hilton hotels, including Mr Todiwala's on the Isle Of Dogs and one near Heathrow, remain closed too, victims of business models upset by Covid-19. In the short-term, then, it's up to Cafe Spice Namaste to be the lead in the charge for recovery.
During the photoshoot for this piece, a service boat was visiting Royal Docks, loading up on fresh water to supply a recently arrived superyacht in central London. Having not used the craft in a while, its crew were allowing the excess to gush through the system and down into the depths below to Cyrus' visible discomfort. The spectacle of so much water apparently going to waste was a tough watch for a man from Bombay – a visible sign of one of the key ingredients in his makeup.
Perhaps one of the reasons the Todiwalas were able to find support in the community is that Cyrus has been persistently outward looking, keen to get deeply involved with the creation of the produce he uses and to ensure as light a touch as possible on the planet.
"I grew up in an area with acute water shortages and no electricity for most of the day," he said. "I wish I could get more people to see how the culture here is so wasteful – nobody considers what happens to things once they've been put in the bin.
"We started recycling bottles in 1992 – nobody had heard of it then and nobody wanted to do it, but I just couldn't bear the thought of throwing them away."
He's also run farms producing pigs and poultry as well as agricultural plantations of pineapples, coconuts, cashews and mangos. More recently, he was the first chef ambassador for the Rare Breeds Survival Trust, presenting Mudchute Park And Farm on the Isle Of Dogs with its approved status in 2017 and in June took over from the late Albert Roux as group chef ambassador with The Clink Charity, which delivers training to inmates in British prisons. He's also in talks with a farm project in Greenwich to supply Cafe Spice Namaste with seasonal vegetables to minimise food miles.
As part of his latest venture he is also hoping to establish an academy to train young people at Royal Albert Wharf.
"We will start with one-off classes for four hours and it will grow slowly," said Cyrus. "But some people will want to do a week and, if there's interest and demand then we'll build that in.
"As the restaurant opens it will be a stressful time – it's always difficult to find your feet, but we've been at this for many, many years and so we're prepared, compared to the newer operators.
"I want this to be a place that the community accepts, that draws people to us, supplying their needs at different levels.
"One gentleman living across the water has already asked us to supply a week's menu to him every seven days, so we're doing that, and other people may want the same. If people sign up to our newsletter then they'll get all the information about what we're doing, what we're developing. There are loads of ideas that are brewing and, when we are established, we can start to implement them.
"I've had a great life and a good career so far. It's been hard, but that's because I take on extra things, thinking about how I can help the community and what I can do for young people. But if I'd done it differently I probably wouldn't have learned as much as I have."
Read e-editions of Wharf Life's print edition here
Subscribe to our regular newsletter here