Managing director James Porter outlines what the new brand will bring to the fast, casual dining scene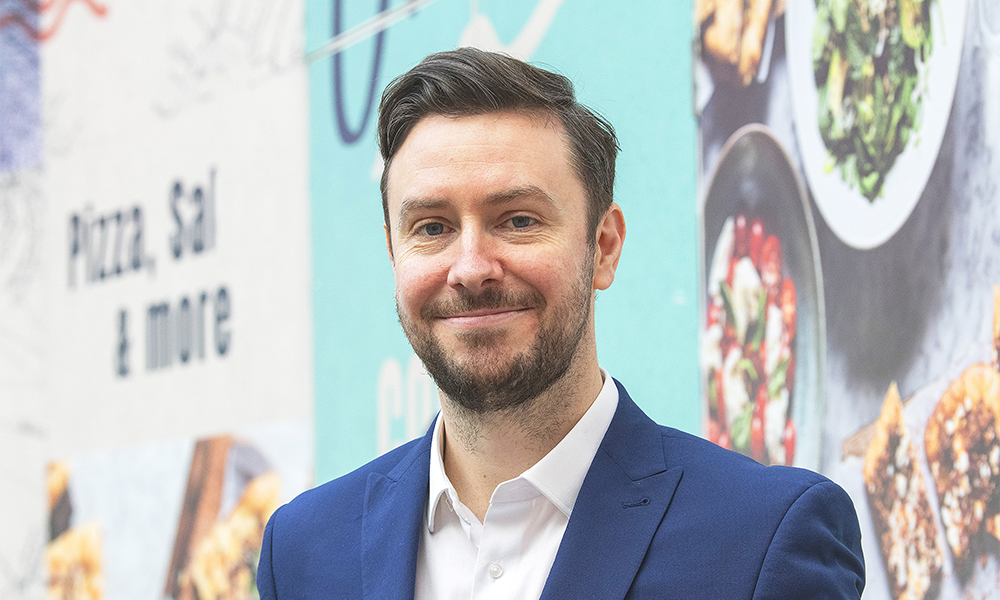 Subscribe to Wharf Life's weekly newsletter here
James Porter is smiling. Canary Wharf's Cabot Place is about to become home to the first branch of a new restaurant chain and its managing director can't wait for the doors to open on December 6.
"We're very excited to bring our new concept here," said James. "Gallio is where casual dining meets the modern world.
"Guests can order at the till or at their table digitally, which has become much more common now.
"The concept was thought out before Covid, but the pandemic has helped the world's IT accelerate as it has become a necessity and that's great for us because it helps our staff focus more on the hospitality side of things.
"Gallio is an independent brand, but we're part of a wider group of luxury restaurants.
"When guests walk through the door, they should feel that connection to quality, that we're slightly different from other casual fast dining establishments.
"Hopefully their first perception of the business will be: 'Wow. I can't believe I'm getting this product in this place at this price.
"People should feel they're getting as much value from the restaurant environment as from the food itself – we don't want anyone to feel they're less comfortable because we're serving food to them quickly or that they have to leave immediately."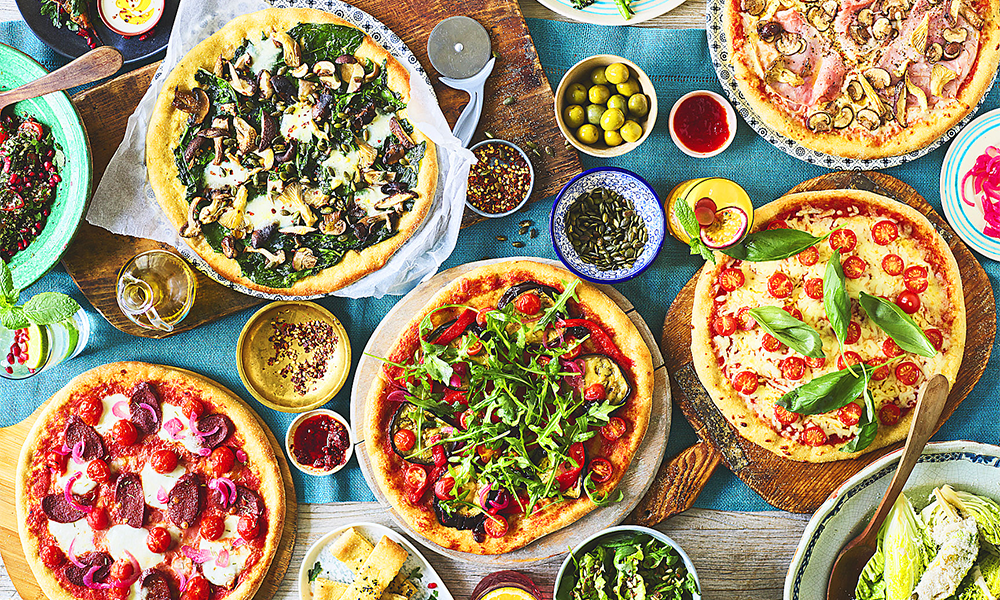 Having started working in a restaurant to pay the bills while studying business and marketing at university, James stayed in the industry after graduation.
Having spent most of his career in management for high street casual dining chains, Gallio represents an opportunity to start at the beginning.
"I've been in charge of a brand before but in slightly different circumstances," he said. "That was to do with the acquisition of a brand and maintaining and sustaining it in a different way.
"I've brought a lot of that experience here as well as those with the bigger brands I've worked for over 14 years including one company that went from a handful of sites to more than 50.
"For me this is going back to the future – back to the process in a different role and taking all that learning with me."
Gallio has been three years in development and promises to bring something new to the Canary Wharf table.
"It's a Mediterranean restaurant and that's a broad term," said James. "When people think of the Mediterranean, they tend to think of Spain, Italy and Greece, but there are 21 countries which border that sea and our menu represents all of them.
"Pizzas are at the heart of our concept, but even those are different because we bring in influences from other countries, such as Greece, Turkey and Lebanon as well as North Africa.
"Obviously, when you have to have a Margherita, but the other pizzas will have toppings like spiced lamb, grilled aubergine and various other middle eastern ingredients, which you wouldn't find in an Italian restaurant.
"We're trying to bring those diverse flavours into our pizzas. Our bases aren't traditional either.
"We've come up with our own unique recipe using grains – it's more nutritious and high in fibre and protein – so customers can feel a little less guilty when ordering."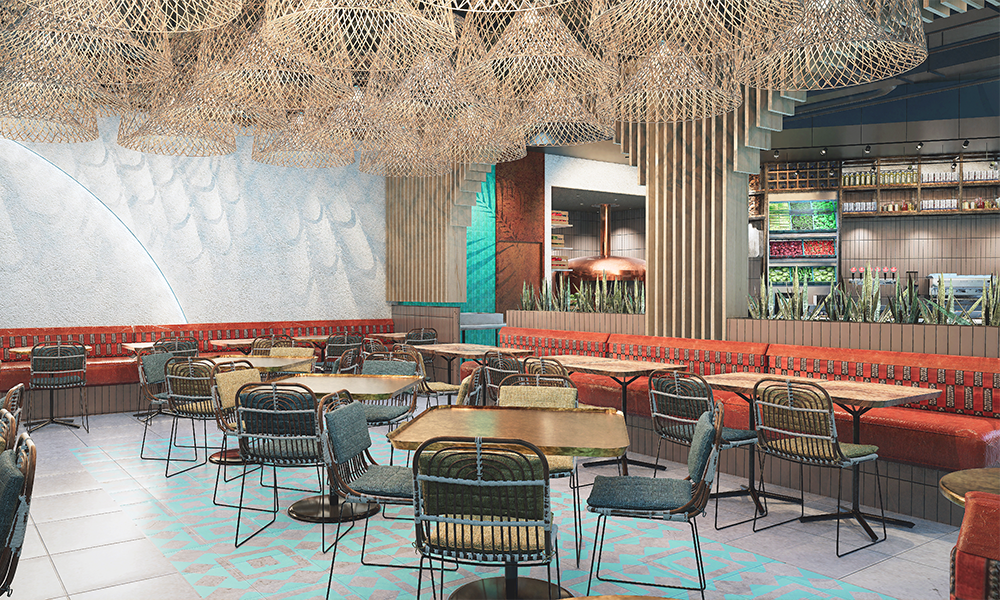 With a tagline of "pizzas and salads" the latter is another major component of Gallio's menu.
"Like a lot of restaurants, there needs to be something that hauls people in," said James.
"The majority of people like pizza, they know what it is, and we've got a bronze oven, which is a real show-stopper. We'll also be baking our middle eastern flatbreads in there.
"The other part of our concept is salads, made fresh everyday, and built as you're ordering, so, whether you're Vegan, vegetarian or a carnivore, you can select how you want the dish to arrive.
"They're all made in front of our guests too, so people can see the actual product instead of it coming from a kitchen in the back.
"That means they'll see how good the salad is, how fresh ingredients are and they can have it their own way.
"Our menu is seasonal so when developing the concept it's all been about playing with different ingredients and supplies – working out what ingredients we can get and when.
"Then it's practise and repeat, asking whether we can make the pizzas healthier and more nutritious and work with the vegetables we're getting.
"As the pandemic approached we were getting ready to launch the brand and open our first restaurant, but we ended up temporarily operating out of central London units and delivering food to people.
"We were refining our menu in the public domain, taking feedback and understanding what guests wanted as well as what they expect in terms of delivery and how our products stood up to travel.
"Most brands wouldn't have had that amount of time to trial what they want to do but we've used this time to really get to know how best to make the products we're selling.
"Now that we're going into our first bricks and mortar site, we've been able to take that feedback and add to it, expanding what we were doing by offering more dishes than we were selling during the trial period."
Following the unexpected period of extra development, there's a certain amount of pent up excitement to finally be opening in east London.
James said: "Canary Wharf will be a flagship venue for us – to be able to say that we're here is fantastic.
"It's a place that everyone knows so it's an important area for us as a business to have a footprint in, and it's always been the area that the economy revolves around so opening up here will be good.
"We plan on growing, certainly throughout London and the UK and we also have plans to develop internationally.
"But the first thing to do is to ensure Canary Wharf is a success and that's not just from a business point of view.
"If our guests don't like it then in the end we won't go anywhere so our focus is that everybody here enjoys themselves. We want any feedback about the brand so we can take it on board and that will show us where we want to go in future."
Hungry Wharfers (let's face it, that's basically all of us at some point) should get their diaries out now and ensure they don't miss out. Gallio is set to officially open at 11am on December 6.
Customers can expect 100 free pizzas given out via the brand's social media feeds from 11am on December 8 and 9. Find out more on Facebook and Instagram.
In the New Year, there will also be a Hot Dinner Offer, with 50% off pizzas for diners visiting the restaurant from January 10-16.
Opening hours from launch until January 3 will initially be 11am-10.30pm.
Personally, I can't wait to immerse myself in the flavours of Moroccan-spiced chicken, lamb kofte and rose harissa.
Read more: Black Rock reinvents the whisky bar at Republic
Read e-editions of Wharf Life's print edition here
Subscribe to Wharf Life's weekly newsletter here