How GoBoat is set to hire out craft for a tranquil cruise among the Wharf's towers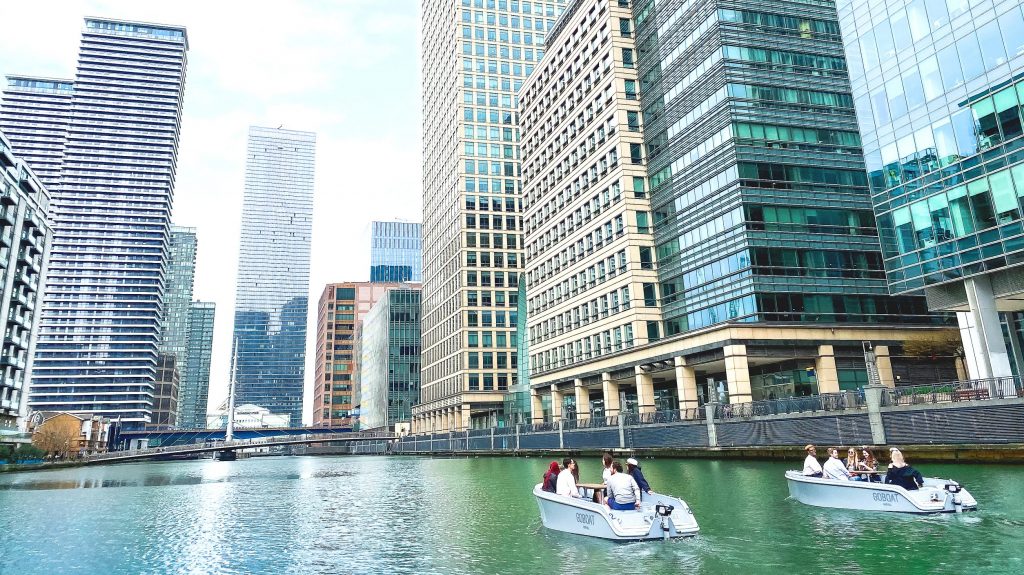 In addition to being the first day when hospitality venues can welcome guests back inside, May 17, 2021, is the date a new attraction is about to set sail in Canary Wharf.
A quartet of low-slung sleek grey GoBoats has already arrived in West India South Dock in preparation for the launch, which will see the company renting the craft from a base at Wood Wharf.
Inspired by an enjoyable time on the water during a stag-do in Denmark, co-owners Grant Sweeney and Julian Wootton gave up decade-long careers in management consultancy to start their own business from scratch.
Founded in 2017, GoBoat already has operations on the Regent's Canal at Paddington and on the non-tidal Thames in Kingston.
Grant said: "We're an eco-friendly, self-drive boat hire business. Our boats are made from predominantly recycled materials and are powered by electric engines. We're all about getting people onto the waterways of the UK and allowing them to have a fun time with their friends and family.
"Canary Wharf will be our third location and we're super-excited about being here – we can't wait to open and to get people onto these wonderful waters in Docklands."
Initially the company will operate four boats, eventually rising to eight. GoBoats seat up to eight people and are available to explore the West India Docks and Blackwall Basin, with visitors booking either one, two or three hours for £89, £129 or £169 respectively.
"The experience is all about social interaction," said Grant. "We view our boats as a platform to enjoy the city – it's about giving our customers a different perspective on a part of London that they might already know but haven't seen from the water.
"Each boat has a designated captain and they are responsible for steering. Customers go straight out on the water after a relatively short handover where they learn how to drive and steer.
"Typically our customers bring a picnic down. They are allowed to have a couple of alcoholic drinks, but no more than that and the captain remains sober.
"Essentially, it's a fun, social experience and I think there's a real demand for that now as we, hopefully, come out of the pandemic. Being outdoors, it's quite a safe environment and it provides happy memories for our customers.
"I hope anyone who takes a journey with us feels relaxed. A number of studies have shown that being on the water is good for people's mental health.
"We see it all the time – as soon as our customers get on the boat, there's a different vibe – almost like a sigh of relief.
"When boats pass each other, everyone waves. You wouldn't do that on a footpath or in a car, but on the water it's different.
"Everything about our business has been designed to complement that, so the slow pace of life on the boat is deliberate, because we want people to be calm and relax and talk to one another. They're limited to 4mph by design for a reason.
"It's also why the boats have been designed with the picnic table in the centre, so that guests sit around the table opposite one another, and it encourages conversation, rather than looking forward and not talking to each other or using their phones."
Sustainability was a key consideration when Grant and Julian set up the business and they're always looking for ways to make their operation more environmentally friendly.
Grant said: "About 80% of each boat is made from recycled plastic bottles and the wood that is used for the picnic tables in the centre of the boats is from sustainable sources.
"The engines are electric, so there's no environmental pollution and no noise pollution as they cruise over the water.
"We are a very environmentally friendly business and, in terms of the customer experience, the lack of noise from the engine encourages conversation.
"We are very proud of our green credentials and we want to carry that forward and try to improve that at every opportunity. We are currently looking at ways to reduce the amount of plastic that our customers leave on the boats, for example."
That's no small task considering the success of the business so far, which in four years has taken the owners somewhat by surprise.
"We didn't anticipate that it would get so big, so quickly and become so popular," said Grant.
"We estimate that we had about 100,000 customers last year across both of our sites. We're really proud of our team for achieving that.
"We're not sure how many we'll get in Canary Wharf initially, but we think it will be a sizeable number."
Elena Istode will be running things on the ground as GoBoat location manager for Canary Wharf.
She said: "I started in 2019 with the company as a crew member and then came back for a second season as a supervisor.
"Sailing a GoBoat is very safe, although we will recommend everyone wears a life jacket just in case as the water is deep and quite cold. Everything around here is very well managed, so there's very little danger.
"We can't wait to welcome our first customers and the most important thing is that we'll be selling ice cream from Hackney gelato."
Other refreshments will also be available at GoBoat's kiosk and the firm is currently on the hunt for more locally-based food and beverage partners to extend its offering to customers.
Grant added: "We're really excited to be in this environment. We had conversations back in 2018 with Canary Wharf Group and, at every step of the way, we've had really positive support from them – it's been a joy really.
"We feel the water in Docklands needs more animation and it has always been our ambition to come here. We think it's such a stunning part of London's waterways and it just seems so obvious to us to do this.
"The landscape here is unparalleled – it gives you that urban experience, which you don't get at our other two sites. Each one of them is quite a different experience."
Read e-editions of Wharf Life's print edition here
Subscribe to our regular newsletter here