Co-founder Laura Mimoun explains how she and husband Denis Dahan came up with the brand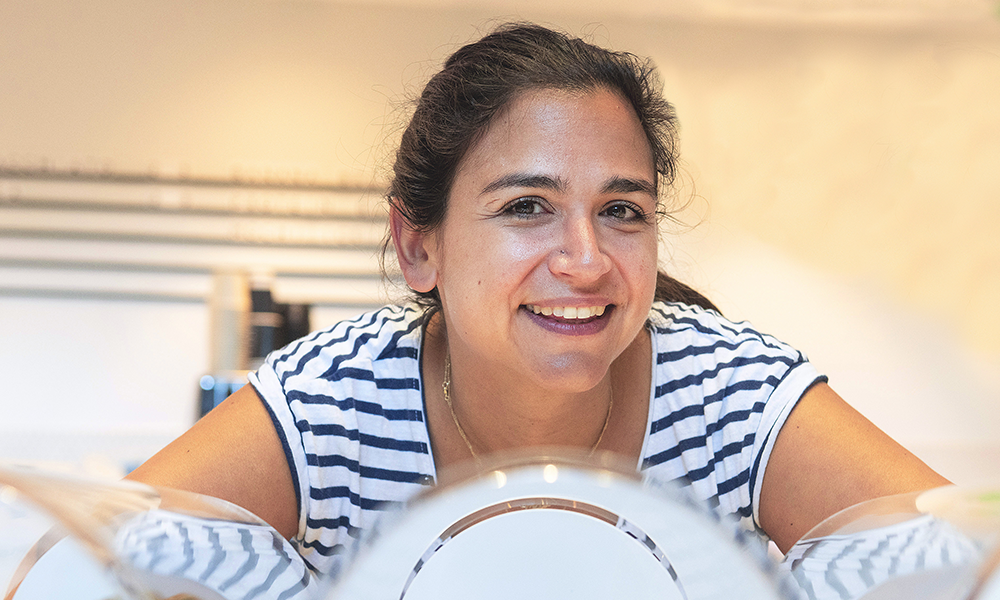 Kaleido sets itself a little bit apart. First of all, its Canary Wharf branch – the latest location to open and the third in a growing chain – is tucked away off the main stretch of mall that joins Canada Place to Cabot Place, round the corner and into the lower floor of One Canada Square. 
When Crossrail opens (although we've given up betting on when that will be), the shop will be on one of the main routes into the estate proper. But those days are in the future and Kaleido is slowly building by word of mouth and tempting visitors to nearby Santander.
It's also an outlier in terms of design – arranged into an angular unit that used to house ATM machines, it doesn't so much invite passers-by in as push out into the space in front of it with its wares proudly displayed on a bright island unit.
Bright circular murals depicting some of the ingredients used in its products adorn the walls – bright, playful colours and graphics are the thing here. And that's a choice too because it communicates something about the brand – that it's approach to salad stands out from the crowd.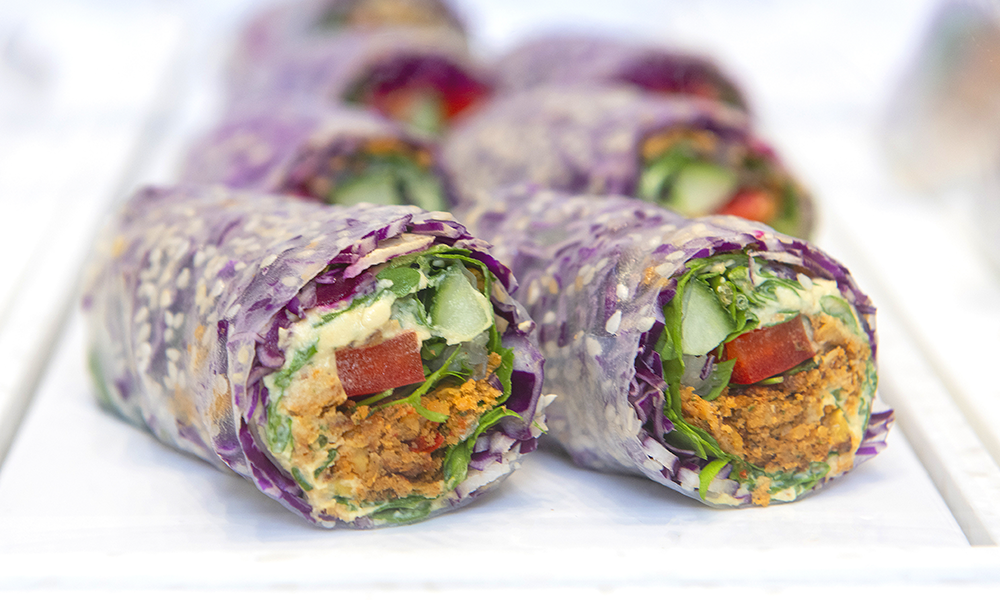 Kaleido was created by wife and husband team Laura Mimoun and Denis Dahan.
"I wasn't working in hospitality at all," said Laura. "I was working in marketing for chocolate brand Green & Black's. One night, with my husband, we were making Vietnamese rice paper salad rolls – some people know then as summer rolls.
"We're both French and these rolls are very well known in France. We don't like to waste food and we had some rice paper.
"We just started putting other ingredients in the rolls and found that it worked very well as a salad sandwich.
"That was how we got the idea for Kaleido. We thought that this is something you can eat with your hands, much like you'd eat a burrito. You can dip it in sauces and have all sorts of different flavours inside. It's mix and match and this is something we really like."
From that initial spark of an idea sprung Kaleido, a shop that offers a range of 10 different salads wrapped in transparent rice paper.
Customers can order between one and 10 ranging in price from £2.75 to £19.95 respectively. The cost is the same regardless of the salads chosen The selection currently includes Falafel And Hummus, Tuna And Cucumber, Sweet Potato And Tahini and Chicken Caesar.
"The first part of starting the business was a lot of thinking – evaluating the risk and the opportunities, looking at market trends, and then making the jump," said Laura. "We wanted to create a fun, healthy brand, so this is why you have the name Kaleido, from kaleidoscope, and it looks a bit different because it's fun.
"We began by making the recipes at home, and created five flavours that we were happy with and liked cooking. The great thing about rice paper is it's only 30 calories and what you see through it is what you get. First we did food markets and grew from there.
"In 2018 we did what was supposed to be a pop-up at Selfridge's but has since become permanent. Then we opened up in Kingly Street and now Canary Wharf.
"More and more people are eating our rolls at our existing units so we are growing, which is great because it's been a tough year. 
"We were originally due to open in Canary Wharf in 2020, but then the pandemic hit – it may not have been the best idea to put 'coming soon' on the hoarding. But we launched on Freedom Day in July and we're very happy with business growing week-on-week."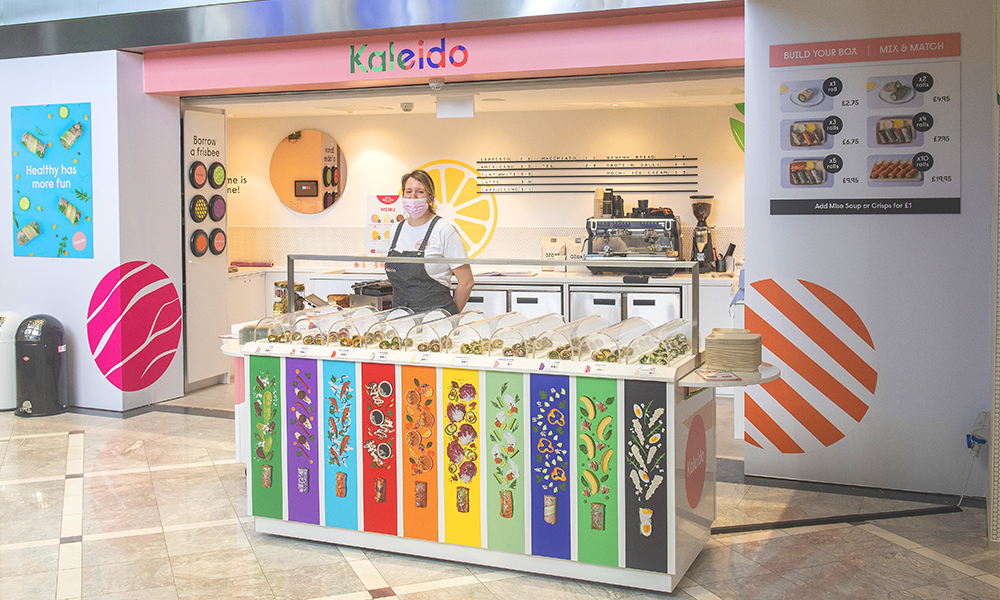 Part of that growth could well be down to the sheer numerical variety Kaleido's model offers. Eating two rolls a day, it would take a working week to try everything available at lunchtime. The combinations multiply further when you factor in the optional dipping sauces available.
"When people come here they will find 10 flavours each day – some changing, some staying the same and all prepared at our Rainbow Kitchen in Bermondsey," said Laura.
"The product is innovative in the way we execute the salads – we are the only people doing these rolls here and the idea is to reinvent the way people eat healthy food so it's also convenient and fun.
"The mix and match is very much about my personality – I'm a Libra and all my life I have wanted this and then that, so here you can have different flavours and sauces.
"My husband and I both come from corporate backgrounds – we've worked long hours at desks so we value the benefit of variety, of rotating flavours.
"No-one wants to eat the same sandwich everyday – if they do, then bring them to me and I'll have a chat with them."
In addition to the extra attractions of Little Moons Mochi ice cream for dessert, a range of drinks and pre-packed boxes of rice paper rolls – for those who just don't have time to choose their lunch – Kaleido is responsible for another first.
As far as we know, the shop is the first in Canary Wharf to lend out frisbees to its customers, with six displayed on a wall below an invitation to borrow.
"So far, one person has played with a frisbee," said Laura. "This idea comes from the fact that we want people to eat healthy and live healthy – coming here and having a few throws with your colleagues outside is what we want to promote – embracing health.
"Our Kaleido rolls are not a diet food product and we would never position ourselves like that. But we believe they are healthy – they're made only with ingredients you would find in a normal kitchen.
"They're fresh, they're simple and this is our vision of healthy food – the frisbee is a bit of fun to go alongside that. The rolls are also very filling – when you see the box, you don't realise.
"People often don't know how packed they are with the salad, so we're going to do more imagery of what is inside in the future."
Laura, who is originally from Paris said she and her husband wanted to grow the brand in London and then continue to expand.
"First we want to have more of our cabinets so that people can experience this iconic Kaleido way of serving food," she said.
"Then we would like to branch out to other cities in the UK and across Europe. I'd love to, one day, open a shop in Paris." 
Read e-editions of Wharf Life's print edition here
Subscribe to our regular newsletter here