How one former banking PA turned artist rediscovered her childhood love of found things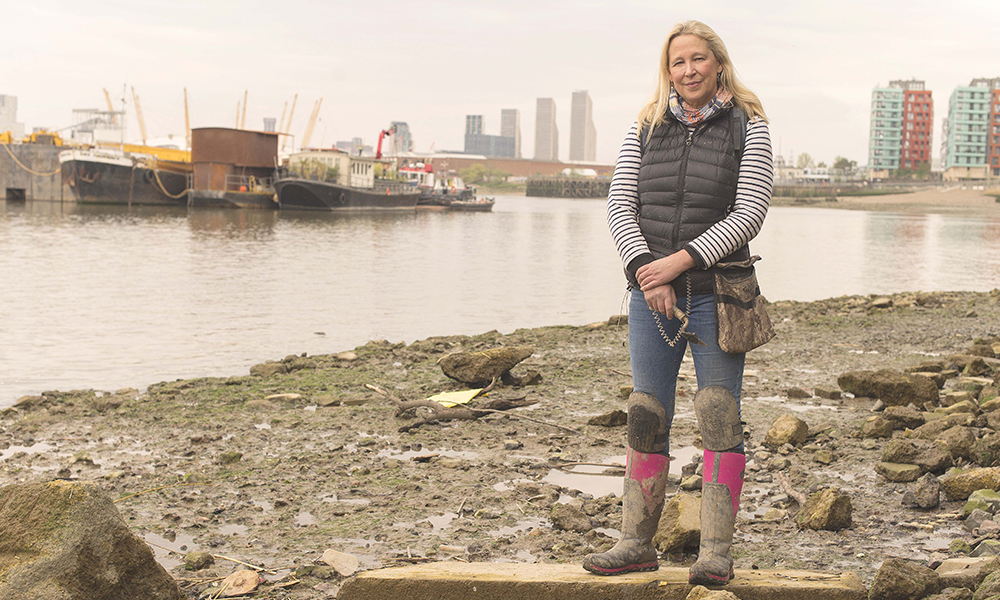 Subscribe to Wharf Life's weekly newsletter here
BY LAURA ENFIELD
The tide is high when I speak to Nicola White.
It's a matter of small consequence to most Londoners, but to the 53-year-old mudlarker, it's from the rise and fall of the waters that life emerges.
The Woolwich resident remembers two very distinct desires from her childhood in Cornwall – to never, ever work as a boring secretary and to have her own shed where all her treasures could be displayed.
As a young girl, she avidly combed the beaches and land, collecting shells, driftwood, bits of rope, mushrooms, toadstools, seedpods and eggshells.
"It's something I have always enjoyed doing – using things I've found in artworks," said Nicola.
"Life happens and, when I became a teenager, I lost interest and went and lived in France and then had my first child pretty young at 22 – everything was on hold, because I had to work.
"I did a bilingual secretarial course because I speak fluent French and then worked as a PA for banks in Paris and London."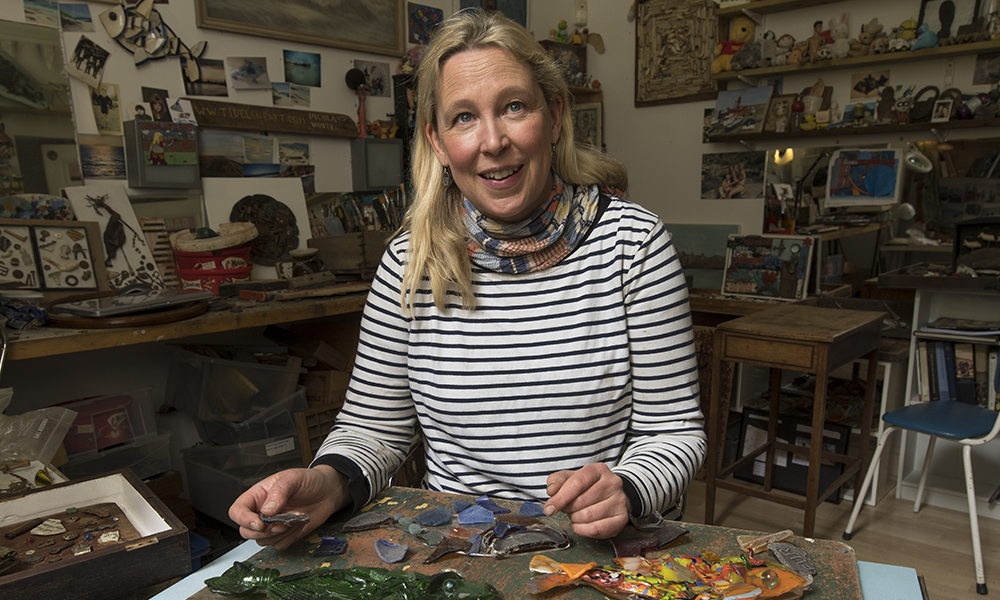 For 25 years, Nicola found herself doing a job she had vowed to avoid. While it brought her a comfortable life, money to buy a flat, security for her son and later her daughter, she never loved it.
"I was at the mercy of my choices for quite a while," she said. "I was very good at my job, but I had this feeling it wasn't what life was all about.
"I had this burning desire to create and make art and just be outside. I couldn't ignore this thing in me.
"That said, I wanted to share my passion with other people and make the most of my life. I tried to ignore it but I was getting more miserable."
She already knew the answer lay outside her door on the banks of the Thames.
When Nicola moved to London in 1999 she was almost immediately attracted to the river because it reminded her of her childhood in Truro.
"One day I was in Greenwich and the tide was low and there were these steps leading down to this long stretch of beach," she said.
"I was just drawn to go down there and found this really peaceful world away from all my worries and my job."
She started finding pieces of broken pottery and glass and used them to create art, just like she did as a child. Eventually she spotted her first coin.
It was then she discovered what she was doing had a name – mudlarking – the practice of scavenging through river mud for lost items of value or historical significance – this was a pastime enjoyed by a handful of Londoners back then.
But it has grown in popularity thanks to a blossoming online community, in which Nicola plays a large part.
She works under the name Tideline Art and has a YouTube channel with 135,000 subscribers where she documents her finds, broadcasting to 30,000 followers on Twitter and Instagram.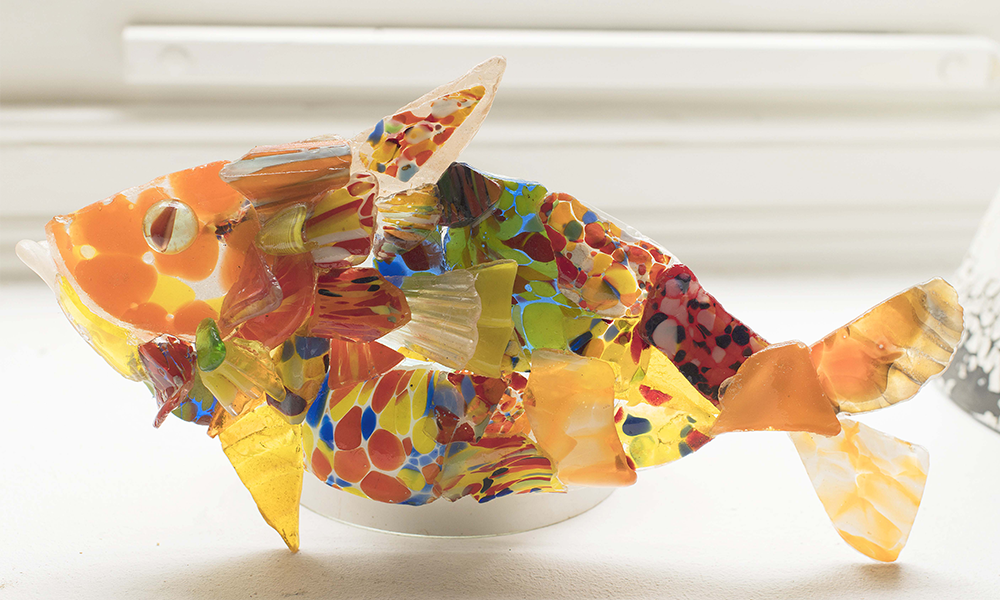 She also has a thriving business selling the art she crafts from the items she pulls from the mud.
Her glass fish, which she puts up for sale twice a year, go for around £250 each and typically sell out within 24 hours.
Later this year she will be giving a series of talks as part of the Totally Thames Festival.
"Mudlarking is such a part of my life I can't imagine not doing it," said Nicola. She took the plunge eight years ago, aged 45, quit her job and rented out her flat to embrace the mudlarking life full time.
"I had been doing it for about 15 years – making art in my spare time and I suddenly thought: 'I want to see if I can do something I love with my life'.
"I was very nervous of leaving banking, but I was building up Tideline Art on social media and my website and things gradually came together.
"I think if you follow something you are really passionate about and put all your energies into it, then doors start to open up for you."
Today she has a studio at her home in Woolwich filled with hundreds of treasures she has found over the years, including a silver half crown from Elizabeth I's reign and a wax seal stamp that belonged to the Commodore Superintendant of Woolwich Dockyards .
"A while ago I was sitting in this room and thought – 'Wow this is actually what I dreamed of as a child – it really fills me with joy'," said Nicola.
She can be found on the foreshore as early as 6am and as late as 11pm, up to four times a week, looking for treasure.
"It's very hard not to go because you think you might miss out on something," she said.
"That's the thing about mudlarking – you simply don't know what you are going to find and that's what keeps you going back."
Her love of naval and industrial history means Greenwich, Deptford and the Isle Of Dogs are her favourite areas to go, kitted out in sturdy boots and knee pads with her trowel and phone at the ready to document any finds.
"You need patience and persistence," said Nicola. "People might think you just stroll down to the Thames and come back with lots of bounty without any effort.
"What people don't see are the hours you go down and don't come back with anything.
"I get people asking where to go to find clay pipes, but mudlarks don't give locations away because that is part of it – you have to go down and find out for yourselves. There's no quick fix.
"I have never met anyone who isn't inspired by this idea that you can find and hold history in your hands. It's accessible to everybody."
There are negative aspects though. The mud can be dirty, smelly and full of rubbish – particularly plastic – and, more recently, face masks. It can be dangerous too.
"I got stuck in the mud once," said Nicola. "Luckily someone was with me, but it really was quite scary and gave me a new respect for the mud.
"The tides can rush up and you have to make sure you know where your exits are, because there are pinch points where you can get cut off."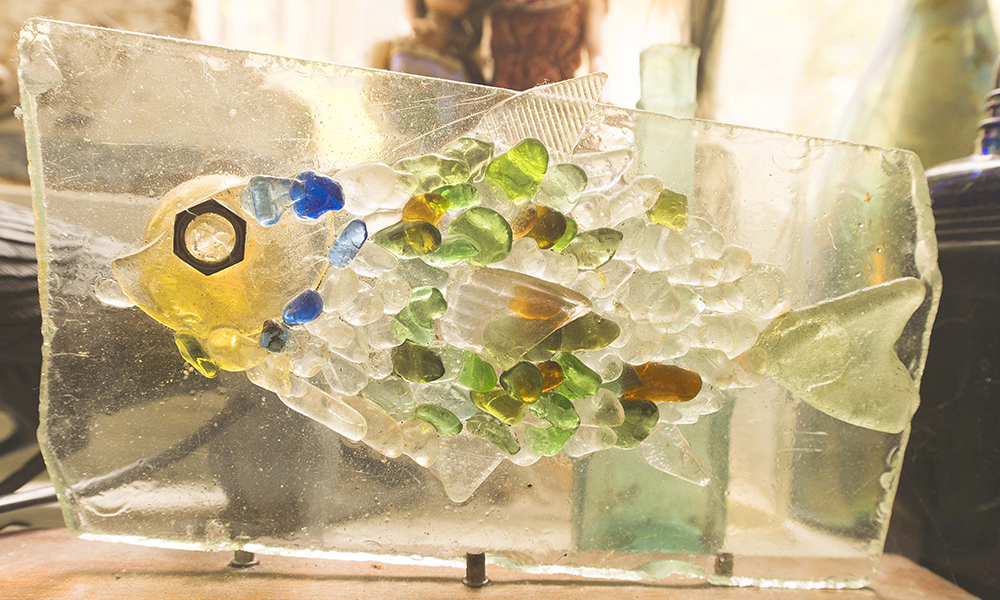 Nicola mostly mudlarks alone as she enjoys the meditative aspect of it, but she said there was a strong sense of camaraderie in the community.
"It can be competitive but also supportive – people will help you identify your finds and share information," she said.
More important items do not get used in her art, but are researched and featured on her channels. Rarer items have to be reported to the authorities.
"You have to have a permit to mudlark from the Port Of London Authority," said Nicola.
"One of the responsibilities we have is to report any find that is over 300 years old, or ones that are historically significant, to the Museum Of London and they put them into a database.
"It's really not the financial value. If you are going into mudlarking for that, then forget it. It's about the story behind the finds for any genuine mudlarker. I like to think of the Thames as a giant liquid storybook."
So in all those hours on the foreshore has she ever let anything slip through her fingers?
"I don't think I've ever lost anything but one day I would like to throw something in for someone to find in 300 years," she said. "I wonder what they'd find out about me? It makes me think of my own story."
And that's the truth of mudlarking. Everything and everyone has a story to tell.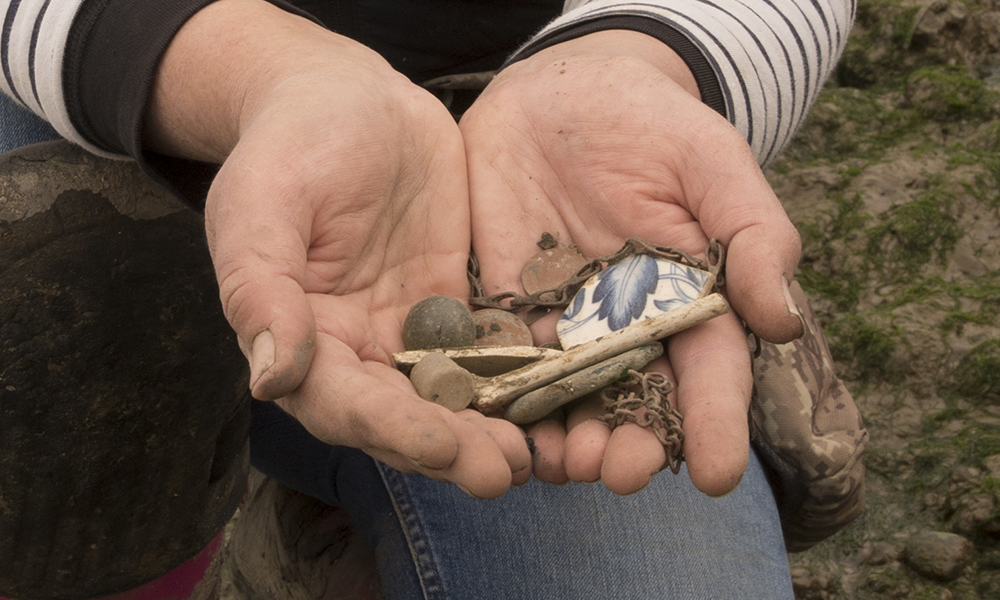 Read more: Enjoy an extract from London Clay by Tom Chivers
Read Wharf Life's e-edition here
Subscribe to Wharf Life's weekly newsletter here
- Laura Enfield is a regular contributor to Wharf Life, writing about a wide range of subjects across Docklands and east London