Cafe at Expressway aims to offer customers more than just Perky Blenders coffee and hot toasties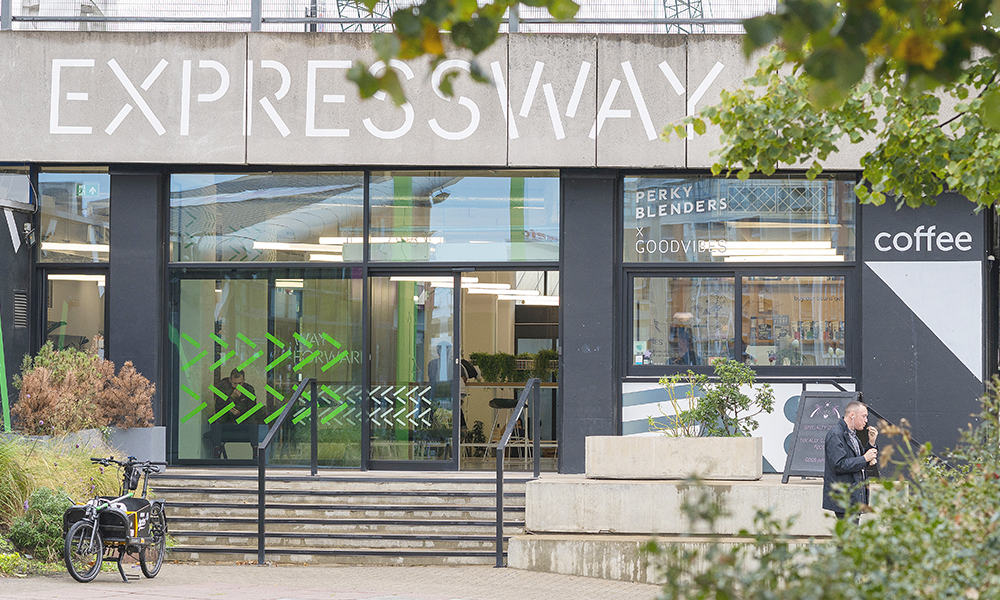 Subscribe to Wharf Life's weekly newsletter here
BY LAURA ENFIELD
If Sadiq Khan is looking for a London-made caffeine fix near his new base at The Crystal by Royal Victoria Dock, then he's in luck.
All he needs to do is pop next door to Expressway and visit the hatch at Perky Blenders X Good Vibes.
The takeaway cafe serves coffee roasted up the road and is a collaboration between a Walthamstow-based roastery and entrepreneur Roxanna Lyssa.
You'll see her behind the counter most days serving up lattes, toasties and cakes, and following in the footsteps of her grandma who served coffee and tea to dockers in the 1930s. We lured her away from the grinder to find out more.
past vibe
I stepped away from a 15-year career to re-evaluate where I was going and got a part-time job as a barista with Perky Blenders.
Six months later, in November 2019, a franchise opportunity came up, so I put together a business pitch for Good Vibes. We launched in June 2020
I worked in visual merchandising and product management for Lacoste UK previously, which was a fantastic part of my life and I acquired so many transferable skills. I started that career on the sales floor and progressed to head office.
But after 15 years, I wanted to go back on the frontline and do something on my own. I just wasn't sure what.
A coffee shop was never in mind, but life seemed to push me in this direction. I got into coffee because I love the product.
My background really helps with what I do now. Small details all add up to the overall impact. I appreciate the importance of storytelling.
I hope that, when we're engaging with our customers, they feel part of the journey and understand what we sell and why we sell it.
Perky vibe
Because they knew me and my background they trusted me to establish the coffee shop under my own brand identity.
As long as I serve the coffee to their standard and respect their brand guidelines, they've let me run with it.
present vibe
I'm pleased to say that, two years down the line, we've created a community and I do think we've got good vibes.
We're known for being that authentic, open-minded spot where people can be themselves and talk about what they want or order whatever kind of coffee they want. We're not going to judge.
It's not just been about the coffee and the food, it's also about the people. I love interacting and chatting and seemingly that's my strong point. I'm known for my banter.
Royal Docks vibe
I wanted to drive culture and I could really see the potential for that in the Royal Docks with all the regeneration that's happening here.
I grew up in east London but hadn't been here before, so when I found out you can come to the docks and ride a cable car, go open water swimming or try wakeboarding it blew my mind. It was pretty surreal to find that in London.
Good Vibes has just embedded itself in that. We do offers for the swimmers and for the wakeboarders because we want to be seen as part of the framework across the dock – we're all in this together.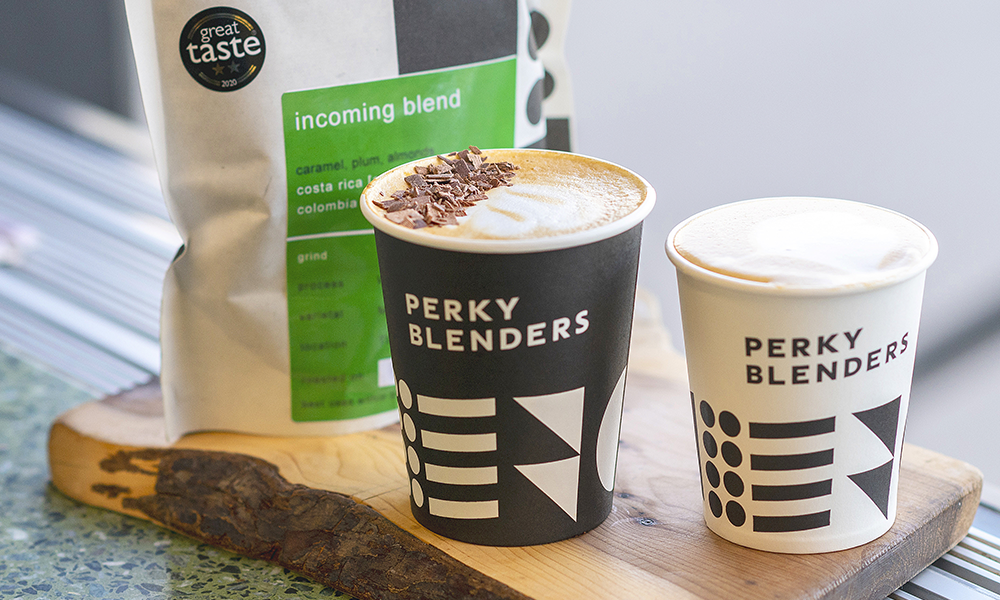 coffee vibe
In the office I was a person who had their own ground coffee and French press on the desk.
I've always loved and respected coffee and now, doing this, I think I've found a bit of mad scientist in me.
There are so many variables that you can control or manipulate in order to determine the end product – the temperature of the water, the extraction time, the grind size.
We sell a range of up to six different blends or single origins at a time. We also do drip coffee so we serve incoming blend on our espresso.
But then we'll feature single origins or coffee-of-the-month blends on our drip coffee.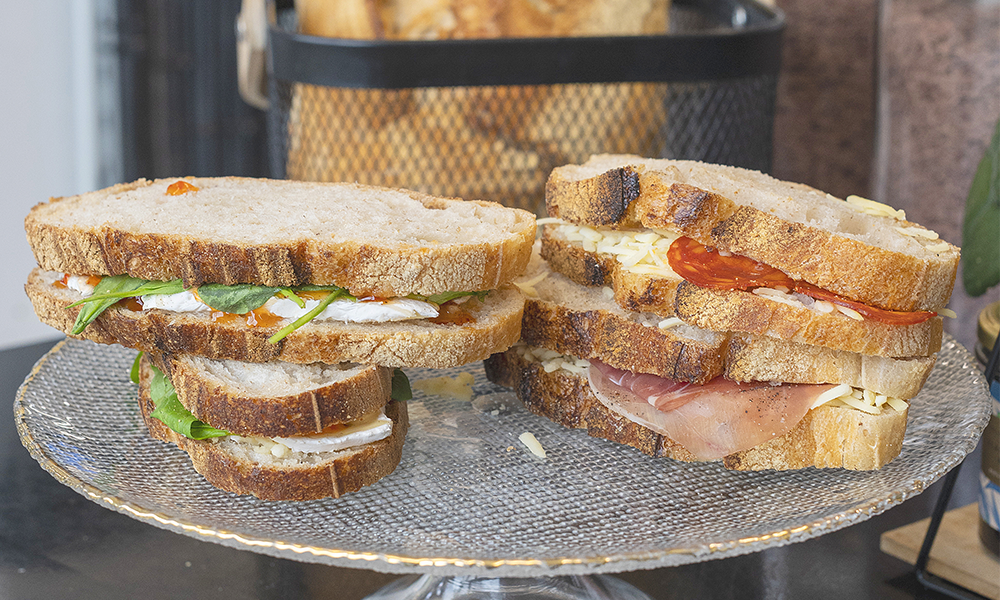 food vibe
We are supplied by The Bread Station in Hackney and Cakesmiths in Bristol. We sell croissants – almond, chocolate, raisin and buns – cinnamon, cardamom, hazelnut and vegan cakes – banana chocolate, carrot cake, blueberry Bakewell and chocolate brownie.
For lunch we've become known for our toasties. We use organic sourdough bread and fillings like chilli jam and spinach, tuna melt, chicken and avocado. I do really good homemade guacamole.
The secret is choosing the right ingredients and making it with love, care and also consistency.
I'm a stickler for guidelines, because I was setting rules for the whole country at Lacoste. Customers getting what they expect to receive is so important to their experience.
We also do Brick Lane bagels with fillings including vegan cream cheese and, going into winter, we've added jacket potatoes and soups from Leyton-base Zuppe in flavours like sweetcorn and coconut chowder, smoky roasted tomatoes and peppers and red lentil dhal.
natural vibe
I try to avoid any sort of artificial colours, flavourings, emulsifiers and additives. You won't get a caramel latte in my coffee shop.
I'm really against anything artificial and what's good with a food and drink business is that you can encourage wellbeing through what people consume. You can educate people and advise them on how they can enhance their wellness.
caring vibe
During lockdown I had a lot of residential customers coming over who would sometimes spend 30 minutes chatting to me because they were trapped in their flat all day without anyone else to see.
It's not just physical wellness you can help through a coffee shop – it's also mental health because that small transaction and a few minutes can actually change someone's mindset.
You can make someone feel better about themselves or you can take them away from the stress of the phone or their computer.
I've really tried to build a coffee shop that is more than just a cafe – to make it a place where people can come to connect.
personal vibe
I've definitely suffered with anxiety in the past. Being in the corporate world with higher responsibilities, you do get to a point where things just become too much. It built up over time.
I think there was a point where my to do list was three A4 pages and it was never going to be completed.
I never had a feeling of accomplishment. Now, when I've made a lovely cup of coffee and handed it over, I do feel a sense of achievement.
I don't know what changed, but I just couldn't do it anymore. I needed to slow down and find myself, because I started working there when I was 18.
It was my first job and I'd always been Roxy at Lacoste.
Suddenly, 15 years later, I was like 'Who is just Roxy?'. I think I've found her now and Good Vibes is my happy place.
spreading vibe
We do wellness workshops with Yoga and meditation called Vibe And Flow. I'm due to start an event series from November, which is exciting, because it goes back to that idea of creating a culture.
Expressway has got 200 businesses in it, so the range of people that I get to meet and collaborate with is unreal and I'm just trying to connect those dots.
We also spread the love by selling products from my customers like Beinsense in Royal Docks and England Preserves in Bermondsey.
Going into Christmas I run a campaign called Give The Gift Of Local.
future vibe
All my costs have gone up significantly this year. I got through Covid and thought 'I can survive anything'.
But then we came into this year and people are spending less money and we have fewer customers. It then makes operations very difficult because I'm running a very tight ship.
But I'm still here, still working. I've got myself going in the right direction and I just want to try to grow the community aspect and collaborate with the people that I've got to know to see how we can all try and do better with what we've got.
My brand tagline is: 'Make waves to change the tide, not dominate the ocean'. I was never trying to come in and take over or be on top of anyone or be better than anyone.
Good Vibes is about trying to change direction for people, show them a different way and just contribute to something positive.
Read more: Discover east London firefighter Stephen Dudeney's book
Read Wharf Life's e-edition here
Subscribe to Wharf Life's weekly newsletter here
- Laura Enfield is a regular contributor to Wharf Life, writing about a wide range of subjects across Docklands and east London