Art-Invest's scheme to build offices on the edge of the water will see work at town centre's heart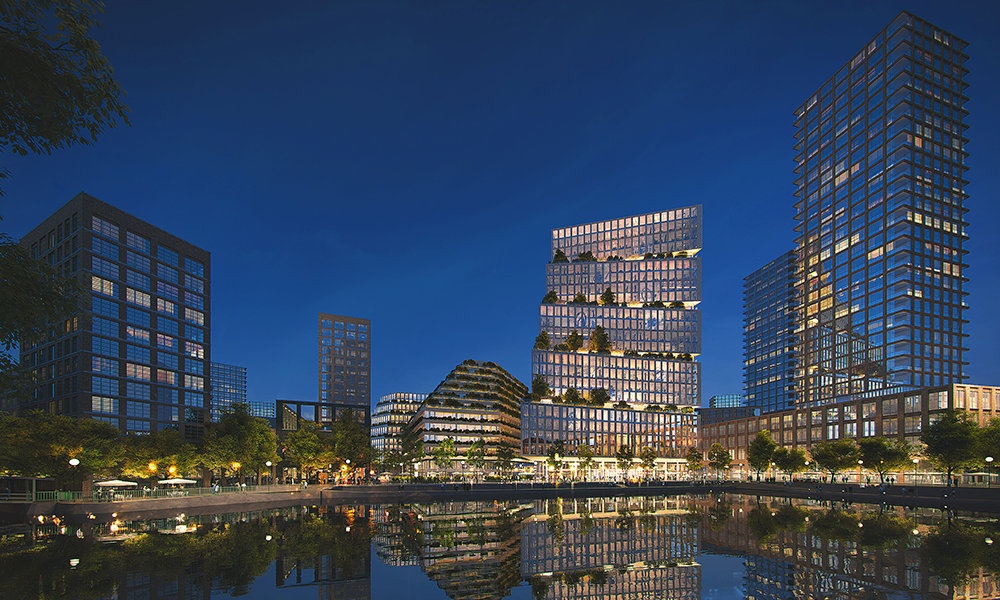 Subscribe to Wharf Life's weekly newsletter here
Art-Invest is doing something a bit unusual – at least in the context of the ongoing regeneration of Docklands, east and south-east London. 
The German developer recently received outline planning permission from Southwark Council for a scheme covering the former Decathlon store (now temporary events venue Dock X) on the edge of Canada Water.
But while rolling cranes onto such sites isn't exactly out of the ordinary, the fact that it intends to build offices, is.
Art-Invest's plans for Canada Water Dockside cover a chunk of land either side of Surrey Quays Road, including the now defunct Hawker House, adjacent to the 53 acres that developer British Land is currently engaged in regenerating. 
It's a missing piece in the redevelopment of the area – a site originally earmarked for housing – that enjoys a lengthy stretch of dock edge and connects the British Land project with buildings already completed beside the Tube station.
Art-Invest's plans are for a series of three buildings housing about 1.5million sq ft of space alongside community facilities and places to eat and drink at ground floor level. The scheme also promises to bring up to 10,000 jobs to the area.
"Back in 2019, there was an opportunity to get involved in this particular site, and we were very aware of what was happening in the area with British Land," said Luka Vukotic, development director at Art-Invest.
"Given that the whole area was going to change from a residential district to a proper town centre, we thought it would be quite remarkable to help with that wider vision.
"What really attracted us to it was that it was already established, with existing communities all around it.
"As we were starting to consult with people, we realised how strong they were and how much local identity there already was. In addition, we were really attracted by the green and blue spaces of this place – its parks and its docks. 
"With British Land coming forward with a town centre, our scheme needed to be more than just a residential building with a boring ground floor.
"We wanted to create office space with lower levels that everyone could use – both occupiers and local communities."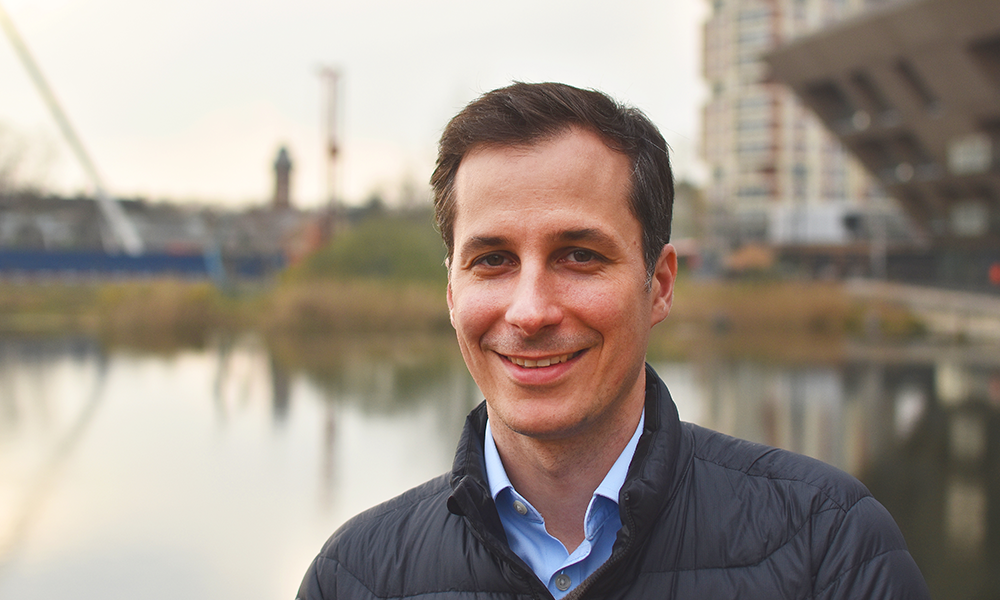 While many had questioned whether people would return to workplaces following the pandemic, Art-Invest remains confident that its plans have a place in the evolving way businesses and organisations operate.
"A lot of existing offices will become less attractive in the coming years for a number of reasons, some technical and some social," said Luka.
"We're convinced we've got a really special location, so it's now about how we make something really remarkable out of this opportunity.
"We want to help build this new town centre and to create the offices of the future.
"What's really helped us in this process was talking to the local community – I personally had more than 150 meetings with community stakeholders, local businesses, local residents and local groups.
"We realised that people really like the idea of a town centre as a place to socialise – to have a drink and some food and to enjoy it.
"So then we asked people what they wanted to see and they said they would like so many things – a food hall, restaurants, local shops, a community centre, a health hub, a bike repair shop. They told us what they thought was missing.
"That allowed us to think about our buildings in a different way – instead of having a large reception area for the offices on the ground floor, we thought it would be amazing to make that space vibrant, to create streets and squares there, before looking at what's above."
The next round of consultations focused on what the office buildings themselves might be like.
"That's when we started thinking about the urban green factor, with external space and terraces, and how we make this a car-free place, a zero-fossil fuel development," said Luka.
"It's how we've begun to develop the vision of what the office of the future will be.
"That's very different from the old thinking, where developers created these super buildings where you can spend the entire day without leaving.
"We thought it would be much nicer to deconstruct the building and ask what's needed that's not already there – then you can create a relatively simple development that plugs into the existing grid of facilities and amenities.
"We ended up with a planning application that has been really well received by the local community.
"That wasn't surprising to us because of all the work we'd done.
"Now we've got the go-ahead, the next five to seven years are going to be really exciting, where we can actually put a lot more thought into what this development is going to be like – to bring more colour to what we have already shown."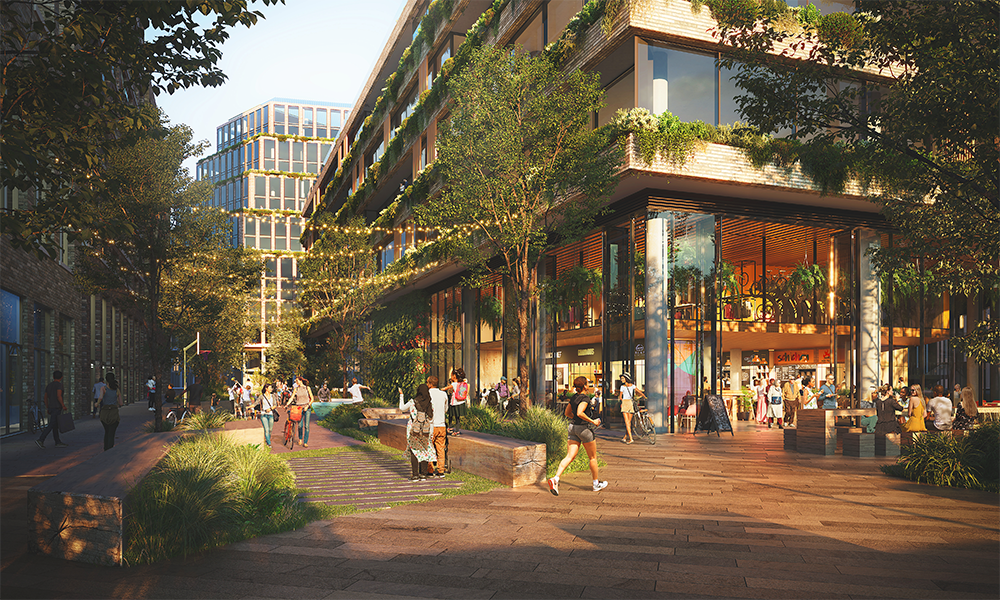 Art-Invest is working with BIG Architects on the scheme, which will have an eye firmly on sustainability, aiming to create a net-zero development entirely powered by electricity.
"The office of the future is not the building itself, it's the environment you're creating," said Luka.
"Workplaces will be spaces where you come maybe three or four times a week, but not somewhere you'd come to sit at a desk for the whole day.
"When it comes to the buildings, we think that the look and feel of office blocks needs to change – they should be more welcoming.
"Our intention is also to have lots of terraces. A lot of people complain about the weather in the UK, but I think for most of the year you can actually work outside, depending how cold it is
"We use the terrace quite extensively at our office for about eight or nine months of the year.
"Fresh air is very important to us – Canada Water has some of the cleanest air in London and we want to create buildings with opening windows, not sealed boxes that don't feel very human.
"In the future, offices will also be places where you might come to meet other people and to do other things in addition to work that you wouldn't necessarily do at home.
"That's why we think Canada Water has a lot to offer – you can do all sorts of activities within a 500m radius. 
"For example, Decathlon are our next-door neighbours and with everything the area has to offer there's an opportunity to encourage healthy lifestyles.
"When we engaged with Decathlon, we realised its vision aligns with what we're trying to achieve in terms of healthy living, active transport, and so on.
"That's why we have a partnership with them and have set aside a £200,000 fund to encourage health and wellbeing in Canada Water over the next five years.
"This is a grass-roots project, supporting what's already here. 
"We are strong believers that we don't need to create a place here – there's already a place here – we just need to see if there's something missing or if we can help with something that's already in existence.
"I'd really like to thank everyone who's been involved in the processes over the last couple of years – all those who have worked with our teams, but also all the stakeholders, the community and Southwark Council who will be engaging with us to make this a success.
"We feel that Canada Water is going to be the start of an amazing journey in the years to come."
Art-Invest hopes to start construction in 2023 with its buildings coming in phases. Residents can expect some spaces to open by 2025 or 2026.
Read more: How crypto exchange CoinJar offers investors choices
Read Wharf Life's e-edition here
Subscribe to Wharf Life's weekly newsletter here