Laura-Louise Erasmus' side hustle is a tour de force of catsuits, colour and creativity in Hackney Wick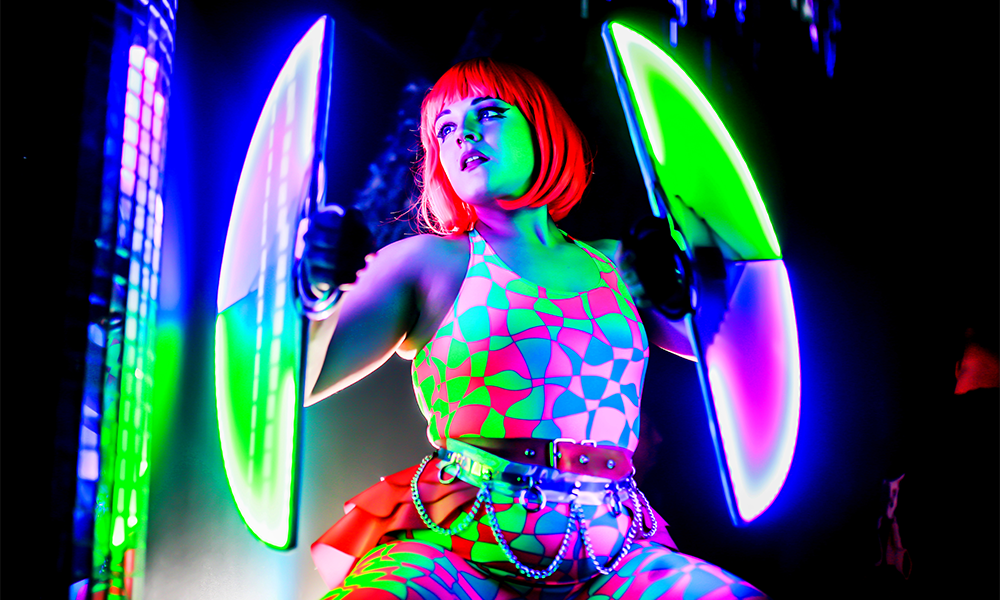 "Anyone and everyone can wear Lycra," said Laura-Louise Erasmus, founder of Wolf Rayet.
She creates catsuits, swimsuits, leggings, meggins (for gents), Yoga shorts, playsuits and sports tops – manufacturing the garments from her workshop at The Trampery Fish Island Village in Hackney Wick.
"I make super-jazzy festival wear which also can also be worn for the gym," she said.
"These clothes are something to be silly in – to dance around in, have a great time and look incredible.
"Anyone can wear these clothes.
"I've taken them to hen parties, and made everyone put them on – whatever their size – and, at the end of the night, everyone just loves them."
She also designs a new print each year in time for Christmas, and makes pieces for her entire family to wear, ready for a festive walk through the countryside.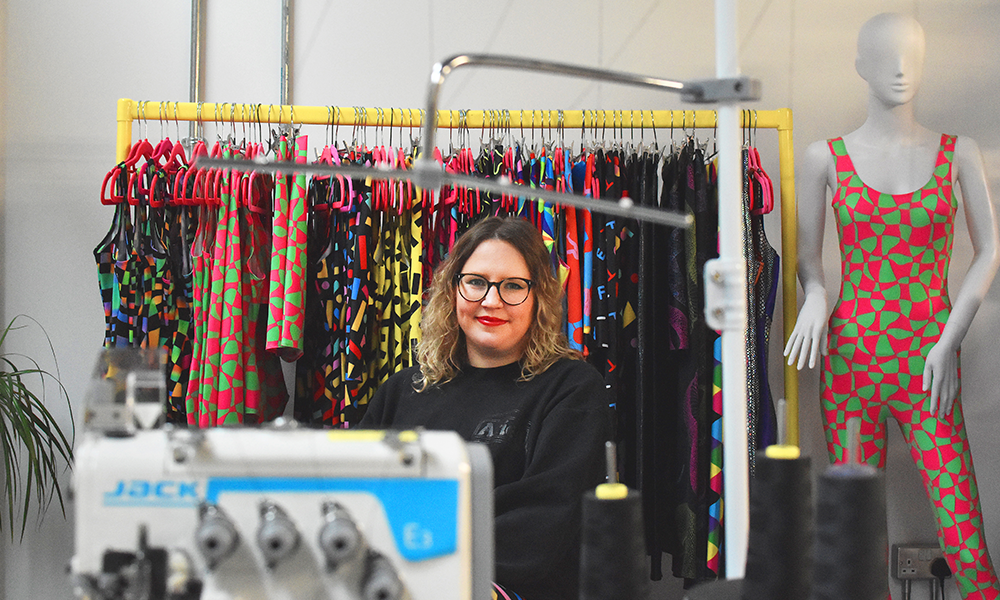 "My parents are my biggest fans – they live in Blakeney and, when they go out walking in Wolf Rayet, other people in North Norfolk people are like: 'Why aren't you wearing normal clothes?'," said Laura-Louise.
"But my designs are like costumes – they completely change people's personalities in a really nice way.
"That's especially true for people who would never normally wear this kind of thing – they put a catsuit on and feel great.
"I've been going to festivals since I was 16 – I love it, especially the dressing up. I think it's a British thing.
"I've been to festivals in other countries where I've been really dressed up and no-one else is.
"Clothes make you feel more confident – basically I make big elastic bands that people can dance, have a lot of fun and be free in.
"After a few drinks you can usually get people into some Lycra."
Laura-Louise first came to London as a student to study fashion at Central Saint Martins but, following a mugging and a series of negative experiences decided to transfer to Bristol to study instead.
She then returned to the capital as an intern in the fashion industry, quickly falling out of love with the idea after spending a year unpaid, while making ends meet by working in a bar at night.
"We were treated really badly and I didn't want to be part of that, so I thought I would make my own way and do my own thing," she said.
"That's when I started doing screen-printing, then I tried jewellery with a grant from The Prince's Trust.
"From those experiences I realised I had a love of print design, catsuits and jazzy festival outfits.
"At the time there were not many people making these, so I decided to create my own, outfits that people could go crazy in.
"That's where it all started – officially in 2016.
"Friends started wearing them and then more and more people.
"Covid completely changed my business, because people were online all the time and they wanted to look cool on their Zoom calls, so my sales went from normal to crazy.
"With the pandemic receding I started doing gym wear as well."
In addition to selling her pieces online, Laura-Louise has a stall at Wilderness Festival and is hoping to be at Glastonbury this year.
Having originally made her pieces from her warehouse home in Hackney Wick, she also recently took the plunge and moved into a unit at The Trampery in anticipation of further growth, sharing the space with other local makers.
She also plans to use the sizeable space for her main profession – a separate creative endeavour.
"Wolf Rayet has always been a side hustle for me – the main thing I've done in recent years has been set design for TV, film, advertising and live events," she said.
"I've lived in Hackney Wick for 12 years – in warehouses – and many of the people here are musicians, often making music videos, so I got involved.
"Although fashion is creative, set design is even more so because you get to build so many wild things.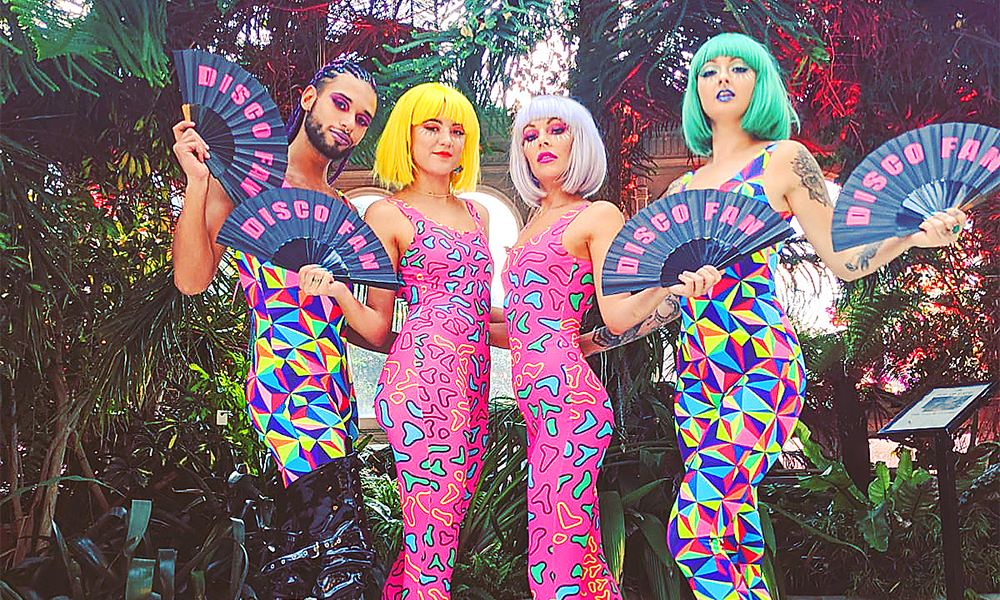 "Say you want some giant soup bowl to sit in with a load of life-size noodles – that's the type of challenge that I want to do.
"From doing that kind of thing – making all these weird and wonderful pieces – I started assisting people and getting more work.
"With Covid, I got a lucky break – a few people knew I did sets, so they gave me their entire projects to design and that's now my main job.
"It's an amazing thing to do, really exciting and every day is different.
"I worked as the art director on a film called In Too Deep, for example, looking after every aspect of the set on a boat in Cornwall and making sure that every single thing is in the right place.
"I get quite seasick on boats, so it was quite challenging.
"But it's fun, it's creative and I love being able to do Wolf Rayet as well."
Inspiration for her prints comes from all around with Animal, for instance, actually based on the iron casting on top of a storm drain in London.
"I started by seeing the water and the ripples, then put loads of colour in to completely change it from the original," said Laura-Louise.
"I draw out the design, bring it into Photoshop or Illustrator and then send it to be printed at a factory in Manchester.
"I use two different fabrics that are like Lycra, but made from recycled bottle tops and plastic waste."
Wolf Rayet is named for a kind of massive star that burns brighter than our sun – a little like Laura-Louise's clients in their catsuits on the dance floor.
But make no mistake – her brand is not about making throwaway clothes for a single moment of radiance.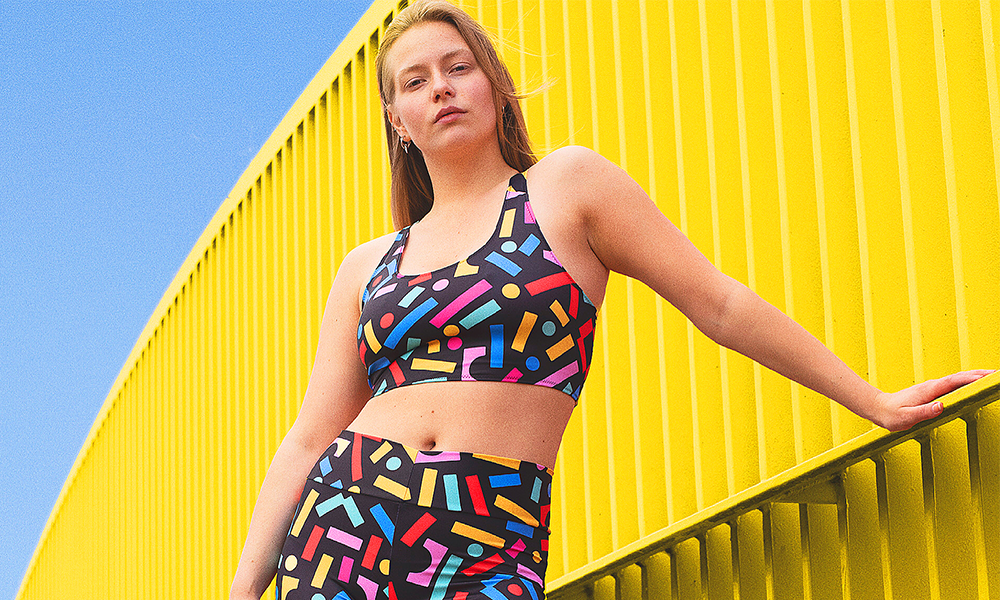 Fiercely environmentally conscious, her pieces are high-quality hand-made garments for repeated wear, designed to stand up to the rigours of dance and exercise.
"I want to be as sustainable as possible," she said.
"I try to make everything to order, so there's very little waste and the offcuts are kept and turned into bum bags, bikinis and so on.
"I do make some stock for the shops at festivals, also so people can come and see pieces in Hackney Wick and try them on. Having this space is great.
"But if people don't feel they fit in my size range, they can easily give me their measurements so we can make a custom order.
"People can also have any of the prints mixed and matched – whatever they want."
Future plans include looser fitting pieces featuring Wolf Rayet prints and the steady growth of the business, as Laura-Louise continues making clothes and building sets in east London.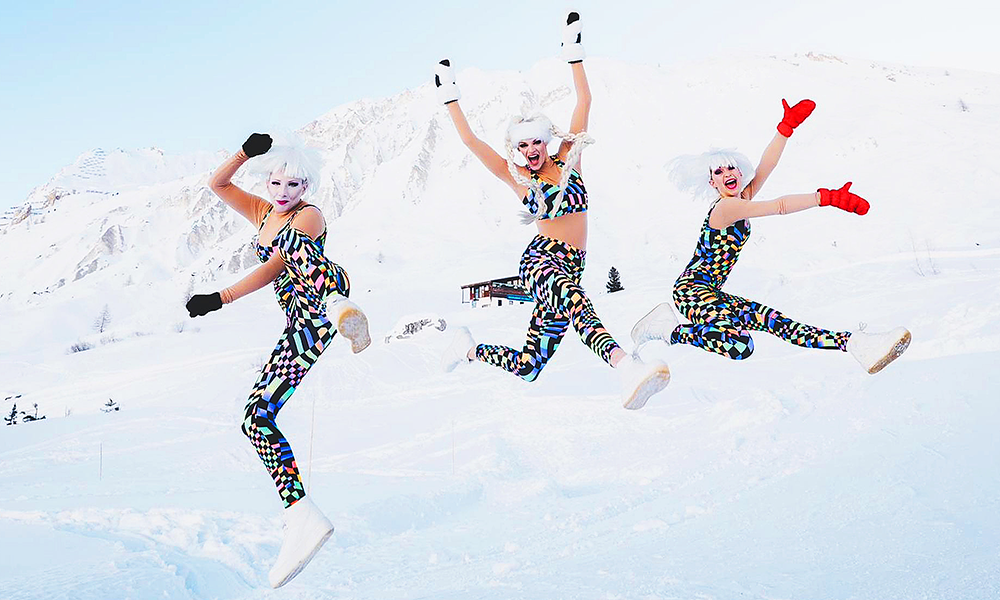 Read more: Discover the work of fashion businesses Fabrika and Vavi Studio
Read Wharf Life's e-edition here
Subscribe to Wharf Life's newsletter here
- Jon Massey is co-founder and editorial director of Wharf Life and writes about a wide range of subjects in Canary Wharf, Docklands and east London - contact via jon.massey@wharf-life.com