Brand is set to open its fifth restaurant at Frobisher Passage overlooking North Dock on May 15, 2023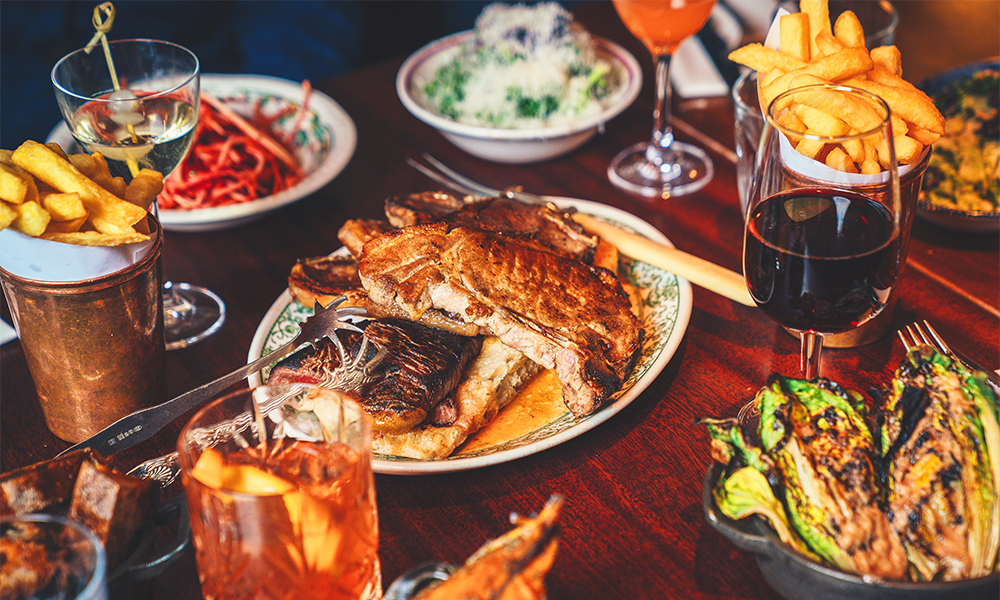 Subscribe to our Wharf Whispers newsletter here
"When you go to a great restaurant, it can be very expensive," said Gordon Ker, founder of Blacklock, a small chain of four chophouses that's set to open its fifth in Canary Wharf this month.
"But we want to give our guests a positive shock when the bill arrives. We want them to be asking: 'Is that right? What's been missed off? When can we do this again?'."
Check Blacklock's menu and it's serving up skinny chops for a fiver each, steaks for £18 or less and a burger for £12 with sides on offer for £4 a go.
That's in contrast to, say, Manhattan Grill – just over the waters of West India North Dock – where sides are £6, steaks start at £32 and a burger is £17.
It's not like-for-like, of course. One is a restaurant in a five-star hotel serving American beef, while the other takes its inspiration from the workaday chop houses of old.
I suspect, however, that Gordon would be willing to pit the Cornish, grass-fed meats Blacklock serves against anything imported from across the pond.
It's also his brand's approach to the produce that, in part, explains the lower prices.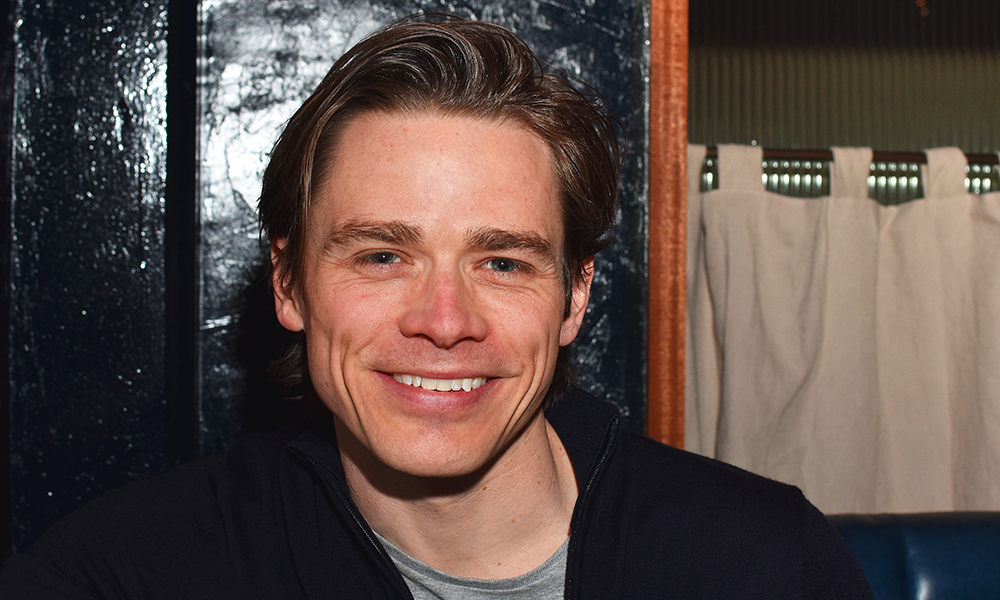 "We're certainly not buying cheap meat, it's expensive stuff that we serve," he said.
"But we try and be sensible about how we source and utilise the animals.
"The first thing to say is we buy the whole animal, and we use as much of it as we can.
"That way there's no waste for the farmer so we get a better price.
"A steakhouse might buy prime cuts, but then the farmer has to shift the rest of the meat.
"Supply and demand means if everyone wants the same cuts, then the price for those goes up further.
"We get a fixed price for the whole animal, which is cheaper, and then we get inventive with the menu – selling cuts people might not be familiar with.
"For example, we sell a sixth rib eye, which is a little further down from the prime ribs – but that's £18 in contrast to a typical rib eye for £30.
"Then we do a starter – Pig's Head On Toast, where we cook down the whole head and then pull the meat apart, braise it, spice it, and serve it on bread with gravy.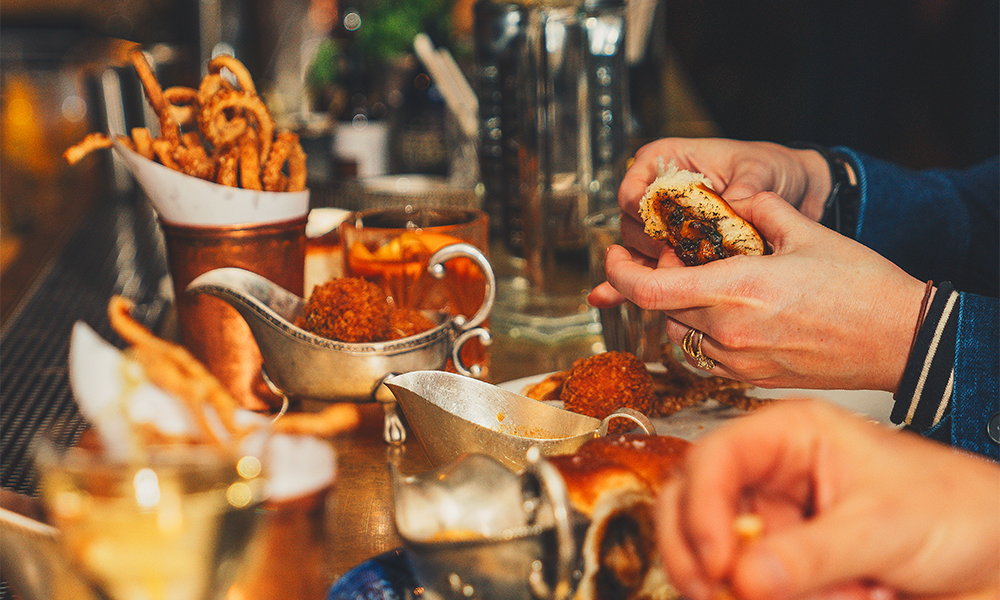 "Our message on sustainability is also that people should be eating better meat less often.
"Our meat comes from Philip Warren in Cornwall and is regeneratively farmed to help improve the soil.
"The animals live a comparatively long and happy life and the farmers aim to keep out of things as much as possible.
"There are no antibiotics or growth additives or negative things like that.
"Our margin on food is less than what standard restaurant economics tell you to make it.
"But that's part of our commitment to providing exceptional value for money."
Gordon is not a man afraid to go his own way.
After studying law at UCL, he embarked on a career as a solicitor and found himself an associate at London-based firm Olswang, dealing with hospitality and leisure firms.
But despite the regular income and reliable prospects, he found the law unfulfilling and started formulating plans to escape it.
Having got to know Hawksmoor founders, Will Beckett and Huw Gott, as clients, when private equity firm Graphite Capital bought a majority stake in their business, he told them he intended to launch his own restaurant.
Describing it as "a terrible idea" they did their best to discourage him.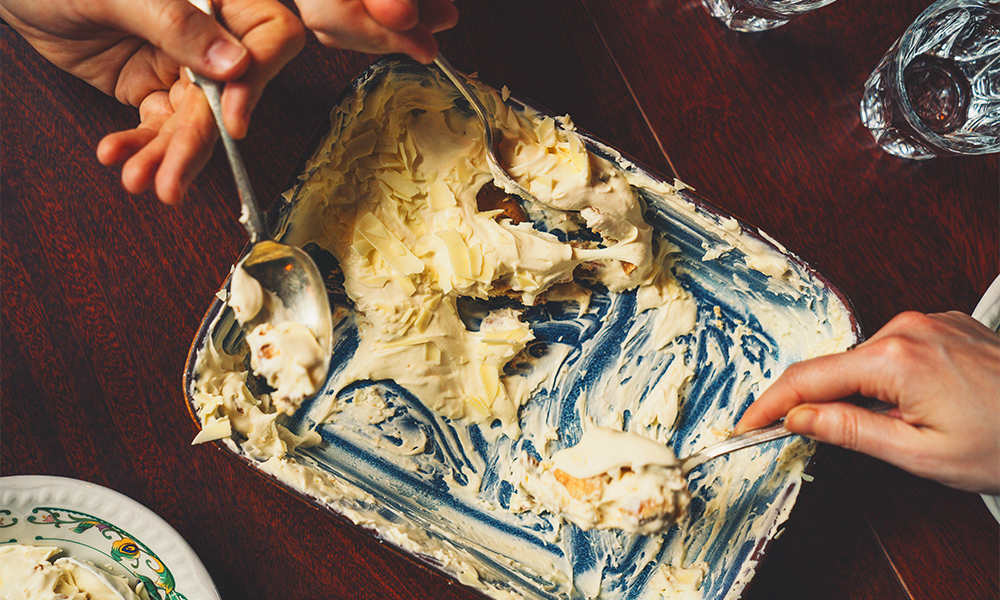 They said I had a stable job, that running restaurants was really hard and wondered why I would want to do it given I knew nothing about it," said Gordon.
"That made a lot of sense at the time, but I was persistent and I think they took pity on me."
So, when Gordon quit his job, he went first to work at Hawksmoor for 10 months to learn how a restaurant worked while simultaneously scouring the capital for a suitable space to try out his ideas.
While Will and Huw helped him out with some early investors and remain shareholders in Blacklock today, it took Gordon a while to find a landlord willing to take a punt on a business with no track record.
Nevertheless, against the odds, Gordon opened his first site in a Soho basement formerly used as a brothel.
He and his team overcame water leaks and a lack of both gas and electricity to launch the first restaurant "as cheaply as possible".
Having grown from those early days to locations in the City, Shoreditch and Covent Garden, the brand retains a charming bootstrap ethos.
Cutlery, with the exception of the knives, is second hand, as is the crockery.
The aim is to create a familial atmosphere, with food doled out at the table – a haven of comfort, not ceremony.
Blacklock's Canary Wharf branch is located in Frobisher Passage and is expected to open on May 15, 2023, – although reservations are already being taken.
It's located in a space under the DLR tracks that once served as the estate's security and pass issue office.
Inside, it's a cosy space with frosted windows that seems deliberately conceived as a refuge.
There are glossy dark walls, wry signage and plenty of dark wood furniture.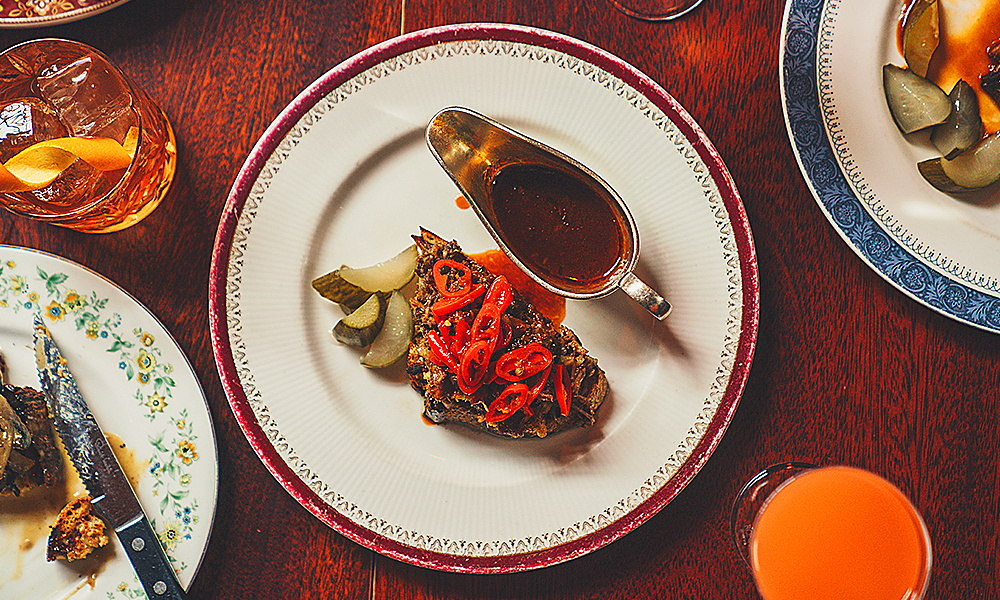 "It's important for us to be in buildings that have character," said Gordon.
"We want to transport people to a place that's full of heritage but also very relaxed, vintage with a natural feel.
"Everything's reclaimed – the tables, the chairs, all the wood, the crockery, the forks, the spoons and the glassware. It all has that special, nostalgic feel.
"With the trains going overhead it has a speakeasy, New York vibe – people can enjoy the gentle, comforting rumble.
"We want it to be the kind of place where you come for lunch which, after a few Old Fashioneds, becomes dinner."
The Canary Wharf branch will also feature a bar menu.
Blacklocks typically offer cocktails from £7.50 and alcohol-free mixed drinks from £4.
Staffing is perhaps the final piece of the jigsaw at Blacklock, with Hawksmoor's reputation as a great place to work clearly finding resonance in Gordon's approach to running his own restaurants.
"The first thing I say to people at their induction is that most restaurants will tell you to put the customers first – to make them happy," he said.
"Of course they are important, but they are number two in our business because it's our people who are important.
"For us, opening new locations is about building careers for people so they can take that next step.
"That creates the opportunity for people to grow within the company and gives people purpose. It's about culture.
"I passionately think people do great things when they are motivated and invested.
"That's what we are seeking to create."
Read more: How WaterAid uses dragon boats to raise money
Read Wharf Life's e-edition here
Subscribe to our Wharf Whispers newsletter here
- Jon Massey is co-founder and editorial director of Wharf Life and writes about a wide range of subjects in Canary Wharf, Docklands and east London - contact via jon.massey@wharf-life.com