Founder Beth Cardy has opened her brand's first bricks and mortar premises in east London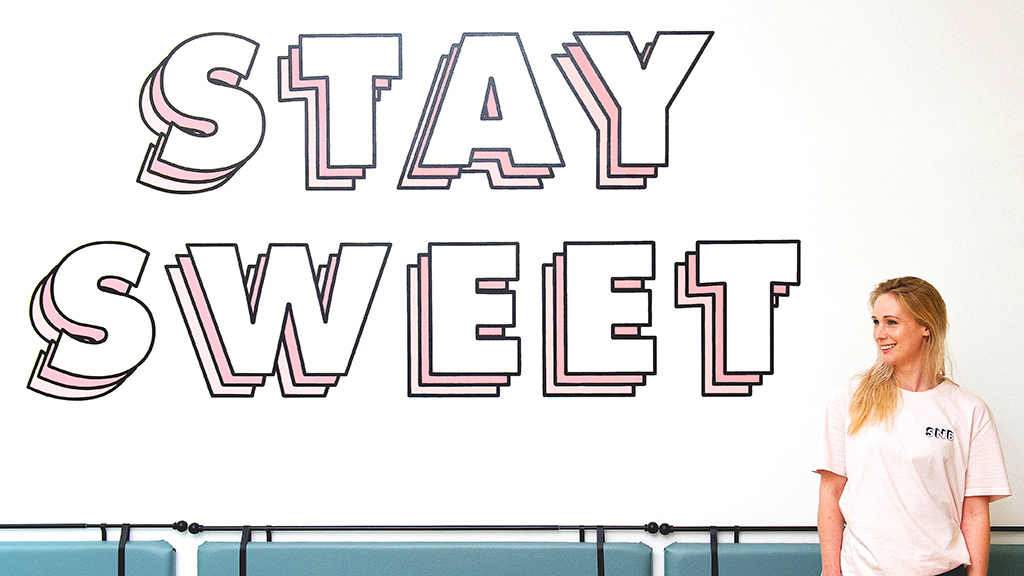 Readers in thrall to the tyranny of the sweet tooth take note, there's a new player in town. Baker and entrepreneur Beth Cardy recently opened the doors to her first bricks and mortar premises at Republic.
Located just over the Aspen Way foorbridge from East India DLR station, Sweet Nothing Bakehouse serves up coffee from all-female Deptford-based roastery Lomond alongside an extensive array of cakes, tarts and pastries, plus milkshakes and soft-serve ice cream from Brick Lane's own Dappa.
Decked out in pale pinks, subtle greens and blonde wood, pepped up with pot plants and dark metalwork it's a light, inviting interior connected to a foliage-framed outdoor space via full-height plate glass windows. It all serves as a backdrop to the punchy aesthetic of Beth's cakes which luxuriate under curls of buttercream icing, slices of dried fruit and the glamour of glitter-spritzed cherries.
Little surprise perhaps, that she began her career in the world of fashion before making her way into the kitchen.
"Sweet Nothing started in Hackney, in my flat with my flatmates doing bespoke cakes," said Beth, who runs the company as managing director.
"After school I went to Sheffield Hallam University and did a fashion degree. I wanted to do design – that was my dream. I moved to London to get into the industry, and realised that it wasn't what I wanted at all.
"At university, you're wrapped in cotton wool, you never have the real experience, so I moved into the production side of the industry and started baking on the side.
"My mum's actually a baker, working in the catering industry and, even when we were kids, she would just bake with us for fun.
"I found that I really enjoyed it, and I really liked cake as well, so that helped. So, I did a bit of research and enrolled on a one-day a week patisserie course."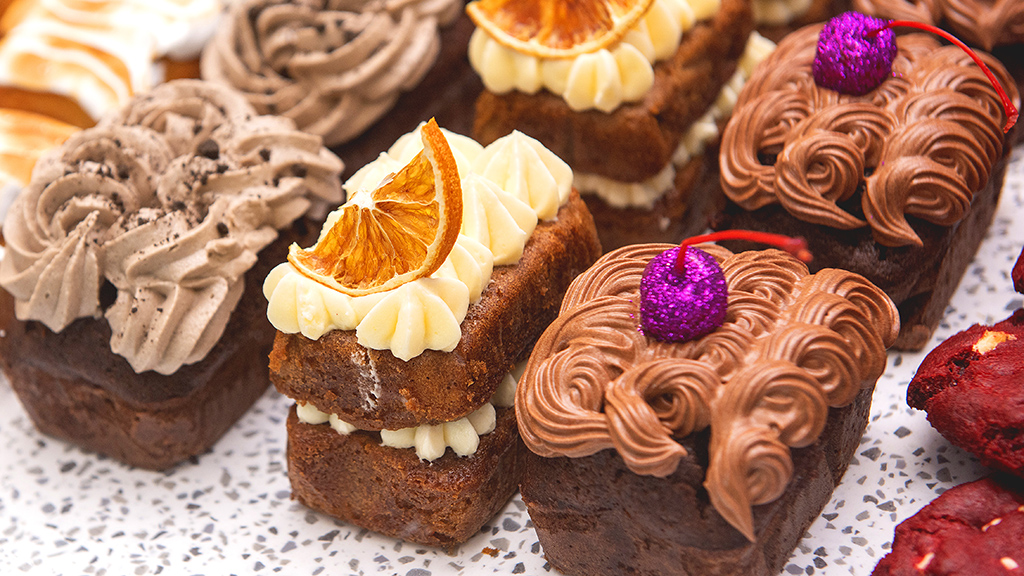 Beth continued working in fashion while she trained, eventually leaving the industry to join Euphorium Bakery in Islington, which enabled her to gain the experience necessary to become qualified as a baker.
She said: "That was really hard work, getting up at half-three in the morning for a 5am start. I did that for three months – you don't see anyone, you get up in the dark and it was not very sociable.
"I couldn't go out at the weekends or see friends but it didn't really put me off, I just wanted to work for myself and set my own hours. So that's when I started Sweet Nothing in 2015, baking bespoke cakes from home."
Working other jobs while she nurtured her brand, she made the move into events, buying and kitting out a former horse-box trailer to make the business mobile in 2016, going on to serve her products at corporate gigs for the likes of Microsoft, Paco Rabanne and Warner Brothers Studios.
"In 2017 I started looking for premises, because that's where I always knew I wanted to go," she said. "I didn't always want to be in this trailer working at events, I wanted a bakery.
"It's taken three years from finding something to actually opening because you need the right location and the right branding.
"A few places fell through, and then finally we decided to come to Republic. The unit we have is close to the DLR and gets the foot traffic in and out of the development.
"We finally got it in March 2020 and opened on April 1 – that took 12 months because of the pandemic, which interrupted a lot of our plans, but we are here now and we want people to know we are open."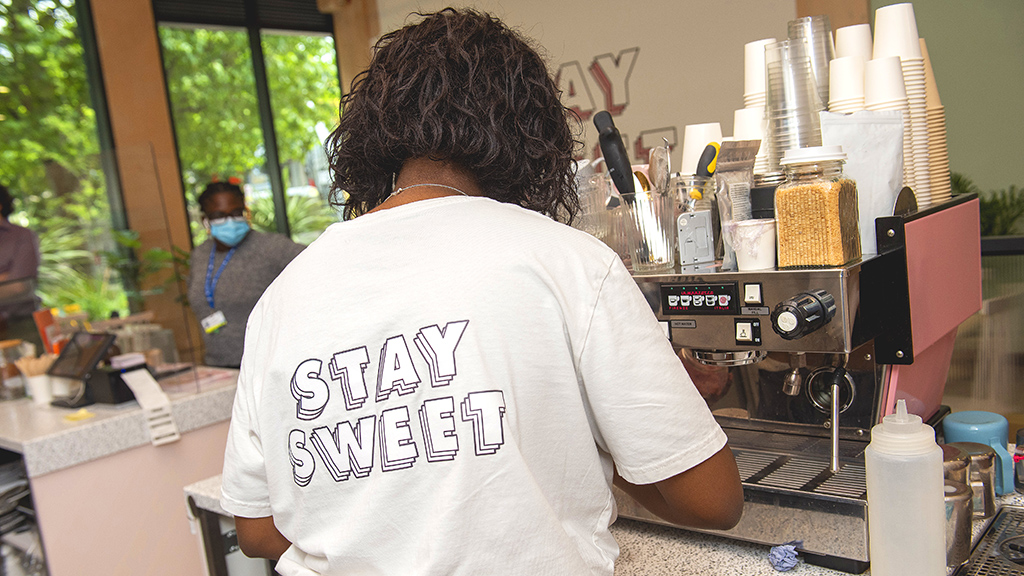 Sweet Nothing is constantly evolving and, as the business establishes itself, Beth is already looking to the future, near and far.
"We are a bakery and we have a bespoke cake service, which is a big part of the company – something we'll probably end up expanding to be our main source of income," she said. "As a female-led business we want to promote other small firms and our ethos is very much working with independent suppliers such as Dappa and Lomond.
"We don't use any plastic and all of our cups are biodegradable. Or cutlery is disposable or wooden.
"Any plastic we do have is made from plants, so it doesn't take 300 years to decompose, but 30 days instead.
"That was a big thing, because opening a bakery, we might have been adding to landfill – all those cups, those lids. Even before Covid a lot of people were getting into sustainability. Think how many restaurants and cafes and take-aways there are in the world and it's unbelievable how much rubbish they generate.
"We have a food waste bin, so anything in the kitchen which is scrap goes in the bin and is then disposed of properly.
"We're also working with a company called Too Good To Go, which is basically an app, that offers magic bags – we fill them up with any pastries we can't sell at the end of the day and they go out to customers. They don't get to choose what's in the bag, but it means we make our costs back on the pastries and we're not generating wasted food.
"At Republic we have plans to start a brunch service, although we're still finalising the menu.
"It's likely to include pancakes, avocado on toast, poached eggs, waffles and the Croissant Benny, which is Eggs Benedict in a croissant.
"It will be very Australian-inspired and we're hoping that will come together before the end of June.
"Eventually, I want to expand to other sites then maybe to start a franchise eventually, but that's a few years away."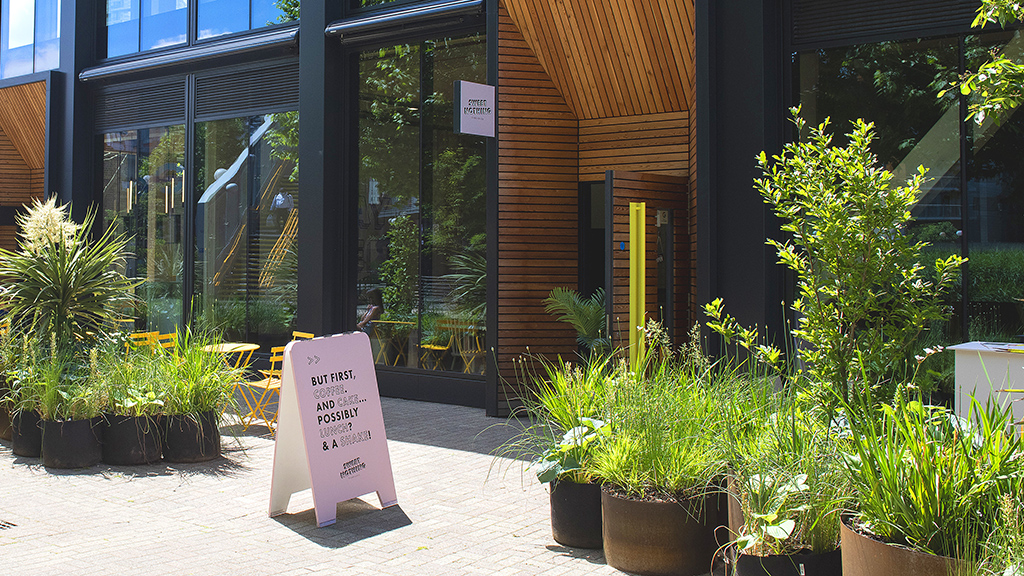 For now, there are plenty of attractions for customers already in place, not least a range of newly launched loaf cakes.
"They have a filling inside, which is a bit of a surprise with lots of nice textures," said Beth.
"Overall, Sweet Nothing is very pink, Instagrammable but still classic – over the top but not too much – our products just look mouthwatering.
"My favourite thing to do is actually the bespoke cakes, which start at £36 for a five-inch one.
"A customer will come to us and say they want pastels or stencilling and that's the best thing, when you get to be creative and they are happy with the result.
"Running your own business is almost more stressful than working for other people, but in a good way.
"Eventually I want to step away from the everyday responsibilities of the business and start to expand it. I didn't think I'd ever have the opportunity to have something like the bakery I've opened at Republic, to be honest.
"When I go home and have some time to myself, I think: 'I did all that,' and I'm so proud. Obviously it doesn't happen overnight, but it is incredible.
"I maybe thought I'd have a little place in a village, so to have this as my first premises is amazing and we can't wait for more businesses to open here, which is good for all of us."
Read e-editions of Wharf Life's print edition here
Subscribe to our regular newsletter here