Collaboration with Crafts Council sees artist and Peckham-based charity IntoArt split £60,000 prize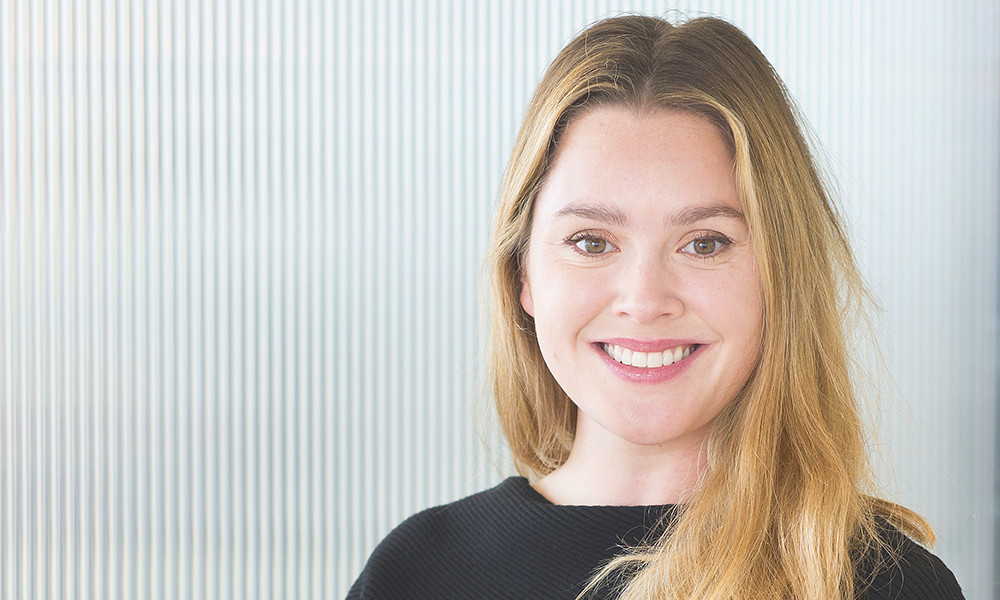 Subscribe to Wharf Life's weekly newsletter here
How do organisations best support and encourage the arts?
Having long brought art into its buildings, the natural step for Brookfield Properties was to recognise makers' achievements with an annual prize.
The company, which co-owns Canary Wharf Group and is based at One Canada Square, teamed up with the Crafts Council to do just that, recently naming its latest winner.
"We came up with the Brookfield Properties Craft Award in 2020," said Saff Williams, curatorial director at Brookfield.
"It came out of a collaboration with the Crafts Council. We've always hosted free exhibitions in our buildings – it's part of the Brookfield experience where you have all sorts of things such as art shows, events and wellness seminars.
"I needed work for those exhibitions and people were asking why I was putting pieces in these spaces and what the decision making process was.
"I'd been having an ongoing conversation with the Crafts Council about collaborating and renting pieces from their private collection to show.
"They told me about Collect craft fair, which showcases the best works from makers in this country and internationally. So we developed the concept of a prize to be awarded to an exhibitor at the show.
"Brookfield would then acquire the winner's works, show them in a free public exhibition and gift them back to the council's public collection so they can be shown elsewhere.
"So that's how it started and it's accidentally become one of the biggest craft prizes in the UK."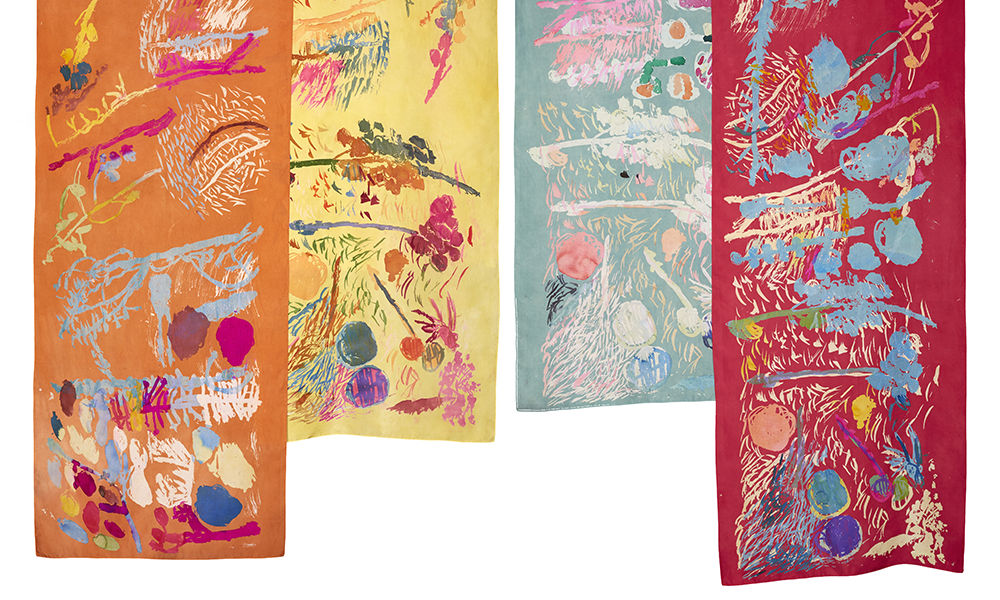 Won by makers Matt Smith in 2020 and Anna Ray in 2021, Christian Ovonlen received the 2022 award at Collect, which was held at Somerset House last month.
The prize is for £60,000, split between the maker and their gallery, which in Christian's case is IntoArt – a visual arts charity based in Peckham that works with people who have learning disabilities.
"We work collaboratively with the Crafts Council to decide the winner," said Saff. "Their curator – Annabelle Campbell – shortlists hundreds of makers at Collect – the top artists they want to add to their collection.
"Then we come up with a shortlist of five, based on work Brookfield would like to show and, after the winner is announced, we buy the work and build an exhibition.
"This year we were lucky enough to be able to go to the studios, see the artists in their space and speak to them about how they make their work, so that helped us identify a winner.
"It's also a chance for us to talk to them about their story and define who we think has the best work from our perspective of adding to the collection.
"All of our shortlisted artists would have made incredible shows, but with Christian's work there was such a kind of joi-de-vivre about the light and his colour – a new way of exploring screen-printing in ink.
"I remember when we went to IntoArt, we were blown away by the colour. His work is so beautiful, and he is so prolific in his desire to articulate his work in different media, in silks and also in his drawings.
"It was exciting and I got caught up in it – I thought it was exactly the kind work we should show – the kind our community and tenants would really respond to.
"Art is subjective in so many ways, but Annabelle and I thought Christian's work was so moving and very exciting.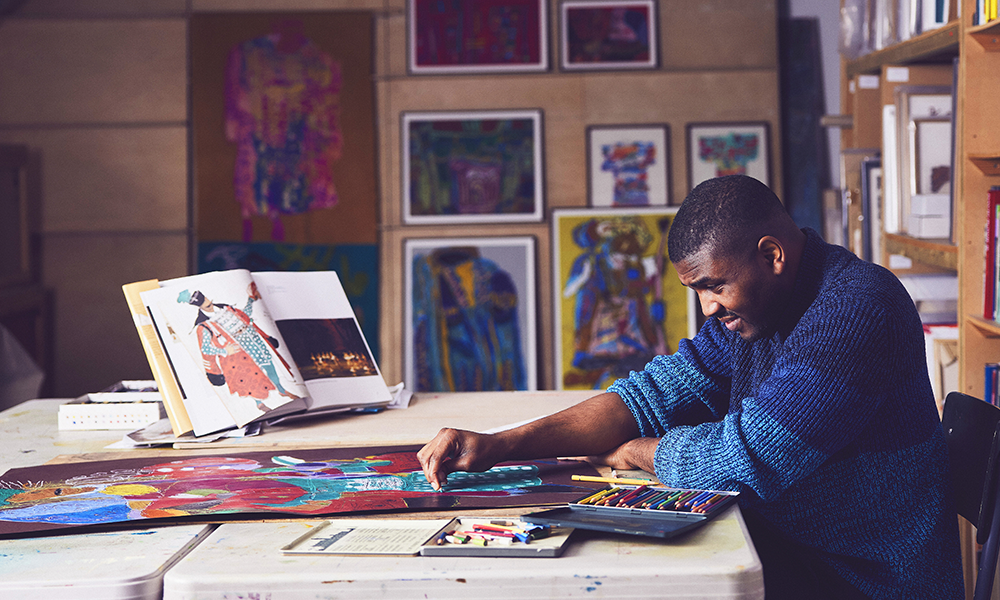 "Because he does his screen-printing on silk, his pieces have this kind of movement about them.
"A lot of them are figurative works, inspired by the Ballets Russes and a lot of research he's done at the V&A.
"There's something about the nature of his brushstrokes, that made them feel like figures dancing.
"Even in his drawings of flowers, for example, the petals were almost falling off.
"There is something very gestural about his work. I feel so many artists try to achieve that, but he seems to do it naturally."
Alongside Christian, makers Anthony Amoako-Attah, Dawn Bendick, Cecilia Charlton and Irina Razumovskaya were shortlisted for the 2022 award.
"What we do is often quite bold and colourful," said Saff. "If you've got 9,000 or 3,000 people coming to work in a building on a particular day, then not everyone is going to like everything, but it's so important to get art into these environments.
"In the wake of the pandemic, people's expectations when they go to the office are so much greater now.
"At the beginning people thought it was great to work from home, but now they want to go into work because they can see friends or drop in on a pop-up exhibition opening and have a drink.
"When people hadn't been into their offices for months and months and saw a show with work by our 2021 winner Anna Ray – so bright and vibrant – people emailed saying that seeing her pieces really helped them."
As part of the award, Christian's work will be shown by Brookfield Properties at 99 Bishopsgate in the City during the summer.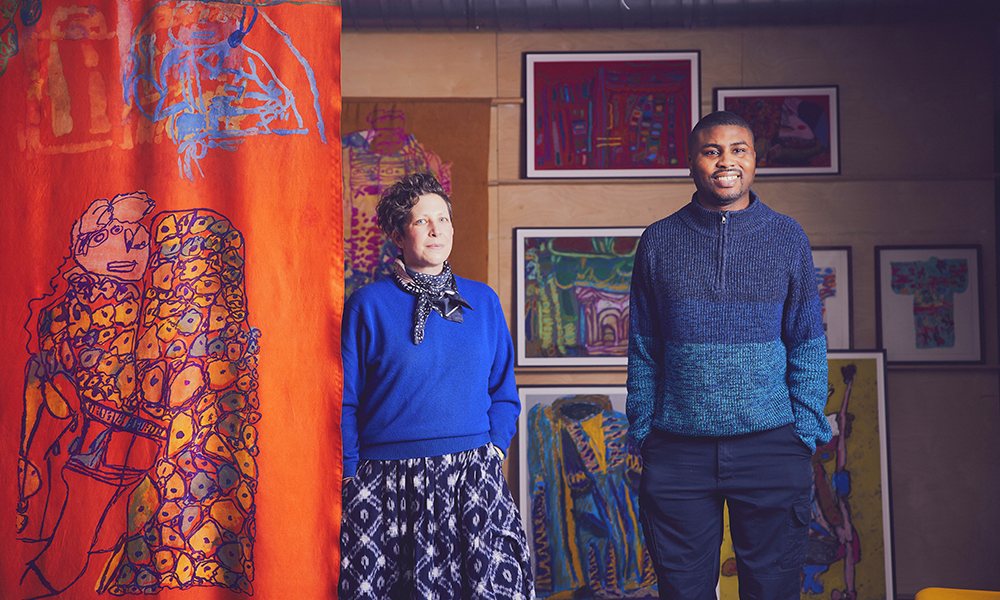 BECOMING AN AMBASSADOR FOR EQUITY IN THE ARTS AND FOR CHARITY INTOART
Brookfield Properties Craft Award winner 2022 Christian Ovonlen makes his work in Peckham with charity IntoArt.
Director Ella Ritchie said: "I co-founded the charity with Sam Jones when we left art school. Based on our experience of volunteering with people who have learning disabilities, we really wanted to make a change because there was no resource for those people to have access to art education as adults.
"We are ultimately an alternative art school that has the same rigour you would find at an art school.
"We introduce people to materials, techniques and opportunities. Our vision really is about equity in terms of access, learning and ambition in the arts."
Christian joined the collective in 2013 and has been developing his practice for the last nine years.
Ella said: "Most people start with us on a foundation course so they're learning lots of different techniques, they may never have done much art – it's very much about exploration and opportunity.
"Over this last three years Christian has taken his drawing practice into this really unique language of textiles, which I think is what has excited people.
"They're very large scale silks that hang as though they are the drapes of theatre backdrops.
"The series he made for Collect is inspired by the Ballets Russes – the performers, the scenography and the costumes.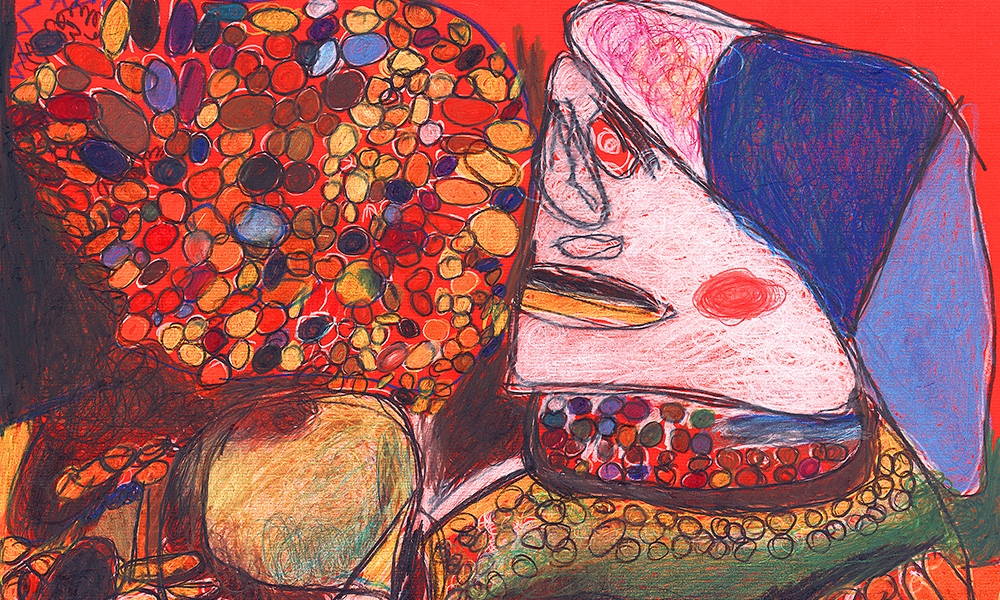 "He starts with drawings and silk screen prints them onto silks using a very delicate dye technique.
"The resulting textiles are very light and really float in their settings.
"Everything is made by hand including the dyes he uses – he controls the vibrancy and strength of the colours and how that is translated onto the fabric."
Ella said the prize clearly recognised Christian's work as on a level with other makers at Collect
She said: "Winning just blew him away. It gave him a direct relationship with the other makers and galleries at Collect – he went round to talk to them as a fellow practitioner and that comes back to that equity.
"Christian is an internationally recognised maker and an ambassador for all of us and our mission to challenge the notion of who can be an artist, maker or designer. 
"For me personally, I feel that's been a long time coming. I've always known this work is amazing and the people we work with have such potential.
"I think when people see it, they get it and what's great about this award is that Christian's exhibition will be so public and so open to people."
Read more: Emilia's Crafted Pasta opens its doors in Canary Wharf
Read e-editions of Wharf Life's print edition here
Subscribe to Wharf Life's weekly newsletter here