Director Josephine Burton talks about the epic retelling of The Aeneid set in the Royal Docks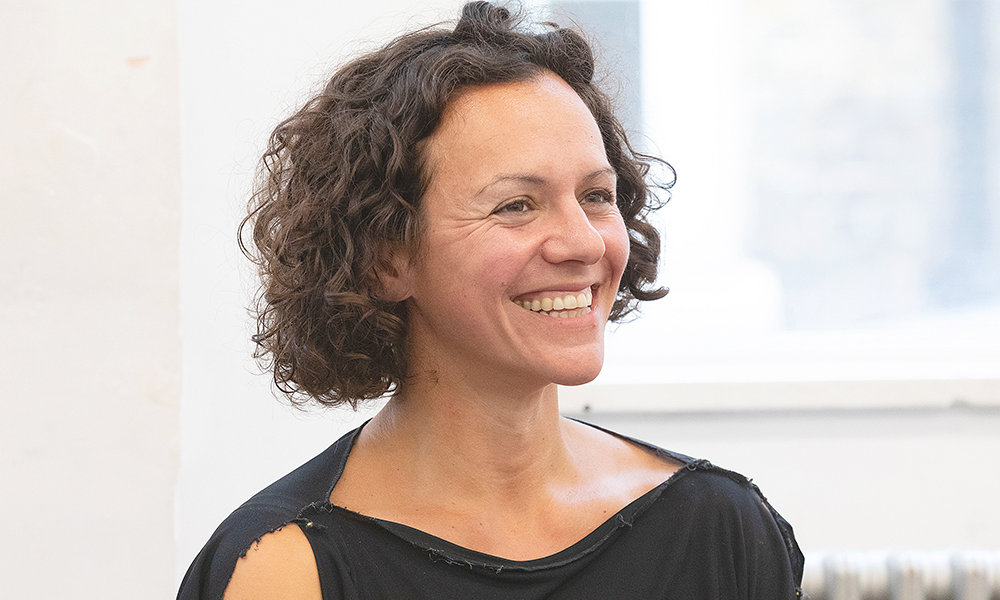 Subscribe to Wharf Life's weekly newsletter here
BY LAURA ENFIELD
Refugees have to leave everything they know – not just places and people, but communities, careers, sights and sounds they have found comfort in their whole lives.
They arrive in a new world and are expected to assimilate. But how do they do this when everything around them is unknown?
This is the struggle Dash Arts seeks to capture with its new production Dido's Bar, an immersive retelling of Virgil's epic poem The Aeneid, set in Royal Docks.
"I'm Jewish and British, English and a Londoner and have always felt I'm many things – on the edge of so much," said director Josephine Burton.
"I've enjoyed being in that liminal place between different communities. It's how I see the world, so I'm interested in seeing other people's otherness too."
The story of migration and love will be told through the eyes of refugees today and unfold in a real life bar built in part of a former Tate & Lyle warehouse.
Audiences will, we are told, be immersed in a strange world when they arrive, where they are unsure what motivates the people around them.
They will mingle with the cast as the story of Trojan refugee Aeneas unfolds around them.
But instead of being set in ancient Italy, the production has been transported to a jazz bar with a line-up of live musicians.
It's set to run at The Factory from September 23 to October 15, 2022.
"The audience will walk into the venue, with a house band warming up in the corner and they'll grab a drink from the bar," said Josephine.
"Then the drama of this amazingly powerful love story between Aeneas and Dido and the great battle between Aeneas, the foreigner, and Turnus, the local boy, will creep up around them."
Josephine is co-founder and artistic director of Dash Arts, which is based in Whitechapel.
For the last 15 years it has worked with 9,000 artists to create work that bridges divides across art forms, cultures, languages and communities.
"We go on a bit of a journey and spend a lot of time listening, understanding, meeting and researching artists and eventually creating work with them," said the 45-year-old.
"It's like opening up a Pandora's box with this extraordinary wealth to explore, understand and then share with audiences."
Dido's Bar has been two years in the making and was first inspired back in 2017 when Josephine met Kurdish Iranian refugee Marouf Majidi in Finland.
"I had been on an exploration of what it means to be European which had emerged out of the Brexit referendum," said Josephine.
"I met Marouf in Finland in 2017 on my way back to the airport over a coffee and he told me his story of traveling to Europe.
"He fled Iran as a refugee and was relocated to Finland, where he settled and eventually studied at the Sibelius Music Academy in Helsinki, where he now teaches.
"He's been on an extraordinary journey from the music conservatoire in Tehran where he studied Persian classical music, to teaching Finnish folk music.
"He found it very hard at first to establish himself musically and connect with the musicians he was playing with in Finland.
"Eventually something shifted for him and he found his place, but he was no longer 'in tune' with musicians from central Asia.
"It was such a short meeting, but that thing he said about feeling out of tune lived with me.
"I picked up the phone three months later and said I really wanted to tell his story and wanted him to be at the heart of it."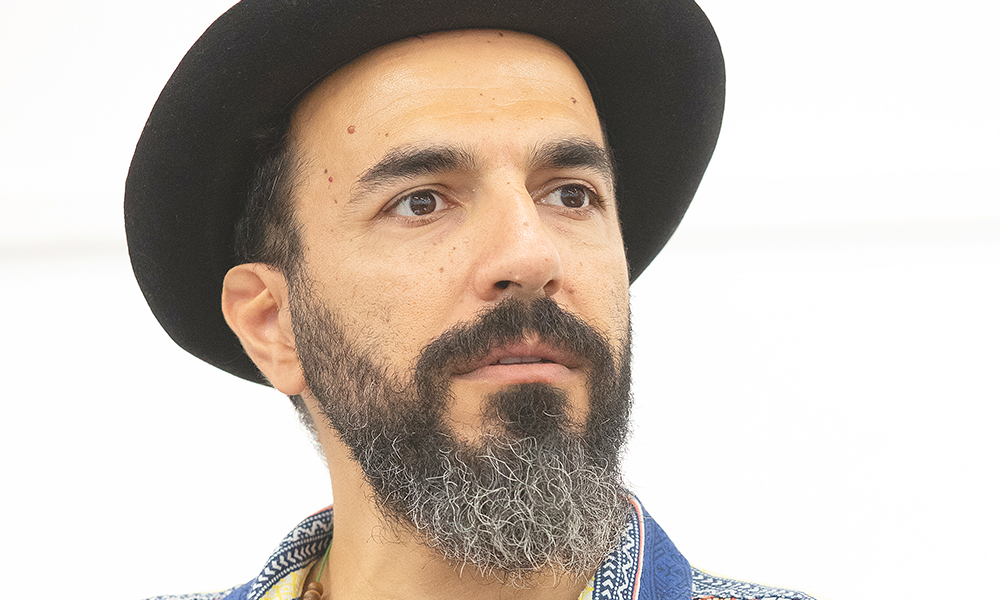 He agreed, but at first Josephine struggled to find the right way to bring his story to the stage.
"I wanted to tell Marouf's story and find a way of understanding what it is to be European through the experiences of refugees who travel here," she said.
"It's perhaps the people who move here and go through such a transformation, musically and emotionally, to insert themselves and settle in a new place, that can help tell us who we are. They can be that mirror for us.
"But I didn't want to just tell a personal story, I also didn't want to create a super band of musicians. I wanted to do something theatrical and dramatic."
Her lightbulb moment came when she remembered a text she had studied 20 years ago as a classics student.
"I was chatting to someone about how the Aeneid is the story of our time, of the refugee and the struggle to find a place to belong," she said.
"Aeneas flees Troy in the war-torn East and travels across the Mediterranean to seek sanctuary and build a new home in Europe
"It's the story of both the experience of fleeing and having to assimilate and discover that, once you've arrived, it's only the beginning of the story.
"Suddenly I realised it was the perfect way to tell Marouf's story and to understand the role of Aeneas in a contemporary setting.
"The original epic poem is pages and pages long in Latin, involves mass battles and love affairs and is very involved and beautiful.
"We've taken that story and mapped it on top of Marouf's."
She developed the idea during a series of residencies with playwright Hattie Naylor and Marouf, who has composed the music alongside Riku Kantola.
Research and development in Scotland in February 2020 was followed by a residency in Finland – a few days together as part of Royal Docks Originals – and a residency in Cornwall.
Marouf then moved to London this summer to finish developing the show.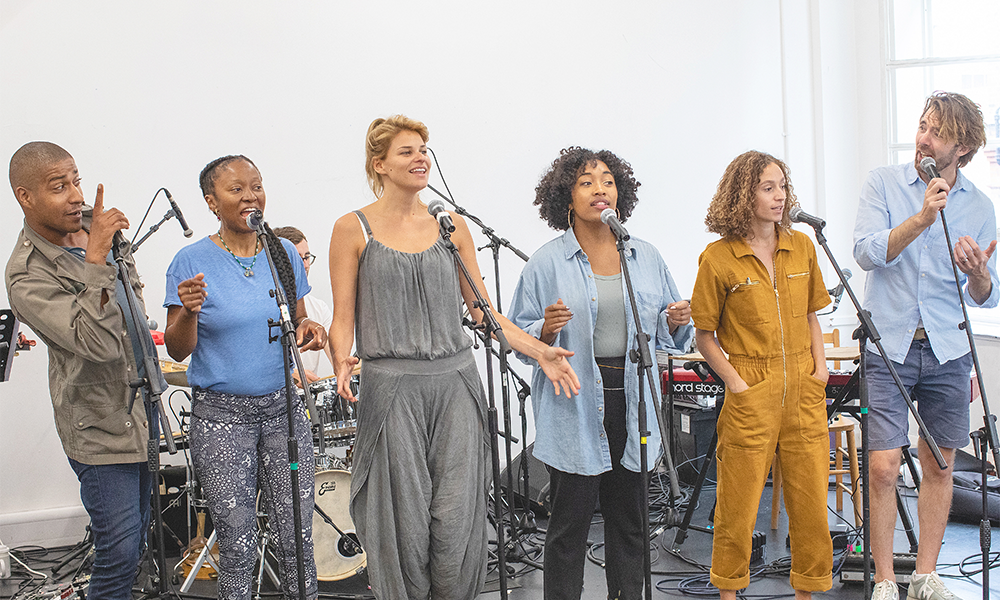 "I remember the two of us bent over on the floor in Scotland in the rain with copies of the Aeneid in English, Latin and Arabic ," said Josephine.
"We spent hours trying to work out what the story was and finessed it to the point where we would challenge each other to tell it in less than a minute, then 30 seconds, then 10.
"Then we did a lot of jigsawing and planning and brought in Hattie who had adapted the Aeneid for Radio 3 as a drama.
"She'd go off and write and then we'd write a song together. It really was a collaborative process."
The result is a show where the epic warriors of the original story are now musicians trying to make it into the spotlight and the goddesses are sisters who own two bars – one on the edge of town and one in the centre.
It draws on the backgrounds of its international cast who hail from Morocco, Madagascar, Germany, Finland, and Eritrea, and uses their native languages to enrich the performance.
Josephine said: "The show now is about how to understand an old myth written 2,000 years ago that feels so resonant and timeless."
It will be staged in Unit F of The Factory, disused sugar warehouses that have recently been transformed into a series of new venues and workspaces.
"It could never be in a black box theatre," said Josephine.
"I wanted the audience to feel that they were somewhere impromptu and exciting and slightly makeshift. We spent quite a lot of time trying to find a place and saw some extraordinary places across the Docks.
"Then, last May, I visited The Factory when it was in quite an early stage of development.
"Projekt, our partners for the show, had just got Unit F from Tate&Lyle and, when we walked in, there were pigeons in the rafters and sugar all over the floor.
"It was sticky and black underfoot and it felt very powerful as a venue – I just knew it would amazing."
Dash Arts has built the bar from scratch and it will serve up beverages from nearby Husk Brewing using local staff.
Newham artists will take to the stage each night and the show will be complemented by a programme of gigs, talks, food events and workshops to engage the local community, which has been shaped through the area's history of immigration and dockers.
"It's a perfect marriage for us of place and story because the audience is really going to feel that they're coming to somewhere incredibly exciting and diverse," said Josephine.
"Newham is one of the most linguistically diverse boroughs in London – there are hundreds of languages spoken there – and it has always been a first port of call for people.
"So to tell this timeless epic story today in Newham's docks is really thrilling and right."
The project has been co-produced with the Royal Docks Team and Jospehine said they have worked hard over the last year to embed it into the community, meeting local groups and running music workshops.
"There is a real sense of culture and community building happening there and I got very excited about that," she said. "I had this real instinct that there wasn't anywhere else to put Dido's Bar."
She hopes the audience will embrace the world they have created.
"I really want them to have a wonderful night and love the music because it's extraordinary," she said.
"I want them to feel as I felt, that this old ancient story has such resonance today, to feel moved by the protagonists and the journey they have taken.
"I hope they feel we have done justice to some of the biggest questions of our time, about how to assimilate into our communities."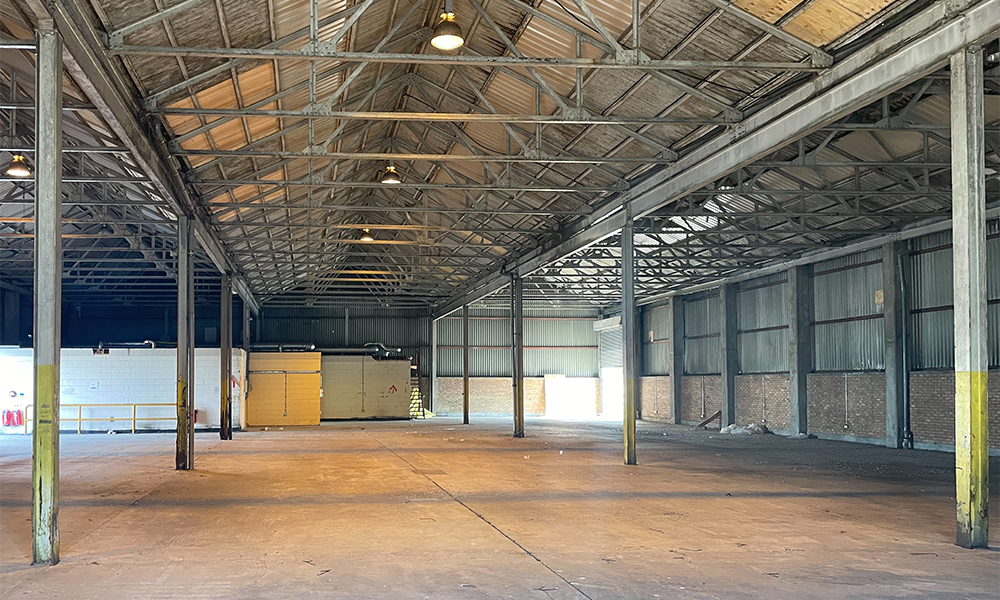 THE FACTORY – A NEW VENUE FOR ROYAL DOCKS
Once used by Tate & Lyle for sugar production, this 5.2 acre site on Factory Road is now a series of work and event spaces run by meantime use specialist Projekt (also behind the Silver Building)
It landed the first grant from the Royal Docks Good Growth Fund for a year-long refurbishment and opened the 100,000sq ft space in June.
Organisations that have made The Factory their home include Community Food Enterprises, Links Event Solutions and The Beams – a new venue by Broadwick Live.
Unit A is home to a cafe run by The Breadmeister, Unit D is a set of workspaces and Unit F is a refurbished warehouse that will be hired out for film and TV productions.
Projekt said the venue provides new work and event spaces that will "safeguard and grow the already burgeoning artistic and cultural community around the Royal Docks, as well as providing a significant amount of affordable workspace."
Read more: Discover Pouya Ehsaei's Parasang at Woolwich Works
Read Wharf Life's e-edition here
Subscribe to Wharf Life's weekly newsletter here
- Laura Enfield is a regular contributor to Wharf Life, writing about a wide range of subjects across Docklands and east London