Marking Canary Wharf Group's Season Of Culinary Discovery, Wharf Life has tried dishes from Asia and America, all available on the east London estate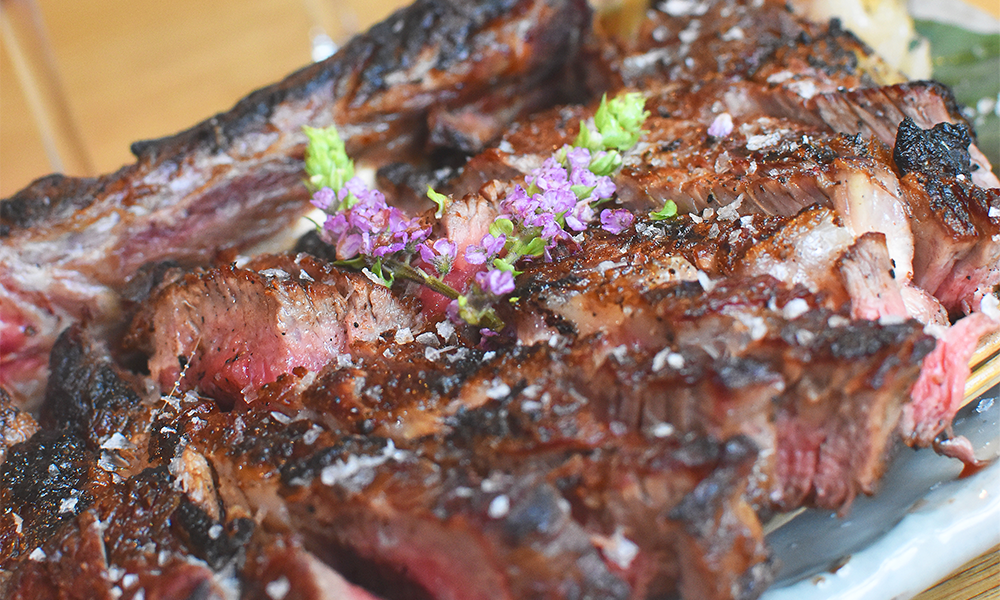 Subscribe to our free Wharf Whispers newsletter here
Canary Wharf's food scene is unquestionably the best it's ever been.
Gone are the days of underwhelming Pizza Express lunches.
The estate in 2023 is host to myriad dining options spanning cuisines from across the globe.
In celebration, Canary Wharf Group (CWG) has unveiled its Season Of Culinary Discovery campaign, aimed at shining a spotlight on venues all over the estate at a time of year when – more than any other – people want to get together, break bread and celebrate.
It's an open invitation to explore, taste, experiment and discover new flavours and venues – something Wharf Life is proud to get involved with.
"The reason we're doing this is to reflect the diversity of the restaurants and cuisines we have on the estate," said Claire Slater, retail marketing manager at CWG.
" We wanted to show how people can sample flavours from across the world without ever having to leave the Wharf.
"I don't think anyone would expect the sheer number of phenomenal restaurants that we have here.
"Until you come and you visit, you won't be aware of the depth – I think people really are spoilt for choice.
"Also, because it's a holiday season we wanted to remind people that there's something for everyone.
"Whether you're celebrating with a significant other, your family, your work colleagues or a group of friends, there's somewhere that caters for every taste and every kind of occasion."
To that end, CWG is showcasing restaurants on the estate in four categories – When East Meets East, North, South Or Central, Frosty Days And Sizzling Dishes and From Farm To Fork.
In support we've selected dishes from restaurants featured in two of the above categories to help spark your dining ideas. There will be more to follow in two weeks.
Find our more about the Season Of Culinary Discovery here
WHEN EAST MEETS WEST
The first strand of the campaign is focused on Asian restaurants, so dig into noodles or a curry and prepare for some serious spice…
Tomahawk Steak, £130
Park Pavilion, Canada Square
Like this enormous, 1kg cut of flame-grilled steak, there's no part of Roka that isn't exceedingly well done. The Japanese sushi and robata restaurant is exquisite, right down to the perfectly irregular ceramics it serves its exacting dishes on. This dish might seem expensive but it will easily do for three or four people prepared to tuck into pink, supple meat and unctuous, partially rendered fat. For extraordinary value, try it as part of Roka's bottomless brunch for £51.50 per person plus a £33 supplement and indulge its outrageously good, free-flowing sushi before tucking into the beef.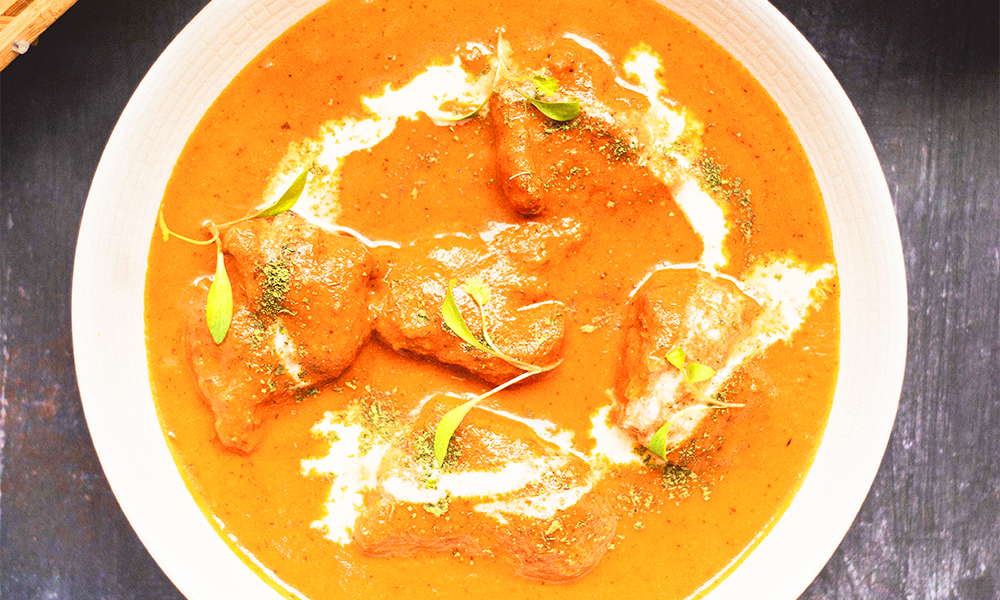 Karol Bagh Butter Chicken, £14.50
Crossrail Place
The rich colour of this dish is a clue to how this blend of tandoor-smoked chicken thigh in a spiced tomato, fenugreek and butter sauce is going to taste. Since the day it opened in Canary Wharf, Chai Ki has stood out from the crowd with its vibrant, flavourful and beautifully presented Indian cooking. Put simply, it's unafraid to be different and all the better for it. Try this dish with a simple tandoori naan (£2.90).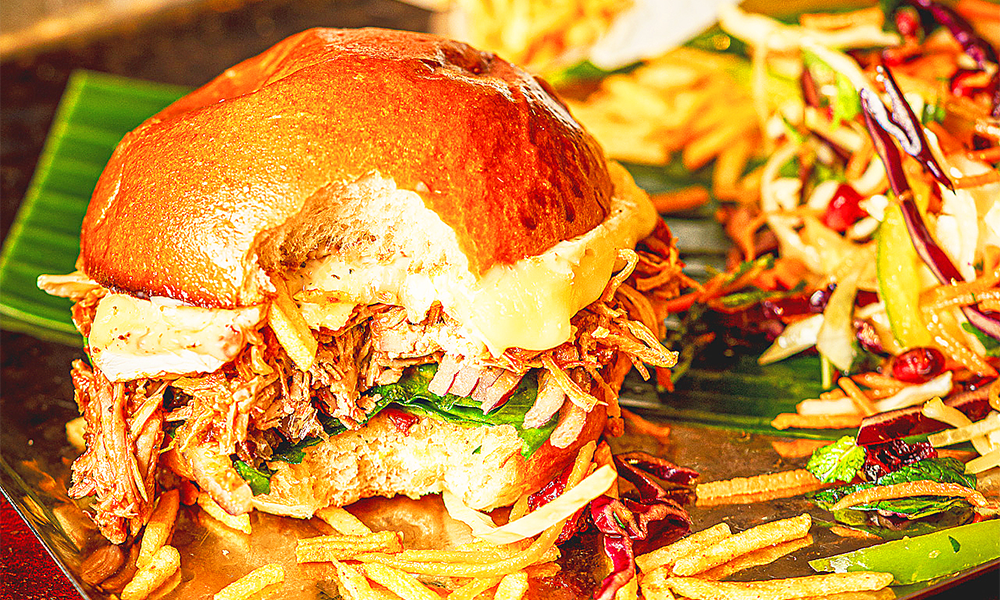 Turkey Raan Bun, £13.90
Water Street, Wood Wharf
How do you find Dishoom? Follow the queue. Those people are waiting outside to get a table for a reason. At this time of year, this dish could well be it. A whole turkey leg is marinated overnight before being prepared in the traditional Indian raan style – cooked slowly over a day until it basically melts. The meat is then gently pulled off the bone and piled into a warm brioche bun. Cranberry mayo, spinach, red onions, crispy onions and a slice of brie are added to finish things off. Best enjoyed with slaw, salli crisp-chips and deep-fried green chillies. Order it with the house black dal for something truly indulgent to dip into…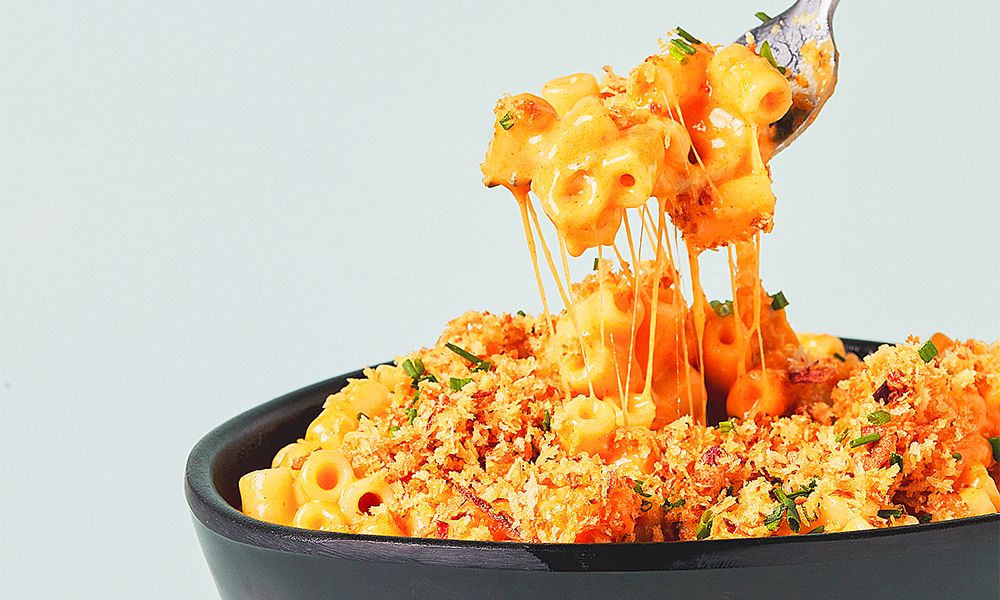 Kimchi Noodle Mac And Cheese, £4.95
Jubilee Place
Seoul Bird founder Judy Joo says: "Kimchi and cheese is a combination that is winning fans all around the world – at first bite you'll surely swoon and taste why. The tangy and spicy notes of kimchi complement and cut through the creamy richness of the cheese, transforming a traditional combination into a fully balanced, deeply satisfying sensation." But don't just take her word for it. Grab a fork and dig in yourselves. It's £9.50 for a large….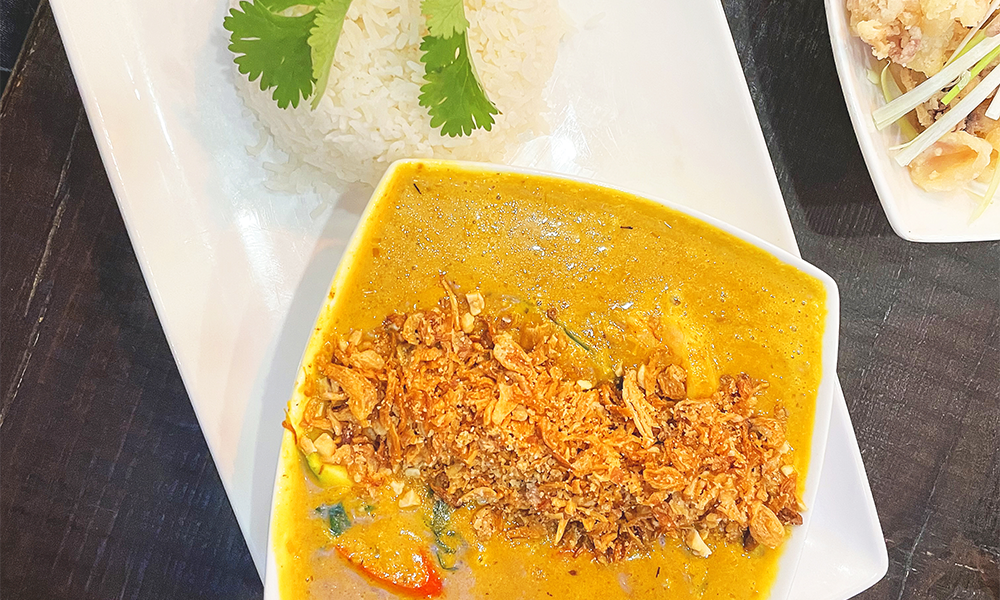 Spicy King Prawn Curry, £13.95
Jubilee Place
Slick and efficient, is the best way to describe a meal at Pho. The chain promises fresh and healthy Vietnamese food and delivers filling, but surprisingly light dishes to order at rapid speed. This punchy curry came served with a ridge of peanuts and a side of "broken rice" that all came together in a beautiful mess of flavours and textures in the mouth. Top tip, add some pickled chillies and garlic.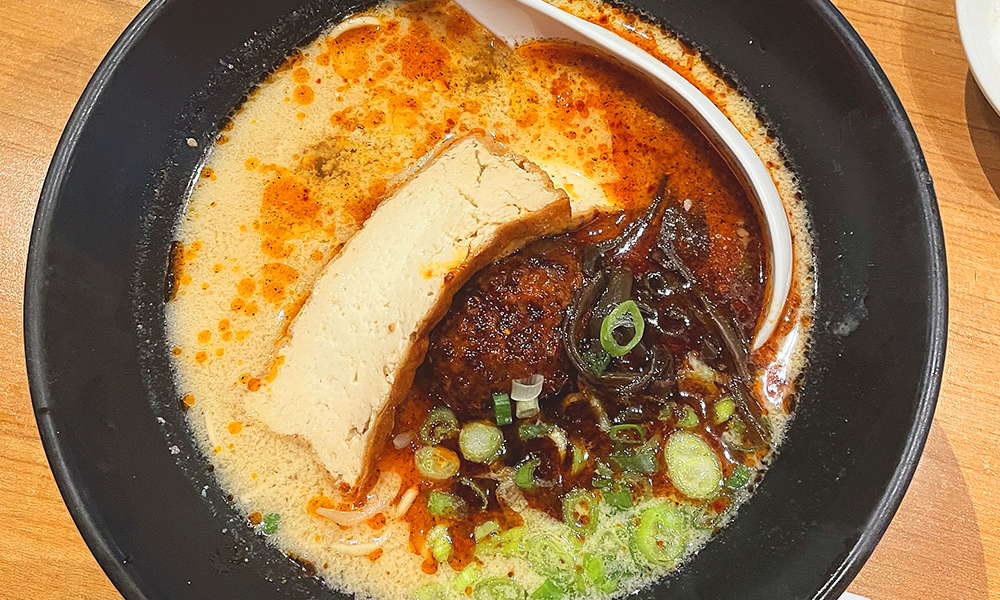 Spicy Veggie Ramen, £15
Crossrail Walk
Wowzer, this is one hot bowl, as sizzling as the late 20th century soundtrack that plays over this evergreen Japanese ramen specialist. Think Footloose, It Wasn't Me and Under Pressure for the ear worms and thin, glorious noodles soaked in Kakara miso paste, dashi broth and garlic oil on the tongue. There's serious depth here with plenty of bean sprouts, kikurage mushrooms and fried tofu to top what lies beneath…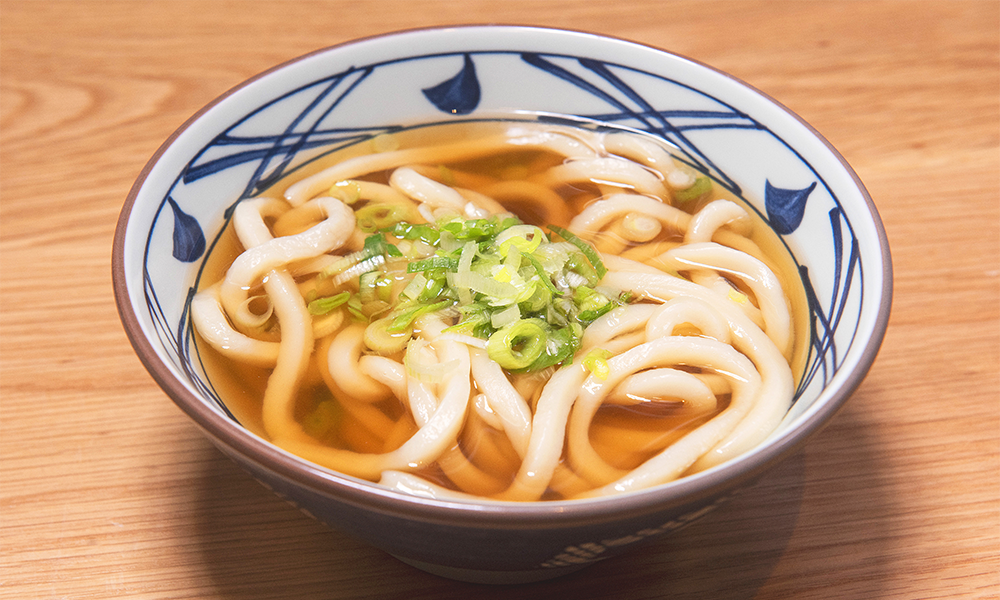 Kake, £4.95
Atrium Kitchen, Cabot Place
Is this umami-packed little bowl of fish dashi and noodles the best value dish in Canary Wharf? At 243 calories (for the small bowl), it's a warming, simple snack. But in a complicated world there's a lot to be said for purity, clarity and excellence. This is traditional Japanese comfort food at its best and you'll still get change from a fiver (at least you would if anyone actually paid in cash any more).
NORTH, SOUTH OR CENTRAL
The second strand is North, South Or Central – a grouping that could be subtitled This Is Americas (in homage to Childish Gambino).
Whether it's the full-on, bombastic cuisine of the USA with burgers and BBQ, the refined cuts of Argentina or the spice of central and South America, there's plenty to try and experience. Here are a few places to start…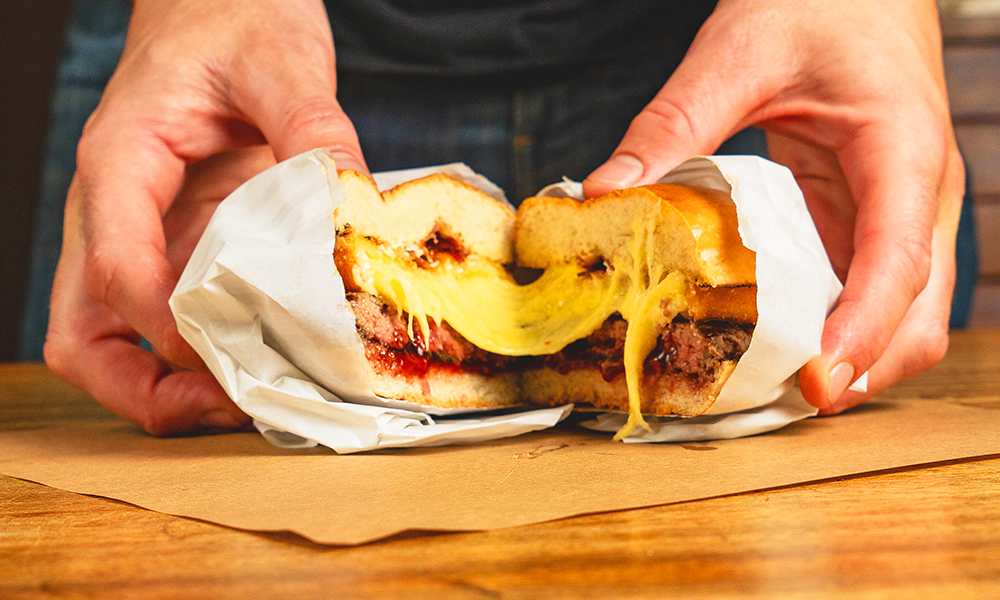 Rebel Without A Claus, £12.95
Park Drive, Wood Wharf
The British burger brand has long looked to the States for its inspiration with offerings named Ari Gold and Smokey Robinson. Little surprise then that this year's festive burger channels James Dean. It's a burger built aroung Ogleshield cheese, billed as "the West Country's answer to Raclette" and promises a pungent, melting partner to the dry-aged beef patty. Italian pancetta and red currant jam are also within to add something of a pigs-in-blankets vibe with just a little sweetness on the side. Eat at a festive celebration with the team or simply on your own with rebellion in your heart.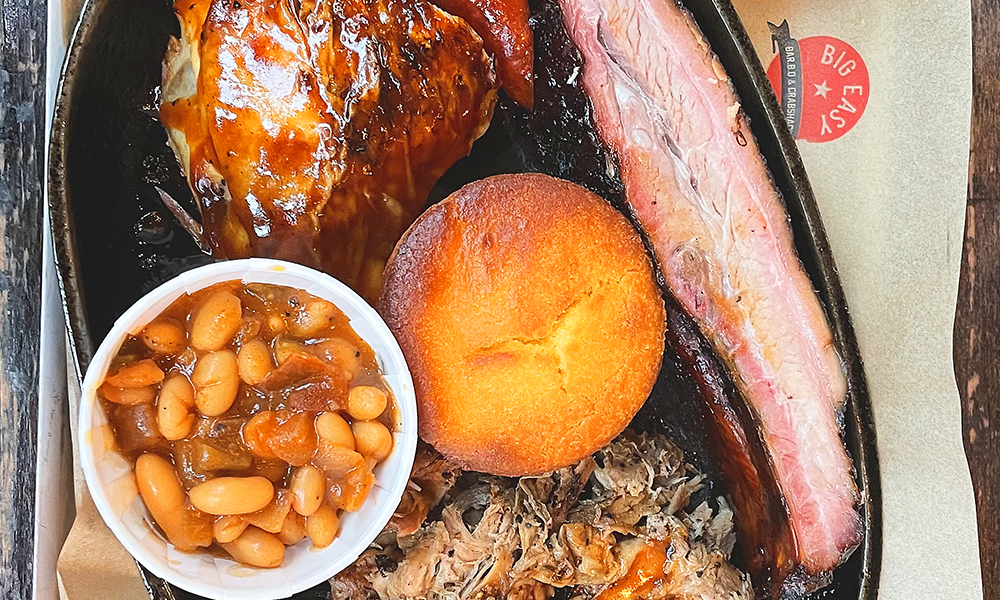 Bar.B.Q Taste-O-Rama, £10 (inc drink)
Crossrail Place
There's something about the smell of smoke as you walk into Big Easy that, when combined with the strains of raunchy blues guitar, makes you wish you were wearin' cowboy boots, a plaid shirt and sportin' a stetson. The food it serves is perfect for those whose heels have bin' hittin' the boards, with plentiful portions of home-smoked meats. Go for the venue's express menu, which includes a beverage such as a half pint of lager, a glass of Prosecco or a soft drink for £10. The Taste-O-Rama is top of the list and acts as a culinary tour of the food on offer. Expect a dish groaning with pulled pork, chicken, Texas hot links, pork rib, Bar.B.Q beans and house slaw with a sweet little cornbread cake at its heart. Rapidly served it's a good ol' lunchtime treat.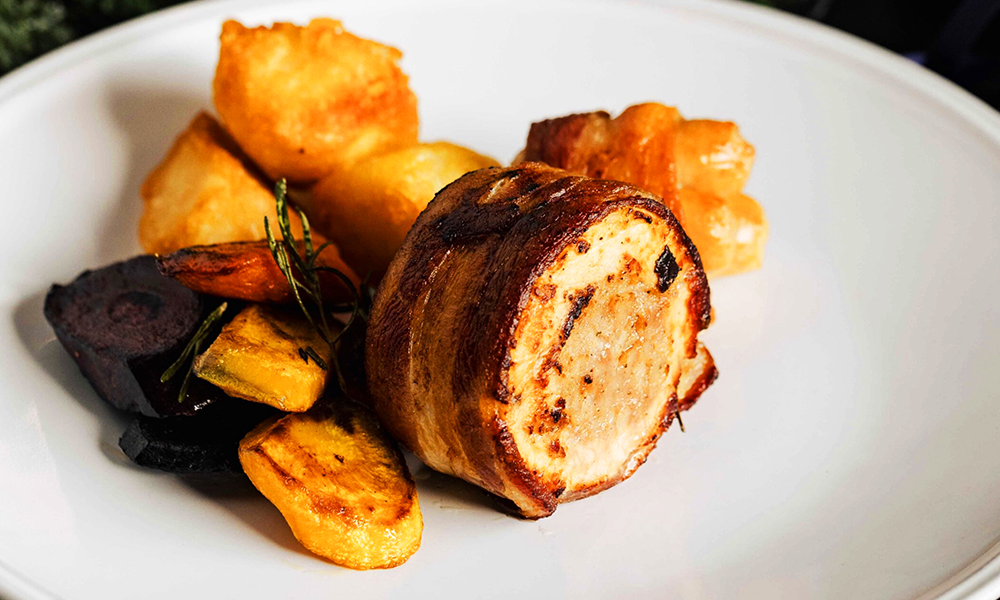 Feast Menu, £85
Canary Riverside
While Gaucho is unequestionably a steak specialist and there's a fillet and a ribeye on the chain's seasonal four-course set menu, beef is far from the only attraction. Top billing goes to an Argentinian twist on traditions with the chimichurri butter roasted turkey. There's also a whole grilled sea bass for fish lovers and a mushroom tagliatelle with truffle oil for those who prefer to avoid meat altogether.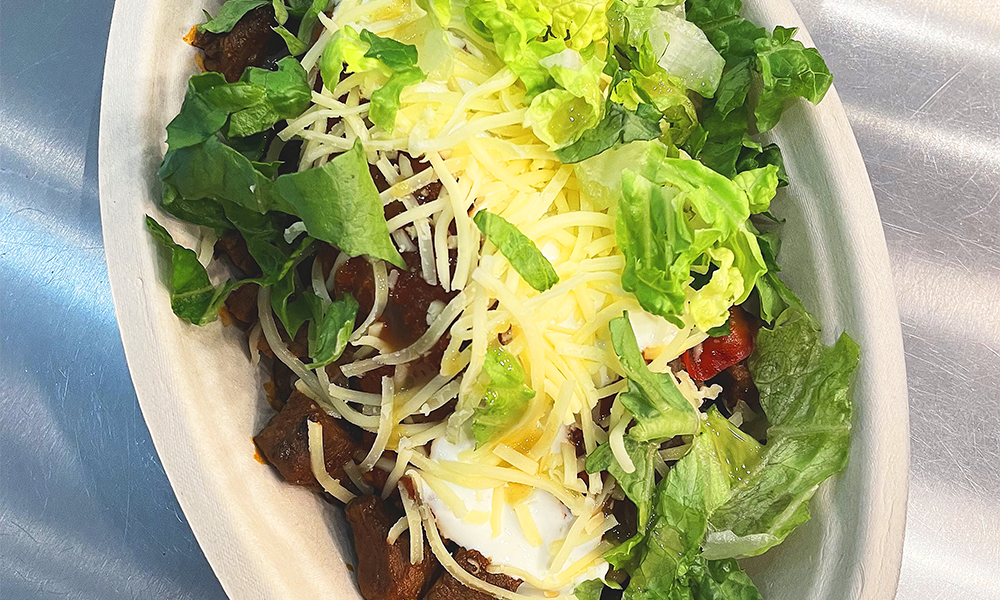 Steak Bowl, £9.25
Jubilee Place
This innocent-looking bowl of burrito ingredients (conceived, presumably for those who insanely prefer to eschew carbs) must not be underestimated. Mention to your server that you like it spicy and they will be more than happy to oblige, dressing the chunky cubes of beef in a sizzling hot sauce that's enough to warm anyone on a winter's day. But then what else would you expect from a chain named after a smoked chilli?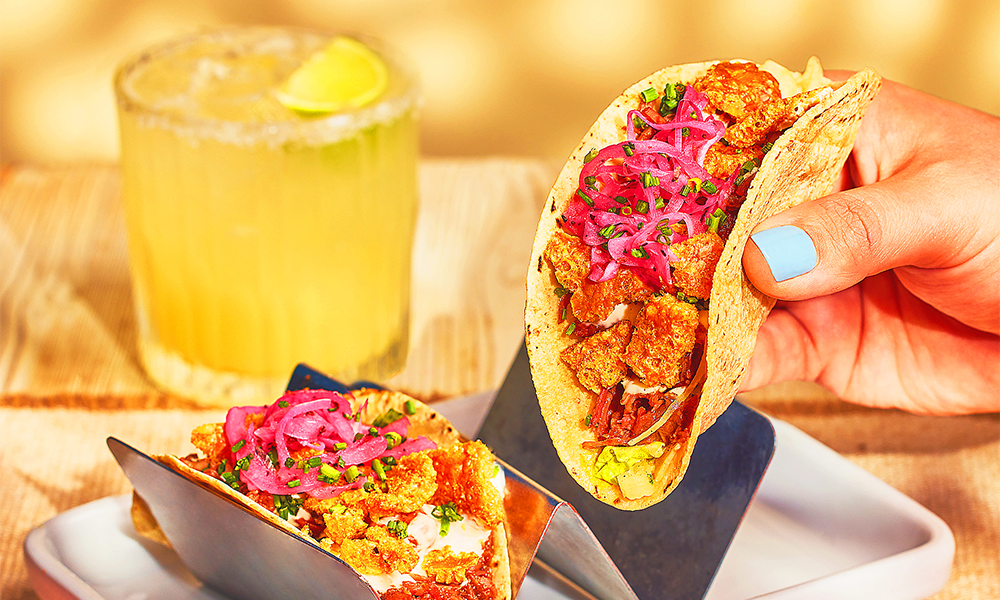 Ham Hock Tacos, £35 (part of set menu)
Park Pavilion, Canada Square
You'll have to wait until November 22 for these, but just look at them… The brand's development chef, Leo Da Cruz says: "The Christmas Ham Hock Taco is a dish I'm really excited about. We've combined a familiar festive ingredient, with a whole host of flavours and spices inspired by Mexico.
"It's topped with pink pickled onions and crispy crackling pieces. You can also dig into all these flavours and more in our sharing festive feast."
This Christmas menu will be available until December 24, 2023, costs £35 per person and is available for parties of six or more. Flavours include the likes of smoky Sonoran hummus, golden roast cauliflower, churros with sprinkles and, of course, ham hock served with a crispy crackling crown.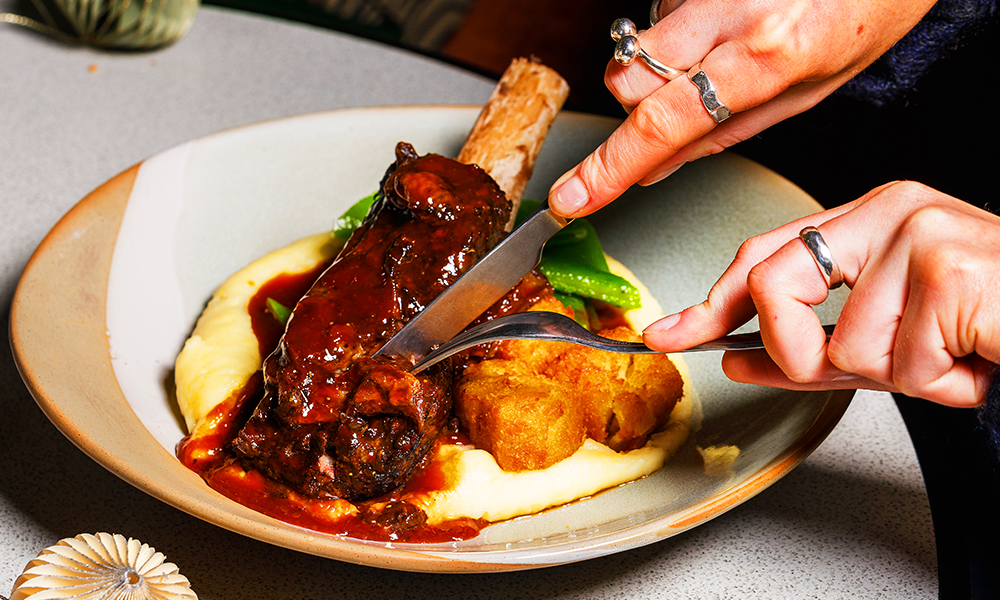 Festive Feast Menu, £49
Water Street, Wood Wharf
Fancy a plate piled high with mashed polenta and lamb shank drizzled with a balsamic vinegar sauce? Then California-inspired restaurant Feels Like June is the place to go. Located on the ground floor of the Tribe London Canary Wharf hotel in Wood Wharf, the venue promises a sunny welcome year-round. For Christmas, it's offering a three-course set menu available until Christmas Day, featuring the likes of beef tartare, clam chowder and mushroom and truffle arancini to start. Mains include the lamb, a duck breast fillet and a cauliflower steak. For dessert, there's red velvet cake with hot fudge and chocolate sauce, gingerbread cheesecake with chantilly cream or a spiced chocolate mousse. Feeling festive yet?
Read more: How Level39-based WyzePay offers discounts at MMy Wood Wharf
Read Wharf Life's e-edition here
Subscribe to our free Wharf Whispers newsletter here
- Jon Massey is co-founder and editorial director of Wharf Life and writes about a wide range of subjects in Canary Wharf, Docklands and east London - contact via jon.massey@wharf-life.com