Danish-Japanese restaurant company continues to build on its foundation of local branches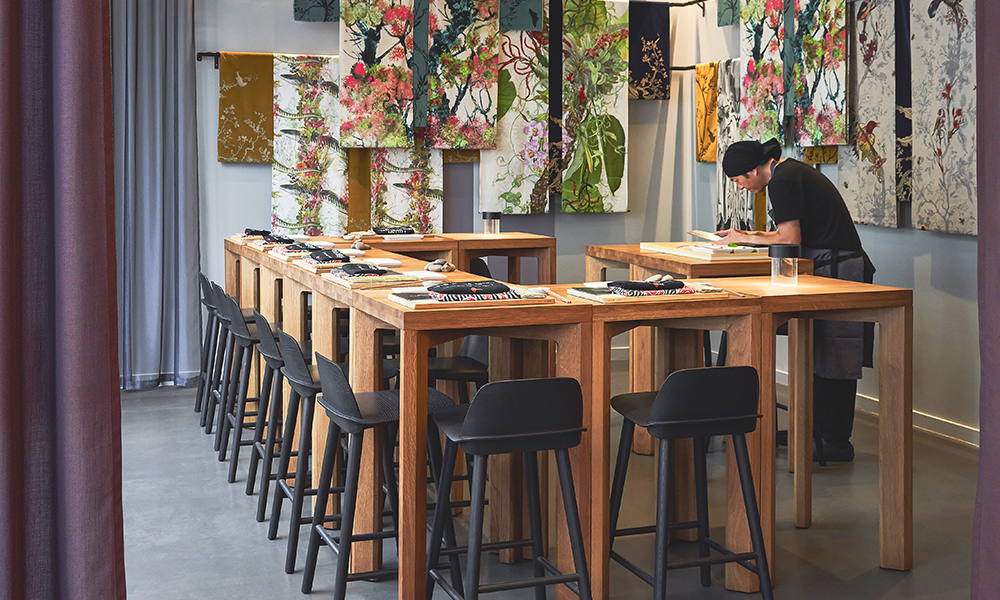 Subscribe to our free Wharf Whispers newsletter here
Cosette Perez is standing in front of a wall of riotous silk.
We're talking in Sticks'n'Sushi's Kimono Room, a semi-private event space decorated with richly embellished examples of the garment hung along its walls from poles.
"It can seat 24 and the tables are completely flexible – we've done masterclasses here and tastings," she said.
"It's great for drinks gatherings, receptions, family groups getting together and people holding all types of events.
"It has curtains so it can be separated from the rest of the restaurant, but you're not locked away in a tiny box.
"The kimonos are genuine – bought in Japan – and came to us via Berlin and Copenhagen in a suitcase. Now they're hanging here.
"It's a versatile space and we probably don't talk about it enough."
In a sense, the Kimono Room is an expression of Sticks'n'Sushi's approach to hospitality.
The calm, Scandinavian minimalism is a well-honed backdrop to the vibrant garments that adorn its walls.
This is similar to the way the wide, open, stripped-back industrial space of the restaurant proper, filled with square tables and simple leather chairs, acts as a counterpoint to the bright colourful food and flavours it serves.
A balance is struck. But it's not just between the dishes, muted colours and bare concrete.
"It's the whole experience, not just the food but the way our staff greet guests," said Cosette, who joined the brand as UK senior marketing manager three years ago.
"When you walk through the door, you'll be welcomed in Japanese by the waiters and the kitchen staff.
"We're really proud of our service – we hope people will be impressed and amazed and that, by the time they leave, they'll definitely want to come again.
"Obviously, we serve excellent food, but then you get a really nice goodbye too – it all helps keep people coming back again and again."
It's a recipe that has seen the brand, including its Canary Wharf branch, thrive – despite some significant headwinds.
Firstly, Sticks has done well – it was in the vanguard of venues to arrive on the estate in 2015 when Crossrail Place opened.
Back then, a three-year wait was anticipated before Elizabeth Line trains would start running.
The delay turned out to be seven years, with services only arriving in 2022.
Nevertheless, alongside the likes of Chai Ki, The Breakfast Club and Ippudo, Sticks' has proved a consistent draw for Wharfers in that time and continues to do a bustling trade now that the commuters are also flowing to the north of the estate.
"Our growth is exciting – we've opened a restaurant each year since 2012 and we've launched two for the first time this year in Shoreditch and Kingston in quick succession," said Cosette.
"There are more branches coming too – we're planning Richmond in early spring and a couple of others that we're not revealing yet – there's a lot coming up.
"The thing that's driving growth is the fact we're settled in the locations where we've already opened.
"We know what we can offer and we're received a really warm welcome in those neighbourhoods.
"We have some really loyal customers and we're trying to reach out to even more people."
Specifically, Sticks is very much a product of its background.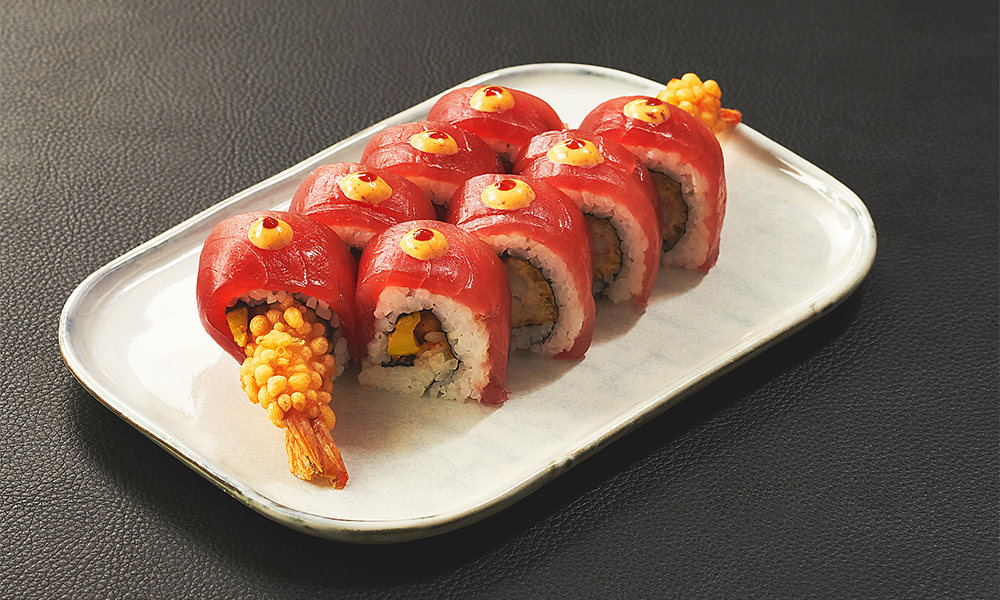 Founded by two brothers and their brother-in-law in Copenhagen, the brand draws on their half-Danish, half-Japanese heritage, bringing sushi together with yakitori on its menu.
The first restaurant opened in 1994 with the business growing to 12 in Denmark, three in Berlin, one each in Oxford and Cambridge and eight in London.
"It's a blend of Scandinavian simplicity and Japanese dishes with a twist," said Cosette.
"We have highly skilled sushi chefs and we like to break the mould – we play with the menu quite a lot, creating specials that follow the seasons.
"If guests really like them, of course, they might always make it onto the main menu.
"Personally, what I order changes with my mood and the temperature. Cold weather calls for miso soup, a couple of yakitori sticks and rice.
"If it's really nice and sunny, then definitely sushi and perhaps some cerviche. It's really delicious, fresh and clean on the palate."
Speaking of seasonal food, the restaurant is all set for Christmas with its Sticks'n'Santa offering available from Monday, November 27.
Promising a Japanese twist on festive classics it's come up with three menus for revellers to choose from:
The Holly Menu
a gastronomic journey, £40pp
This menu promises an array of dishes "that redefine festive indulgence" including Miso Sprouts plus Yellowtail Kingfish and Grilled Pepper Nigiris. There's also the Chicks'n'Blankets stick – a whimsical take on a beloved Christmas dinner staple.
The Mistletoe Menu
luxurious festivity, £65pp
For those seeking opulence, this menu promises a symphony of flavours including Wagyu Temaki (a marriage of seared Kyushu Wagyu beef, sushi rice, soy, and crisp nori). There's also the Aka Ebi yakitori stick – a showcase of Argentinian red shrimp with spicy gochujang and garlic butter.
The Evergreen Menu
plant-based delights, £40pp
For those who prefer to dine exclusively on plant-based ingredients, Sticks'n'Sushi has created a special festive menu to ensure all palates are catered for. This option promises a celebration of the best nature has to offer, allowing the restaurant to demonstrate its commitment to serving everyone's tastes.
In addition to these, Sticks will be offering a three wise men-inspired Seasonal Sampler of Wagyu Temaki, Miso Fried Sprouts and Kakiage Tempura with Ikura over the festive season.
Its bar staff have also come up with some special festive cocktails and there's the further incentive of a free bottle of Telmont Champagne for bookings of six or more on Mondays or Tuesdays.
Festive frippery aside, however, the appeal of Sticks for Cosette is very much in its everyday operation.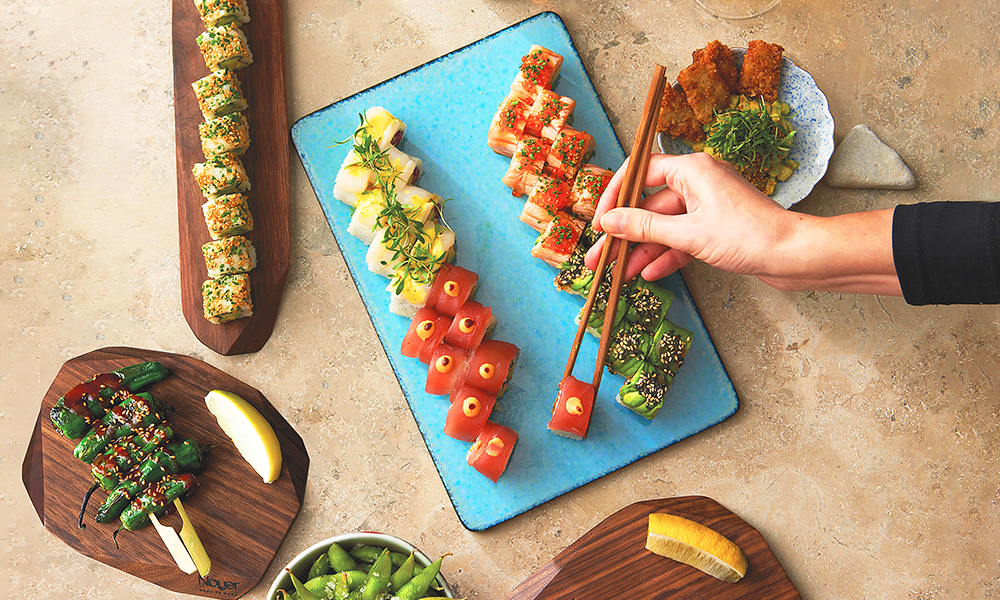 "I've been in hospitality for most of my working life," she said.
"I landed in London from Mexico in 2008. I came for six months and my dad is still asking when I'm coming back.
"In that time I went from waitress to assistant manager, to manager, and then I got into marketing.
"I came to work at Sticks because I really like the ethos of the company. I'd done a bit of work for the business and read a lot about it.
"I thought: 'If it walks the walk, as it talks it, then it would be a lovely firm to work for' – and it is. It's all about the people and that comes from the CEO.
"All the management is in-house and all the people running the restaurants have been with the company for about five years at least.
"The business has been here for almost 12 years and it still employs the very first person it hired.
"There are head office people who have worked for Sticks for 10 or 11 years.
"The idea is that if you look after the staff, then they look after our guests.
"We also know that it's harder to recruit someone into a business than it is to promote from within.
"If they carry the company's DNA and are proud of the work they do, then they'll always want to do more and give more of themselves – for the business' part, we always try to pay that back."
Kids, despite the grown-up design of the restaurants, are also a key part of the strategy.
"For us they are VIPs – we look after them really well because we know they are the next generation of guests," said Cosette.
"We see a lot in our more family-orientated areas like Greenwich and Wimbledon, but also in Canary Wharf on Saturdays and Sundays.
"There's a wooden monkey hidden around the restaurant for them to find and they get a chocolate fish if they do."
Increasingly popular, making reservations is advised whether you're up for a spot of simian spotting or just going for a selection of seafood delights.
Find out more about Sticks'n'Sushi here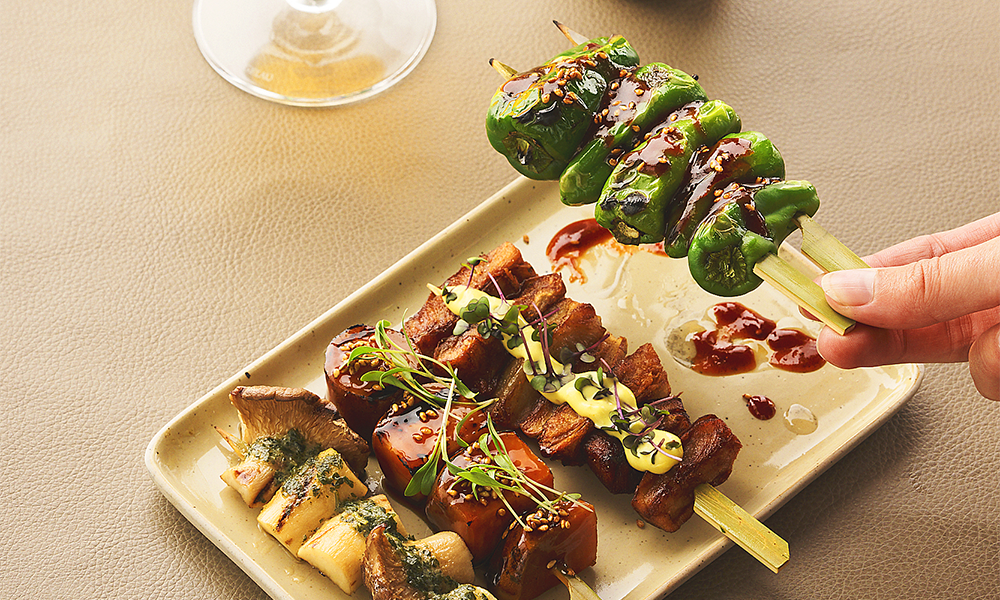 Read more: Sign up for the Santa Stair Climb at One Canada Square
Read Wharf Life's e-edition here
Subscribe to our free Wharf Whispers newsletter here
- Jon Massey is co-founder and editorial director of Wharf Life and writes about a wide range of subjects in Canary Wharf, Docklands and east London - contact via jon.massey@wharf-life.com