Jake's button-down shirts are made by hand at The Silver Building, inspired by classic American styles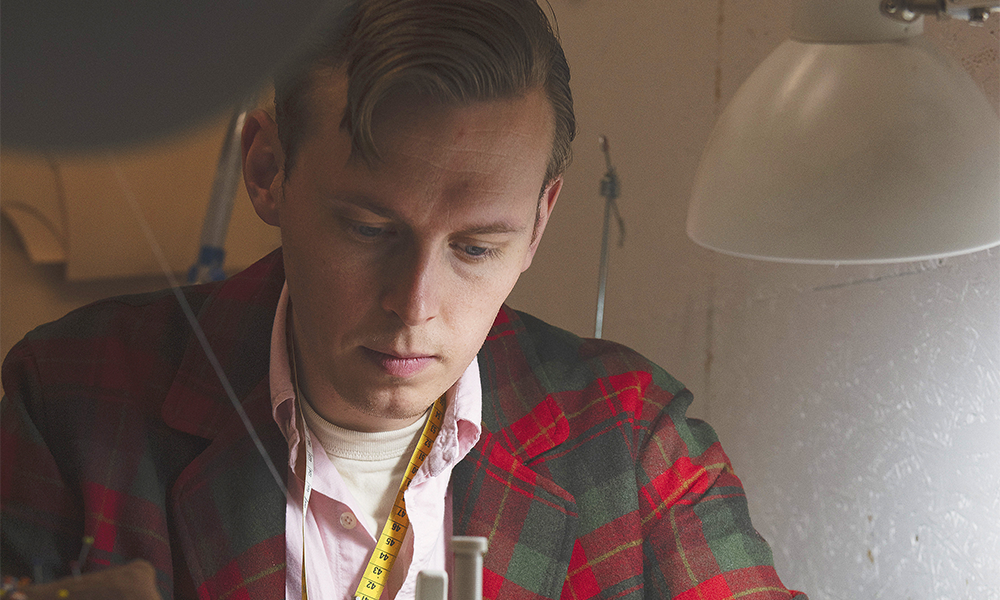 Subscribe to Wharf Life's weekly newsletter here
When I knock on the door of Jake Wigham's workshop at The Silver Building in Royal Docks, I can hear fast-paced music within.
Located at the end of a long white corridor in the Brutalist confines of a former brewery, there's little to indicate that this is the site of intense industry, creativity and craftsmanship.
Step inside though, and its occupant openly wears and displays the influences that, woven together, help tell the story of his business and the clothes he designs and makes.
"Jake's is a menswear company focusing on the styles of 1950s and 1960s America," said Jake. "It's not just about the clothing, but the culture that surrounds it.
"I've always had an interest in youth sub-cultures and in music. My dad was a punk in the 1980s and, when I started making my own choices aged around 12 or 13 I got into punk and he said: 'If you're going to listen to punk, this is the real stuff'.
"He gave me his records, I'd put those onto tapes and I would have them in my Walkman – not really too great for a teenager, I guess, that angsty, bad attitude thing.
"At about 15 or 16 I got into vintage black music – soul, reggae and jazz – and that was a turning point.
"My whole personality changed. The music is a lot more joyful and it helped me learn about cultures different from my own.
"That's been a lifelong passion for the last 20 years – music is what I spend all my time and money on – buying records, going to gigs.
"That's the good thing about London – all that culture is on your doorstep."
Growing up in Carlisle, Jake initially left school to become a bricklayer but after a few years "got really sick of it".
Turning instead to art school, he found inspiration in his tutors who suggested he try a creative craft.
"I liked the sound of tailoring, being able to make my own clothes," he said.
"I've always been into specific cuts of clothing and I've always bought vintage items but, because of my height, finding things that fitted was a problem."
Inspired by the works of Jack Kerouac, John Cooper Clarke and Linton Kwesi Johnson, he wrote a "quite aggressive" application to the London College Of Fashion in the style of a beat poet, setting out his likes and dislikes about the industry and modern culture.
Life in the capital was something he'd wanted to try, having seen his brother's experience studying in the city.
So, egged on by his tutors, he sent his piece off and was duly invited for an interview. His interviewers told him on arrival that they'd been waiting to meet the man behind his punchy personal statement and he won a place.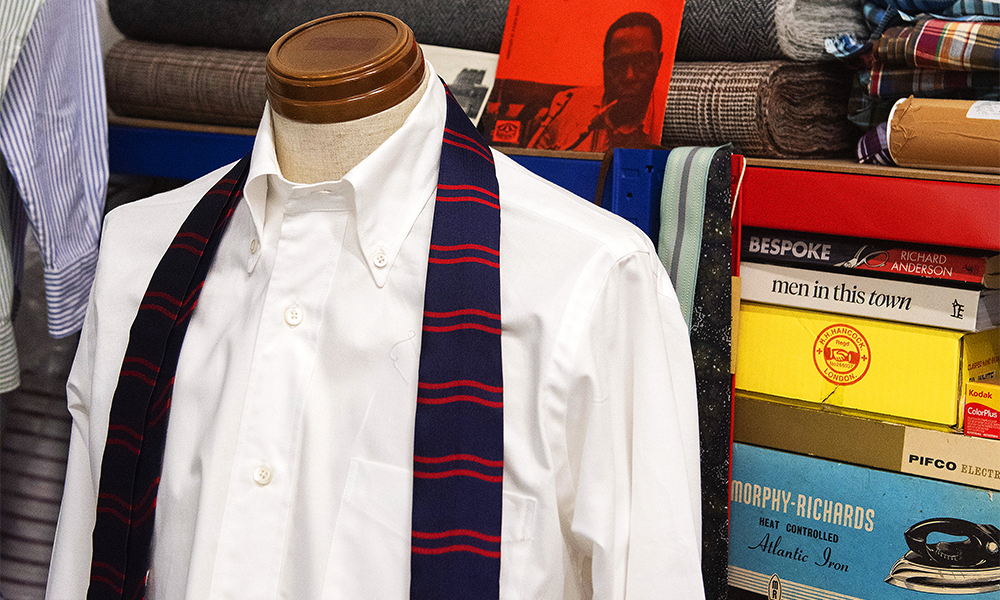 "I did the degree, loved it, made a lot of friends, learned a lot about the industry and the craft," said Jake.
"When I left, I tried to get an apprenticeship in Savile Row – I tried lots of different places, and all of them wanted me to work for free for the first six months at least.
"I'm from a northern working-class town and my parents couldn't help support me to do that, as much as they wanted to, so I couldn't stay in London.
"Luckily, in my home town, there are two Savile Row tailors. They are based up there but they travel all over the world.
"I had a relationship with them anyway, because in summers when I'd go back home for a few weeks, I'd go in, show them my work, and we'd chat and maybe I'd spend a few days working with them, learning bits and pieces.
"They always said: 'When you're finished, come up and see what you think'. But I didn't want to move out of London.
"In the end I had to. I went up there and was offered a job – not a lot of money, but it was paid, so that was fine and I could move back in with my parents.
"I specialised in trouser-making, did an apprenticeship for a few years, and then I went freelance."
Striking out on his own, Jake headed back to London after about six months, working for three tailors and renting the unit at The Silver Building to cope with the workload.
"I was doing really well, not making vast amounts of money, but getting lots of work," he said.
"Then, when Covid hit, Savile Row was destroyed by it because tailors couldn't travel and a lot of their business revolves around that.
"I'd always made my own clothes and shirts and so on, and they've always been specific cuts, I just decided to give it a go and make it into a business."
"It was always my dream to have my own brand, but bringing it to fruition is a different thing. Obviously there's a lot of money and work involved.
"Because of the freelance work I was doing, I'd never had enough time to focus on it, but that changed because of the pandemic."
After a month of research and painstaking development to get the cut, sizes and fabrication just so, Jake was ready to launch his first shirt.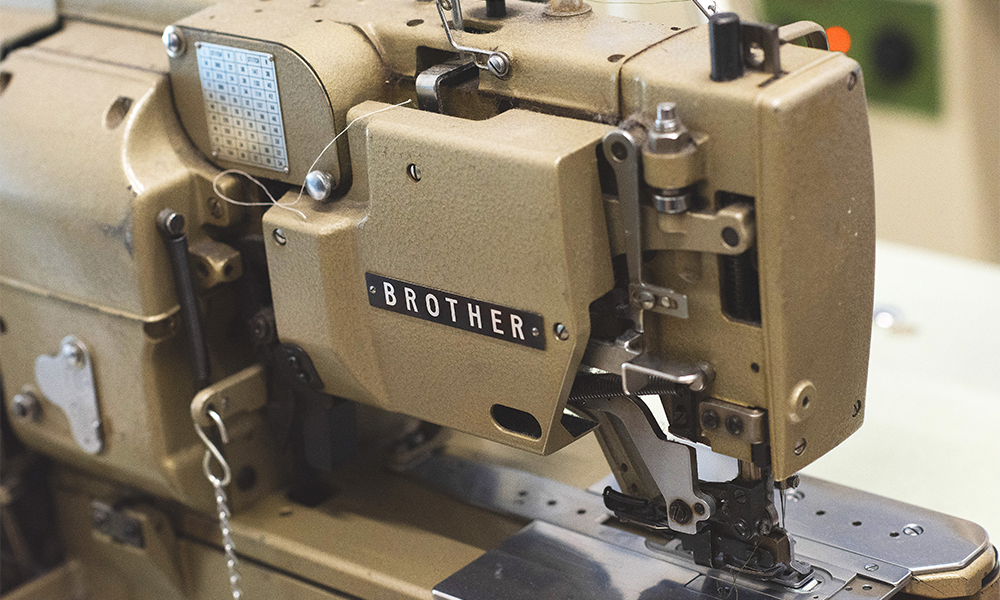 Promoting his brand through Instagram, on the first day he went live he had orders for 30 shirts.
"That felt fucking great, to be honest man, really incredible," he said. "For a one-person small business it was a lot and I was really happy.
"Now I get orders worldwide from such a broad demographic of people – I suppose it's people who appreciate craft.
"Every piece is made to order – I don't have any stock so every shirt here is accounted for.
"I'm trying to build a little community of like-minded people who are into the kinds of things I am.
"Jazz and reggae are my two biggest passions and everything feeds back into the company – I want to put my whole personality into it.
"I spend a lot of time mulling over imagery and watching period films just because that's what I'm interested in.
"Whether that comes across when you're just looking at a shirt on someone, I don't know, but I try and tell the story.
"The main shirt in the range is like a mid-century cut button down from the 1950s with full sleeves and a full body.
"There's no lining on the collar or cuffs. It's a very soft Oxford fabric, which is heavy, durable and will literally last a lifetime.
"I use real mother-of-pearl buttons and try to make my shirts the best possible quality they can be."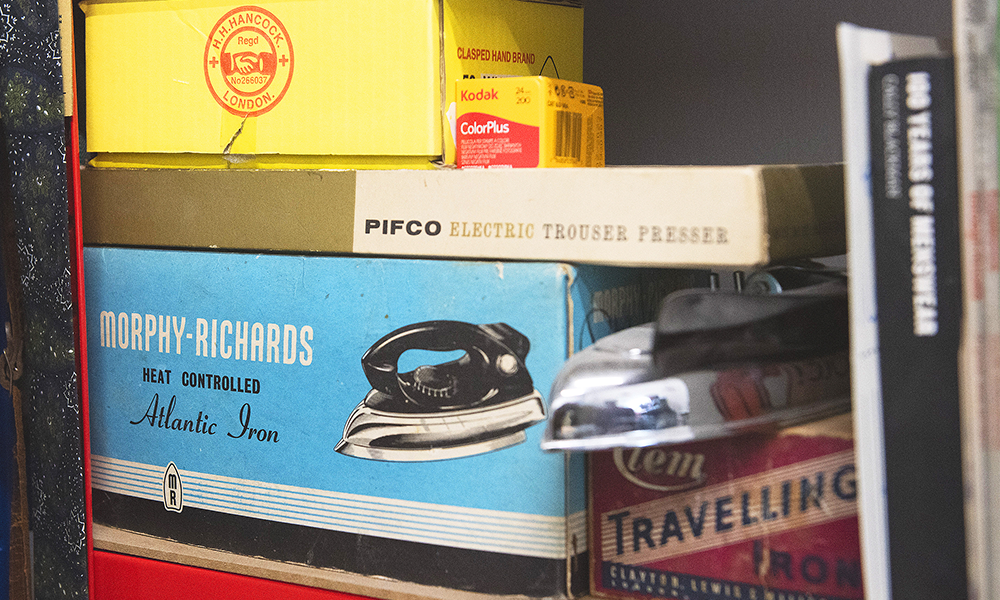 Shirts are made in a traditional breezy fit and are based on each customer's measurements with an option for custom sleeve lengths and to have a name sewn into the collar.
"People need to understand it's a specific cut," said Jake.
"I get a lot of people asking for a slimmer shirt, but I always say no because you can get them anywhere. That's not what I'm doing.
"It's the same when people ask for a lined collar. It's very much take it or leave it."
That's not to say the brand doesn't offer options, including a shirt inspired by Miles Davies on the cover of his 1958 Milestones album.
Trousers are also soon to be available, manufactured in Yorkshire to Jake's specifications.
To cope with demand for his products, he's already had to take on help.
"The downside of the way I run the business is that there's only a certain level I can get to, if it's me doing it all, so I have to relinquish some of the responsibility," he said. "I don't really have ambitions to be Ralph Lauren or someone like that.
"I quite like the idea of it staying niche and relatively small. I'd like to have an atelier, where me and a small team of people produce really top-end products for a small customer base, because then there's nothing throwaway about it.
"If someone buys a shirt from me, I want it to be that they want to get a lot of use out of the shirt. People are trying to go down more sustainable routes and that's the future of clothing."
Jake's shirts generally cost £145 plus delivery. Orders are despatched within five weeks or sooner.
Read e-editions of Wharf Life's print edition here
Subscribe to Wharf Life's weekly newsletter here