Based on Lightship95 at Trinity Buoy Wharf, her pattern designs are used on all kinds of products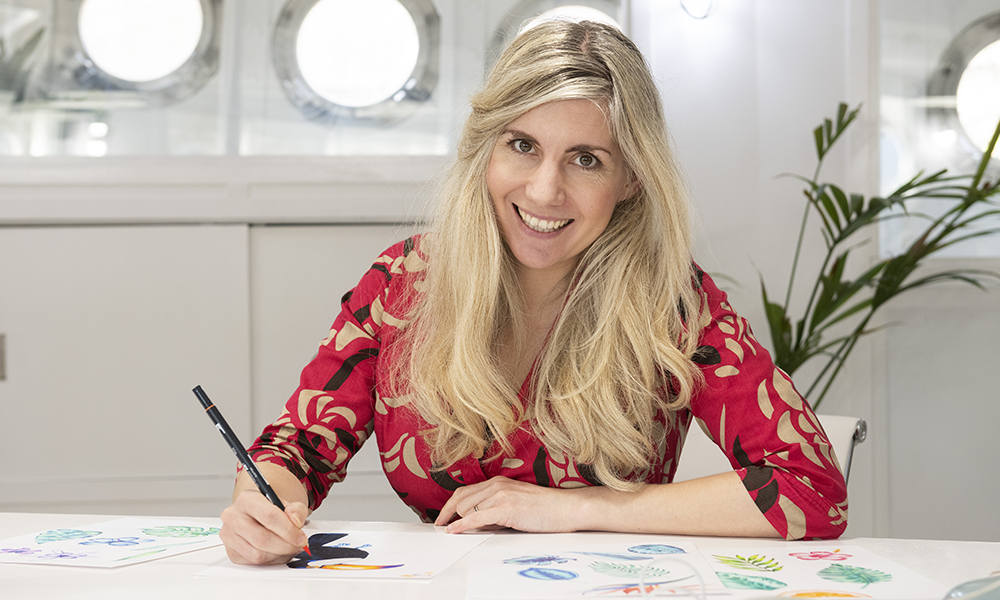 Subscribe to Wharf Life's weekly newsletter here
Visit Trinity Buoy Wharf and it's impossible to miss the bright red vessel, moored where the river Lea meets the Thames.
Crowned by a lighthouse, it now contains a recording studio in its belly.
But up front, tucked down a tight stairwell from its bows, lies something else – a space where Vicky Phillips draws the future.
Lightship Print Shop inhabits a cabin in stark contrast to the industrial scarlet gloss of its shell.
Illuminated through rows of port holes and by pendant lights that gently sway with the motion of the Lea as the ship bobs at her moorings, Vicky's studio is brilliant white.
A central slab of table, complete with neatly plumbed-in, eggshell blue anglepoise, is served by steel and leather seating and supports a slim but serious iMac and Wacom pen tablet, all ready to go.
 The floor is pale grey wood and pot plants decorate this workspace, faithfully in motion with the rise and fall of the water outside.
For Vicky's business, it's the engine room.
"Lightship Print Shop is a surface pattern studio," she said.
"I create designs for fashion, homeware, textiles and anything else that needs a repeated print on it. I started the business in 2019, about eight months before the first lockdown."
In essence the core of Vicky's operation sees her either draw or paint images and scan them or make digital pictures before bringing them all together in her computer to be arranged as a tile that can be replicated to create a pattern on almost anything.
"That's what I sell to companies – they buy the copyright," she said.
"It normally takes at least a year for my designs to come out on products, because all the businesses have their own lead times.
"You wait for ages, but then it's really exciting when you see it reproduced on whatever they've created.
"I usually start my designs with a lot of trend research. I use companies such as WGSN and Trendbible, who predict future fashions.
"Their guides are a kind of self-fulfilling prophecy really, because all the brands that use them buy into the process and so it becomes true that they are the trend makers.
"From a business perspective, it makes sense to follow what they are predicting with my work.
"WSGN, especially, has been very useful over the past 18 months around the lockdowns and other restrictions.
"They would normally go to trade shows to see what's next from our side, but instead they've been setting briefs – we can respond to them and get included in its publications. That allowed me to reach new clients, who wouldn't otherwise have seen my work.
"After I've done my research, the process starts with trend boards, looking at colours and how I should interpret a theme.
"Should I use watercolours or gouache? Or should I start on an iPad? There's a variety of approaches. Each one then has its own route until it all ends up on the computer."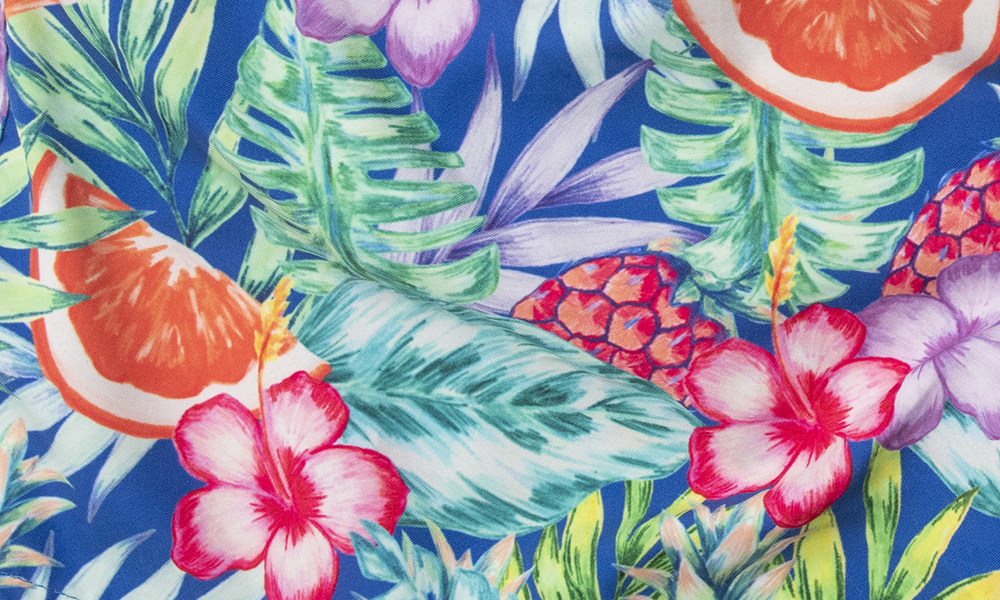 Drawing was a passion from a young age, leading Vicky to study to become an illustrator at university.
She said: "It was always my first choice at school. I just love drawing.
"The course I did was very good, but it was quite traditional – great if you're going to be a natural history illustrator but other worlds were not really explored.
"Early on I decided I wanted to be a freelance illustrator where you have to be known for a certain style of work so clients know what they're going to get.
"That was my problem, I didn't really have a style – I jumped around a lot, probably to my detriment."
Having worked for clients such as Scholastic, Dolce & Gabbana and The Independent, Vicky took a job with homeware company Bombay Duck.
"I thought I needed some commercial experience," she said. "But because I was the only designer I didn't get to learn much from anyone else.
"That's when I applied for the job at Paperchase. Back then I had no idea surface pattern even existed as an industry.
"I thought everything was done in-house by different brands, but it makes sense for companies to have an external source so they can buy prints and have much more variety.
"They can keep on top of trends more easily. At Paperchase there was a lot of in-house design, but they couldn't do everything themselves so they'd purchase the copyright to patterns and make use of them.
"At that point, I thought I'd like to be one of the people selling the prints, having the freedom to do what they wanted and hoping somebody bought their work.
"That's when I founded Lightship Print Shop and, luckily, I was able to do a couple of trade shows in London and New York before the pandemic arrived.
"I managed to get some clients and keep that going over Zoom and that's really helped me. In surface pattern it's an advantage to have a variety of styles to present to a client, so that's been a benefit too."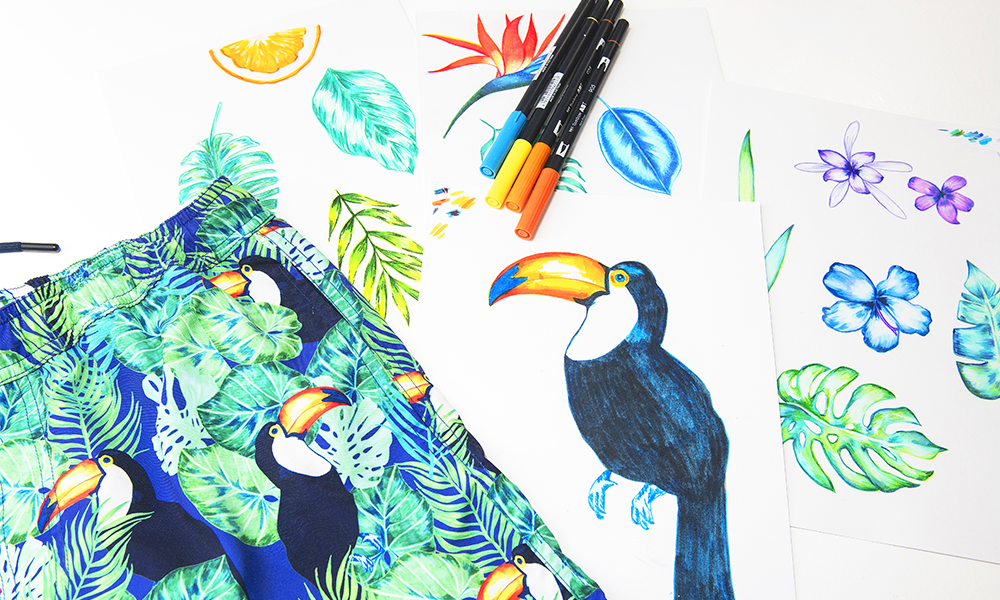 Vicky's work has been bought and used by brands including La Vida Loca, Peter Alexander, Knightley's Adventures By Samantha Faiers, American Eagle and Paperchase.
"I'm working on some designs for Paperchase at the moment, actually," she said.
"I kept that connection after I left and I'm producing some bright and colourful things for them. When I'm done with that I've got to work on some tropical prints for Spring/Summer 2023.
"My work is typically conversationals – basically designs that aren't floral. The majority of surface patterns are based on flowers, but that's not something that interests me much.
"The designs I produce are more fun and whimsical – they don't have to be hard-hitting, cutting-edge fashion.
"I like things that are fun to draw whether that's tigers or toucans wearing glasses. I do try to gear what I do to a trend, though.
"At the moment that's all about optimism – after the lockdowns people will want things that are brighter combined with hope for the future, so that means vibrant colours printed on recycled fabrics."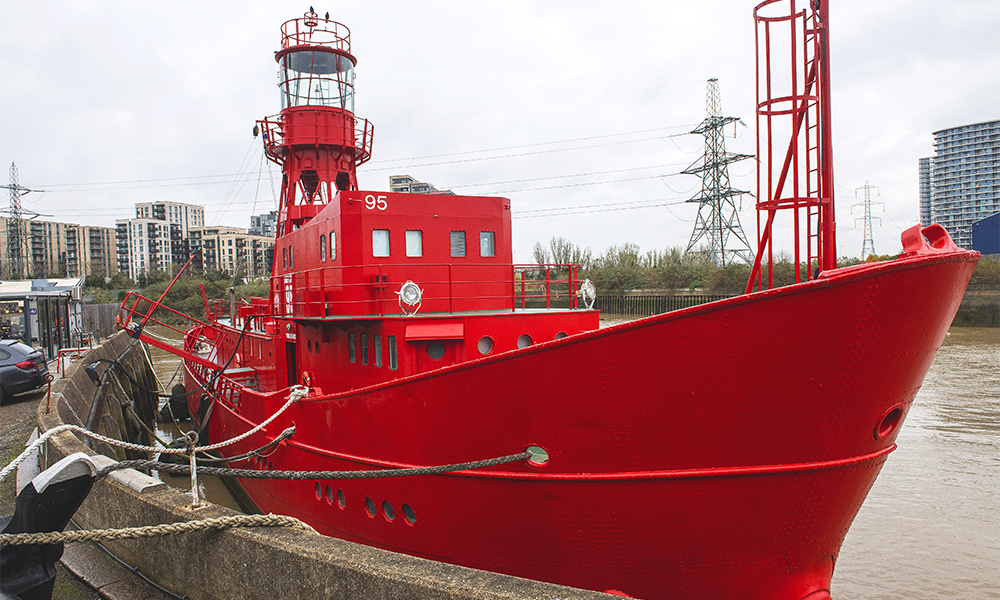 Lightship 95 was originally converted into a recording studio more than a decade ago by Vicky's now husband Ben. 
"I love the ship," she said. "It's such a wonderful icon and a great thing to draw as well.
"It's also the identity of my business – it wasn't difficult to think of a name. I think being based there helps in my work – it's certainly easier to get people to come and visit. 
"With surface pattern, you'd normally be asked to go into a company's office and you'd have to bring a huge suitcase with all the designs – there's lots of moving things around.
"But people are quite keen to visit me here, which is nice.
"My plan for the future is to do more of the same and continue to build my client base.
"Although I don't have any control over what my prints are used for, it's always an amazing feeling to see them out in the real world.
"That's often on social media, where people post images of themselves wearing these products and talking about them.
"It's a real honour that anyone would choose to wear something I've designed.
"Because of the sorts of illustrations I do they get used for a lot of kidswear, and seeing the designs photographed in a playful way is really cool."
Vicky also produces prints and a limited range of products that are available to buy direct from her website.
"During the early stages of lockdown, I thought my core business might stop completely, so I thought I'd produce some of my own stuff – pin badges, notebooks and things like that," she said.
Her work will also form part of the decoration at rooftop venue Roof East in Stratford when Urban Space Management, which is also based at and operates Trinity Buoy Wharf, reopens the space in 2022. 
Read more: Floating restaurant Hawksmoor opens at Canary Wharf
Read e-editions of Wharf Life's print edition here
Subscribe to Wharf Life's weekly newsletter here