Chef Steve McClarty is one to watch under the yellow brick arches of Deptford Market Yard
Subscribe to Wharf Life's weekly newsletter here
Steve McClarty – remember that name. Growing up in Croydon, he left school with no GCSEs. A turbulent home life led to him becoming homeless at 17.
A diet of McDonald's and Subway left him craving nourishment. Living in hostels, he started to cook for friends and fellow residents. 
"At 19 I was at a stage in my life where I decided to move out of London for a bit to get my head in gear and sort my life out," he said.
"So I moved to Margate on my own – left all my mates behind. It was either a shared house in Croydon for £500 a month or a one-bed flat overlooking the sea with a balcony for £350.
"But I also knew Thanet College was just down the road in Broadstairs and it was really good for catering. I spent two years studying to be a chef and really found my calling.
"My passion for food came into its own – I found there was something I was good at, that I loved doing and that I wanted to pursue as a career.
"I was fully immersed in it, obsessed – winning distinctions and getting loads of opportunities.
"Then I went into my first restaurant and that's where the real learning started."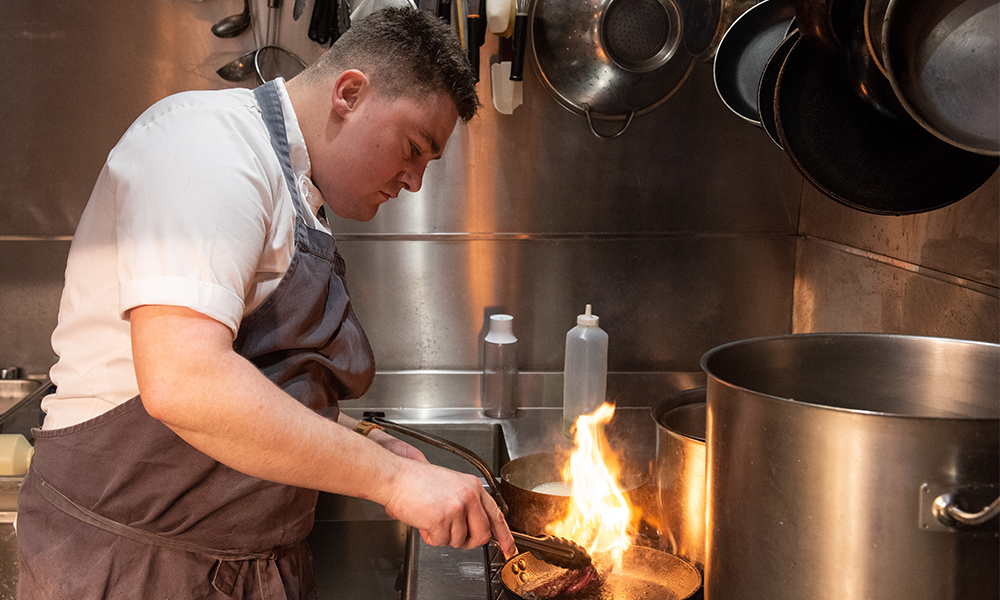 Steve said he found a sense of comradeship he'd never experienced before working in kitchens and winning promotion to the level of sous chef.
Having gained extensive experience in seafood, cooking in Michelin-starred establishments, he applied for and was cast in BBC2's The Chefs' Brigade, travelling across Europe under the guidance of chef Jason Atherton.
"It all happened very quickly, from Italy to Norway, Spain and then the final in Paris.
"At the end of it all, Jason gave me this bible of all of his recipes, congratulated me on the telly and offered me a job at his flagship restaurant, Pollen Street Social in Mayfair. But I knew I always wanted to do what I'm doing now and so I decided to decline it. 
"Instead I got a job as an events chef at Google, which was a completely different style of cooking. I was running the operation between five buildings – making sure all the produce and chefs were in the right place.
"There was a lot of logistics involved and I really enjoyed seeing a different side of the industry."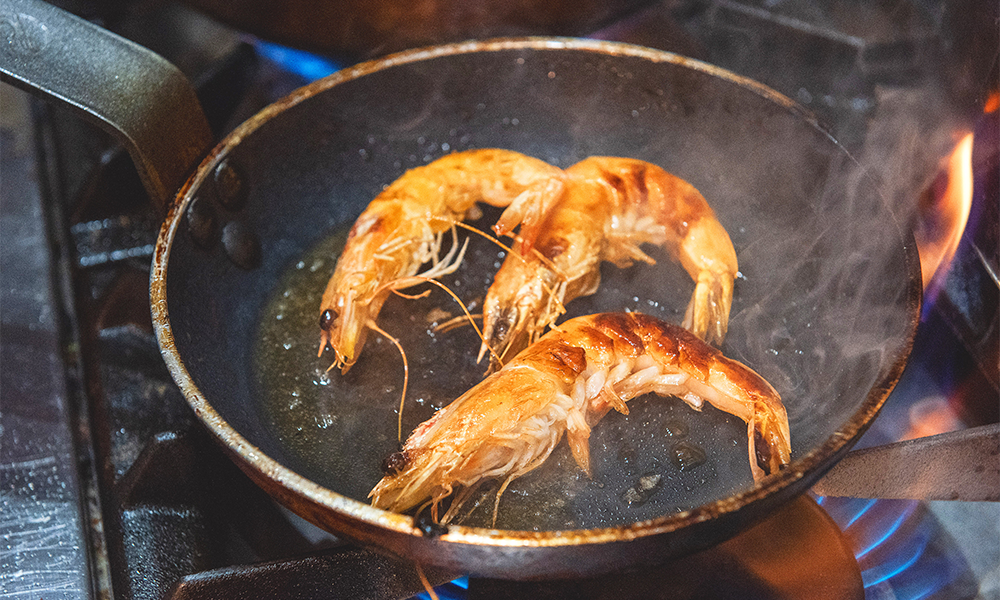 It would also prove invaluable experience for the realisation of his long-term dream – to open his own restaurant.
A brick arch in Deptford Market Yard is where we pick the story up, with a sandwich board outside, a lobster pot resting casually against it and a pink and blue neon sign that wouldn't look out of place in 1980s Las Vegas.
Sharkbait 'N' Swim first launched over lockdown. It went a little something like this: 
Restrictions arrive and Steve's girlfriend Maria Leach joins him in a shared house in Brixton. The couple decide to escape by buying a narrowboat named Roz to live on. They dislike the name and plan to rechristen her Damp Squirrel at the earliest opportunity.
On the day she sets sail, Steve proposes. Now engaged, the couple sail around southern England, still both working from home for Google and eventually pitch up in Guildford.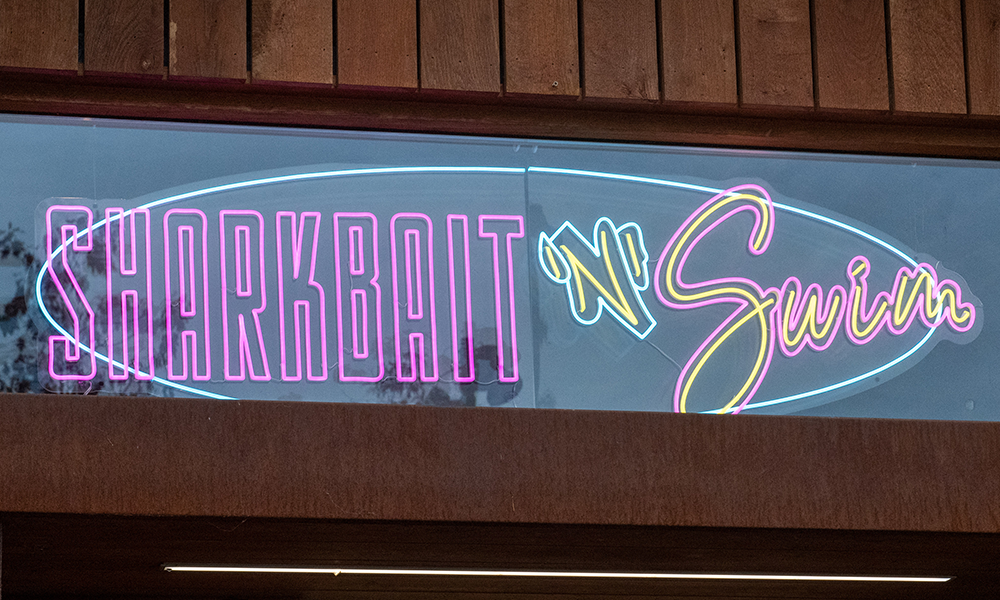 Once there, Steve opens up the duck-feeding hatch and starts selling seafood orzo to passers-by with Maria taking payments via a card reader in the bow of their boat. Following this success, Steve secures a pop-up in Lewisham and storms Model Market.
"Four weeks ago we got the keys to this space at Deptford Market Yard and we've done a complete kit-out in three weeks," said Steve. "We've just opened and we've been sold out every night.
"Sharkbait 'N' Swim is my baby. This is my dream, it's what I've always wanted to do. It's an intimate, small sharing plates restaurant serving fresh oysters, really fresh seafood, some vegan options and a couple of meat options too – something for everyone.
"I wanted an environment where people could sit together, share the food and get talking about it. There are four of us – me, another chef and we've just taken on an extra person front of house.
"Maria is the operations manager/absolute legend. She's been so supportive of my dream and she sees my vision – I've got big plans, to make a name for myself here and then expand to multiple sites."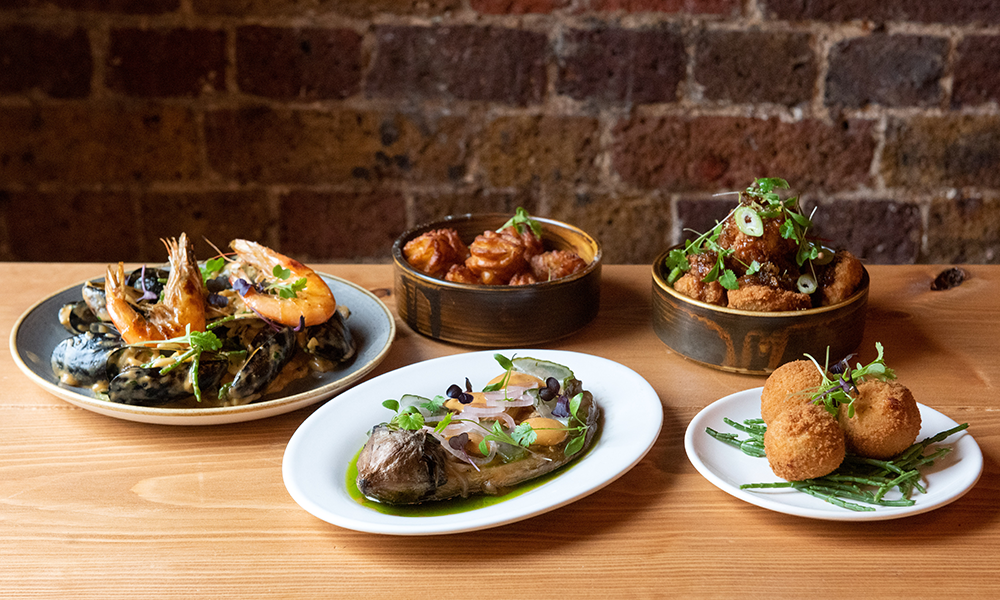 I could try to convey Steve's passion for the food he creates and cooks in print, but printed words could never do it justice.
He fizzes with excitement as he runs through lists of ingredients, foraging trips and inspiration – driven, focused, inventive. 
Fortunately Sharkbait 'N' Swim has an open kitchen so he can interact with diners while making plates of smoked salmon croquetas, skate wing with cod roe in a caper beurre blanc or Goan curry mussels with a fresh naan bread puffed up on the barbecue.
Deeply rooted in sustainability, the name of his restaurant reflects his view that nobody should be eating an apex predator (or tuna), accompanied by the ripples in the water his and Maria's home makes as it moves around.
"I want to take people on a journey to all the places I've been and cooked in – I want to put my personality on the plate," said Steve. "This is a fun, sociable restaurant serving sick food, mate."
That says it all. Having sampled some of Steve's menu, I'll be back for the rest and, frankly, just to have his vegan vanilla poached pear with a chocolate mousse made from tofu and maple syrup again. Go now.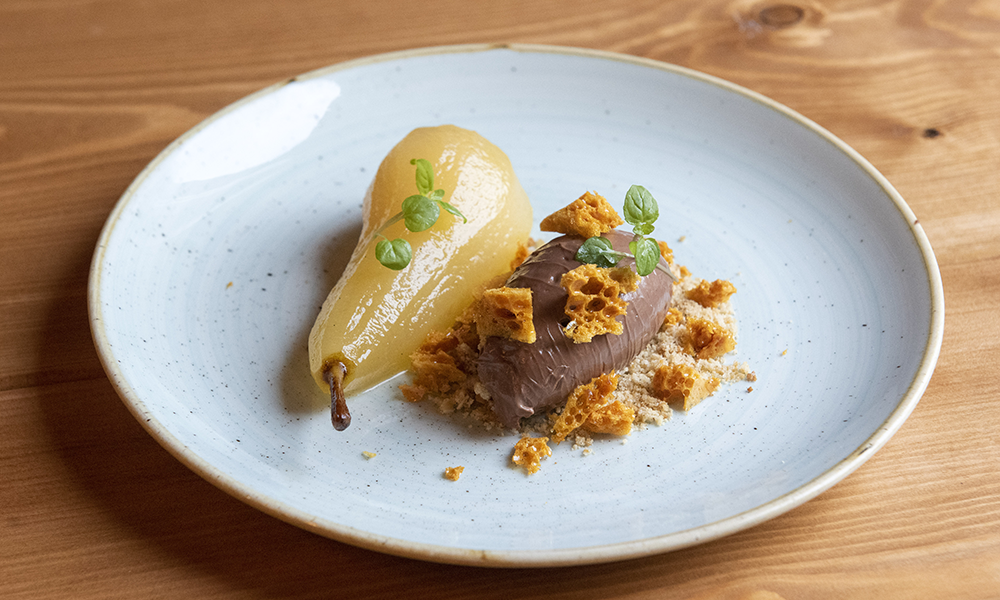 Read e-editions of Wharf Life's print edition here
Subscribe to Wharf Life's weekly newsletter here