Stefan Johnson created a pedal-powered business to help encourage people to care for their rides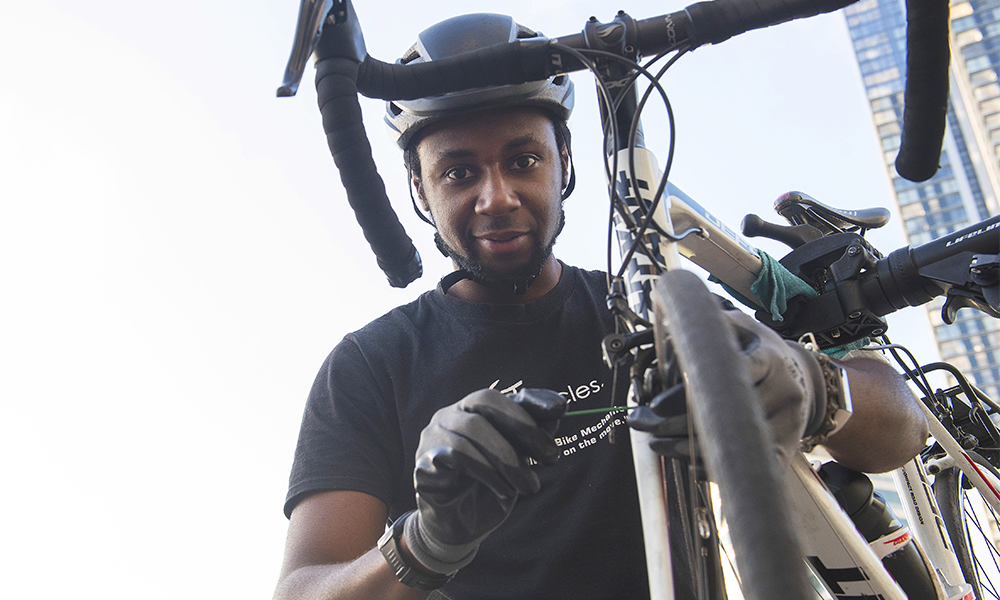 Subscribe to Wharf Life's weekly newsletter here
Stefan Johnson cuts an athletic figure on his cargo bike.
Sourced from a Danish company via the Netherlands, it has to be robust to carry the 60kg of equipment and tools he uses for business.
Raised in Mile End and Forest Gate, the east Londoner created SJ Cycles to bring bike repairs, care and servicing to clients at their convenience via the power of his legs.
"I'm trying to encourage people to maintain their bikes more often," he said.
"A lot of people run their bikes into the ground and then have big bills of £200 or £300 or they just buy new ones, which can also cost them a lot of money.
"I'm trying to offer something in between – there are benefits to the customer and to the environment.
"Depending on usage, having a service every six to eight months and cleaning the bike makes a big difference.
"It's not just about how your bike looks. Grit and muck on the road can get into the mechanics – the chain, the braking system – and it slowly wears away the metal.
"That can cause long-term damage, which equals new parts and that means big bills.
"It's also wasteful, so I'm trying to prevent that happening – maintaining your bike more often will save you money."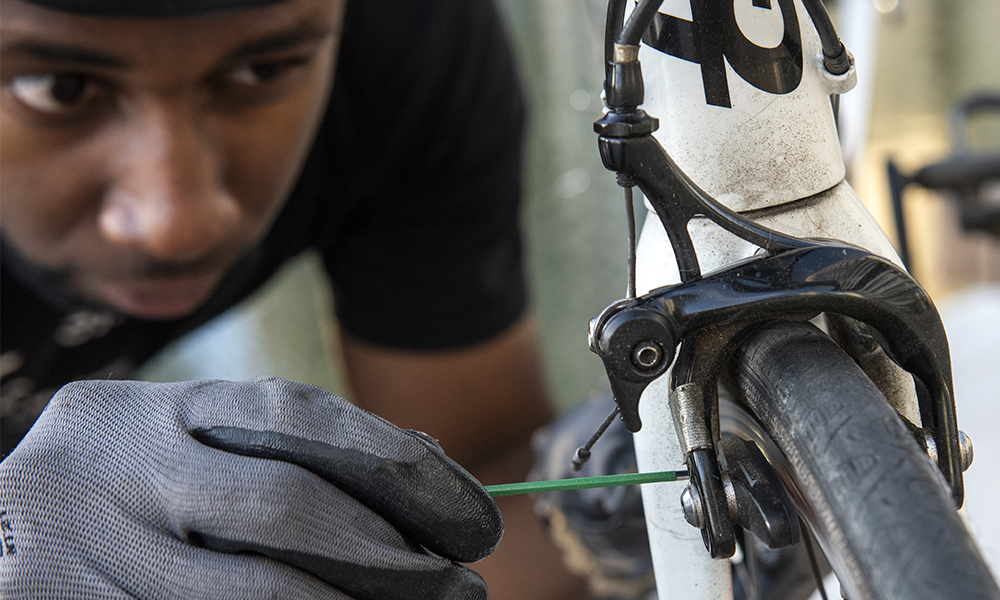 Stefan began riding himself while studying car maintenance at Hackney Community College – now part of New City College.
"I was planning on being a car mechanic, and after four years of study I went into an apprenticeship, but unfortunately I didn't find any opportunities in that industry," he said.
"Instead I got my first job as a sales assistant at my local bike shop – Halfords.
"There was a mechanic there who was willing to teach me after hours about working on bikes so that's how I started."
Stefan went on to work at a number of independent bike shops but felt he was often recruited in a bid to broaden their customer base as they attempted to attract customers from a wider range of backgrounds.
A pattern of mistreatment and broken promises left him wondering what to do.
"Being a Christian, I decided to pray about it and start again," he said.
"Was I going to accept this behaviour in the industry or would I set new standards?
"I took a positive leap to be passionate about what I'm doing without sacrificing my humanity.
"My faith definitely played a big part in that.
"I knew about 10% I could get to the point of launching SJ Cycles – making a Facebook page, announcing I was doing it.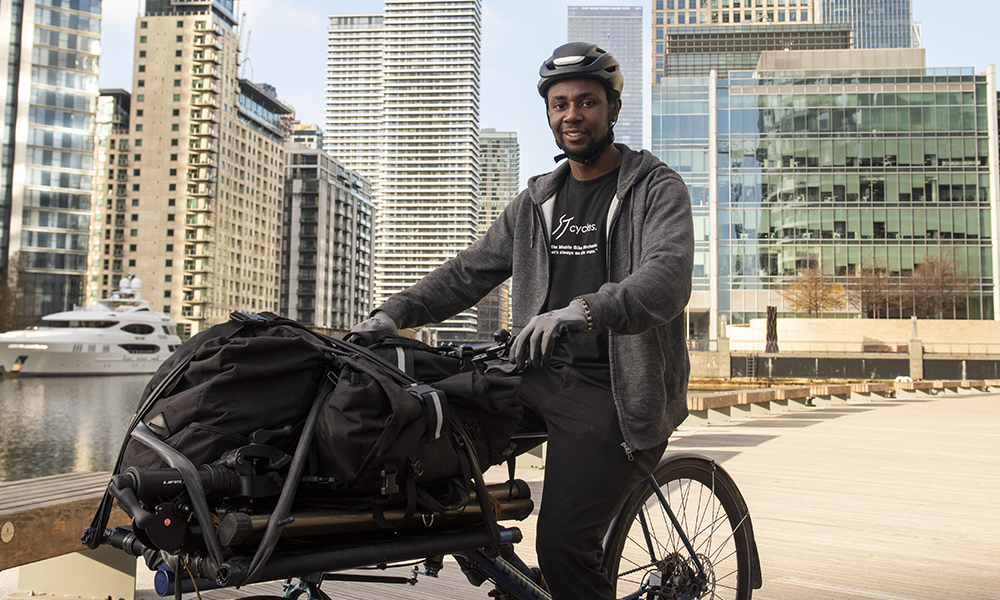 "The other 90% was faith that I could sustain it, live off it and make it a part of my life.
"Even though I had less confidence in myself and more confidence in God, I took it forward, made it happen and I'm here now.
"I'd started working as a bike courier, which was a very flexible thing to do and allowed me to make enough money to live on.
"It was very hard work but it made the money so I could buy all the tools and equipment to start the business in 2017."
Stefan offers a general Tune-Up Service for £45, which lasts about an hour and a half and includes diagnostic checks, brakes and gears tuning, tyre maintenance and a deep clean of the frame and various systems, delivered either at a client's home or office as convenient.
SJ Cycles also offers a Puncture Repair Service for £25, which includes a new inner tube and the option to be taught how to change one.
While merchandise is also available online, world domination is not on the agenda.
"I'm a very simple man, so I'm not looking to be a big entrepreneur and expand with different branches and many employees around London," said Stefan.
"This business is about encouraging people to maintain their bikes more, for me to live off it and remain in east London, take care of my wife and earn a modest living to make it sustainable.
"If anyone needs support in maintaining their bike, I post a lot of tips on Facebook and Instagram, such as advice on security.
"That's just to let people know that when they own a bike they're not alone and can talk to me about it on social media.
"I would definitely encourage people to get a bike.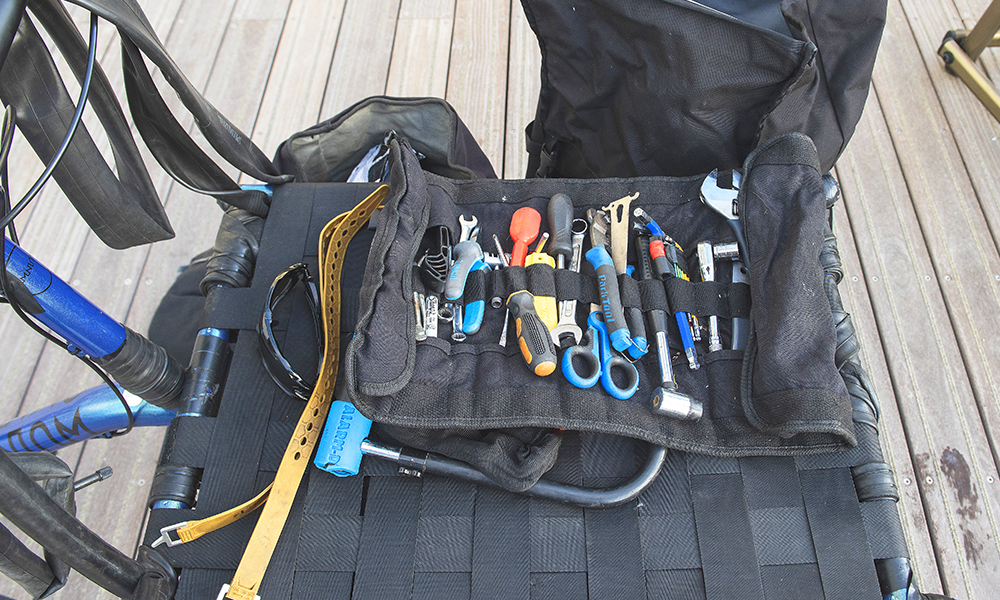 "It's very convenient – one purchase, you buy your bike and you can go wherever you want. It's great for fitness as well.
"You can jump on a bus and pay, but for some people – when you add that up – it's as much as a bike over one year.
"I understand why people may be hesitant, because of the infrastructure of the roads, which may not be the safest, but it's come a long way since I started.
"Then I didn't have a lot of confidence in my abilities, but I was very aware of my surroundings, how the traffic flows and where to position myself – my confidence grew over time – it became quite natural to me.
"I do ride for pleasure but it depends on how much I'm working – the business can be quite busy, especially in the summertime.
"After a day of working on people's bikes I like to go skateboarding, which is my second hobby, as well as bouldering – indoor climbing.
"I'm quite a physical person, so the bikes I ride aren't electric – that and having a strong metabolism, definitely doesn't make the food bills easy."
SJ Cycles' services can be booked online via the business' Facebook page.
You can find "the mobile bike mechanic that's always on the move" on both Facebook and Instagram @sjcycleslondon.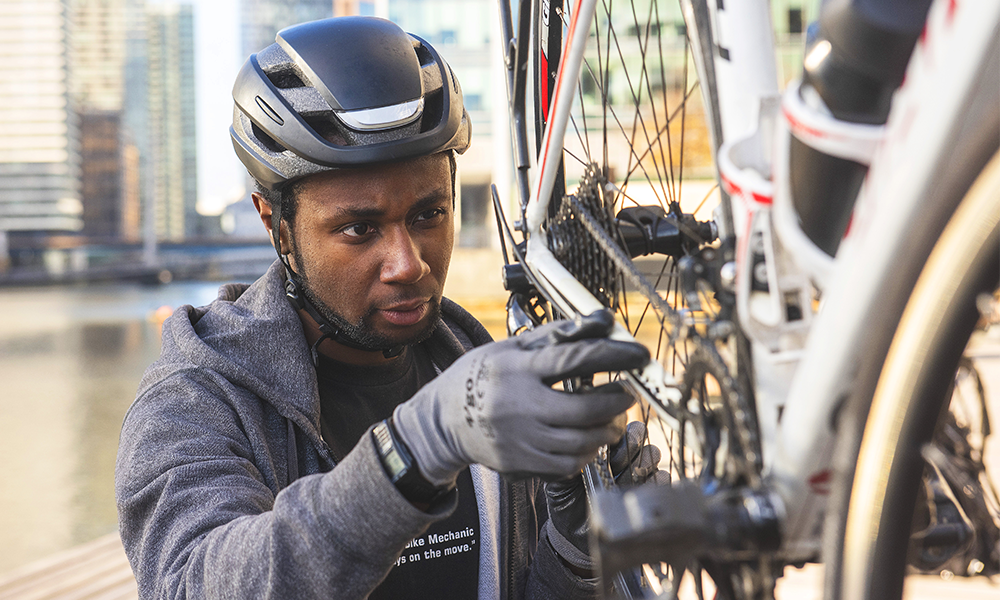 Read more: How Bread And Macaroon serves up treats in Wapping
Read Wharf Life's e-edition here
Subscribe to Wharf Life's weekly newsletter here
- Jon Massey is co-founder and editorial director of Wharf Life and writes about a wide range of subjects in Canary Wharf, Docklands and east London - contact via jon.massey@wharf-life.com