Wapping Docklands Market and Canada Water Market regulars started bakery in Bermondsey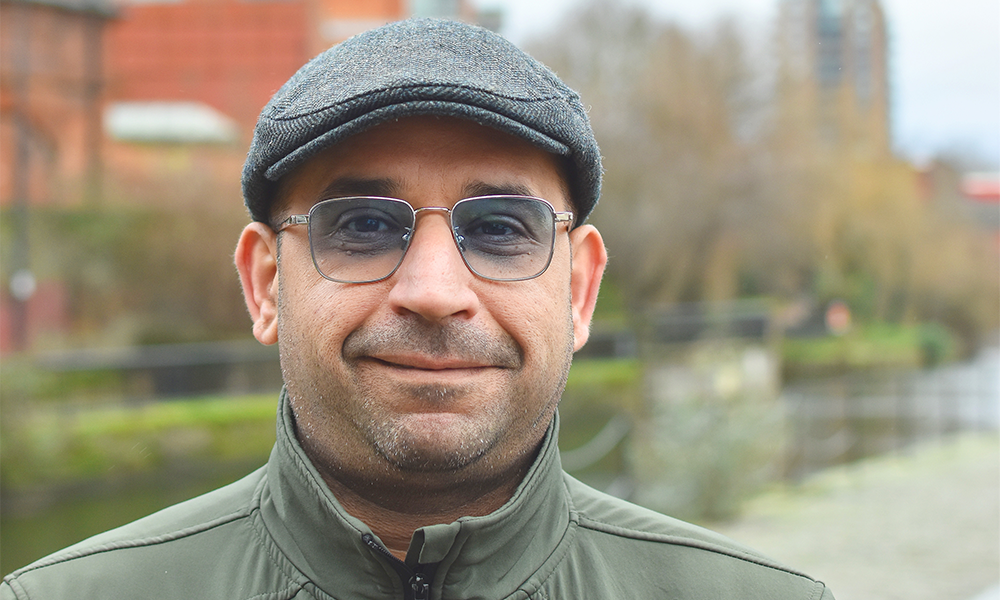 Subscribe to Wharf Life's weekly newsletter here
It's the immediacy of contact Fouad Saber loves when it comes to markets.
The co-founder of Bread And Macaroon, which trades at Squid's Wapping Docklands Market and Canada Water Market, relishes customers' reactions to the breads, pastries and tarts the brand sells face-to-face.
"We started this business during lockdown," said Fouad.
"My business partner, Bertrand Kerleo and I had both lost our jobs – everyone was stuck at home, but we saw an opportunity.
"We brought the two things we were doing together in June 2020 at a bakery in Bermondsey. If you go there, you will see it's an open space.
"There's a front-of-house area where you can have a coffee and so on, but you can see through to the bakery and what people are doing.
"It's all in front of people, which is interesting because they can see how everything is made.
"We always had a lot of interaction with our customers there and that's what we like on the stalls too.
"We started doing markets in May 2021 and that's one of the ways we're growing our business.
"You get to see what people think of your products and also it's easier to expand like this because you can try different locations without being tied into a lease for maybe five years on a shop."
Originally called Bread A Manger, the company has since been renamed after a David and Goliath tussle with Pret, which was apparently concerned the startup might impact its brand in the long term.
Quite where the confusion might lie is anyone's guess as the two companies offer markedly different things – one a byword for pre-packaged convenience food and the other for wholesale and retail artisanal baked goods.
While Bertrand has an extensive background as a baker and pastry chef, Fouad brings more than 20 years of food-based business experience to the table making the pair a formidable team.
"I've been working in baking for about five or six years," said Fouad.
"Before that I was managing businesses for other people in the UK – coffee shops, for example – but I was always in hospitality.
"In France, my background was in supermarkets.
"After training as a barber originally, I started working for Carrefour just as a crew member.
"Then in six years I became a store manager before making the move to Switzerland.
"I'm not an academic guy. I never learnt English at school and had no idea how to speak it.
"But to grow up, you need to speak it, so I decided to come to London in 2013.
"I enjoyed my time here and decided to stay. With Bread And Macaroon, we started slowly with different plans and strategies.
"We began with retail although now about 70% of our business is in the wholesale market where we sell our products to other businesses.
"We are a fresh bakery – nearly everything is made from scratch every day because it tastes better that way, including the croissants, the cakes and the bread.
"We are not too expensive, but we make sure we are selling quality products.
"Anything we don't sell gets donated to charity to help those in need in Bermondsey.
"A lot of bakeries keep bread for two or three days because you can, but we're French – we believe you lose flavour that way.
"Our tarts are our main business and the most popular flavour is the lemon curd.
"They really are very refined – you can't really find this product elsewhere in London, and this is why they are successful.
"For the filling, the curd takes 48 hours to make. We cook the lemon juice in a bain-marie with eggs and cream and then pipe it onto the tart while it's still warm.
"Then it goes straight into the freezer – from 30ºC to -18ºC so it retains its shape, topped with an edible flower as a finishing touch."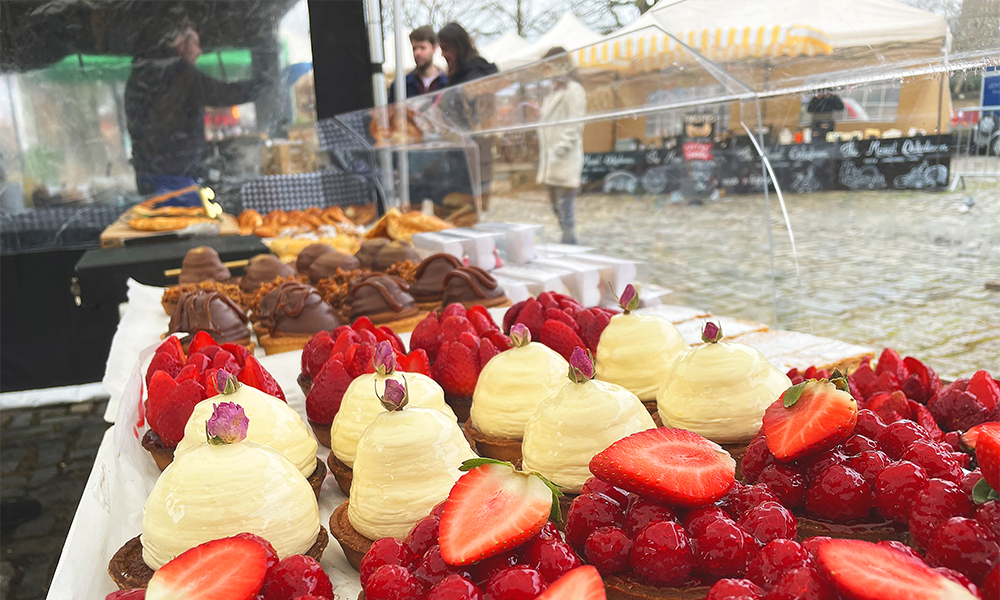 With costs rising, Bread And Macaroon's first priority is to weather the economic storm by tailoring the products it offers to the new conditions.
After that, it plans to expand its retail offering through more stalls.
"In the next five years, we expect to have a presence at five or six more markets," said Fouad.
"Of course people can order our products online – and we love that. But you don't get the same level of interaction or the atmosphere of coming to a market if you do that.
"I grew up with French markets, which typically sell fruit and vegetables, so that's different again. Here you get street food and all sorts of other things.
"For me, the difference between a shop and a market is that people who come to our stalls are out in the fresh air – it's a destination.
"Going to a shop is more just for shopping and I think over the next 40 years, that attraction will never change."
Bread And Macaroon can be found at Wapping Docklands Market on Saturdays at Brussels Wharf beside Shadwell Basin and Canada Water Market at Deal Porter Square on Sundays. Both run from 10am-4pm.
Its shop can be found at Market Place in Bermondsey and orders can be placed online for most items including cakes and special requests.
Follow Bread And Macaroon on Insta here.
THREE OF THE BEST
We've selected three treats from Bread And Macaroon that are must-tries if you're visiting the markets: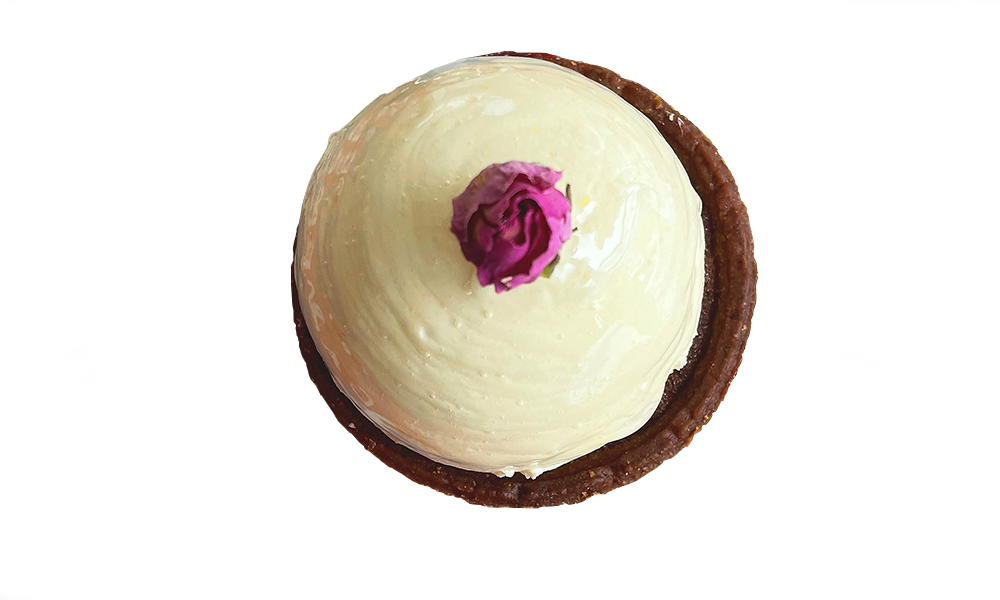 1. First on the list is the Lemon Curd Tart – the brand's top seller – which costs £4.99. Piled high, this vertical wonder is both mouth and Instagram-ready thanks to its floral decoration and glossy, zesty topping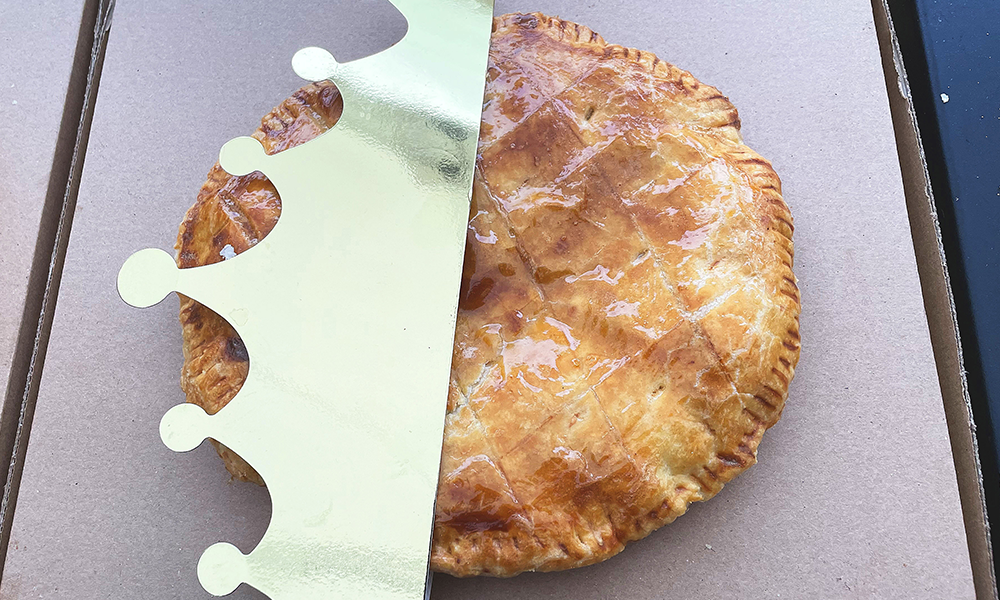 2. Next up is the festive Galette Des Rois. Served on special occasions at family gatherings, this regal bake has a coin inside. Everyone sits round, takes a slice and the person with the treasure gets to be king or queen for a day. The crown is, of course, included for £12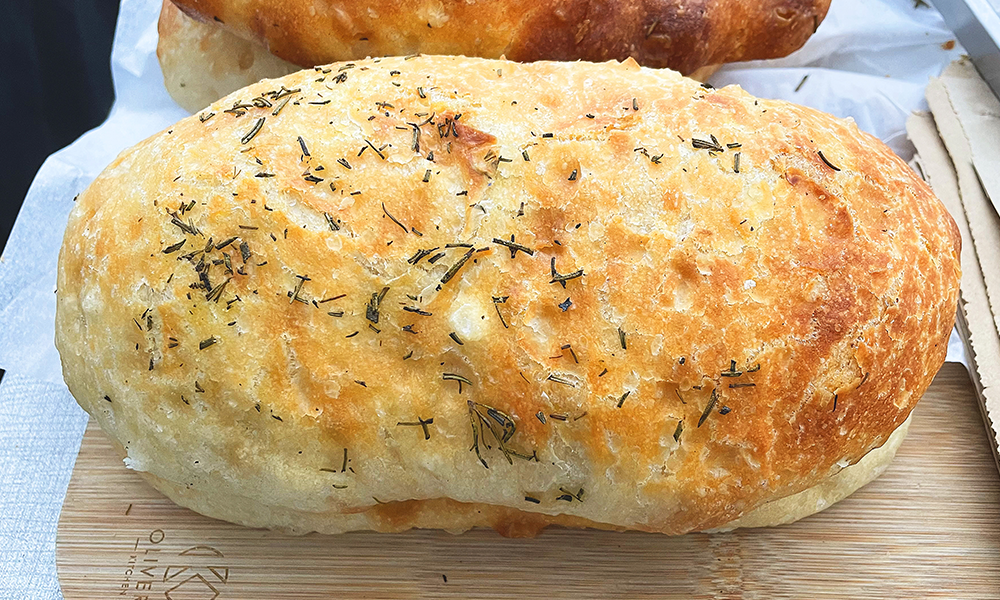 3. Our final pick is this deeply savoury bread. Costing just £3, this sea salt and rosemary foccacia is ideal for taking home and dipping or slicing for use in sandwiches. It's a decent size and would also go well with a hearty winter soup
Read more: How Clays' new bar has Canary Wharf in its sights
Read Wharf Life's e-edition here
Subscribe to Wharf Life's weekly newsletter here
- Jon Massey is co-founder and editorial director of Wharf Life and writes about a wide range of subjects in Canary Wharf, Docklands and east London - contact via jon.massey@wharf-life.com