Transformation will be open to the public with access to the plants via pathways or a giant slide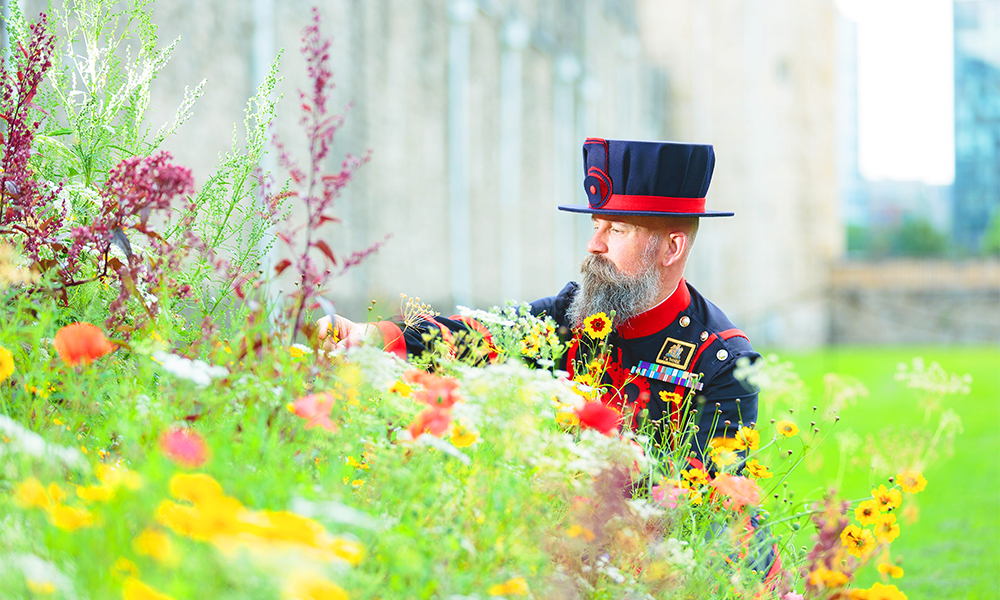 Subscribe to Wharf Life's weekly newsletter here
They say never work with children or animals, but what about plants? It is an equally anxious experience according to Rhiannon Goddard, project director of Superbloom at the Tower Of London's moat. 
The project will see the space, created in the 13th century to keep people out of the Tower, welcome visitors later this year.
The moat is being transformed into a wildflower meadow to mark the Queen's Platinum Jubilee and a team of 100 people have been working since November to preserve the architecture of the site and prepare it for new wildlife.
The sowing of 20 million seeds is now underway and due to be completed in mid-April. Rhiannon said it would then be a waiting game to see if they bloom as planned.
"You have no idea what's happening beneath the earth and just have to wait and pray that Mother Nature does her thing," said the 46-year-old, who is head of public engagement projects at Historic Royal Palaces (HRP).
The aim is to create a vibrant sea of flowers, including ​​poppies, sunflowers, gypsophila, cornflowers and cosmos, which will evolve from June to September and attract pollinators such as bees and butterflies and seed-eating birds.
The public will be able to enter the moat via a giant slide or walkway and experience the garden up close throughout the summer. 
It is the first stage of a permanent transformation of the space into a new landscape aimed at attracting wildlife and creating a permanent Jubilee legacy.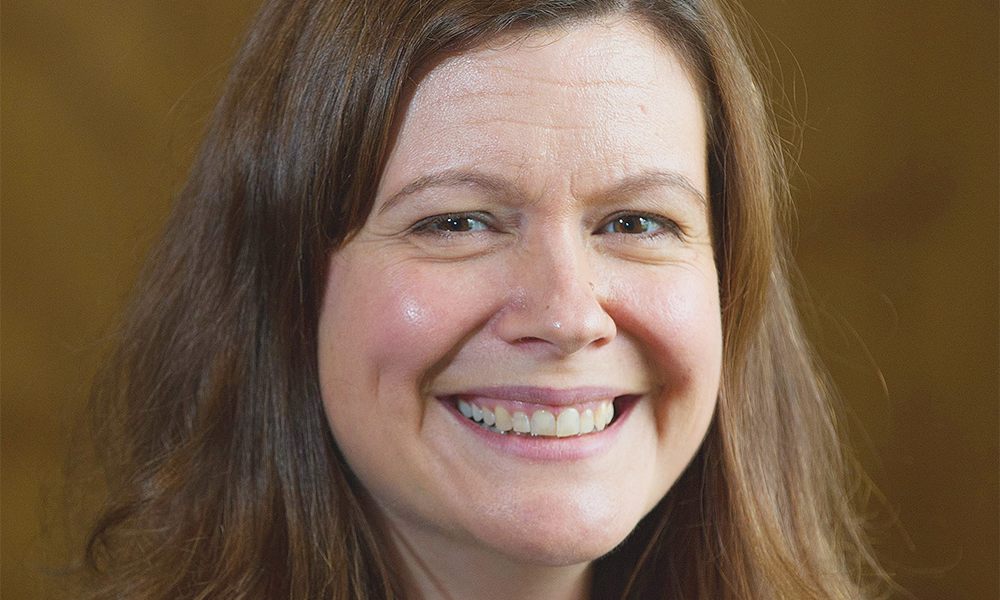 "We are really excited about that because the Tower isn't a biodiverse space at the moment," said Rhiannon.
"We really want to be able to create something that is quite special in the heart of the city that everyone will be able to enjoy.
"We are hoping to attract lots of bees, bumblebees, butterflies and hoverflies because they are all pollinators.
"During last summer's trial beds, we were amazed to see how many arrived just for a tiny little plot.
"So we really hope to up the biodiversity from that really low-value grassland we had before to a high-value habitat."
Planning for the project started three years ago with landscape architects Grant Associates, with Professor Nigel Dunnett from the University of Sheffield's Department of Landscape Architecture brought in to create the special seed mixes.
But a lot of work had to be done before they could be sown.
"The moat is a really historic place and has only been grassed over since 1845," said Rhiannon.
"There is a lot of archaeology there so as custodians of this wonderful place we had to be really mindful of what had happened in the past.
"There used to be a more grand entrance in the west called Lion Towers, which is just ruins now and a lot of the foundations are under the moat.
"There was another tower in the north that got bombed in the Second World War and the foundations are under that as well."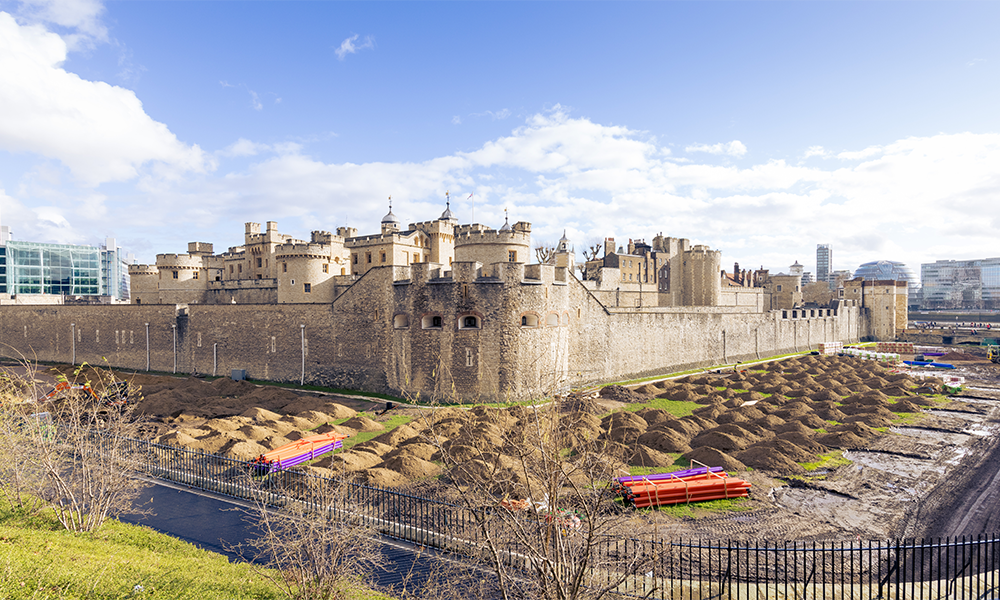 Items such as a lion's skull and the skeletons of a Medieval woman and child have previously been found at the Tower and archaeological trial pits were dug to make sure nothing unexpected would be disturbed.
"There are lots of things that we have unearthed in the moat over the years and we know there's a lot more," said Rhiannon.
"This time we have found lots of medieval coins, which will go into our collection and possibly be displayed in the future.
"We also put in 2.4 km of new drainage as part of this project and wherever we have dug we have had archaeologists watching every move in case something was uncovered.
"Obviously I didn't want to find anything amazing down there because it would have really delayed us."
Once digging was completed, 10,000 metric tonnes of subsoil and topsoil was brought in to create the best conditions possible for the seeds.
"I have never learned so much about the composition of soil," said the Stratford resident.
"It's absolutely astounding to me the lengths you can go to to make sure your blooms will come up perfectly, by controlling the nitrogen levels and fertility of the soil.
"They actually have to be quite low for these sorts of hardy annuals."
The soil, recycled from a sand and gravel quarry near Sevenoaks in Kent, was carefully mixed with compost and finely grained before being transported to the tower.
"The logistics of getting that amount of soil into the moat and making sure it all came in a timely fashion has been the biggest challenge," said Rhinannon.
A special conveyor belt was constructed so it could be loaded at a compound on Tower Hill and then tipped onto dumper trucks waiting below.
It was then spread across the 14,000 sq metre moat to create a terrain designed to have movement and flow.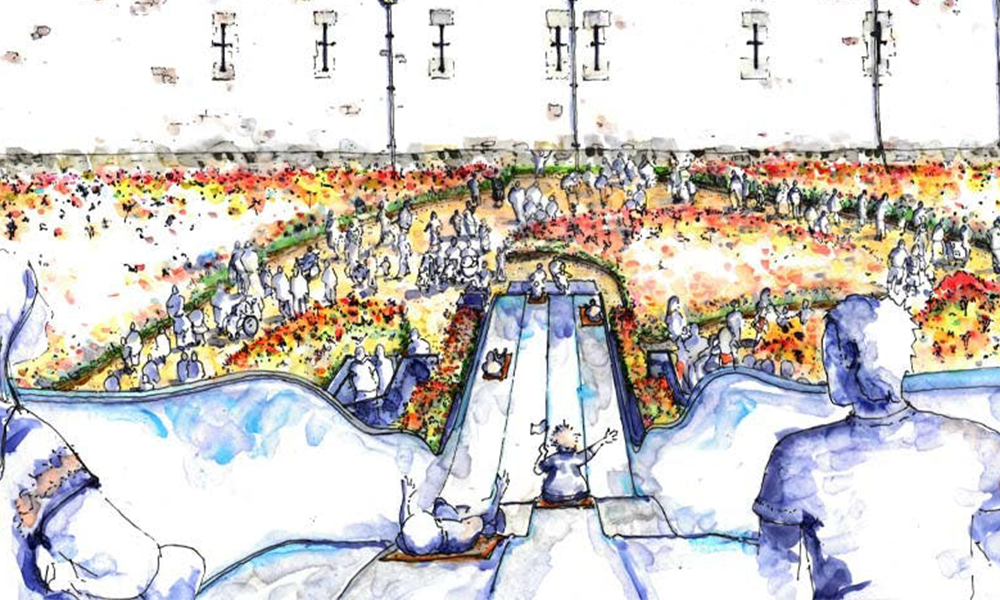 The space was then divided into grids so the seeds from Sheffield-based social enterprise Green Estate could be sown over three weeks from the end of March.
"We have had to think hard about that too," said Rhiannon. "We don't want to start at one end and finish at the other, because we want it all to bloom simultaneously.
"It is designed to look nice in June, right through to September, so the garden will gradually get higher and higher and always look fresh.
"It will be very colourful and change quite dramatically as the season goes on, with different waves of flowers coming through. There will be something new to look at every couple of weeks."
The flowers are expected to start blooming by the end of May, just before the Jubilee celebrations on June 2-5. Rhiannon said she would be on tenterhooks until then.
"We have temporary irrigation on standby in case we have a very dry spring, but hopefully the seeds should just do their thing," she said. 
"I think I'm going to become quite obsessed with the weather forecast over the next few months and we will all have our fingers crossed hoping it is kind to us.
"I can't wait to stand down there and see some flowers rather than just the soil because it will be such a relief that we have managed to pull it off."
It is the biggest project the Stratford resident has worked on for HRP and includes the rebuilding of a permanent ramp at the start of the moat to make it fully accessible to wheelchair users.
There will also be quiet mornings for families with autistic children as well as visually described tours.
All visitors will be able to move amongst the flowers on a compacted gravel pathway with volunteers on hand to answer questions, with a plant identifier app being developed for the event.
Tickets will have timed slots with a maximum of 750 people allowed down to the garden every 30 minutes.
Rhiannon said: "The moat is surprisingly large once you get down there, but we are working with local businesses and transport to make sure it is a really lovely experience and not overcrowded.
"We want everyone to enjoy the tranquillity and beauty of the garden."
Adult tickets for Superbloom start at £12 and do not include entry to the Tower.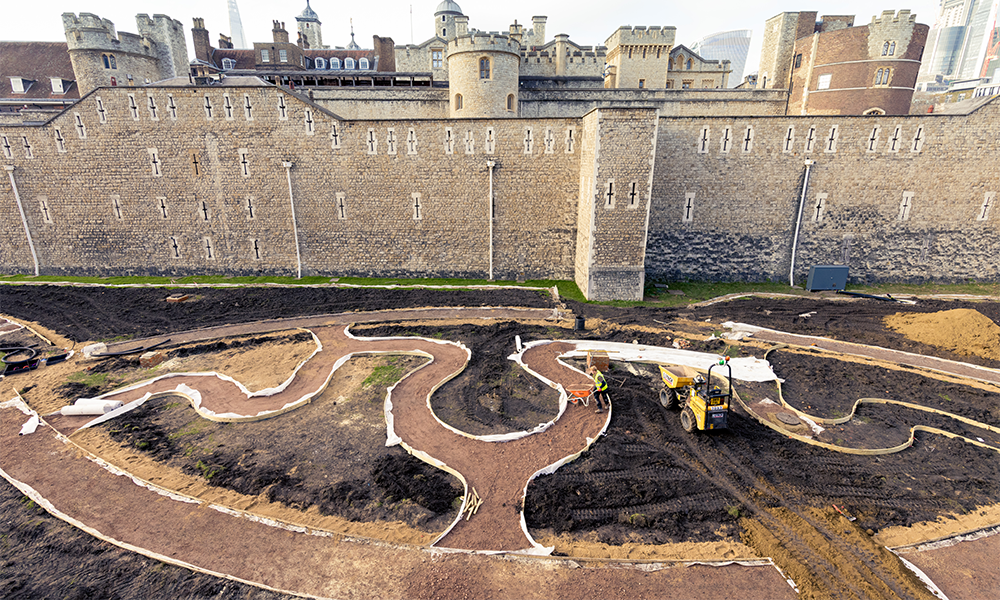 Read more: Faraday Prep School offers supported place to Year 2 or 3 pupil
Read Wharf Life's e-edition here
Subscribe to Wharf Life's weekly newsletter here