Organisation's CEO wants facility to be used as an urban playground to help boost Londoners' activity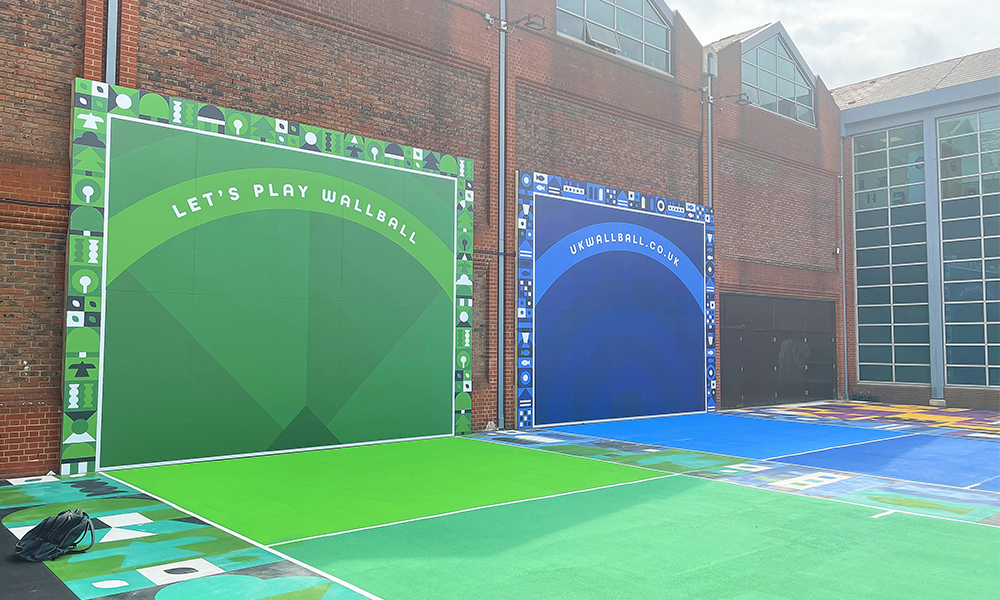 Subscribe to Wharf Life's weekly newsletter here
Sunlight streams down onto the freshly minted wallball courts at Surrey Quays Shopping Centre.
I bounce the rubber ball and slap it vigorously with my hand.
My opponent steps in, makes an easy return, I dash forward striking the yellow sphere deftly into the bottom right hand corner of the wall, where it bounces back into the court and lands stone dead. The point is mine.
I lose all the other points, of course, but then my opponent is founder and CEO of UK Wallball and a former European No. 1 singles champion. So I don't feel too bad.
Dan Grant and the governing body for the sport he runs are on a mission to get as many people as possible outside, active and bouncing balls against walls.
Installed in partnership with British Land, the two UK Wallball courts on the Rotherhithe Peninsula will be free to use (if you've brought your own ball) and can be turned to any number of game variations following their forthcoming launch on May 12, 2022.
Dan said: "Wallball is a simple, accessible sport where you hit a ball against a wall with your hands. Lots of people will have done it at school – called it pat-ball, Eton Fives, one-wall handball – there are lots of different names for it, but 'wallball' is the one they play around the world.
"This is the one wall version and it's the international standard.
"Basically, you have one big rectangle marked out on the wall and one big rectangle on the floor. The main thing is – all you need to do is hit the ball with either hand so that it hits the wall and lands in the court.
"It can bounce once before it's hit again and then you rally away until it either bounces twice or it goes out.
"The way it's scored is that you get a point for each rally won on your serve – if you lose the rally then it's your opponent's serve. Games are usually played up to 11, 15 or 21 points.
"The easiest way to think of it is that it's like playing squash against one wall – but there's no line to hit it above, so you can hit it low and kill the ball.
"For the service, the ball has to hit the wall and land in the back half of the court and then it can land anywhere in the box.
"There's also a blocking rule – if I hit the ball and then don't move, I'm a legitimate obstruction that the other player has to try and get around.
"You can't rugby tackle the other person out of the way – it's a non contact sport – so they have to get round you to get the ball back."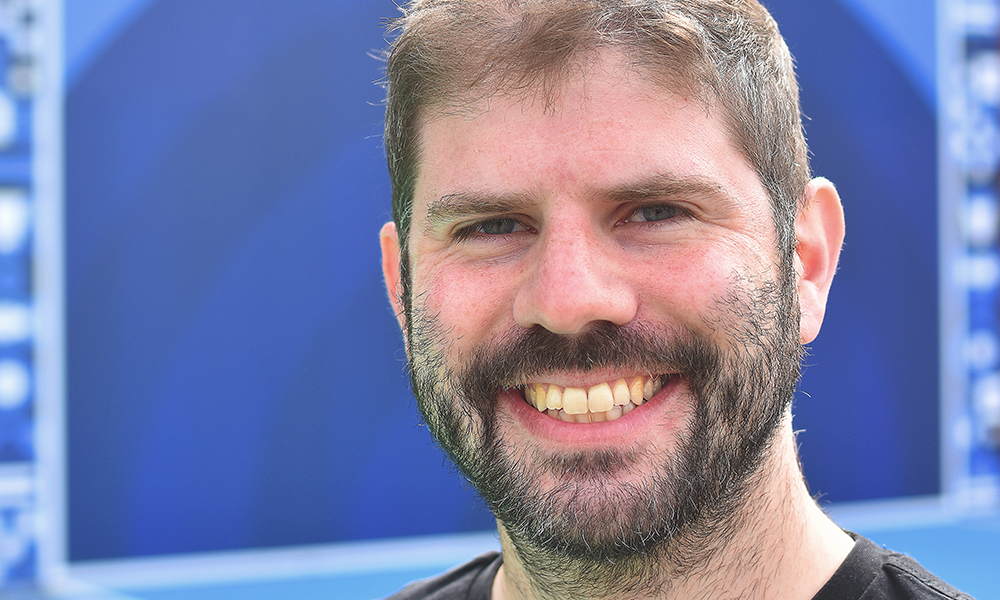 Having travelled the world playing the game Dan subsequently trained as a doctor, so his interest in promoting sport goes beyond pure publicity and is firmly rooted in the physical and mental benefits of outdoor activity.
"Our aim at UK Wallball is to try to get as many people from as many different backgrounds as possible active.
"In cities where grey space is increasing and green space is disappearing, we think people should use walls for things like this.
"There are official rules, but our motto is: 'Any wall, any ball, anytime'. We don't care how people use the courts, so long as they are being used.
"If people want to invent their own rules, they absolutely can. This whole space at Surrey Quays can be used for a lot of other things – not just traditional wallball."
The Rotherhithe installation is the first multi-court facility for free use in the country.
Alongside the two playing areas is a third space where those waiting to have a go can hang out, spectator searing and a vending machine selling balls and gloves.
Dan said: "Last year, we did our first proper community court at Bankside, which was also a really vibrant installation.
"That was us working with the Jack Petchey Foundation to target young people in London.
"When it went up it got a lot of media traction, which was awesome. I think a lot of people during the pandemic realised exercise in the open air was a pretty good thing, and that wallball is cheap too – in fact, if you have your own ball, it's free.
"Off the back of that, British Land, which is regenerating the area around Surrey Quays and Canada Water, saw it, thought it was pretty cool and got us down to find out if they could do something for the community here.
"I persuaded them that they should and so we've installed the courts.
"We got our artist back – Dan Gurney – to make them look great. I really like his geometric approach. It works really well in an urban space.
"When you do this kind of thing, you want the courts to feel like they belong, so the design is inspired by both the greenery and the docks on the Rotherhithe peninsula.
"We'll also have posters telling people how to play and how the design of the courts fits into the local area.
"The way we think of it is as an urban amphitheatre – yes, we want it to be used for wallball, but other sports and arts organisations can get in touch with us and use the space as well.
"It's also that street to elite philosophy – I want a kid who's played on these courts, hasn't had to pay for anything apart maybe for a couple of quid for a ball and then for them to go on and play for Team GB. That would be really cool."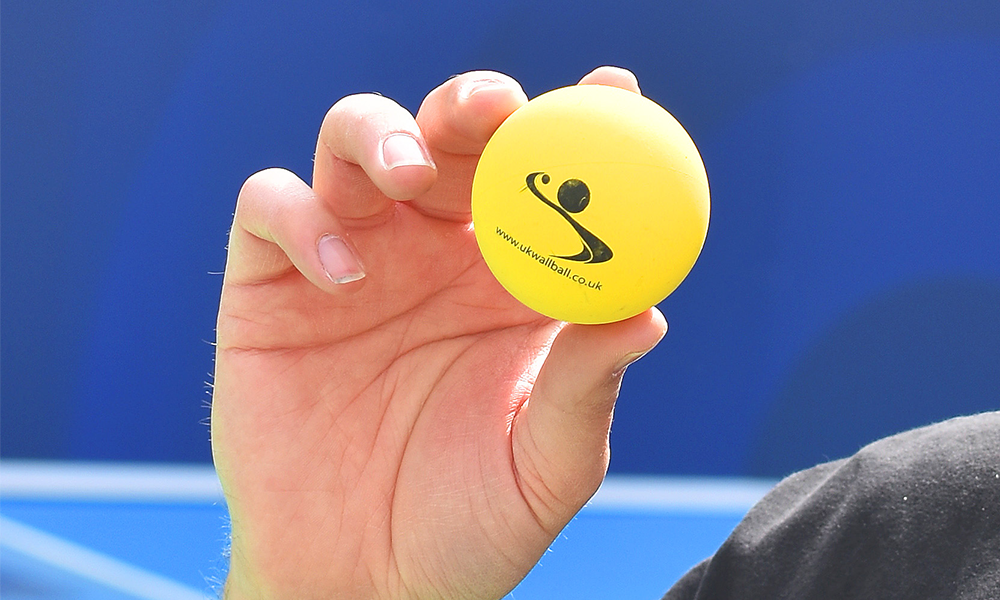 Dan, who works as a doctor in emergency medicine and medtech, believes wallball could be the next big thing in the UK – something he believes would be beneficial to the health of the nation should urban environments embrace it.
"Everything we've learnt over the last few years suggests it will catch on in the UK," he said.
"It's already big in Ireland, Spain and the Basque Country – it's huge in the USA. In New York there are 2,500 courts. Wallball is taking off here too.
"We've started working with schools over the past couple of years and the kids love it. It's not just sport either – when we put a court in a school we can give them a blank canvas and they can design it, so there's a creative element there too.
"Our ethos is that it's not super-serious.
"Of course, there are pathways for GB Juniors to go straight to the top, but if you just want to turn up and play, that's fine too.
"I feel like if the kids are enjoying it, then that's good for all of us.
"As a doctor I'm interested in prevention. We know that if you're just active and walking around, then that's really good for you.
"As you travel you see people from the lowest socio-economic backgrounds have the worst outcomes in terms of health. So, having an urban space that feels safe and fun is much better than the alternative."
The UK Wallball courts at Surrey Quays are set to launch on May 12, 2022, from 1pm-3pm.
The courts will be in place on an ongoing basis.
Read more: APT in Deptford seeks trustees to sit on its charity board
Read Wharf Life's e-edition here
Subscribe to Wharf Life's weekly newsletter here
- Jon Massey is co-founder and editorial director of Wharf Life and writes about a wide range of subjects in Canary Wharf, Docklands and east London - contact via jon.massey@wharf-life.com