Company behind Wapping Docklands Market expands to Deal Porter Square, south of the Thames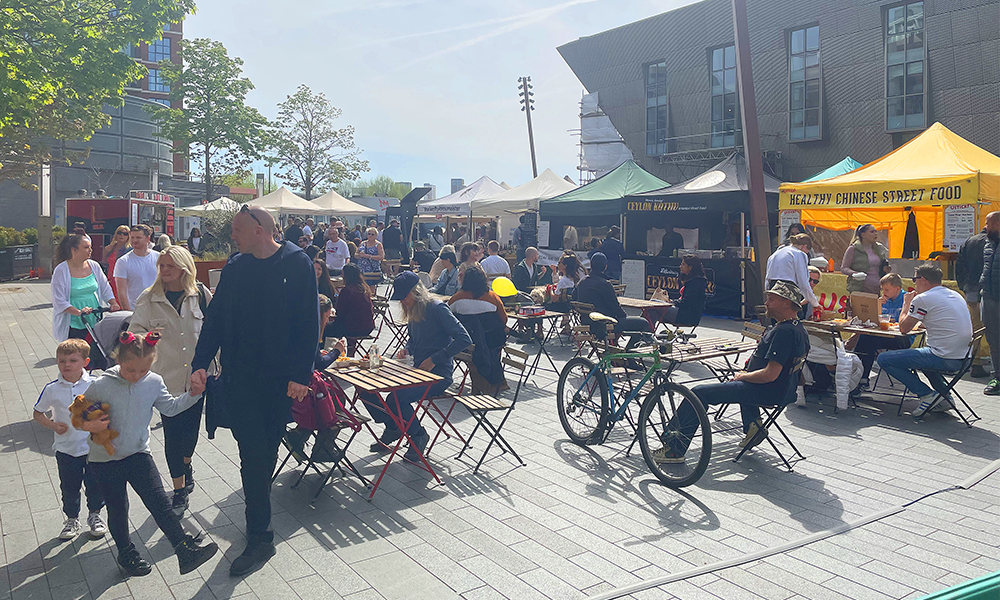 Subscribe to Wharf Life's weekly newsletter here
Not to be confused with South Korean ultraviolent Netflix phenomenon Squid Game, Squid Markets has reached a milestone.
On the first birthday of its first successful project – Wapping Docklands Market at Brussels Wharf – it unveiled a second, this time south of the Thames.
Even for its first iteration on Easter Sunday (April 17, 2022), it was clear Canada Water Market is the right thing in the right place.
Despite hordes of Londoners heading off to see families, the traders, street food vendors and refreshment stalls were doing brisk business at Deal Porter Square – something that will doubtless continue as the market is set to run every Sunday outside the library from 10am until 4pm.
It offers visitors a heady blend of live music, cuisines from around the world, German beer, wine, baked goods, fresh produce, crafts and art – a place to shop, but also to meet, eat, drink and be merry as the sun sparkles on the waters of the nearby dock.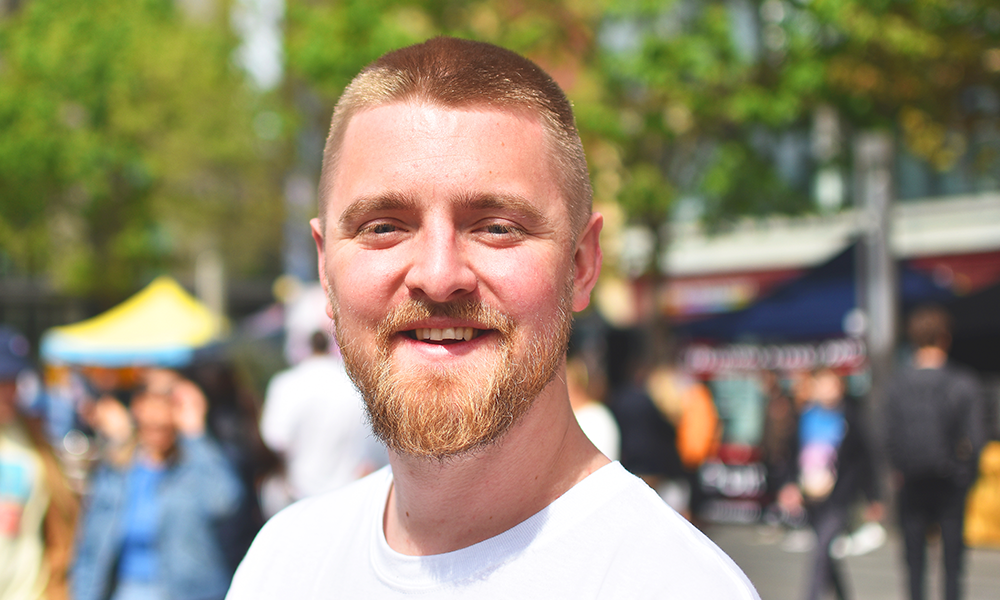 The divide created by the Thames itself was indirectly the inspiration for Squid's latest venture – a physical obstacle that Londoners have been working to overcome (somewhat unsuccessfully) for hundreds of years.
While previous generations have tried tunnelling to connect Wapping and Rotherhithe, for Squid founder Will Cutteridge the solution was simpler – take what already works in one location and replicate it in another.
"We know at Wapping Docklands Market that the majority of our customers come from north of the river," he said.
"So I thought we should have a market south of the Thames but in relatively close proximity to our first operation.
"That way we're able to start to grow the brand both in east and south-east London. That's when I started looking for sites – literally on Google Maps, zooming into open spaces.
"Because London is so densely packed, if there's a large open space it's pretty obvious and I began looking in Rotherhithe and Deal Porter Square seemed the obvious place to do it – it was the right sort of area for what we're offering."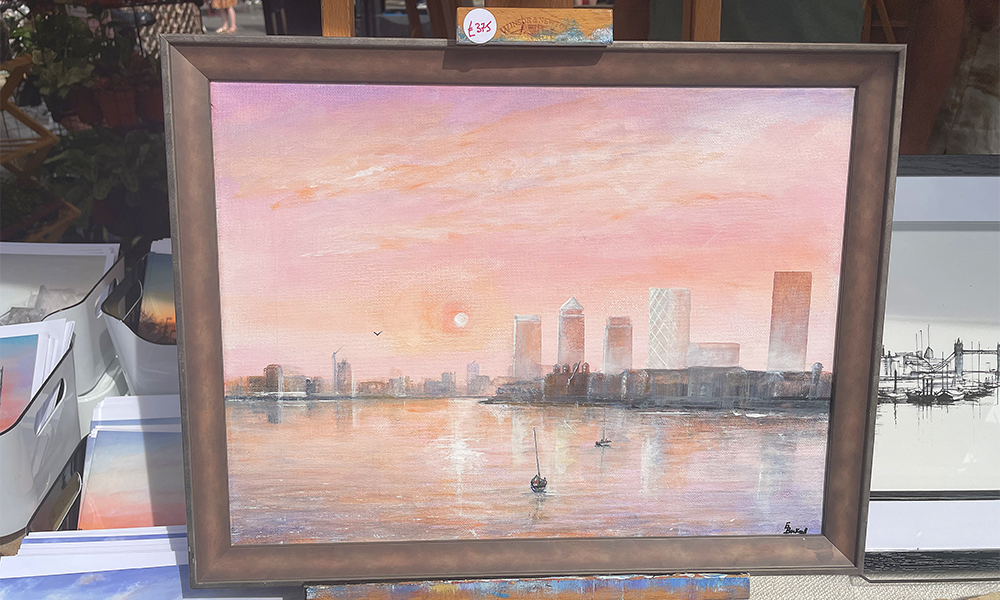 With swathes of regeneration already completed – and a great deal more in pipeline – the peninsula has seen a steady increase in population with new businesses and ventures arriving in the area. So what is Squid bringing to that mix?
"Canada Water is, like Wapping, primarily a food market," said Will.
"We want people to come and do their weekly shop with us, get all their fruit and veg, their bread and all the standard items, while also grabbing a coffee and catching up with their neighbours.
"One of the most exciting things that we've seen at Wapping is that it has brought the local community together.
"People who live in the same building, right across the corridor from each other and have never spoken, have met at the market, and I think that's the joy of something like this.
"That's exactly what we want to create at Canada Water – something that brings people together in an old-fashioned way.
"I think that's important in this day and age, because people don't talk to each other in London very much and the market provides a friendly environment where they can.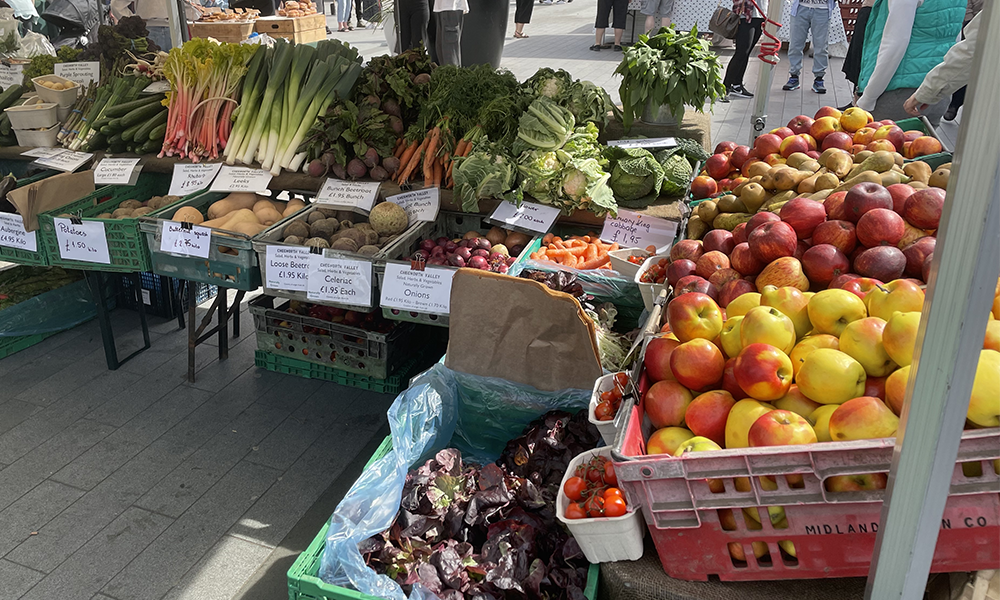 "You go to the supermarket, pick up a bunch of carrots and put them in your basket, and it's not very immersive or interactive.
"If you buy a bunch of carrots from our Chegworth Valley stall, the team running it all live and work on the farm – they pick the fruit, plant the seeds, and you're meeting the people who grow your food – you have a dialogue with them, come back every week and it's always the same people.
"We also have a small craft section in all our markets, because we tend to find that there's a lot of local people who have a side gig making things.
"For example, we have a a guy who hand-makes all his terrariums – Plant And Person – which is quite cool.
"Hosting those pitches is a great way to get local businesses to the market, and it provides a bit of variety in addition to the food itself.
"We also have a local artist – Ed Bucknall – who sells his works, and one lady who takes all of our empty bottles from the wine stall at the end of the day and uses them to make candles.
"Street food is, of course, a critical part of our operation – visitors to the market can do their shopping and then listen to some live music, have a beer or a glass of wine and then grab a pizza, some curry, steak or a wide variety of Asian food.
"There's also a guy selling Portuguese sandwiches and vegan Caribbean food from Joy's Caribbean Fusion, so there's a lot to choose from.
"Our plan is to have a total of 35 traders here, which is enough to provide a really good mix of food, produce and services – we're always on the look out for new traders, so anyone interested should get in touch.
"We might have re-branded, but we remain hugely passionate about sustainability – it's incredibly challenging but it's something we remain focused on.
"One of the ways in which Squid does this is to find small businesses through its markets and help them build their brands nationally – we're always seeking really interesting food producers that we can go into partnership with."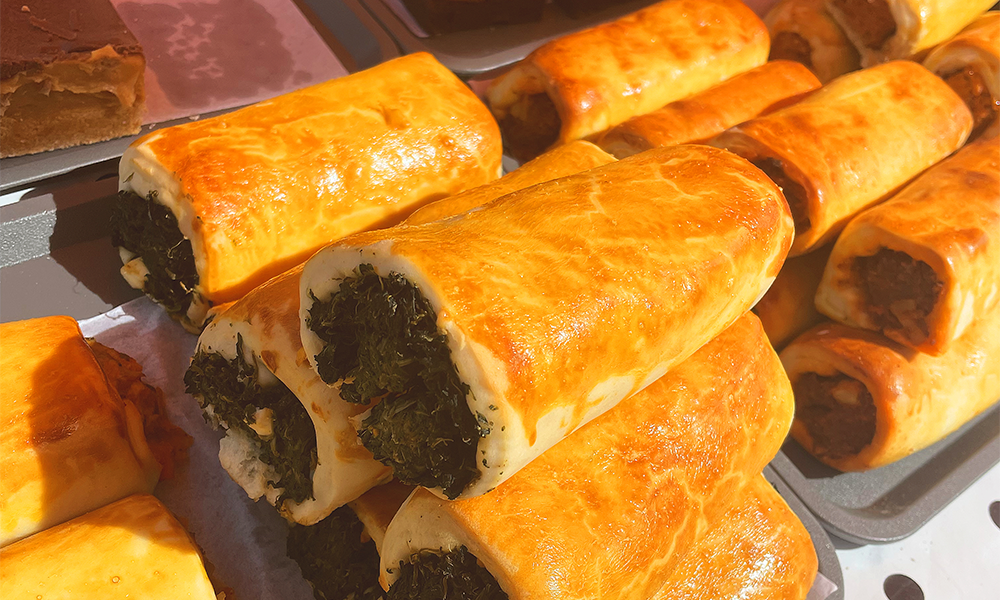 Read more: How Canada Water Dockside will transform Rotherhithe
Read Wharf Life's e-edition here
Subscribe to Wharf Life's weekly newsletter here
- Jon Massey is co-founder and editorial director of Wharf Life and writes about a wide range of subjects in Canary Wharf, Docklands and east London - contact via jon.massey@wharf-life.com