Artist's mid-career retrospective at One Canada Square brings more than 40 of her works together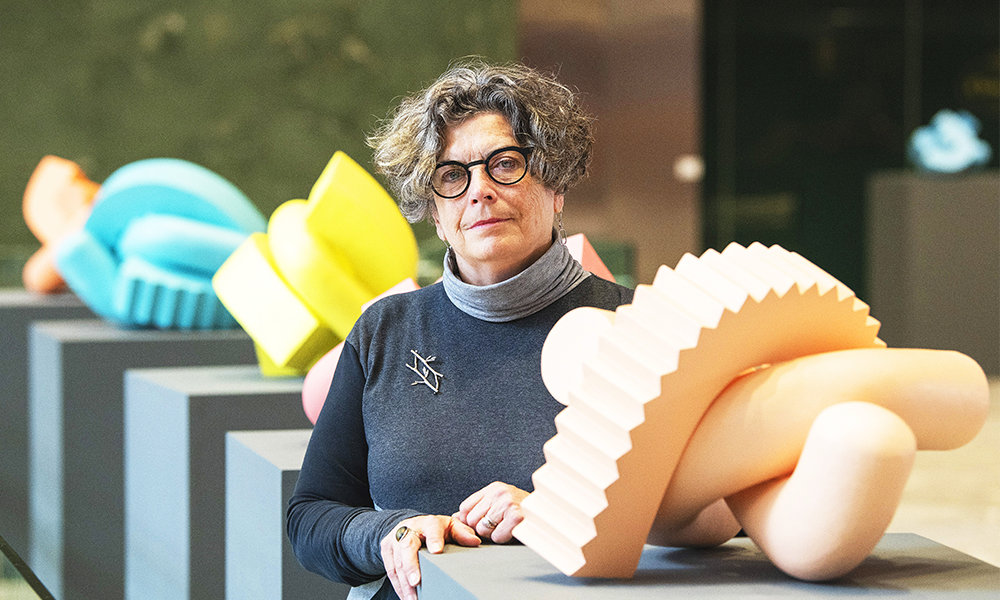 Subscribe to Wharf Life's weekly newsletter here
"It annoys me slightly when someone describes me as a ceramicist or a ceramic sculptor, because I don't think the fact I'm working with ceramics has anything to do with the pieces I produce," said artist Patricia Volk.
"I have no interest in doing glazes or anything like that – I'm not a potter.
"I also have no interest in repeating things – I like to keep changing and developing. I like things to look as though they're slightly unsteady, as if you would have to put your hand underneath them to stop them falling over."
Cornucopia, a mid-career retrospective featuring more than 40 of her sculptures, is currently filling the lobby of One Canada Square in Canary Wharf.
The exhibition, which will remain in place until June 10, 2022, is free to visit and open every day.
The brightly coloured forms, often twisted and curled in on themselves, present a stark contrast to the marbled hues of the tower's ground floor space.
"When I'm making the piece, I never think of how people might respond at the other end," said Patricia.
"But I would like to think that people would enjoy seeing them, and maybe that the work would give them something to think about as well.
"I hope people are moved and might pick things up that I might have been thinking about subliminally. There is a series of pieces called Source – very simple forms – that I really liked doing.
"They're a contradiction with the totem pole pieces, which are quite complicated, because they are very simple forms with a drip.
"They have to be made properly because the drip won't go where it's supposed to if they aren't – I can't tell you how much satisfaction I get from doing those drips."
As we talk, it becomes clear there's a real connection in Patricia's life between the work she creates and her own and others' reactions to it.
Born in Belfast, she wanted to be an artist from an early age.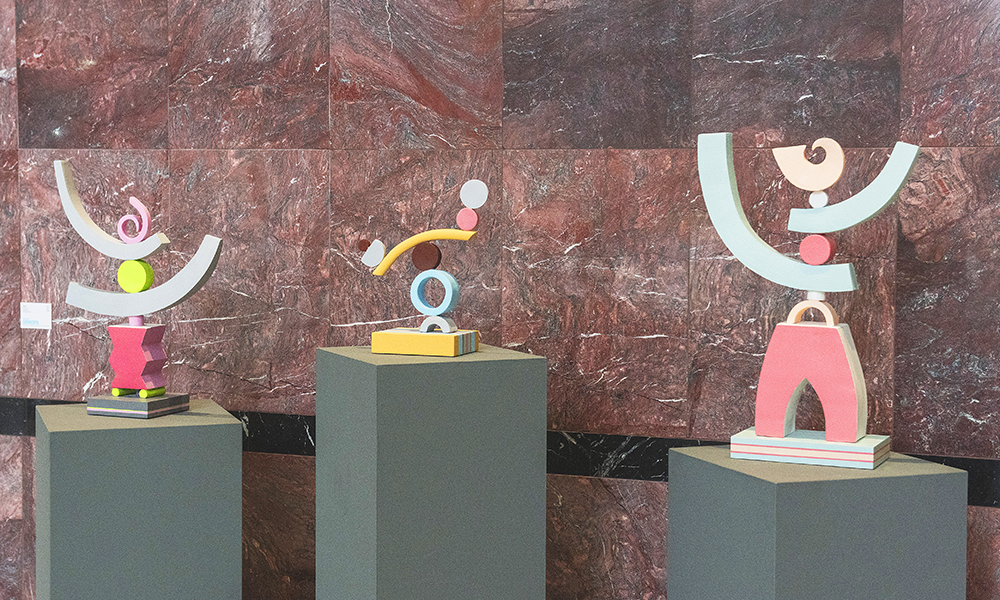 "It was what I always wanted to do – I can remember when someone asked me when I was five years old what I wanted to be when I grew up, and I said I wanted to be an artist," she said.
"My father was a member of the Ulster Arts Club and, when my mother wanted to get rid of me on a Sunday morning, I was packed off there.
"I remember walking around and looking at the paintings on the walls and the beautiful sculptures. It was a fantastic place and it was something to aspire to, definitely.
"I'm very dyslexic – I can remember starting school at the beginning, drawing a picture of a wedding and my teacher calling in another teacher to have a look at what I'd done – that's where all my self-esteem came from.
"I was completely obsessed with drawing – people would come up and ask me to draw a picture. I always won the prizes."
With no portfolio, however, art college was an impossibility and Patricia got a job in the textile industry before moving to London at the age of 17.
Again unable to get into art college – something she admits would have been a remote possibility for someone of her age – she nevertheless found work and stayed.
"It was when everybody believed that London was the most exciting place and two of my friends decided to leave home," said Patricia.
"We were very, very young, and I thought I'd just do that as well. My mother was delighted to see me go and I just stayed.
"Things happened, circumstances happened. I got a job very quickly here and I got married very young and had a child.
"I came over in the April and the Troubles started in the August.Then there was no going back.
"It was a bad time, but people here were very kind to me. I got a job as a typist and then went to work in advertising and met my husband.
"The group he was with had all been to art college – they'd done film and TV.
"Then, one night, in my mid-30s, after 16 years of not drawing, I picked up a pencil and thought that I could still do it.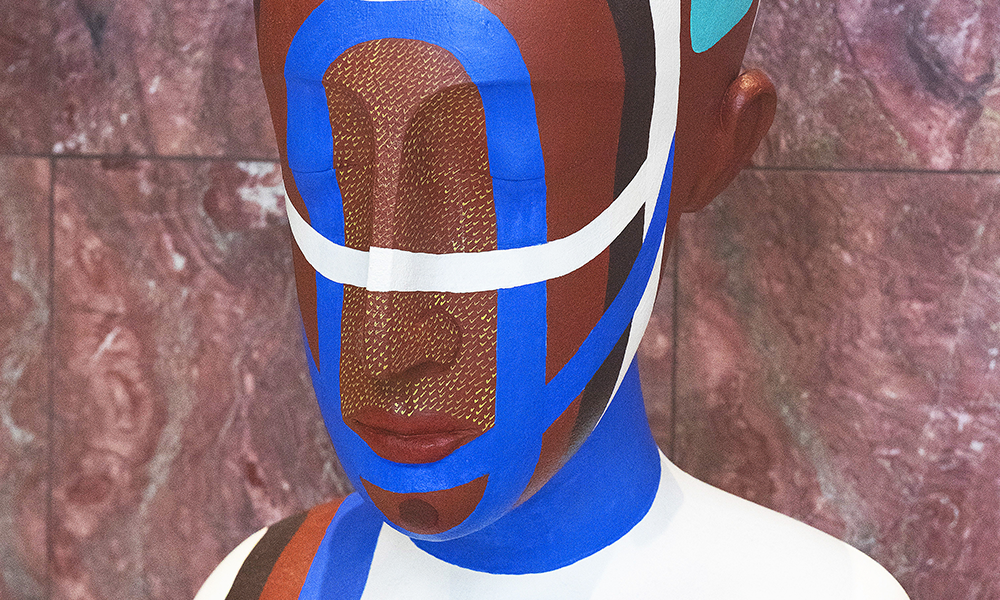 "I said to someone that I had always wanted to go to art college, so I took a year out, went to adult education classes at the Camden Institute and Islington Institute, and did life drawing and clay modelling.
"I remember someone walking in and seeing a figure I had done, and saying that I'd got something – that I could do it, and it gave me such pleasure.
"Looking back, there's always been someone who has said something like that when my confidence has been at its lowest, to pick me up and make me look forward.
"In that year out I got a portfolio together, applied to Middlesex Poly because someone said I had to do a foundation course.
"I went to a party and someone asked what I was doing, and I said that I wanted to go to art college but I'd never get in because I was shit, and they got my address, got an application, sent it off and, although my husband said I'd never get in, I did, and that day was the happiest day of my life.
"For the first time, I hadn't told any lies about my qualifications and I'd got in because of what was in my portfolio.
"So then I started my education at Middlesex Poly, and went on to do three-dimensional design. After I'd done my degree it was my mindset to go out and earn a living."
And to a certain extent, that's what she did.
Constantly altering and changing her approach she's progressed from making monumental heads to writhing coloured forms and vibrant totem poles.
Recognised as a Royal West Of England Academician and a fellow of the Royal Society Of Sculptors, her work can be found in numerous private, national and international collections including the Swindon Museum And Art Gallery.
Perhaps her success can partly be explained by the forces and inspirations at work within her pieces, absorbed throughout her life.
She said: "As a trainee designer in Belfast, the lady who ran the company had come from Vienna with absolutely nothing and had certain ways of doing things.
"She taught me how to do patterns so no material was wasted. Even now when I roll out a big slab of clay I'm thinking '100% economy'.
"It's interesting how the things that happen to you when you're a lot younger have such a dramatic effect.
"What's important to me about my work is that it keeps me sane when I'm feeling down in the dumps.
"It's fascinating that pieces I've done which people find uplifting may have been done when I've been feeling depressed."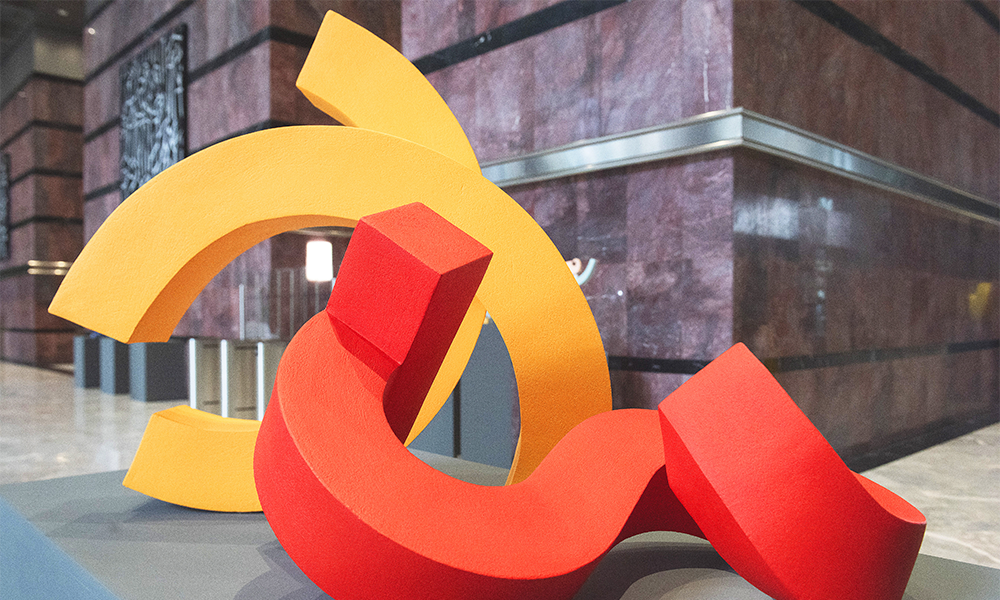 Read more: Ian Berry set to create denim artwork for Canary Wharf
Read Wharf Life's e-edition here
Subscribe to Wharf Life's weekly newsletter here
- Jon Massey is co-founder and editorial director of Wharf Life and writes about a wide range of subjects in Canary Wharf, Docklands and east London - contact via jon.massey@wharf-life.com