Street food business sets up not-for-profit to help traders start and grown their operations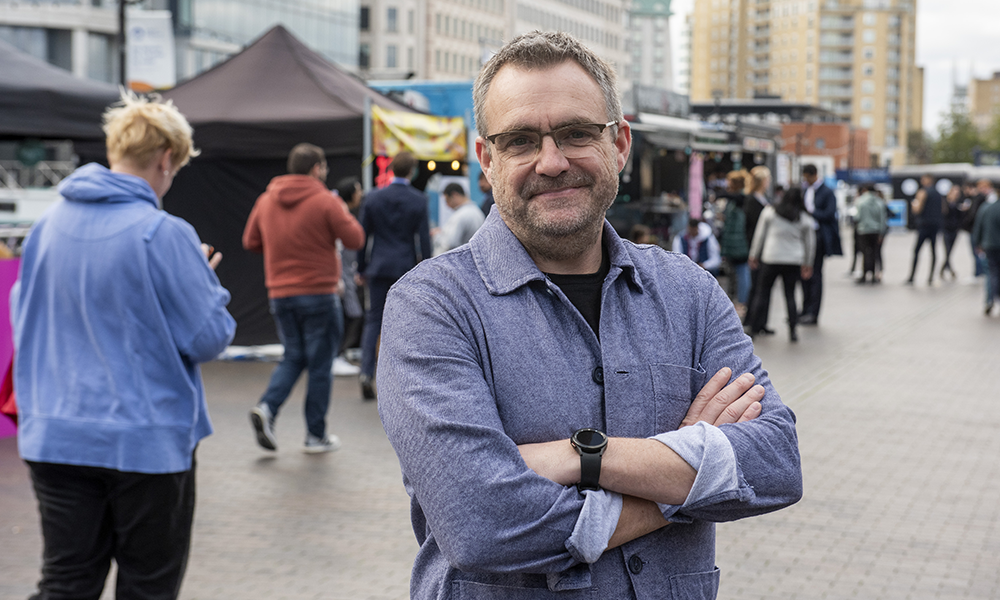 Subscribe to Wharf Life's weekly newsletter here
BY LAURA ENFIELD
Buy a meal from a street food trader at Kerb On The Quay and you will be doing much more than filling your stomach, from now on.
A year ago, Kerb made a radical change.
After nine years of running markets across London that championed food startups – including the popular West India Quay spot – the business decided it needed to do more.
So it set up a not-for-profit social enterprise arm and hired Gavin Dunn, founder of pizza company Wandercrust and graduate of its own Inkerbator programme, to run it.
"I've always been really passionate about the ethos of Kerb – of breathing life and vitality into otherwise quiet areas of London and supporting a really diverse ecosystem of great foods from around the world," said the 49-year-old, who is managing director of the company Kerb Social Enterprise.
"When I saw the job on LinkedIn, I felt pretty well placed to apply."
Kerb already knew Gavin had experience with street food and his own consultancy in business development and HR, but its managers were impressed to find out he also had an extensive background with social enterprises and charities.
Gavin said it meant his experience perfectly matched the extremely niche role.
"There's not that many food-based social enterprises so, not to blow my own trumpet, but I knew as soon as I saw the role it was quite nailed-on for me," he said.
The first step in creating the new company ecosystem was "engaging" and, over the last 12 months, Gavin has worked to find more charity partners across four areas – youth unemployment, ex-offenders, refugee support and homelessness.
The aim is to discover hidden talent among the most disadvantaged communities in London to join its programmes and help diversify the street food scene.
"That early stage of the ecosystem is really important to me," said Gavin.
"I went through the Inkerbator programme but was absolutely fortunate enough to have been able to afford my own pizza truck.
"I had a certain level of privilege to be able to set up Wandercrust while running my consultancy.
"I'm well aware that early stage presents such a barrier to individuals in being able to pursue their dream of running their own food businesses.
"We're reaching out to these charities to see how we can remove those barriers, work with them and offer support to get them onto our Inkerbator programme and trading at our markets.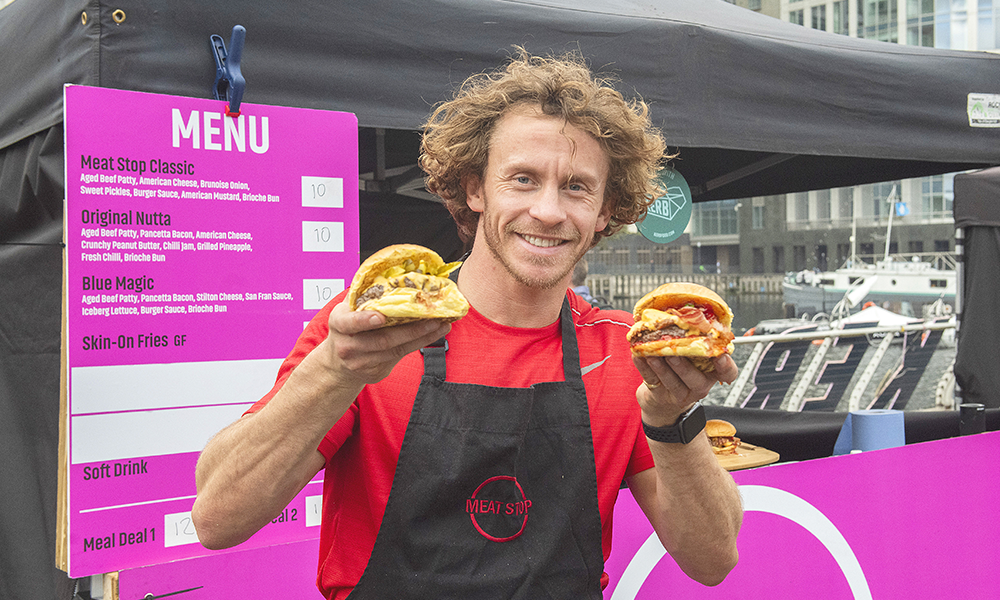 "That's where we are really plugged in to parts of London that we otherwise would have overlooked in the past."
The new era, which dawned as Kerb began celebrating its 10th anniversary in 2022, relies heavily on its West India Quay market.
It restarted in March and is now where all Inkerbators must cut their teeth every Wednesday from 11.30am to 2.30pm.
Full Kerb members trade at the site every Thursday from 11.30am to 2.30pm.
So far this year it has produced 23 graduates, including The Yeast Brothers, who have now opened their own restaurant in Deptford.
The last cohort graduated in October, so the Wednesday market is paused for now, but will return in 2023 with a fresh set of traders for Wharfers to try.
"We take a lot of time and care to make sure the businesses that come through the programme have the best experience possible and we can rely on West India Quay for that," said Gavin.
"Canary Wharf is the home of London's markets, and street food markets are the original business incubators, where people shared ideas and practices.
"It's really nice to have brought it back to Canary Wharf this year and long may it last.
"We choose to do it there because of the crowd. The customers love it and recognise its value and you can feel it at an Inkerbator market."
The Woolwich resident still remembers the buzz of trading there for the first time in 2016 with Wandercrust, which now trades in Greenwich.
"There's nothing like it really," said Gavin. "It's excitement but you are anxious and you can still feel that at Inkerbator markets now.
"It means I know exactly how new businesses owners coming on to the programme feel."
He also knows first hand the world of opportunities the programme can open up.
"One of the main benefits I found at Inkerbator was just this development of a network of like-minded creative, food-loving small businesses. It enables that collective spirit," he said.
"It feels incredible for me to now be responsible for it and help rebuild it after the pandemic."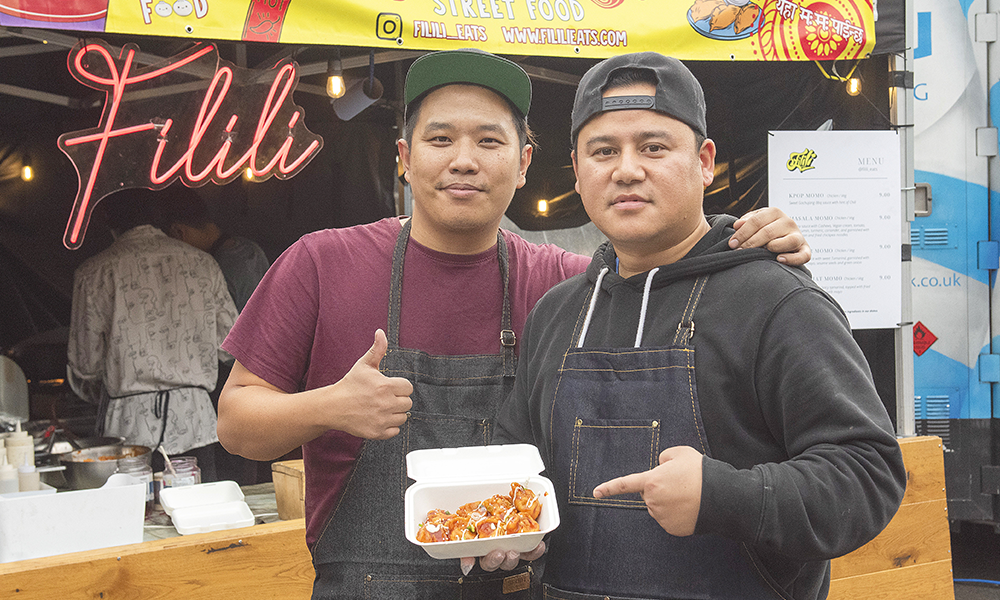 Kerb, which also runs markets across London and a successful event catering arm with food service group Compass, shut down most of its activities over 2020 and 2021.
During that time it received 750 applications for Inkerbator.
Its team research and chat to each one, but also scout and approach businesses to invite, to ensure they are finding the best.
Those offered a place go through the coaching stage of the ecosystem, followed by six weeks of trading at West India Quay.
Once the incubating stage is complete and traders have graduated into full members, the accelerating stage kicks in.
Many go on to trade at the Thursday market at West India Quay and Kerb also offers regular networking events to its 100-plus members, some of whom have been with the business since its inception.
"It can be a lonely place, being a food business owner," said Gavin. "So being part of a collective really helps to get everyone's creative juices flowing."
Becoming a social enterprise was a big change but Kerb was already working with charities such as Food Behind Bars to find potential members.
"We've worked with a guy called Marcus who had the idea of setting up a Caribbean pie and mash business," said Gavin.
"I first met him in Brixton prison and now he's working with us to gain work experience to help get him work in hospitality, but also to hopefully one day get onto our Inkerbator programme to set up his own street food business."
It also works with The Entrepreneurial Refugee Network (TERN) and one of its founders is on Kerb's advisory board.
One of the most popular traders at the Quay is Oshpaz, which was set up by Uzbekistan refugee Muzaffar Sadykov after he was referred by TERN and completed Kerb's Inkerbator programme in February 2019.
Transforming into a social enterprise means the company now has more money to invest in its work with these charities as there are no shareholders or dividends.
"If you buy a bowl of plov from Muzaffa, not only will the the money go straight to him, but any pitch fee he pays Kerb is reinvested back into supporting early stage food businesses to help them grow through the Inkerbator," said Gavin.
Kerb partnered with both charities and new partner homeless charity The Connection at St Martin In The Fields, to launch its first big move for the new social enterprise in the summer.
It partnered with McCain for initiative Streets Ahead offering free workshops to 100 less advantaged people.
"We're already seeing individuals that The Connection has worked with referred to us and we're supporting them either into work or talking about how they would go about setting up their own food businesses," said Gavin.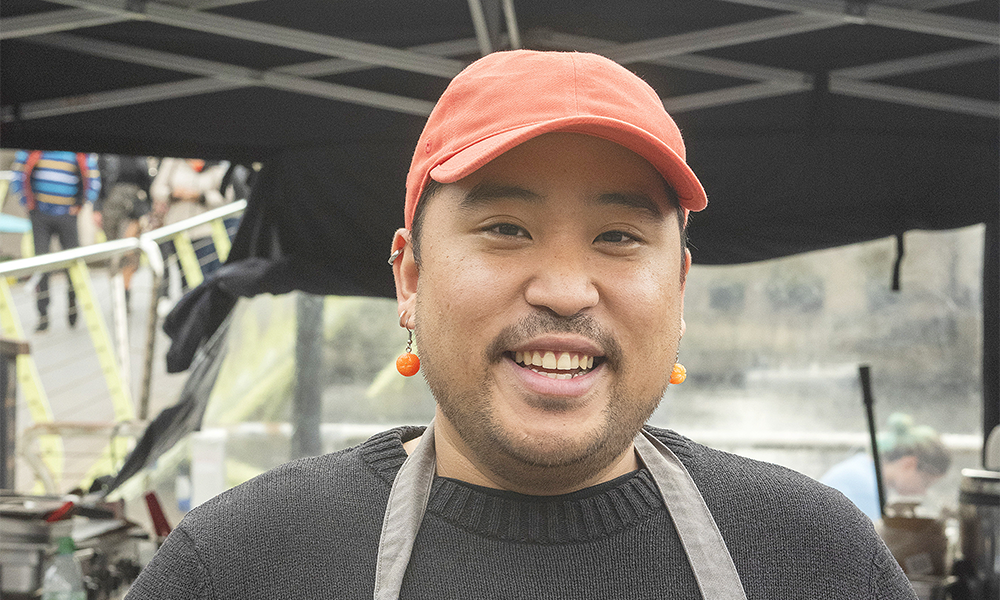 "We're always looking for new partners and more support and we would like to do a lot more because there's so much food talent out there and individuals that would love the opportunity to do it.
"But there are still a lot of barriers in the way, which we're working really hard to remove."
Gavin said next year was going to be a big one for Kerb.
"There's loads of things in the pipeline that we're excited about," he said.
"Not least, working with all of the charities I've mentioned and removing those barriers to entry into food entrepreneurship for individuals who are just leaving prison or have refugee status.
"It really does feel as though we're in a unique position – we've got so much to offer."
He added: "I'm passionate about supporting small, independent businesses and have yet to come across a business that is better at doing that than Kerb.
"It's a privilege to be able to be the person doing this for Kerb.
"It's had such success over the first 10 years and I'm determined to make the next 10 years equally as successful and ground breaking."
He hopes West India Quay will continue to embrace its new traders as they diversify and hopefully extend the number of days they trade there next year.
"We've had such amazing support from the customer base," said Gavin.
"It hasn't been as busy this year because with hybrid working not everyone's in the office all the time.
"But what we have seen is real support from people who want to make sure that we remain there.
"People tell us they plan their days in the office around market day and some people come over and order 30 different meals to take back and make it into an office event.
"Kerb's remit has always been to breathe life into spaces, to bring some colour, diversity and flavour to an area that might otherwise be less vibrant.
"I really think we've done that at West India Quay but also in the wider Canary Wharf area. You see so many more small food businesses there now and I like to think Kerb played a small part."
Read more: How In2Sports offers inclusive space for all to play
Read Wharf Life's e-edition here
Subscribe to Wharf Life's weekly newsletter here
- Laura Enfield is a regular contributor to Wharf Life, writing about a wide range of subjects across Docklands and east London