Deptford Market Yard venue puts community at the heart of its menu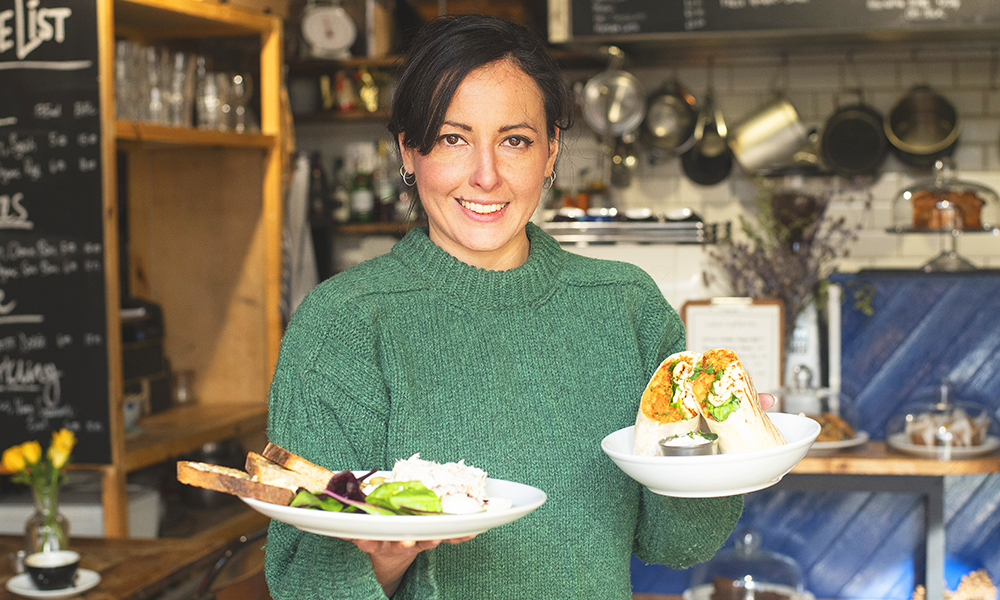 Subscribe to Wharf Life's weekly newsletter here
BY LAURA ENFIELD
Croissant crumbs surround Suzie Pennington. But, when you run a cafe called Dirty Apron, a bit of mess and chaos is part of the fun.
"There was a show on at The Albany, so we've had loads of kids descending on us," she said as we sit down to chat about her operation.
The 18-seater venue has been part of the Deptford Market Yard community since November 2016 – more or less when the arches first started opening up – and Its customers are very much at the heart of what the business does.
"A lot of the other vendors that opened with us were from food trucks, so were one-dish orientated," said Suzie.
"But we're more like a classic cafe with specials, a soup of the day and a brunch that changes as tastes change."
Dishes draw inspiration from the season, feedback from regulars and what the local greengrocer has on offer.
"We like classics with a twist, " said the 38-year-old.
"Not just British but European and Asian and we try to keep all our mains under £10 to make sure the cafe is affordable for the length and breadth of Deptford folk.
"We're not faddy but, if there is a trend that looks interesting, and our customers ask for it, we will make it because we like to have a two-way relationship.
"We plan the menu around what our customers' favourites are and speak to the regulars and see if they want anything revisited."
The Anglo-Indian said her love of cooking started during her childhood in Essex.
"My mum cooked loads of Indian food growing up and I learned how to make lots of dishes quite young," said Suzie.
"I was about eight when she first told me to make what I wanted from the fridge.
"She also ran a nursing home and I would hang out in the kitchen and learn how to do a lasagne or a roast.
"So I have always been around food and professional kitchens and got the interest and love from there.
"She's really proud of me. One of the good things about having a cafe is everyone knows I run one so all my friend's parents talk to me about it.
"Everyone is always interested and I love talking about food and Deptford and I really think everyone secretly wants to open a cafe."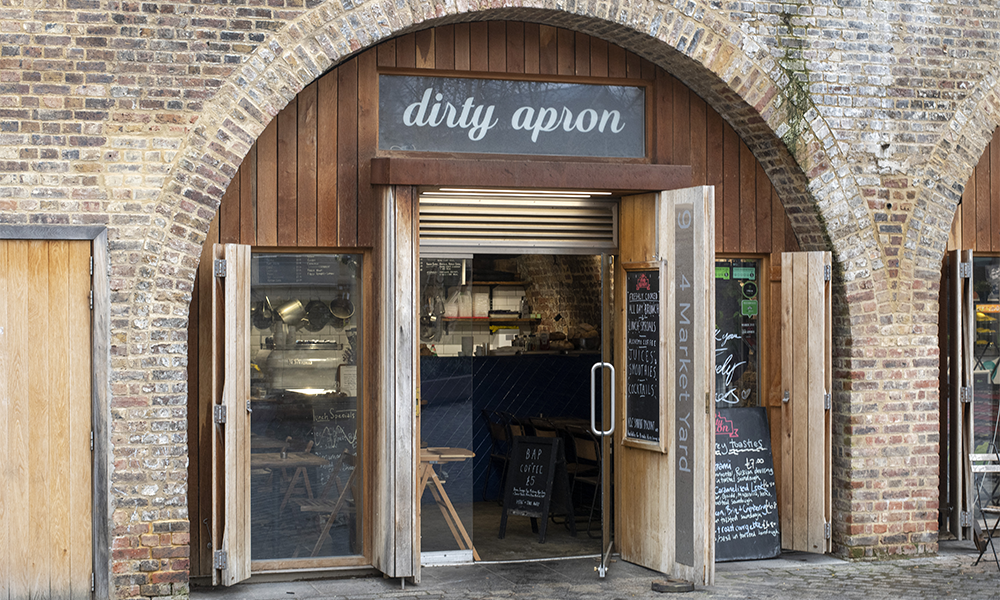 The seeds of her own venture were planted when Suzie met co-founder Holly Williams at Bournemouth University.
"I studied sports science and Holly was doing animation. We met on the ladies football team. I think I tackled her and that's how we became friends.
"We both just had a love of food and, when we weren't in lectures, we would go to the local supermarket and try and do student dishes on a budget for the team and make them as exciting as possible.
"We would do big extravagant roasts and lasagne. It was a chance to cater for numbers and was really fun and this working relationship kicked off naturally."
After graduating they both moved to London and, when the supper club wave hit, they decided to jump on board.
"We would meet up at the pub and organise these themed events over a bottle of wine," said Suzie.
"It picked up some traction and it was when we did an Orange Is The New Black-themed event and 200 people came to this church hall in Limehouse that we knew we were on to something."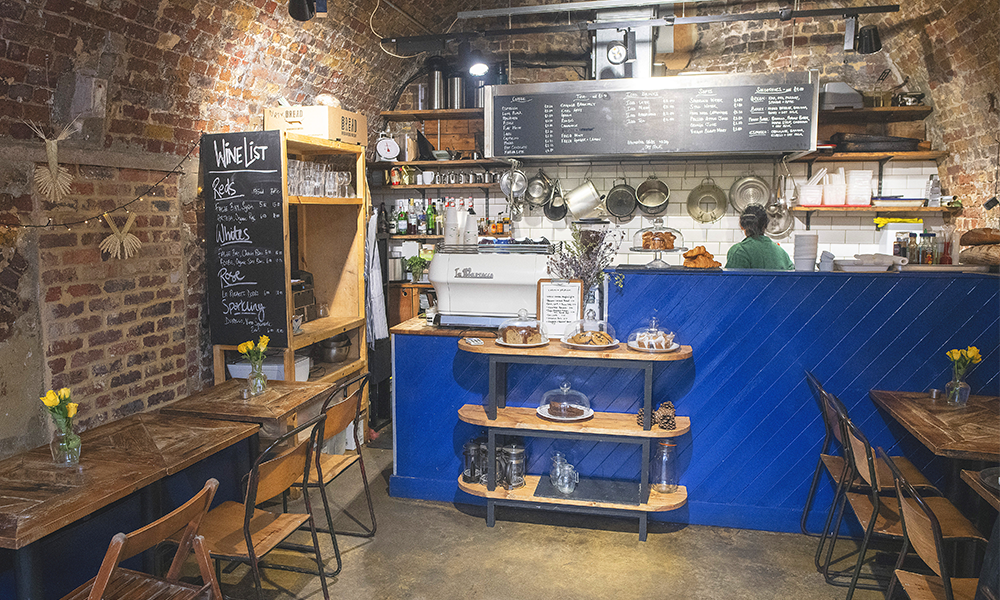 Next came a six-week stint at Brick Lane Market where they cooked "way too much food" and it was a "bit of a slog".
But rather than taking a breather, they Googled small festivals and booked every available pitch at events in the south under £100.
"Every weekend for one summer we were somewhere different, " said Suzie. "It was exhausting but by the end, we decided we were up for the challenge."
That meant getting proper kitchen experience, so Suzie ditched her job in public health and spent two years at Riley Rocket on the Kingston Road, working her way up to become manager.
When Holly saw the arches in Deptford were being developed and rented, the duo decided it was time to take the plunge.
Suzie said the name Dirty Apron summed up their humour and was a nod to classic greasy spoon cafes.
Over the years they have built up a family of loyal regulars, one of whom has even written a poem in tribute to the £5 coffee and bap deal.
Holly, who now lives in Brighton, manages the business side of things and New Cross resident Suzie takes charge of the cooking and supplies, which come from Tony's Daily on the High Street, Bread Bread Bakery in Brixton, Ruby's Of London in Greenwich and Alchemy Coffee Roastery in Wimbledon.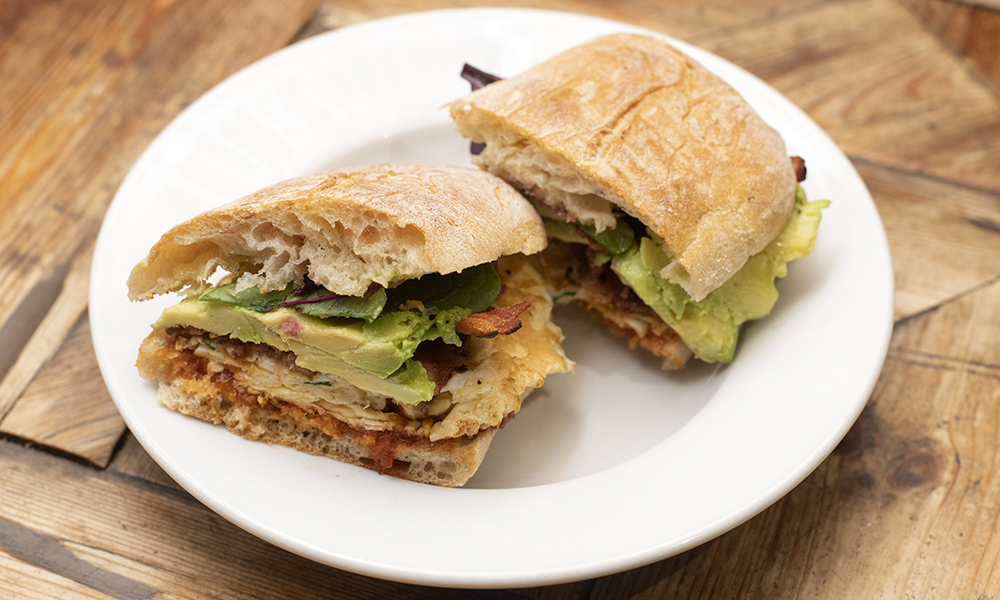 Suzie said: "Our main food is hearty brunches and we always have a vegan special, meat special and a soup of the day.
"We do a curried cauliflower, spinach and sauteed halloumi wrap served with fresh mint yoghurt and a really good tofu scramble with heavily spiced peppers and onions and lovely sourdough and salad and homemade relish."
In winter, they serve up meat and vegan pies but, now the warmer weather is finally appearing, warm salads with ingredients such as quinoa, roasted broccoli, salsa verde and beetroot will be appearing on the menu.
"I love going out for food and cafe culture to get inspiration," said Suzie.
"I go to all of the places around here and we are all really good friends, that's one of the nice things about Deptford."
The area's social calendar is also a pivotal part of her planning.
"When the London Marathon goes past we know that we'll need six people a day to cope with the demand and when Amal the doll came through recently I have never seen anything like it," she said.
"There were tens of thousands of people. So you have to look at the schedule for what's going on in Deptford and tailor the rota for the occasion."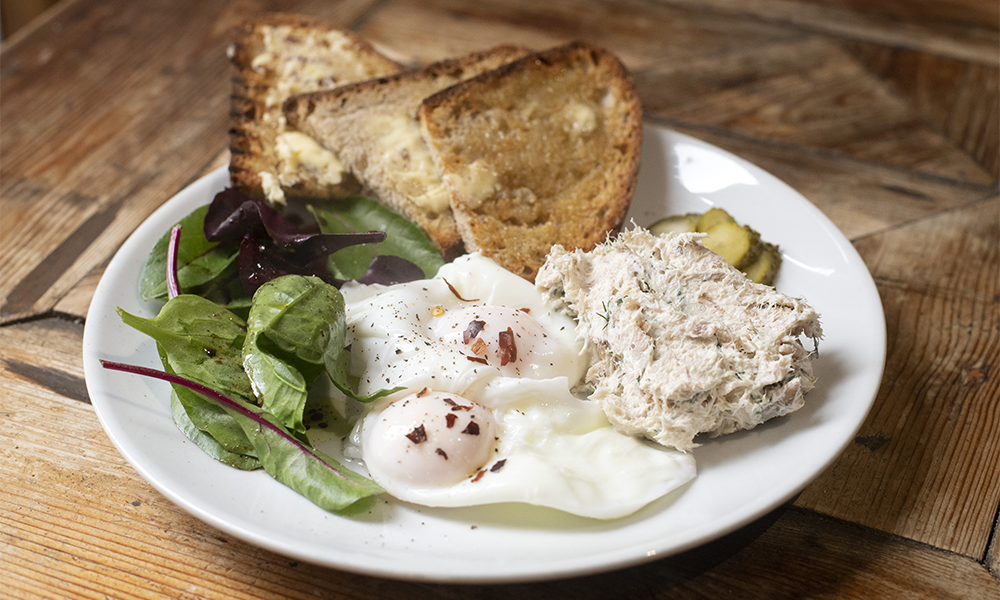 Suzie loves to bring people together and has collaborated with Villages Brewery, creating a 150cm sausage roll for their harvest festival, with plans to hold events for the New Cross and Deptford Free Film Festival and for Lewisham London Borough of Culture 2022.
"When summer hits, capacity at the cafe will double because of the outdoor seating.
"We are very lucky because it's very rare in London to get such a large off-road space," said Suzie.
"It means we don't have to hurry people. Food can take a while because sometimes we can be a 40-seater restaurant, but people can sit in the sun, have a coffee and enjoy themselves.
"Because it is one room and an open kitchen I'm good at spotting if someone needs someone and everyone does the same – there is lots of communication and chat and customers can basically talk to us from their table. There's that real dynamic vibe.
"A lot of our customers are regulars so they get to know each other.
"I'll often be having a conversation with someone on table six and someone from table five will chime in and then they end up talking to each other and then someone else will come and join in.
"Before you know it the whole place is involved in the same conversation, which I think is just the best thing about working here."
Dirty Apron is open Wednesday through Sunday from 9.30am-4pm.
Read more: How The Rattle is investing in crazy at Tobacco Dock
Read e-editions of Wharf Life's print edition here
Subscribe to Wharf Life's weekly newsletter here