Isle Of Dogs' facility can produce all year round with 95% less water than traditional farming methods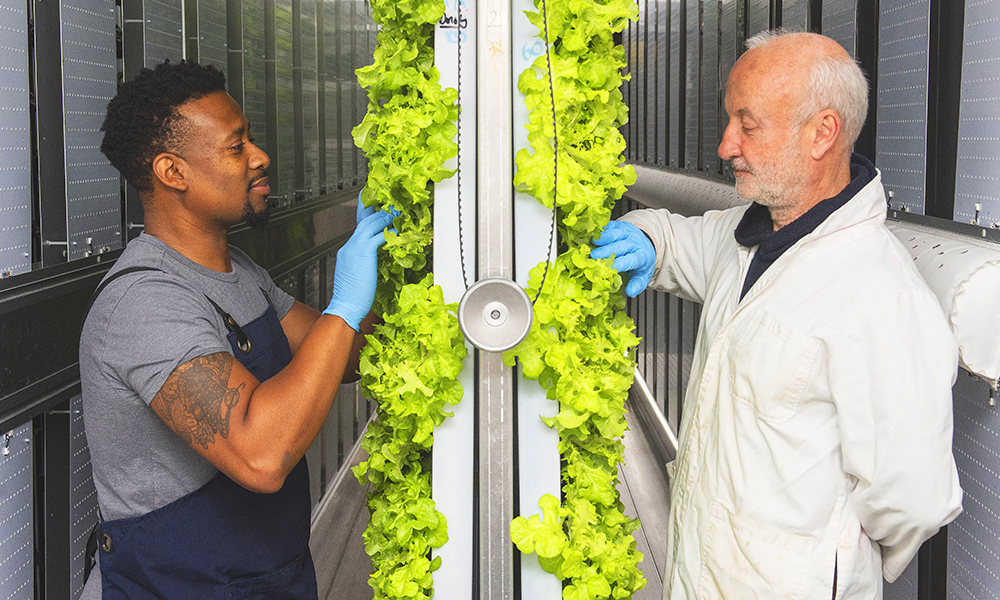 Subscribe to Wharf Life's weekly newsletter here
It turns out there are two farms on the Isle Of Dogs.
Mudchute is filled with rare breeds and is a favourite spot for residents (and the occasional Wharfer) to take a restful stroll among the sheep and llamas.
The other, however, is much less obvious.
Built inside three shipping containers sat in a brick-walled car park, just off Westferry Road, locals can easily be forgiven for not knowing Crate To Plate is there at all.
But packed inside its metal boxes are racks of hyrdoponic tech, carefully calibrated to grow crops in nutrient-rich water under LED lights.
The business supplies restaurants in London and also grows produce at sites in Stratford and Elephant And Castle.
Its Isle Of Dogs containers make it, almost certainly, the closest producer of ingredients to Canary Wharf.
That means delivery times and mileage are negligible and Wharfers eating dishes created from its ingredients are consuming some of the freshest products available.
One restaurant that's making the most of the facility is recently opened M restaurant – located on the lower floors of Newfoundland tower.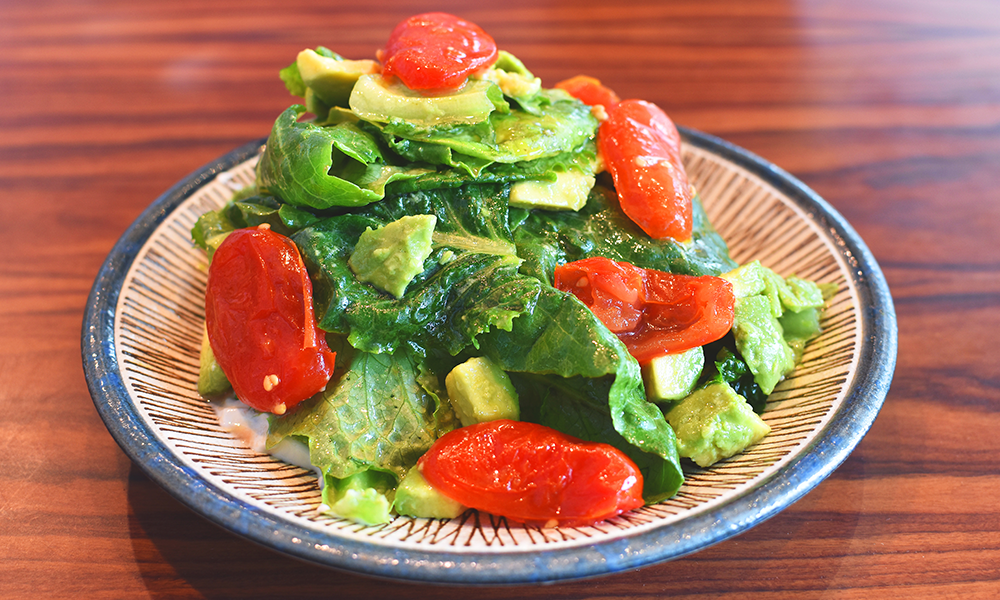 Owner Martin Williams and executive chef Mike Reid are both big on sustainability and cutting waste. The restaurant proudly works to assess and minimise its impact on the environment.
The steaks it serves are carbon neutral, thanks to a partnership with charity Not For Sale, which offsets their impact through reforestation projects in the Amazon and helping to protect local people from modern slavery.
Order M's Crate To Plate salad as a side and you'll be dining on leaves grown less than 20 minutes' walk away, in the mix.
"It's as fresh as it can be, as close from farm to plate as possible, and that's so rare – it's a privilege to have that in Canary Wharf," said Mike, who did a degree in business and marketing before apprenticing as a chef and going on to work with the likes of Gordon Ramsay and Michel Roux Jnr.
"Sustainability has become more of a focus for us in the last five years and it's always been part of my philosophy as a chef.
"You want to cook as sustainably as possible and use as many local ingredients as you can, which has always been a challenge at M because it's a brand that showcases international food and flavours.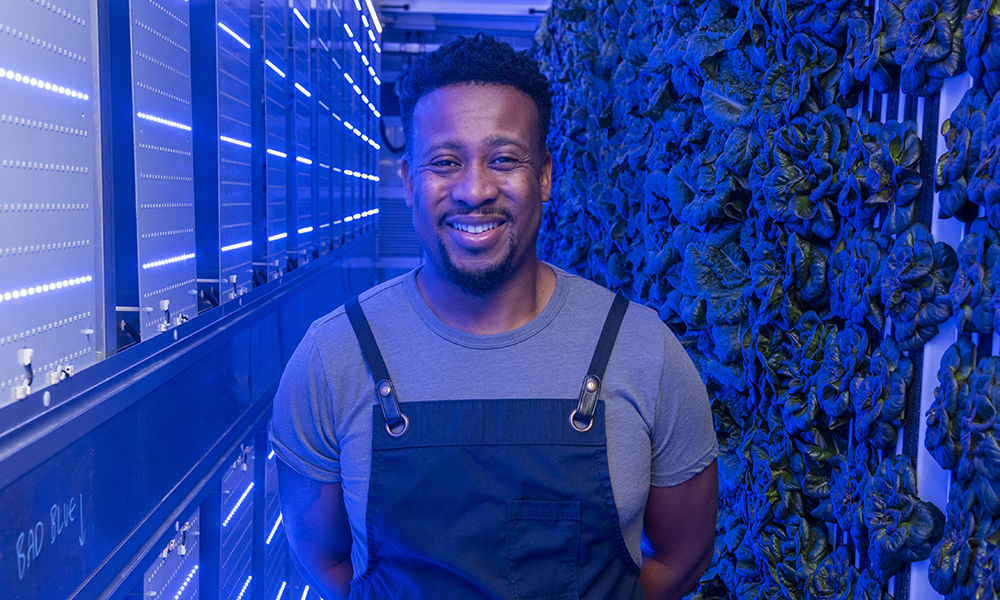 "Now it's about how we interpret that, about the relationships we have with our suppliers and building partnerships.
"Crate To Plate is probably the perfect example of that. We create dishes with their produce in mind and at other times they grow things speculatively. It's very much a collaboration.
"I try to visit the farms as much as I can and the last time I was here they had the most beautiful wasabi flowers.
"Normally you'd only get them five weeks a year, but here they grow all year round.
"It's one of my favourite flowers to cook with, because the flavour is literally a punch in the face, but in the most subtle and beautiful way, and they're gorgeous.
"To have that available all year long is incredible.
"You're not beholden to the seasons, so you can keep dishes on the menu with ingredients that are not impacted by the weather.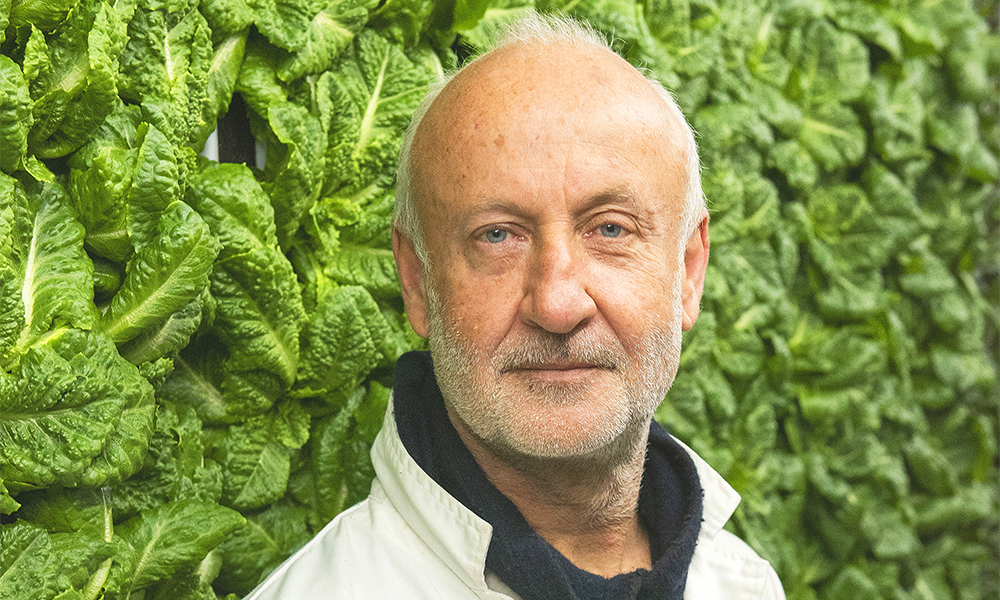 "From a chef's point of view, we chase consistency more than perfection and Crate To Plate's products are phenomenal.
"For me the flavour's better too – there's no pesticides, none of the nasties and the lettuce, for example is crispier and the taste fresher.
"It's vegetables and herbs the way they're supposed to be – whatever you're tasting in the supermarket, times it by 10.
"When I first came to visit the farm I wondered if I was in the right place, but this is pure genius."
Mike's words will be music to the ears of Crate To Plate founder and CEO Sebastien Sainsbury.
Part of the dynasty that created the supermarket chain, he spent time as a banker with interests in hospitality, before turning to vertical farming in urban environments as a way to help tackle some of the world's problems.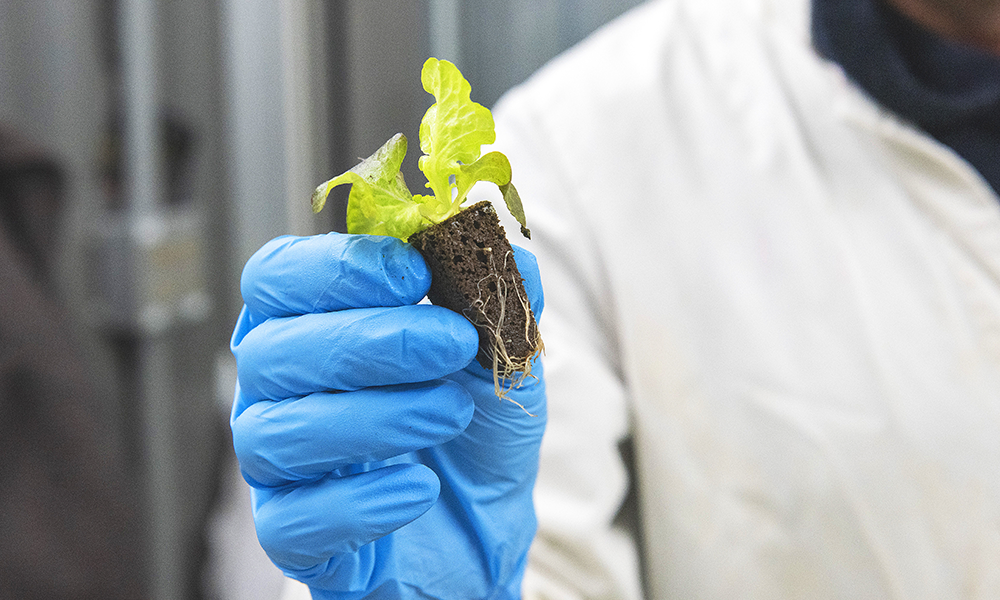 "When I was in banking in 2007, I did research on food security and population growth because it really concerned me where our food was going to come from," said Sebastien.
"If the number of people in the world kept on rising as predicted, it would mean the end of organic food
"That remained in the back of my mind and in 2015 I was at Expo 2015 in Milan where I saw a hydroponic farm.
"It's not a new idea, it's been around for thousands of years – think of the Hanging Gardens Of Babylon – and there are people doing it all around the world, but what's changed is the technology.
"We don't even use the term hydroponic any more, even since we installed the three farms on the Isle Of Dogs in 2020 – Crate To Plate is really 'controlled environment agriculture'.
"Every aspect of each plant's growth, from the amount of light it gets to the light wavelength recipe, the nutrients in the water, the watering schedule, the ambient temperature, the humidity and even how long the lights are on or off – because plants need rest – is very closely monitored and regulated.
"It's all automated, bar seeding, transplanting and harvesting and that's just where we are today."
The company's model not only allows it to place farms close to its customers, minimising transportation, its technology means it uses approximately 95% less water than traditional farming methods.
It hopes to cut that to 99% with newer root-misting systems – crucial in a world where natural resources are destined to become increasingly scarce.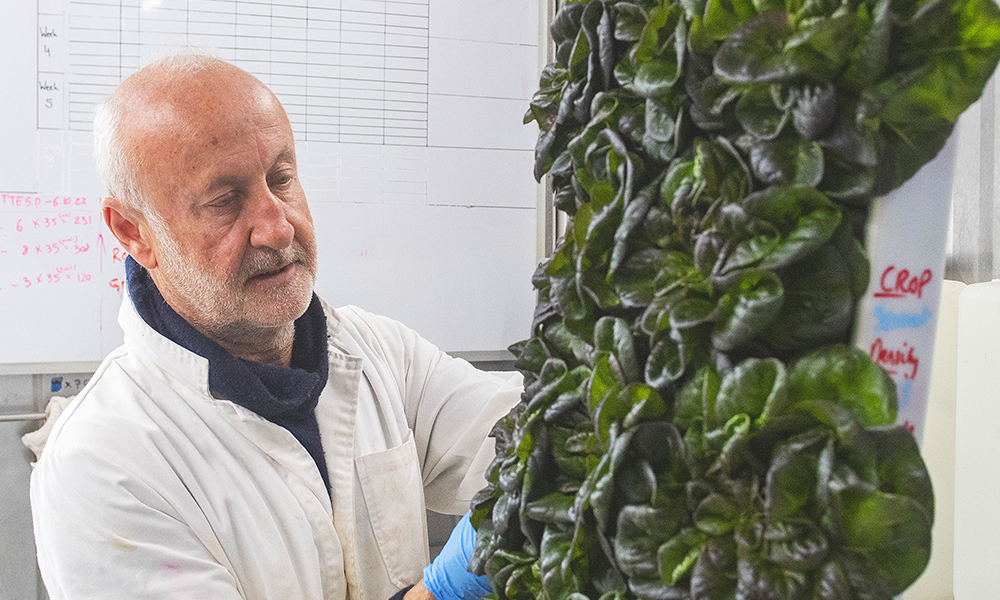 Crate To Plate can grow produce year-round to order and is unaffected by the weather. Its systems are not immune to problems, but these tend to be ones of maintenance rather than the lottery of droughts and floods.
"Farmers are suffering and they will suffer, but not because of us," said Sebastien. "It's because of climate change.
"We consume about 18million heads of lettuce a week in Britain and farmers supply about 90% of that, which means there's still 1.8million being imported.
"In 2018, for example, we had the longest heatwave for 40 years and crops were all lost. Droughts are just as bad.
"With us, restaurants can give us an estimate of what they'll need and we grow that for them, planting varieties that create less waste – flatter romaine lettuce, for example, for burgers so restaurants don't throw out the middle of a baby gem.
"Our head of farming, John Sticha, spent about four years doing research and development in a container in the US to find the right plants – we tried more than 220 varieties, a dozen Genovese basils and more than 14 different types of lemon basil."
The company's drive to improve is relentless, with new tech emerging all the time. Its next project is a plan for a bigger, fully automated farm in Royal Docks
"When I was a banker, I was on the right, but now I'm on the left – I'm all about social responsibility," said Sebastien.
"People laugh when I do nothing but talk about lettuce, which I knew nothing about five years ago. Being a vertical farmer is fun and it's productive.
"We're growing stuff that people are loving – sometimes it blows my mind how positive people are about our produce. I'm not a young man any more, but I feel completely regenerated."
With all that extra energy, who'd bet against a robot vertical farm in east London?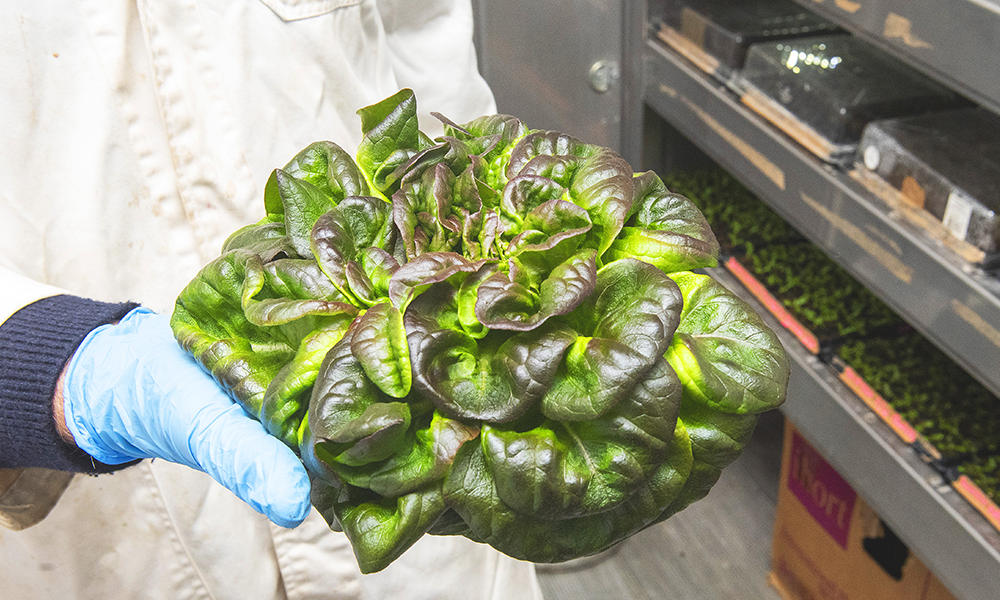 Read more: Discover ceramics with Made By Manos
Read Wharf Life's e-edition here
Subscribe to Wharf Life's weekly newsletter here
- Jon Massey is co-founder and editorial director of Wharf Life and writes about a wide range of subjects in Canary Wharf, Docklands and east London - contact via jon.massey@wharf-life.com