Challenge will see participants scale 48 floors of One Canada Square to raise cash for the charity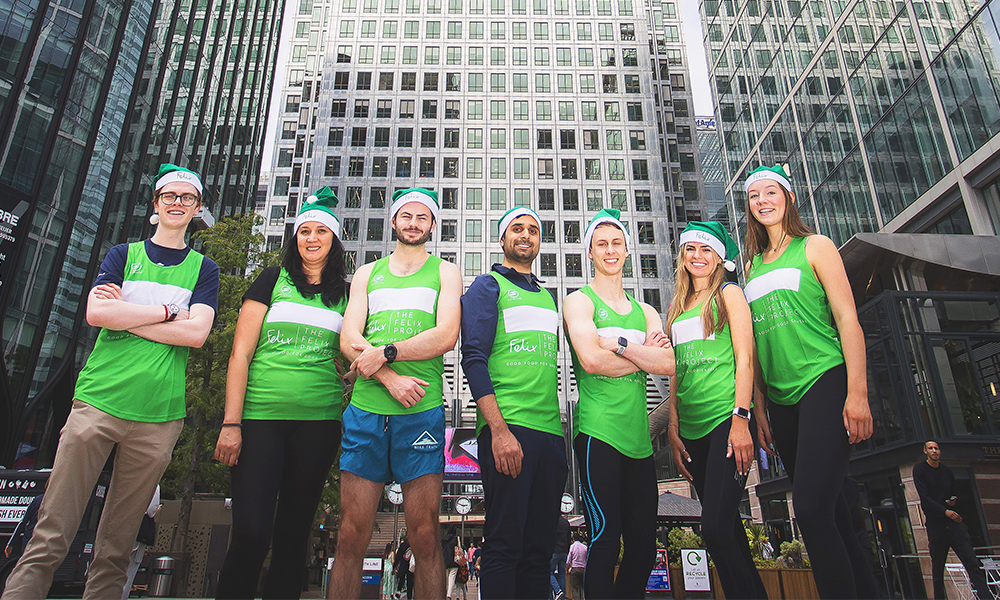 Subscribe to our Wharf Whispers newsletter here
What links green Father Christmas hats, One Canada Square and the distribution of unwanted food to people in need?
The answer is the Santa Stair Climb in Canary Wharf on Sunday, November 19, 2023, and anyone can take part.
As part of its ongoing partnership with Canary Wharf Group, food rescue charity The Felix Project is challenging people to a sponsored walk up a total of 1,031 steps at One Canada Square to reach the tower's 48th floor.
With early-bird registration just launched, there are 1,000 places up for grabs at £25 per person, with each individual given a fundraising target of £300.
Participants receive a personalised green shirt and Santa's hat to wear during the challenge, with ascents expected to take just over half an hour on average.
"I've been training for it, but I'm not sure I'll be doing it that fast," said Tanya Mitchell, director of income generation and marketing at The Felix Project.
"But I will complete it, even if it takes me an hour.
"We'll have staggered start times between 10am and 2.30pm with 100 people in each wave so the stairwell doesn't get too busy.
"Participants are asked to arrive an hour beforehand and we'll be running activities in the lobby with a warm-up and an MC overseeing things.
"We've also been gifted the use of the 48th floor for the day, which has the most outstanding views over the London skyline from near the top of the third tallest building in the UK.
"They really are exceptional and this is a rare chance to see them.
"We're hoping to raise as much money as possible, but we've set ourselves a target of £300,000 for this first event.
"That would equate to us being able to make and distribute 870,000 meals to Londoners."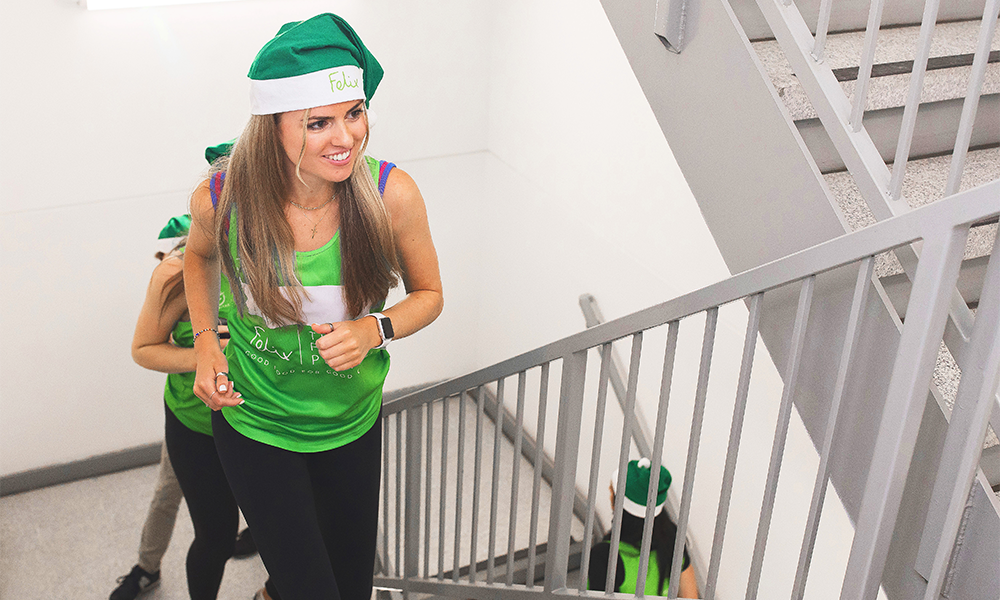 For those who don't know, The Felix Project is the largest charity of its kind in the capital, collecting food that would otherwise be wasted and redistributing it via a network of organisations to those in need.
"Right now it's estimated that there are 1.2million people in London living with food insecurity or in food poverty – about 20%," said Tanya.
"Through our own research with YouGov, we looked at people on low incomes earning an average salary of £20,000 and it's shocking that one in 10 of them has only £2.95 a day to spend on food.
"We work with more than 500 food suppliers, rescuing produce from farm gates, grocers and the hospitality industry to supply really good, nutritious, fresh meals.
"We operate through four depots in London, taking that food in hour-by-hour, day-by-day, six days a week, 12 hours a day to help serve the needs of more than 1,000 charities and organisations in the capital.
"What that £300,000 would mean is that we'll be able to pick up thousands of tons of food, take it into a depot, sort it and then immediately get it out to hundreds of organisations where it will be given to people in need of a good meal.
"Here in Tower Hamlets – one of the most deprived boroughs in the country – we work with 90 organisations through out Poplar depot."
The Santa Stair Climb is the flagship event in The Felix Project's long-term partnership with Canary Wharf Group, which was announced earlier this year.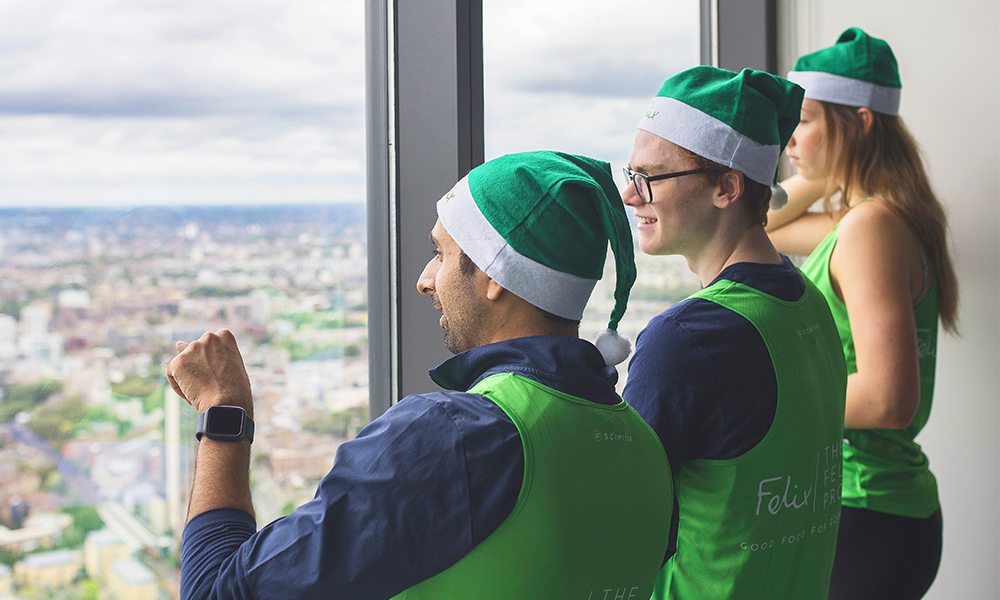 "We started off by launching The Green Scheme, which means we've been able to go out to the retailers and hospitality businesses on the estate to collect food that would otherwise be wasted, from them," said Tanya.
"An army of volunteers takes it from those businesses to community organisations to distribute five days a week.
"It's a pivotal relationship for us because while we want to fight hunger in London, we also want to fight food waste and there is complete sympatico between us and Canary Wharf in its commitment to sustainability and its aim to reach net zero by 2030. We're part of that solution.
"The Santa Stair Climb is a first for Felix and CWG – it's exciting and exhilarating to be planning an event for 1,000 people and we want it to be a hero event for London.
"Originally, in the 1800s, Santa's costume was green so we're re-appropriating that for the event.
"I can't wait to see 1,000 people all in green climbing those stairs and we really want to thank CWG and everyone involved for giving us this exclusive opportunity.
"The 48th floor isn't normally open to the public, so this is a very special event.
"The 1,000 slots will be allocated on a first-come, first-served basis and I'd also like to say a big thank you to everyone who is considering entering – it's going to be a fabulous event, a really magical day."
Those keen to take part can go to santastairclimb.com for more information or scan the QR code at the bottom of this page.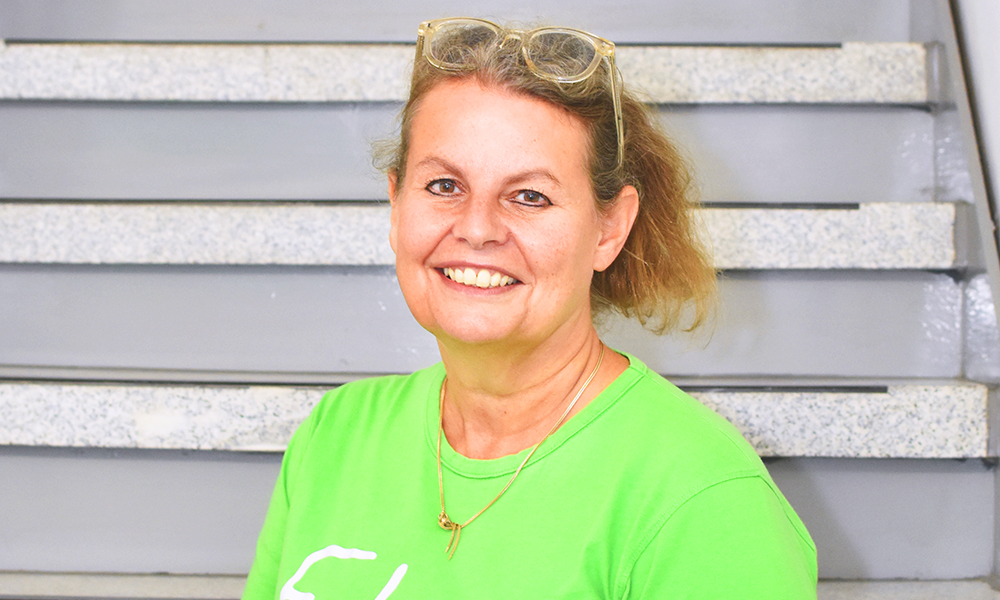 For those unable to participate, there are many other ways to get involved with The Felix Project, which last year delivered some 29million meals to those in need and is expecting to distribute 30million this year.
People working in Canary Wharf or those living locally can still volunteer for the Green Scheme.
Roles include drivers, co-drivers and walkers to collect food from businesses on the estate and deliver them to community organisations.
Volunteers are also needed at The Felix Project's Poplar kitchen and warehouse to prepare ingredients, portion and package meals for onward delivery.
Tanya said: "Last year we had 8,500 people step up to the plate to help us in our efforts to defeat food waste and hunger in London.
"We are an organisation that's powered by volunteers and we are so grateful to them because demand for our services is rising.
"We anticipate that we will rescue 13,000 tonnes of food this year, but the UK wastes 3million tonnes – only 7%-8% is currently rescued, so we can always do more.
"Just before the pandemic, The Felix Project was distributing around six million meals a year. Now it's five times as many.
"The other change is that now key workers are accessing the community organisations we supply like food banks and community pantries. It's a big problem.
"Ultimately it is our mission not to exist and we are part of conversations with organisations that are working with the government to address the issues of food insecurity and poverty."
Find out more about the Santa Stair Climb or sign up here
Read more: How Wharf Wellness is set to fill Canary Wharf with calm
Read Wharf Life's e-edition here
Subscribe to our Wharf Whispers newsletter here
- Jon Massey is co-founder and editorial director of Wharf Life and writes about a wide range of subjects in Canary Wharf, Docklands and east London - contact via jon.massey@wharf-life.com