New venue by Incipio Group will reflect its lush surroundings with plenty of greenery all around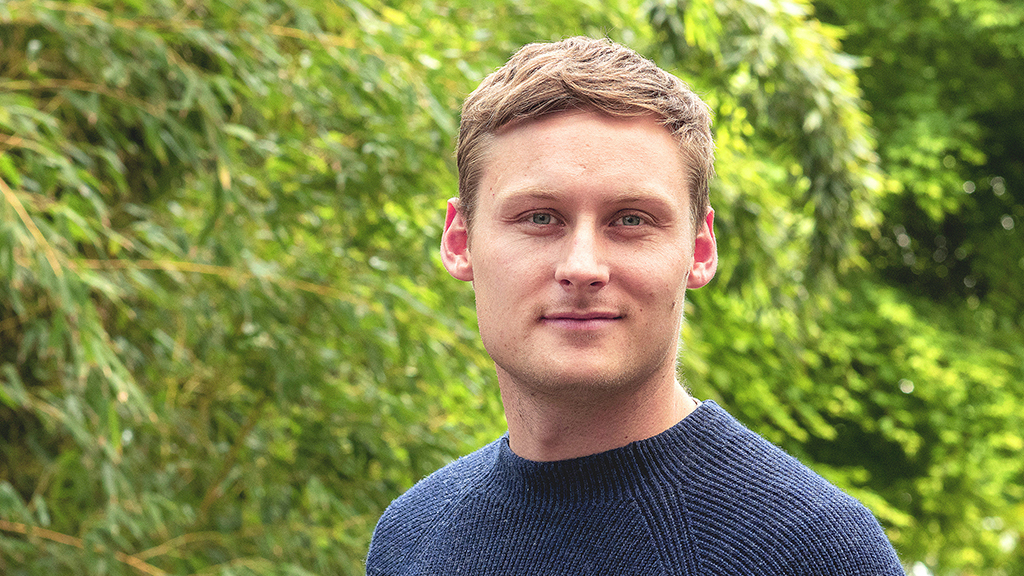 "Unfortunately it's a building site at the moment, so we can't go inside yet," said Incipio Group's head of creative development, Rory Graham. It was less than two weeks before Pergola On The Wharf opened and we'd met to chat about the venue that will see the vast unit at the eastern edge of Crossrail Place Roof Garden transformed following the demise of the company that ran Giant Robot.
Rory's calm exterior hid what must have been a feverish level of activity in the run-up to its launch on Friday, May 28.
"The best way to describe this venue is what we leant on for its design – the roof garden it sits beside," said Rory. "It's an incredible pocket of calm in the middle of the metropolis that is Canary Wharf and we wanted to continue that look and feel throughout Pergola.
"We've created a 12ft by 8ft flower wall planted entrance, a whole foliage ceiling and made a bar out of trees. It all plays into our airy, green, crisp style.
"The venue's 10,000sq ft with two bars, one big open theatre kitchen and private dining space. Then we've got a 200-capacity wrap-around terrace looking over the Wharf – we're incredibly lucky to get this location. In total we have capacity for 700 people."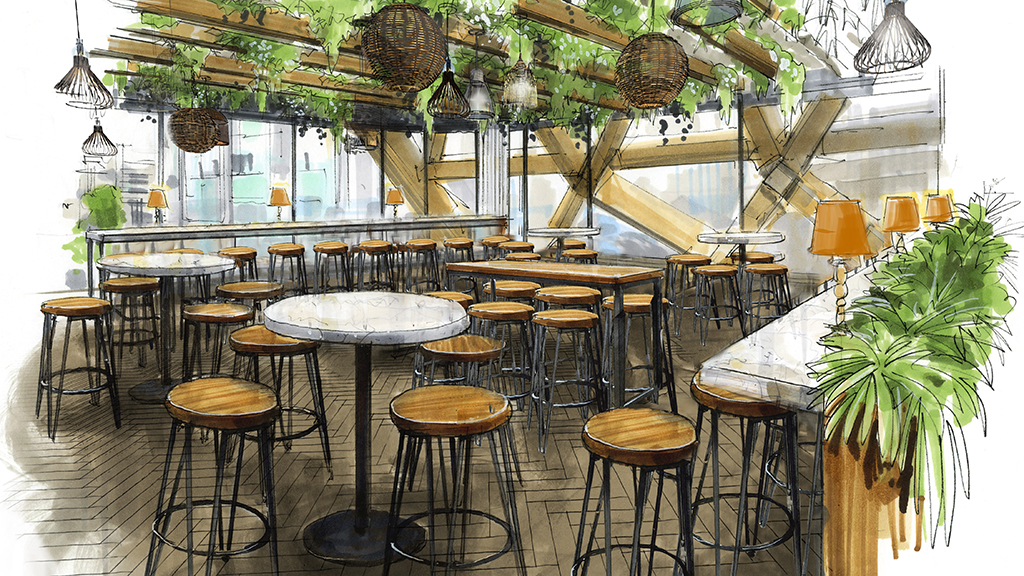 Pergola started life under railway arches in Goldhawk Road, Shepherd's Bush, gaining its name from the popularity of bookings to sit under the tiny outdoor structure its founders had built.
"We launched in White City in 2016, and on the back of that we opened Pergola Paddington and then we had Pergola On The Roof, which was the original concept – this is the fourth venue within that brand," said Rory.
"It's informal, good fun, accessible and there for everyone, whether a large group or a couple coming for dinner and drinks. It might be the after-work crowd, which we're obviously keen to engage with in Canary Wharf.
"People can expect relaxed DJs, good music and good food. In terms of the food, our executive chef Nick Wyborn, who trained at the Langham Hotel, and recently came over from Mac And Wild, has used land, sea and earth as the narrative for the menu.
"All the dishes relate to that, as does our drinks menu, which has fresh beers, cocktails and coffees during the day and there's a low and no alcohol section as well.
"On weekdays we're open from noon-11pm and earlier for brunch at the weekends as well as later into the night.
"We'll be serving everything from really good burgers to brilliant sharers, small plates and dishes that are great for quick lunches."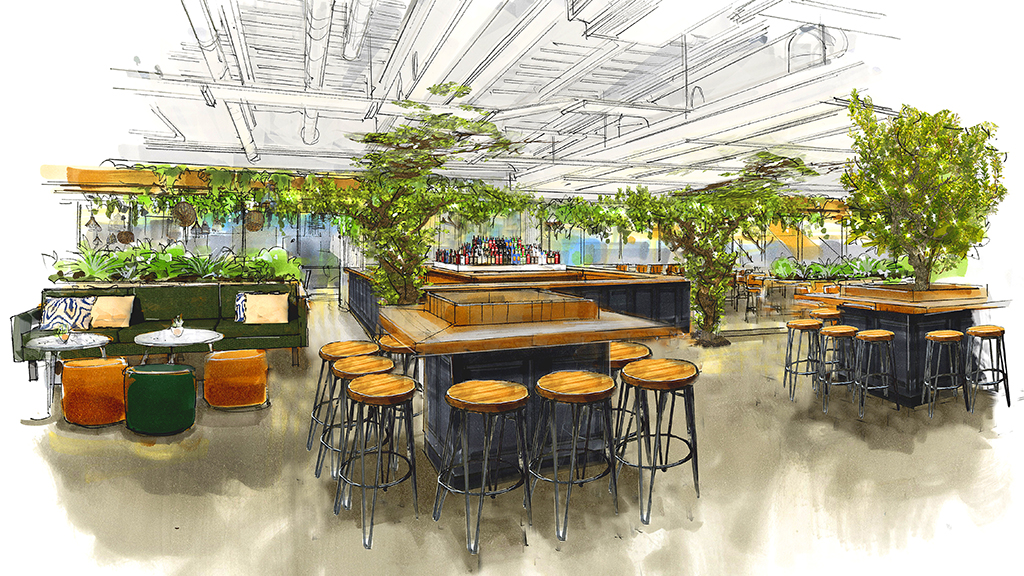 Opening in Canary Wharf was an easy decision for Incipio, with a healthy local market and the prospect of Crossrail trains starting to arrive into the building in the not too distant future.
Rory said: "First and foremost, you only have to look at the other operators here to realise how serious an area this is now.
"You've got The Alchemist, The Ivy In The Park, an Everyman Cinema and Darwin And Wallace's No 35 Mackenzie Walk, so it was a very attractive place to come to.
"Not only that, but it's starting to see a lot of weekend traffic as well, which we're keen to tap into. Alongside that, the venue and the location are incredible.
"If you marry all that up together, it really was an opportunity we couldn't turn down. We're very fortunate to get this unit and very excited to be here.
"As restrictions have eased, the response from the public has been incredible across the group. In our first four weeks we've had more than half a million bookings for the summer at our venues, which is really exciting.
"We've had great success in west London and we know a lot of our customers live in east London so this is us bringing one of our sites to them."
Read e-editions of Wharf Life's print edition here
Subscribe to our regular newsletter here