Architect turned painter sells work in person at Wapping Docklands Market + Canada Water Market
Subscribe to Wharf Life's newsletter here
"You can never run out of things to paint in London," said Ed J Bucknall.
While he doesn't say so explicitly during our interview, it's clear the Wapping-based artist has a deep passion for the city around him – a deep connection to and endless fascination with the very fabric of the place.
"A lot of the inspiration for me is derived from the Thames – the changing light and the changing skyline – because London's being constantly reconfigured," he said.
"My works are almost snapshots to record this decade of London expanding.
"I always carry a sketchbook with me, so I'm often seen locally, sketching and drawing in pubs in winter and outdoors in summer.
"I do as much of my work as I can on location, including painting.
"I work in pen and ink, watercolour, acrylic and oils on paper, canvas and even marble.
"I'm self-taught and the nice thing is that I haven't been moulded to a particular style or technique. I paint what I want to paint and people either like it or not.
"Over time, I've learnt techniques that work for me and I take inspiration from generations of amazing artists."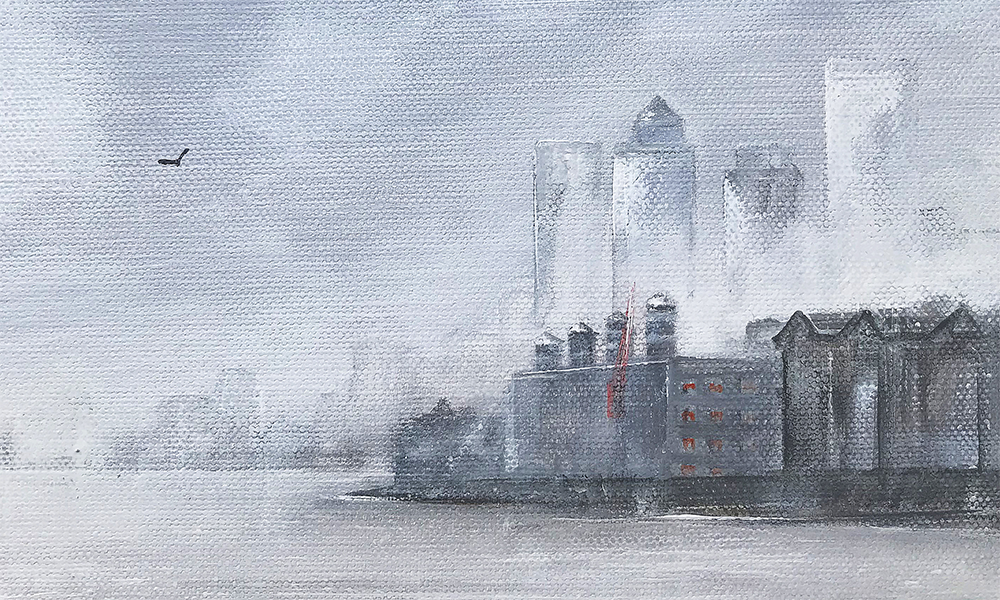 Originally Ed trained as an architect in Leeds, before moving to London in 2011 and continuing to practise his chosen profession.
While drawing was one of the things that first attracted him to architecture, he increasingly found the digital side of his work less satisfying, which prompted a change in direction with the arrival of the pandemic.
"From an early age I'd always painted and drawn for pleasure," he said.
"When I started as an architect, it was all rooms full of drawing boards, but with computer aided design, you hardly see anything like that now.
"I was having some success with gallery shows and selling art alongside my career as an architect and the lockdowns were the catalyst for me to move into making art full-time.
"I started selling paintings at Wapping Docklands Market at Brussels Wharf in 2021 on Saturdays and then, last year, at Canada Water Market in Deal Porter Square on Sundays.
"I was the first non-food trader at the former and that's now brought in a lot more crafts, which have been very popular.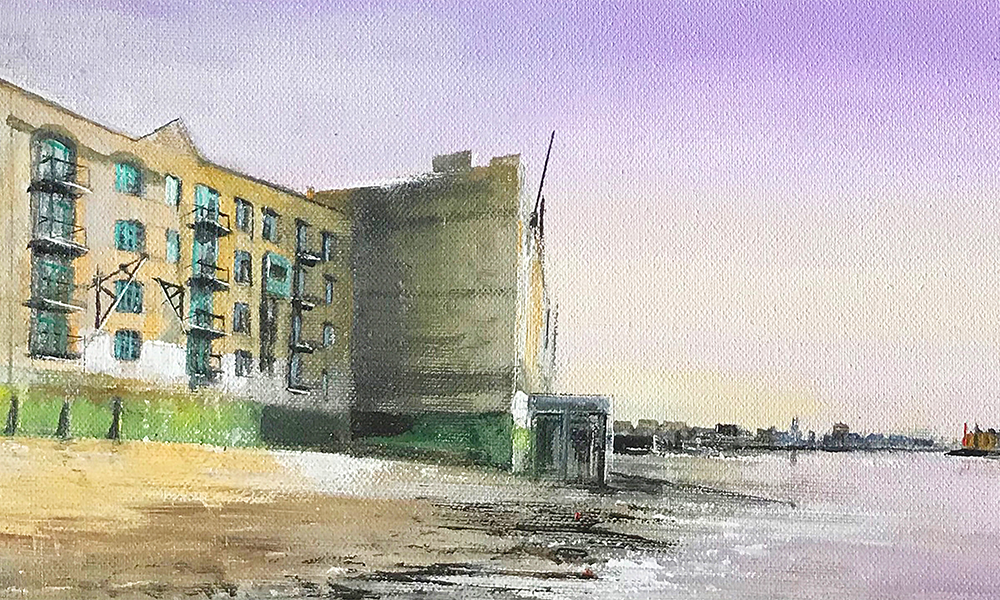 "At the same time, I exhibit full time at Skylark Galleries on the South Bank.
"Between those three, it's been great for exposure and I've had a lot of success with ongoing commissions including pub signs and bespoke cards for Greene King to sell in their pubs.
"I've also had some of my images appear in worldwide publications.
"Art has always been my passion, but I never thought I would make ends meet as an artist.
"One of the things that has surprised and encouraged me since going full time is that it's possible to make a living making art in London.
"Fortunately for me, my work strikes a chord with a whole range of different people – locals who have lived in the area for many years and are delighted to see an artist draw and paint what they see and experience, people moving into the area, some moving out and tourists visiting.
"I think what appeals is that my pieces are quite traditional but they are not just photos. They are my take on whatever I see inspired by a particular view or the light."
While Ed's work often features familiar landmarks, he's always looking to bring a fresh perspective to the places he draws and paints.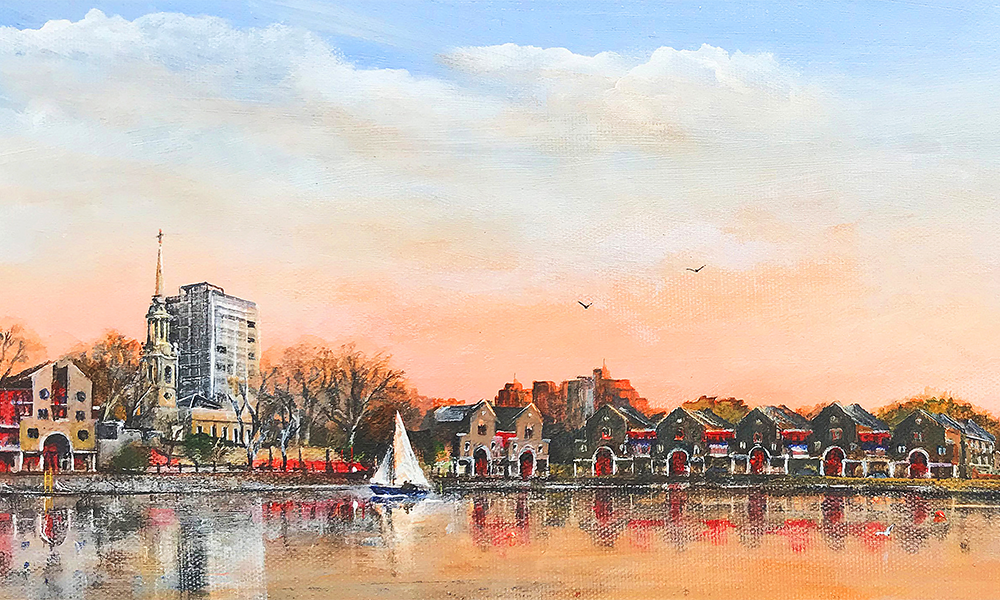 "Low vantage points always inspire me," he said.
"When the tide goes out and you're down on the Thames foreshore, you see buildings and the whole of London in a different way.
"I used to kayak on the Thames, so I was privileged to see unusual views, and that's part of my mindset. It's escapism from the hustle and bustle of the city.
"You can be in central London, or in Wapping, just down by the water and it gives you a sense of tranquillity – although you have to be aware of the tides of course, which can also change the view as boats rise and fall.
"The sketches I do on location are much better than photographs, which can distort things – so they are my crib-sheet for working on the finished pieces in the studio.
"I find the paintings just happen – some are happy accidents and some come through skills that I've picked up by trial and error.
"Some of my pieces are painted on reclaimed marble, which is quite unusual.
"They look almost three dimensional and have a connection to the history of London.
"Some of the marble I use is recycled Thames ballast that would have been dumped in the river in the 18th and 19th centuries after ships had taken on cargo.
"It has natural patterning and colouration from its time in the river and that's something I work with."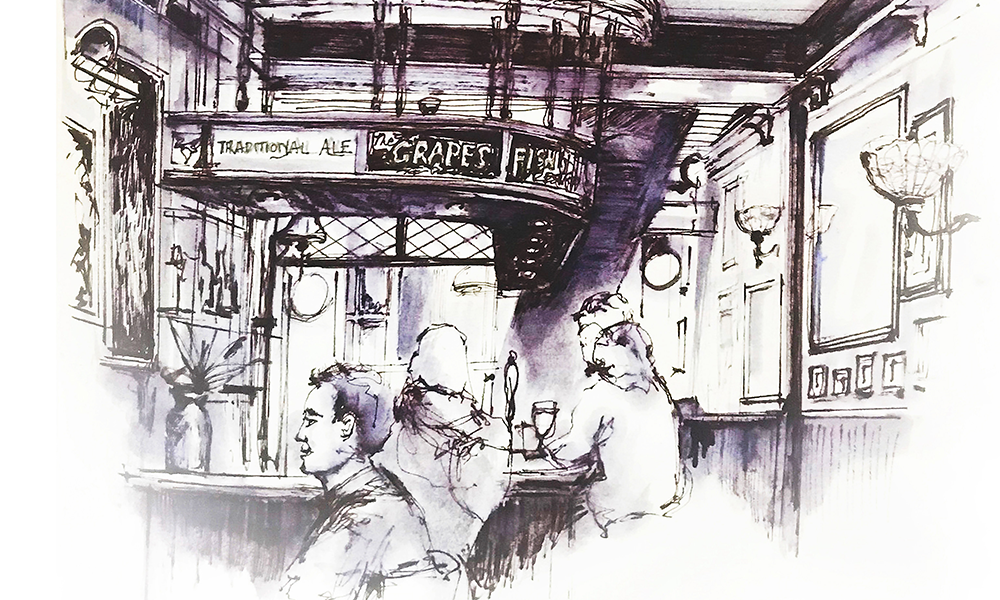 As a registered mudlark, Ed has a physical link to both the subject of his paintings and, with the marble, the medium he works with.
"I don't dig or scrape on the foreshore, I just pick things up from the surface," he said.
"Anything of archaeological significance is recorded and reported to the Museum Of London.
"The Thames is like a washing machine – items just get churned up and uncovered."
Trading at the market is another point of connection, where visitors can browse his works or chat with their creator.
"It's been a steep learning curve but one that I've really enjoyed," he said. "It's lovely to meet both fellow traders and the general public.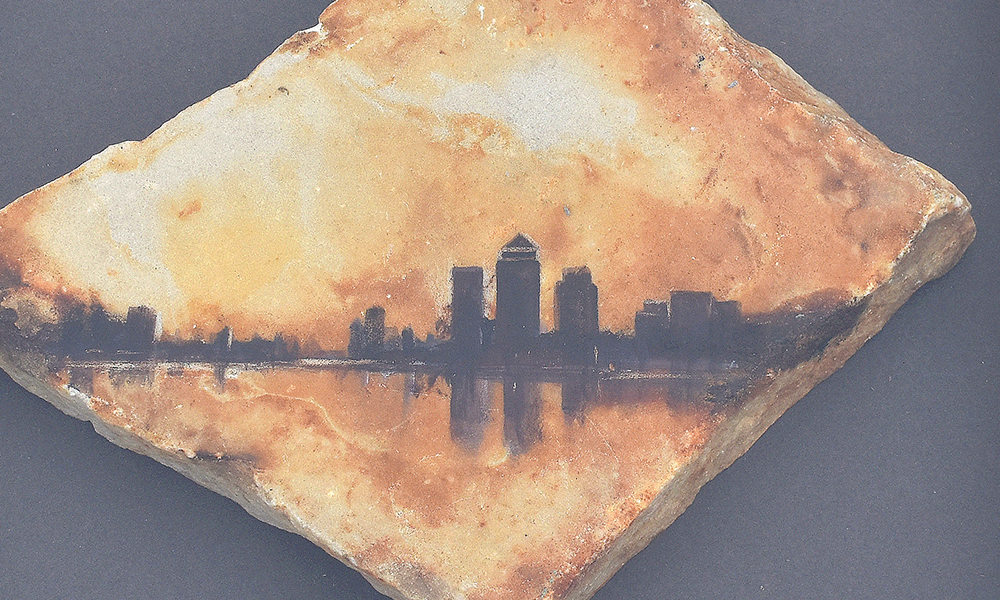 "I think it's important that people have an opportunity to speak to artists and I've had lovely stories of young people being inspired by my work."
As for the future, Ed intends to continue balancing the work he wants to paint with commissions from commercial clients and individuals.
Ed's work is available to buy online with an extensive range of signed prints from £35 and greetings cards and postcards also available. Prices for the latter start at £2.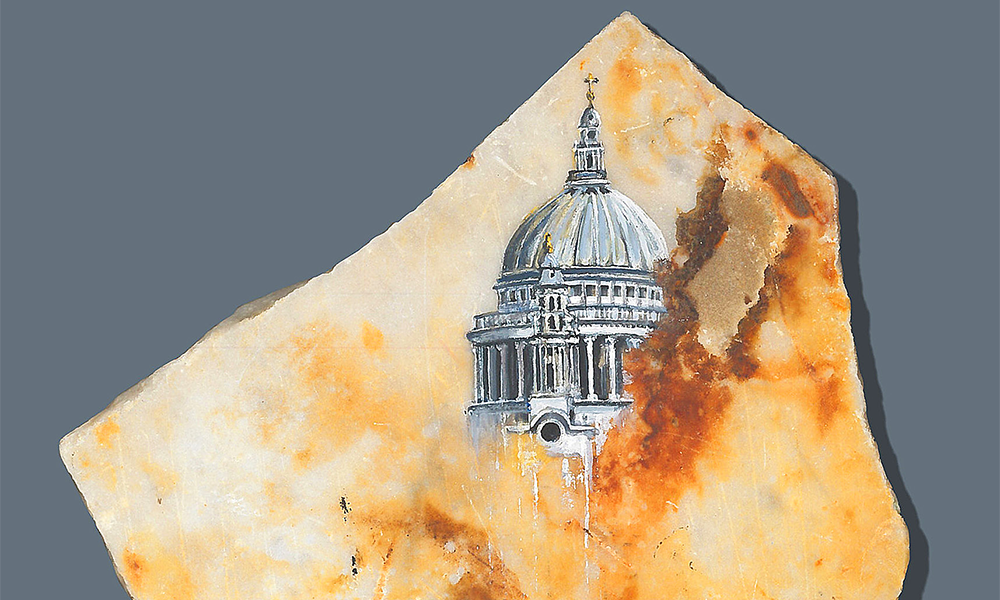 Read more: Discover the work of fashion businesses Fabrika and Vavi Studio
Read Wharf Life's e-edition here
Subscribe to Wharf Life's newsletter here
- Jon Massey is co-founder and editorial director of Wharf Life and writes about a wide range of subjects in Canary Wharf, Docklands and east London - contact via jon.massey@wharf-life.com