Brand owner Nico Simeone brings his six-course tasting menu concept to diners in east London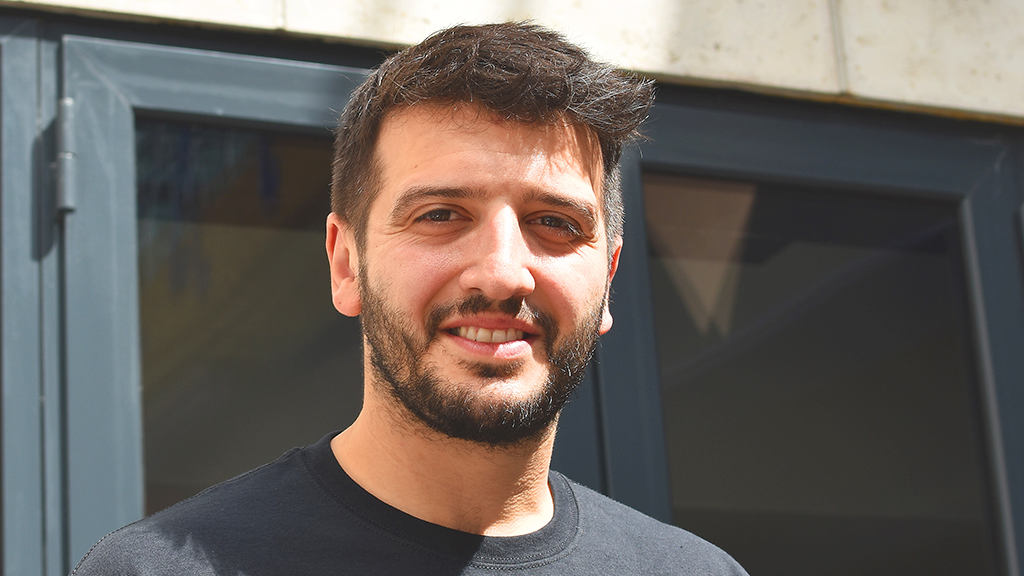 There's something new in Canary Wharf. The estate has played host to many different kinds of cuisine served at everything from fine-dining establishments to street food kiosks. There was even a place that only served steak frites.
Six By Nico is different. Housed in a long, single-storey space in Chancellor Passage, opposite the Wharf's Post Office, the venue is all dark finishes, dramatic lighting, plants in pots and banquettes decorated with antique maps of Docklands.
But it's the food that's the contrast. All guests are served a six-course tasting menu, the content of which changes every six weeks. There's a vegetarian variant, a few extra dishes to bulk things out if wanted and an optional wine flight, but that's the bare bones of it.
And it's a model that works. Honed by Scottish head chef Nico Simeone in Glasgow, Canary Wharf is his eighth site in the UK as his brand expands.
"It was all kind of an evolution," said the softly spoken cook. "I left school and then just stumbled into kitchens. I've been really fortunate that I found my passion.
"I just fell in love with it – that was bit of luck. From there I wanted to keep learning, work my way up in kitchens. I did that and then I was in the fortunate position where I was able to open a wee restaurant in Cleveden Road in Glasgow.
"It was called La Famiglia – an Italian family-run restaurant and then I re-branded it as Simply Fish.
"It probably spent about four years failing, to be honest – breaking even or losing money.
"I've made so many mistakes over the years. It's cost us lots of money in some cases, but nobody should be scared to do that – you're always going to take hits and bumps along the road and you just have to keep moving forward in the hardest times.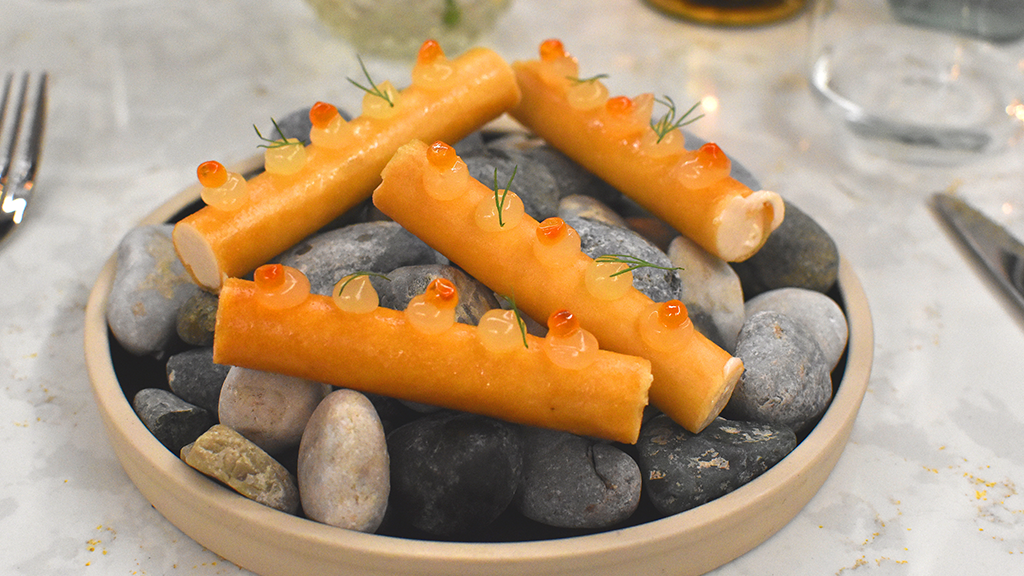 "I had one last roll of the dice and re-branded the restaurant as 111 By Nico. That was really the first time I'd put my personality in the food and we made tasting menus work. Then another site came up in Glasgow in the Finneston area of the city and I grabbed it with both hands – spending a wee bit of money from the year we'd been trading, which was the first time I'd made a profit.
"Then I came up with the idea – I asked the question: 'Why can't we just change what we cook every six weeks?'. It started with Italian, then French and just evolved into Six By Nico.
"We serve a six-course tasting menu with the inspiration for it taken from a theme.
"For example, we may want our dishes to evoke memory or a destination. Right now, for the first six weeks in Canary Wharf – until September 20 – we're doing a menu called The Chippie.
"My parents ran a fish and chip shop, so that's a memory for me and all the flavours and courses through that menu are things I'd associate with that environment.
"What we say is it's a new story every six weeks. That's something to look forward to. The downside is you can get something that's so successful and popular and then you throw it in the bin, so we're always trying to create and improve on the last theme.
"We change the dishes eight times a year and, about four times a year, all the restaurants sync up, but London's never done the New York menu, for example, which we know is good so it would be silly not to bring it here – we mix it up across the country.
"As far as working on new menus goes, I've been so fortunate – as the company's grown we've been able to get talented people in, we have an amazing creative team.
"We all sit down and come up with ideas constantly, we do tastings to tweak and improve things and that's how we do it.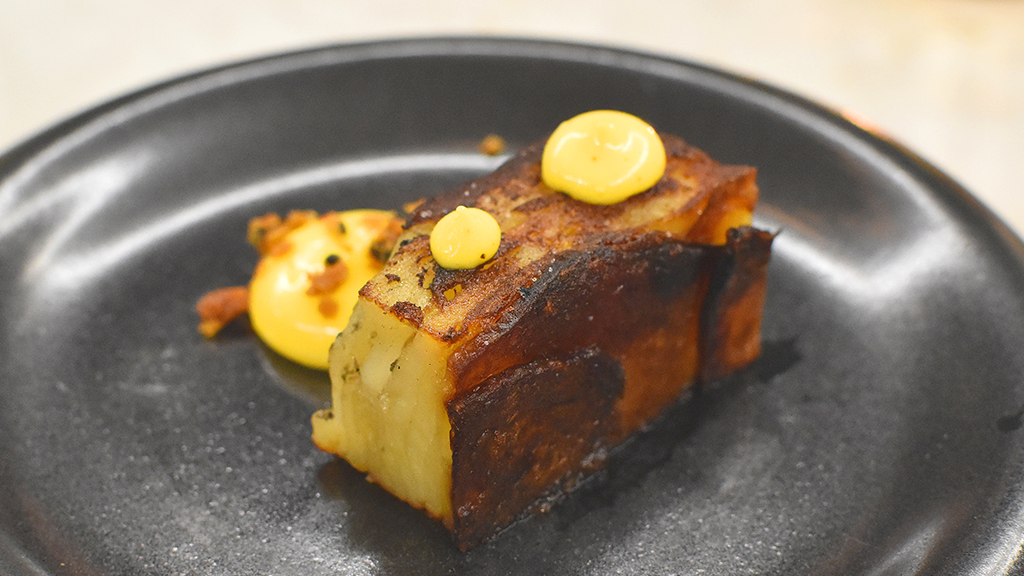 "The Chippie starts off with chips and cheese – Parmesan, curry oil and a pressed potato terrine. It all finishes off with our take on a deep-fried Mars bar.
"The main course is smoked sausage with a trio of pork smoked under a cloche with the flavours of celeriac and apple."
Nico said opening on the estate was simply down to visiting and getting a feel for the area.
"We work with agents to find sites and somebody said there was an opportunity in Canary Wharf," he said. "I see a lot of places, but sometimes you go somewhere and you get that feeling – a gut instinct.
"I loved the spot and spent some time going around the area. I thought it was perfect for the restaurant.
"I don't even know what's coming after The Chippie on the Wharf yet – we don't necessarily plan that far ahead.
"The big thing about Six By Nico is that we try to work seasonally – we'd never do the Amalfi Coast that's in the other venues in winter, for example.
"I want people who come here to enjoy themselves, to have a good experience and be happy.
"When I go to a restaurant I enjoy everything – the atmosphere, the staff, the team and the setting.
"The vibes of a place are a big thing for me. With the team here we're really customer-focused – everything is about that.
"We don't look at other businesses, we try to compete with ourselves to make us better."
Trying The Chippie

So, what's eating at Six By Nico actually like? The first thing to be aware of is the price. The six courses are priced at £37 per head. Add the wine flight – for £33 – and aperitif for £7.50 and a snack to go with it for £5 and you're looking at £82.50 plus service. 

The dishes arrive as perfect little morsels – Six is the sort of place that errs on the side of quality rather than quantity, so the ravenous will need the add-ons, one of which comes in the form of delicious hunks of sourdough. 

As for the main attractions, they're well presented, with artful dabs of sauce here and a sprig of greenery there. 

It's very much dining as theatre – each arrival preceded by a discussion of what might appear and then the excitement of hunting around the plates for the promised flavours. 

The Chippie turns out to be a complex homage to the flavours of Nico's youth, refined well away from their genesis but nevertheless amusing.

The scampi is crisp and rich, while the smoked sausage is more pork three ways than an improbably red saveloy and the chips and cheese, a gentle nod in the direction of the deep fat fryer rather than a full-on takeaway delight.

But the restaurant is beautifully kitted out, dressed in golds and rich coppers that lift the whole experience – an engaging venue to tempt back the audience for the next performance. 

And a special mention should go to the steak pie – a smart, meaty delight of a course.
Read e-editions of Wharf Life's print edition here
Subscribe to our regular newsletter here