Written by Christabelle Lomas, with drawings by Samuel Miller, the book can be purchased online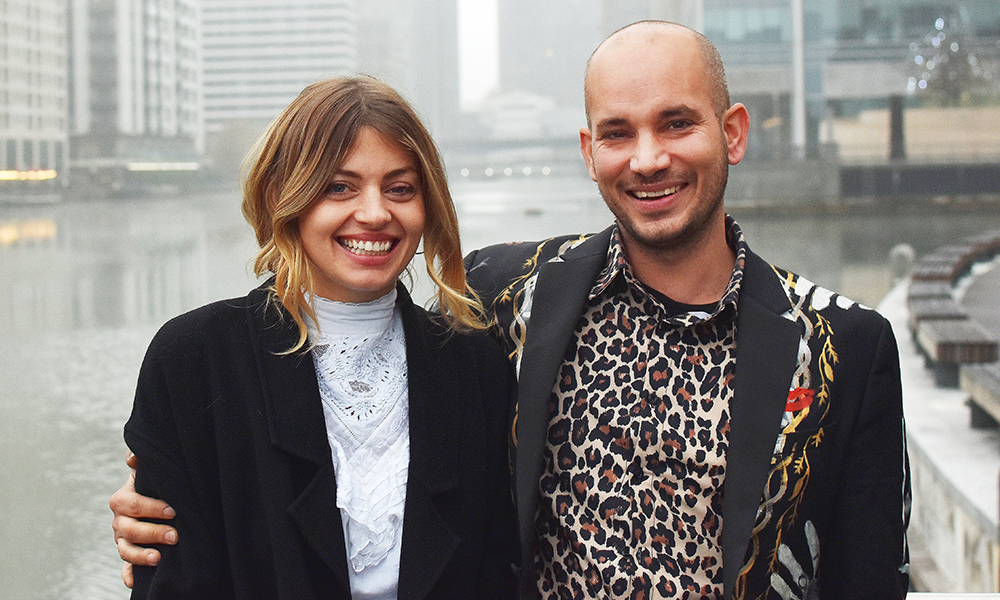 Subscribe to Wharf Life's weekly newsletter here
This is a love story.
Around about the start of the first Covid-19 lockdown in 2020, Christabelle Lomas found herself trapped in India having just finished training as a Yoga teacher.
Short on funds from various attempts to leave the country, she approached a group of strangers at the airport for help.
With international flights cancelled, they suggested she take an internal connection with the aim of heading to eco-resort Bhakti Kutir in South Goa as a refuge from the ravages of the pandemic.
One of the group had a friend staying there – Jules – and gave Christabelle her details.
As the world shut down, Christabelle began receiving calls from concerned friends, one also knew Jules and gave her another contact at the resort, a man called Samuel Miller.
She reached out to him midway through a tortuous journey to get to the resort and he was there to greet her.
However, with the threat of disease at the forefront of everyone's minds, she isolated for two weeks before eventually joining the group properly.
"When I first arrived there I was in this jungle hut and Sam was bringing me my meals and water," said Christabelle.
"I was really grateful and I meditated a lot, practised Yoga and found myself surrounded by inspiration.
"It was at some point during that period that I started writing what would become Rainbow Snake: Adventures In Love.
"Then I came out, we hung out. It was all lovely and then they started sending rescue flights, but I wasn't quite ready to be rescued."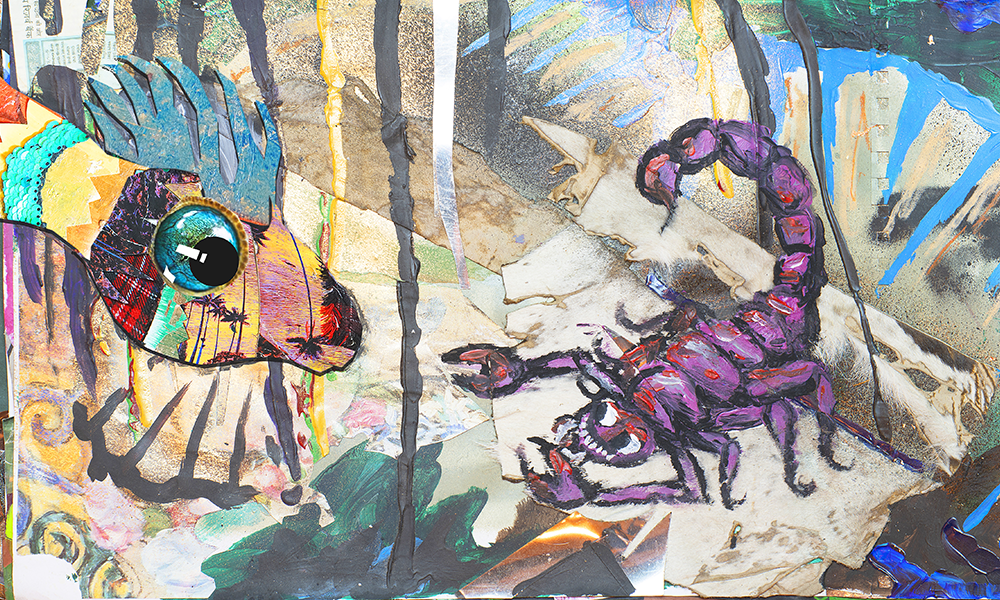 While pulled in different directions, artist Sam ultimately decided to board a flight back to London,
"I came back three months later to London and we reconnected," said Christabelle.
"I'd written this book and I was looking for someone to do the illustrations – Sam's a fabulous artist so it made sense to ask him."
Christabelle's story follows the journey of Rainbow Snake as he attempts to discover what love is by seeking wisdom from a succession of other creatures he meets along the way.
She and Sam collaborated – he produced 12 paintings for the book – and fell in love as they continued their work together, inspired by their experiences in India.
"There was a little snake in the roof of one of the jungle huts in Goa," said Sam, who is based on a glass-roofed boat at Hackney Wick.
"Then there were a lot more when the monsoons came. We also found this weird little beetle that turned out to be a scorpion.
"Having read the book, I just wanted to deepen the words and open them out with mysticism, jungle magic and strange things.
"I'd been painting jungles for ages so doing this book was very apt. Normally I would take a lot of time to create a piece, and this task was to do 12, which is a big body of work.
"At first I was worried the paintings were too dark, too melancholic for children, but you have stories like Grimms' Fairy Tales, which are just awful and this is actually a very sweet story."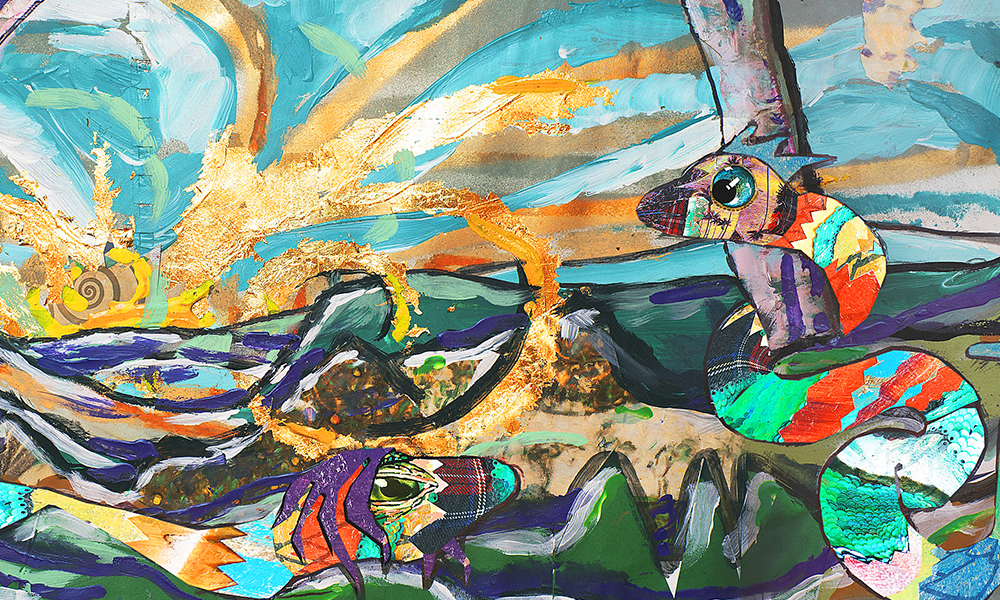 "It's quite hard to bottle up the magic," added Shoreditch resident Christabelle.
"The book is very enchanting and has a beautiful message. People often ask what age it's for, but I suppose it touches people of all ages.
"It's a message about trusting your inner guidance rather than looking outwards, and that was a big theme for the times we went through during the pandemic – it was a time for introspection.
"In the end, love carries you through. Rainbow Snake goes on his quest and everyone he talks to has a different interpretation of what love is.
"He wonders how it can possibly be all of these things but then comes to his own conclusion.
"He's slithering around trying to find answers and is about to give up when he finds what he's looking for within himself.
"I'm quite a deep thinker, with a creative mindset, and I'm always looking for answers to the meaning of life and love.
"I've worked with children quite a lot and they have inspired me, so that's where this piece of writing came from.
"Although it's a book that is mostly for children, the artwork and the messages are there for everyone.
"Being in the city, it's easy to get wrapped up in things, but looking at the stars and all the animals can help you put things into perspective.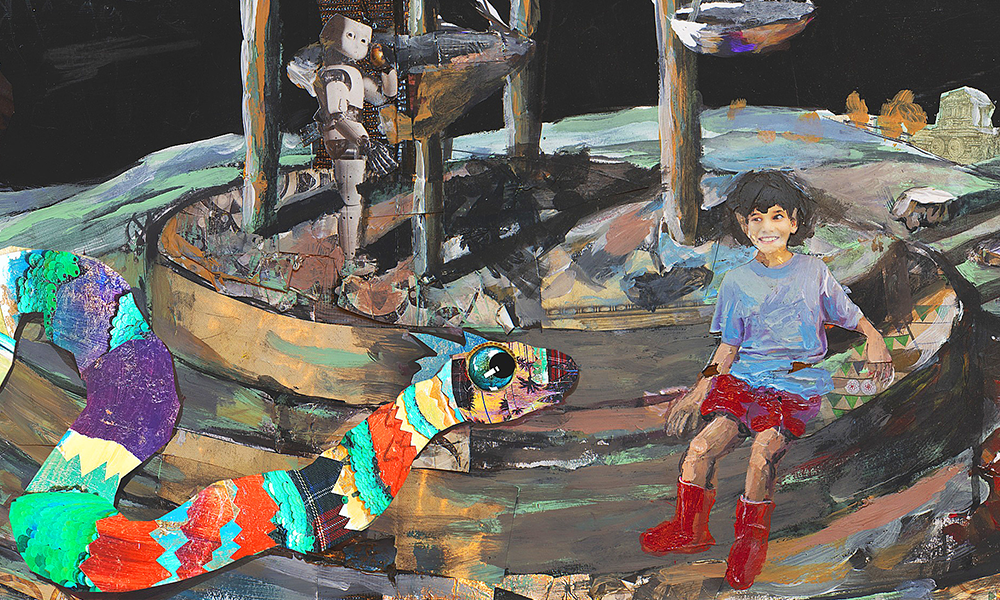 "Hopefully, the pictures and the words will expand people's minds. I write a lot of personal projects, but this is the first piece I've put out there."
Sam has been a painter since he was a child, creating work from his east London base despite the recent winter chill that saw the glass roof of his boat freeze inside and out.
"My canal boat at Hackney Wick is a studio space I've built myself – a project I took on when I got back from India," he said.
"It's like a Disney palace, a place that's pretty mad, but it was a lot of fun to do.
"I painted as a kid and just never stopped. Then I went to the Royal Academy Of The West Of England and have continued to work ever since."
Rainbow Snake: Adventures In Love is published by Christabelle Lomas and Samuel Miller and is currently available online, priced £22.11.
The couple have promised to donate 1.2% of their profits to the Indian Wildlife Trust.
Read more: How British Land is set to build a new town centre at Canada Water
Read Wharf Life's e-edition here
Subscribe to Wharf Life's weekly newsletter here
- Jon Massey is co-founder and editorial director of Wharf Life and writes about a wide range of subjects in Canary Wharf, Docklands and east London - contact via jon.massey@wharf-life.com