Made In Greenwich curator Mary Jane Baxter's is the story of her journey through Europe in a van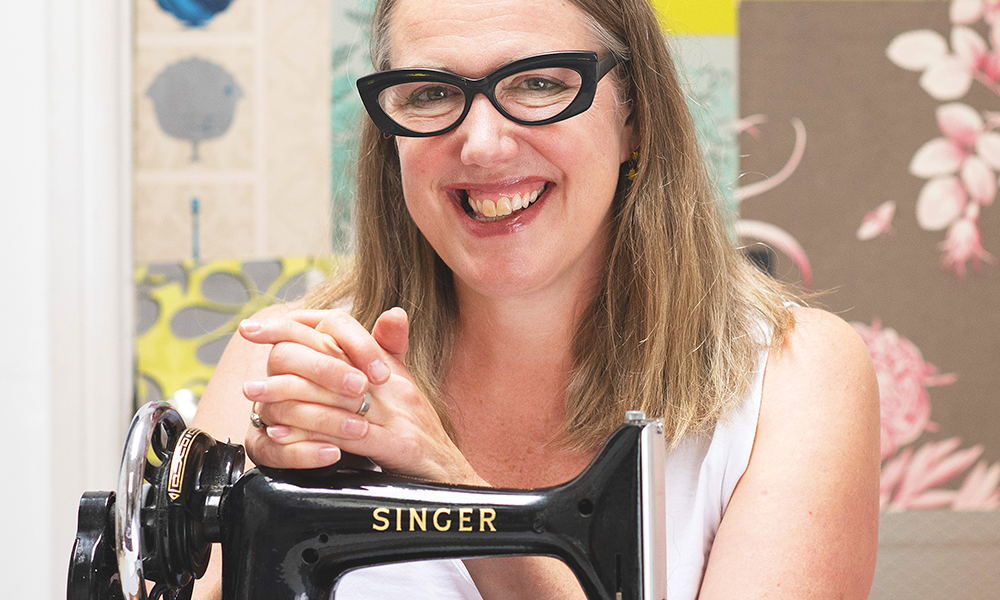 Sew On The Go is many things. Travelogue, inspiration, maker's guide, cautionary tale, creative outlet. It's Mary Jane Baxter's third book and, while it's packed with crafting projects just like The Modern Girl's Guide To Hatmaking and Chic On A Shoestring, it embraces something else in its 250 pages – the adventure of a journey.
Six years ago, its author left her job at the BBC after 14 years working across Europe, bought and converted a small van, rented out her flat in London and set off on a trip with the aim of combining her love of travel and making things. The resulting book is the story of that expedition.
"I spent a lot of time building up to it – I did a trip for Newsnight in 2009, which involved travelling around Britain and doing make do and mend tasks in exchange for bed and breakfast with viewers," said Mary Jane, who curates craft and art shop Made In Greenwich for the Greenwich Cooperative Development Agency.
"In order to have a comfortable night's sleep, I would do a task, so I made trousers for a stilt-walker, created a hat for somebody to wear at Ascot and swapped a night in a hotel in Edinburgh for hats.
"It was about frugality in response to the last recession and it went down really well. At the time I had a second-hand Nissan Micra. It was quite clapped-out but I'd had the idea for this trip and thought it would be really interesting if I had this really crazy vehicle to do it in."
Having inherited a few thousand pounds following the death of her uncle in 2014, she decided to take redundancy from the BBC and test-drove lots of "really gorgeous vans" that were all too expensive. Then, while walking through Greenwich Park she spotted a man with a curious-looking vehicle.
"He said it was a Bedford Bambi and told me I could test drive it, so I took it round the park and thought: 'Yes, this could work'," said Mary Jane. "I saw one for sale down in Southampton, took the train, bought it on the spot, drove it back to Deptford and started doing it up.
"At the time I was working pretty much full-time in the newsroom at the BBC and, at the time, I lived in a tiny flat, so the van gave me an extra crafting space. I felt like I was building an escape pod – I spent every day working on Bambi."
The makeover included covering the van's exterior with wallpaper samples (rescued from a Brighton skip) and varnishing them to protect them from the weather.
"Then Bambi was ready to go and so was Mary Jane, having put together a plan to visit and stay with various friends, mount pop-ups at markets, sell the things she'd made and, most importantly, experience the untold possibilities of the open road.
"It was: 'Let's throw it up in the air and see what freedom feels like after working for so long from eight in the morning until seven at night'," she said. "Setting off on St Gerorge's Day in April 2015 felt brilliant – it was amazing.
"I packed everything I needed to craft on the road into Bambi – hats I'd made to sell, books I could offload to help fund the trip, haberdashery and my trusty hand-cranked sewing machine.
"I also had no electrics in Bambi – no interior lighting, no drainage, no water, no loo – it was basic camping. I did have the hob for a fry-up on the go, however. Bambi looked incredible and she got so much attention – people waved as we went off.
"I got to the ferry and it was just that feeling that there was no agenda, no commitment – nothing on the horizon that I had to do. What person in their mid-40s wouldn't want that? To lock the front door and just go."
Multiple adventures followed over the next four months as Mary Jane made her way through Belgium, France, Italy and up to northern Scotland.
Readers can expect plenty of picturesque escapism as well as moments of drama including an encounter with an ageing campsite Lothario and dicing with the terrifying sheer drops while driving through the Gorge du Verdon. It's also a tome stuffed with ideas for makers of all levels.
"The book contains 26 upcycled craft projects interwoven in the story," said Mary Jane.
"There's always an element of my work that's about re-using, recycling and creating beautiful things out of stuff people chuck away – everything from no-sew projects to more complicated ones.
"It's also a rip-roaring travel read, which is an honest and exciting account of how it felt to be in that position of not being able to stand being at my desk anymore answering emails and deciding to bloody well go off and do something interesting instead. It's light-hearted but it's also about the creative process and about those life decisions that come your way – you don't get married or have kids – things you might have expected, but don't happen.
"What do you make of a life that's balanced between being creative and being responsible for yourself and how do you make that work?
"The book is about trying to answer the question: 'What are you looking for?'. I still don't know the answer, but I'm glad I took this journey in an attempt to find out.
"Often people have ideas but they don't follow them through. A lot of people, especially women, don't travel on their own – I talked to a lot of women in their 40s and 50s and they said they would never go off on their own like that.
"I have to say that, as the trip went on, it wasn't all plain-sailing. There were real episodes of loneliness, and wondering what on earth I was doing. But I'd had the idea, bought the van and I did it."
Published by Unbound on a crowdfunding model, the book came out in May.
Mary Jane said: "It took six years of hard work, fundraising, writing and journeying. Of all the books I've written, this one does hit the nail on the head. Bambi happened and I'm really pleased that I produced something out of my imagination and got it out there."
Sew On The Go: A Maker's Journey is available to buy at Made In Greenwich in Creek Road or online for £16.99, published by Unbound.
Read e-editions of Wharf Life's print edition here
Subscribe to our regular newsletter here