How co-founders Veronica Lowe and Harry Major run an open-hearted manufacturing business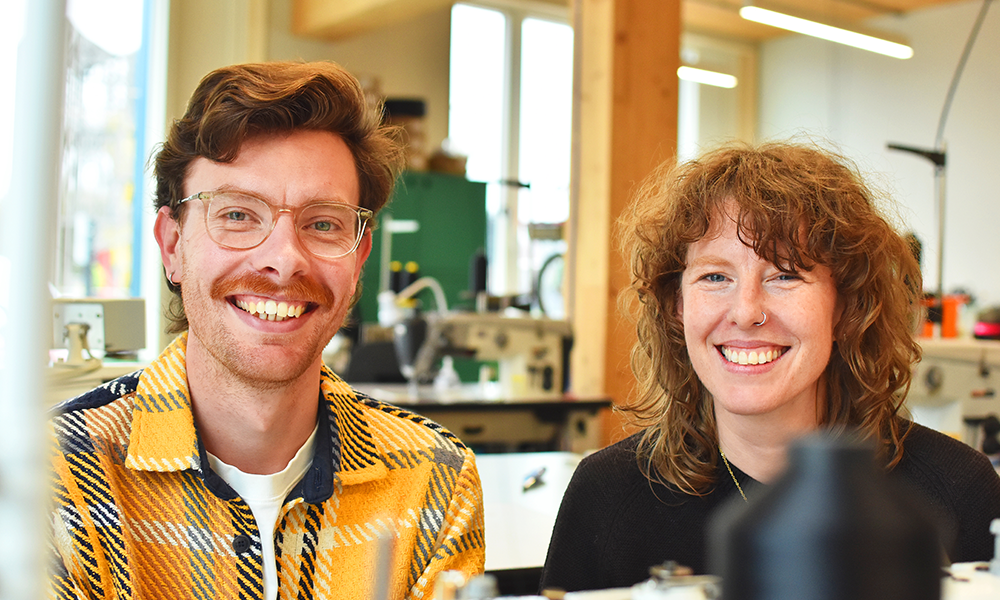 Subscribe to our Wharf Whispers newsletter here
The author Alan Moore, creator of Watchmen, V For Vendetta and The League Of Extraordinary Gentlemen maintains magic is very real.
It's just that it lives in our minds rather than the real world.
A visit to Wizard Works at Design District on Greenwich Peninsula, however, does a little bit to confound that notion.
On the face of it, co-founders Harry Major and Veronica Lowe and their team hand-make a range of bike packing bags for cyclists in a bright and airy ground floor workshop.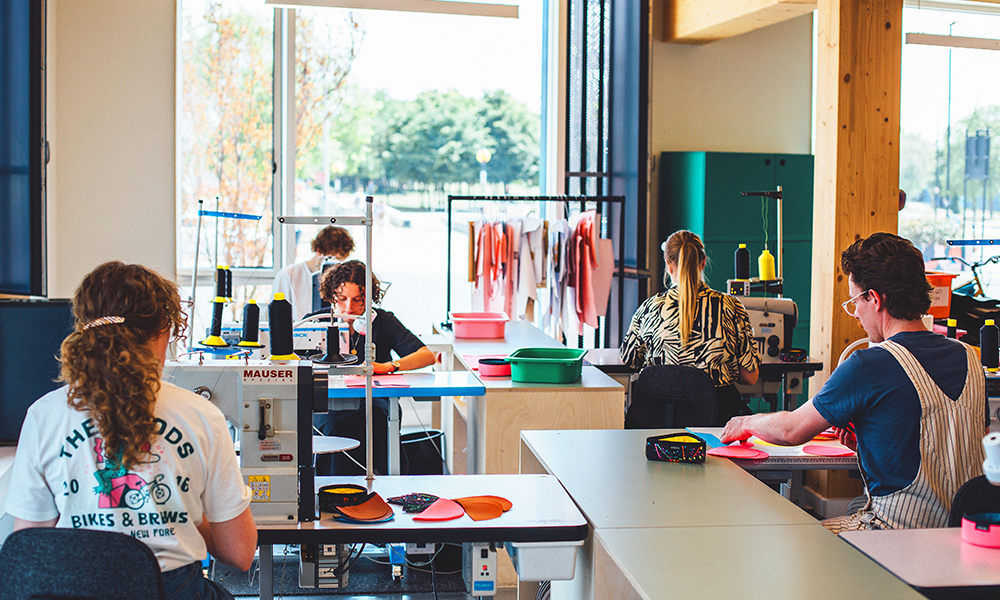 But look more closely and there's a little bit of magic running through the thread on every seam.
That's because everything this company does has a purpose – design that stems from a real world problem or a lived experience.
When I arrive for our interview, Veronica seems buoyant.
A Crowdfunder prize draw she's set up is gaining some traction and it's for a cause close to her heart.
She and Harry had travelled to her native New Zealand at Christmas – the first time she'd been able to see her family for four years, due to the pandemic.
Sadly, not long into their trip, her father died suddenly. The couple extended their stay to be with family before Harry flew back, with Veronica set to follow on.
But then, in February, Cyclone Gabrielle hit, devastating the Esk Valley where she was staying – the floodwater rising so rapidly she and those in the household where she was staying had to take refuge on the second floor, before being rescued by boat the following morning.
In a blog post she wrote: "Eventually the rain eased, the water stopped rising and in the morning I was rescued.
"I cried as I was jet-boated to safety, through the vineyards I worked in as a teenager, the valley Dad spent his whole life cultivating, completely engulfed by the little river we grew up playing in.
"The devastation is heartbreaking, there are people and families that have lost everything, including their lives.
"My dad's house, with all his special things, that only days before we'd organised and lined up in his hallway to collect – reminders of our lovely father – all totally destroyed."
I mention this deeply traumatic set of events because Wizard Works' reaction to it says everything about this small, independent company.
It's created an AllBlack collection of bags with 50% of net sales donated to the Hawke's Bay Foundation Cyclone Relief Fund and set up a prize draw to contribute to the relief effort for a disaster that killed at least 11 people, displaced some 10,000 and left homes, businesses and farmland in ruins.
While born of adversity, this latest project is perhaps emblematic of the open-hearted way Harry and Veronica run Wizard Works – a business that grew from a passion for cycle touring adventures, a bout of miserable winter weather and a desire for a creative outlet.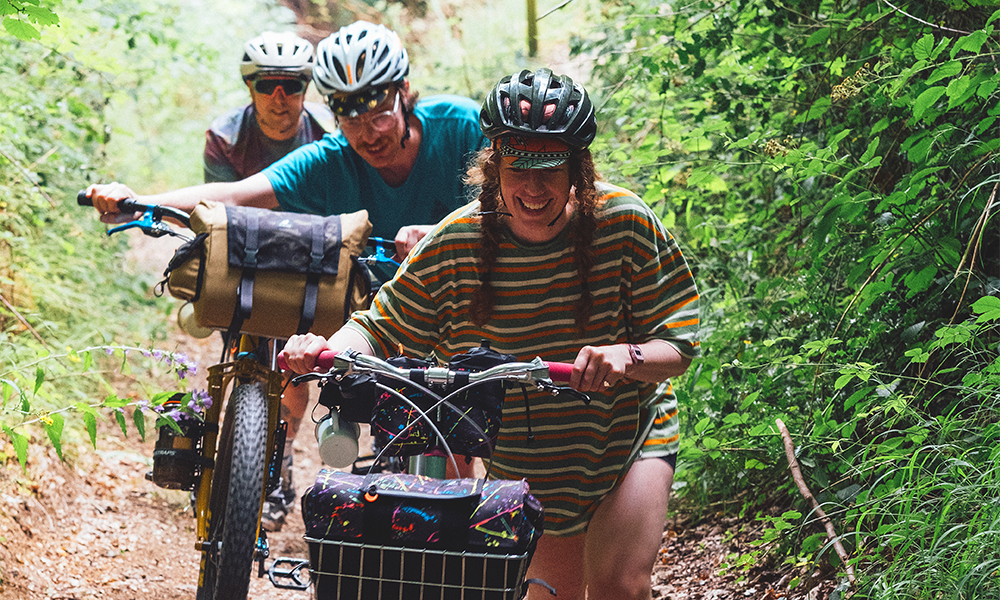 "We met in London,"said Veronica. "I was on a working holiday and my visa expired in 2011, by which time we'd been dating for a while and so he said he'd come with me when I left.
"We were not strangers to hare-brained schemes, like going round the world with someone you'd only just started dating."
"We'd been in Melbourne for a few months and we did our first big ride together – maybe one and a half miles from a neighbouring suburb to have brunch in a cafe," said Harry.
"We realised we'd ridden from there to here – it felt like we could do anything. We thought we might get a rainbow-coloured tandem and cycle round the world.
"Although we prefer two bikes, the feeling of that conversation stuck with us and we planned our first multi-day cycle around Mornington Peninsula.
"It was awesome and my first time camping – Veronica was the outdoors person."
Hooked, the couple began planning – reading blogs and making lists – as they set their sights on a year-long journey by bike from Tokyo to Kuala Lumpur.
Although they didn't know it, their experiences on that trip were the foundation for what would become Wizard Works.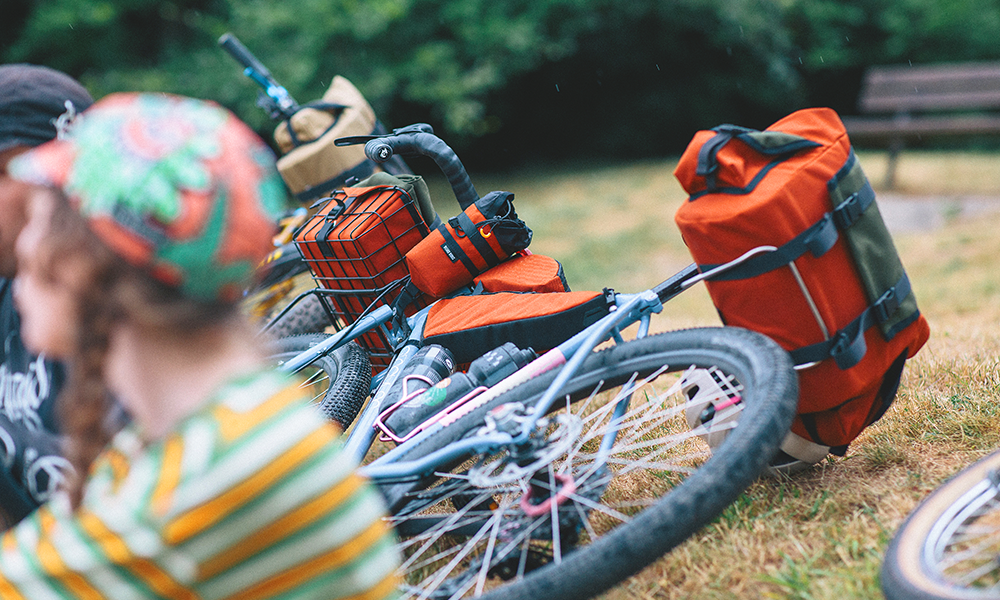 "After that trip we got holiday visas and moved to Vancouver to stay with a friend we'd met in Melbourne who told me we were going to need an indoor hobby because the winters in Canada are shit," said art school graduate Harry, who grew up in London.
"He was right, it rained every day that October.
"So, having spent most of our trip around Asia talking about the gear we wish we'd had, we decided to do something about it and we bought a little Singer sewing machine and started making bags.
"I thought it would be easy, but it wasn't – everything I made was terrible, but it was mesmerising.
"I loved that combination of technical problem solving and creativity. We started off making bags for ourselves and they slowly got better."
The hobby turned into a side hustle with Harry and Veronica back in London gradually increasing the time they were spending on the business.
Finding success through online sales, they hired staff to cope with demand and took space in Peckham before outgrowing that and moving to Design District.
Today, Wizard Works is a team of six producing a collection of core products as well as custom-made bags.
The bags it makes are inspired by the Bike Packing movement, which aims to place luggage within the frame of the bike rather than having to rely on unwieldy panniers.
But it's not just about function.
Veronica said: "Something that really felt difficult when we were buying things for the trip was that everything was black or brown.
"You could buy bags that were fun, but they were at the lower end of the quality spectrum.
"We wanted to do something which was more colourful and that fitted with our brand name."
"Right from the beginning we just wanted to make the bags that we wanted ourselves," said Harry.
"The name partly comes from Veronica's older brother who used to say: 'You're a wizard, Harry, and a thumping good one at that,' when he saw me because that's what a British 'Harry' is.
"Wizard Works got a name and went from being a hobby to being a business – but we were always coming at it as the end user.
"We knew what worked, but we wanted it to have an aesthetic that lined up with the kind of bikes we were riding and the stuff we were wearing.
"In about 2017 and 2018 there was a kind of culture around kooky bikes – things people had built themselves. We wanted to be the luggage brand to go with that type of cycling."
As you might be able to guess, there's an enormous amount that won't fit in this article – Wizard Works' tireless battle to make its Cordura bags more sustainable, for example – but suffice to say it's a brand well worth checking out.
A SELECTION OF WIZARD WORKS' BAGS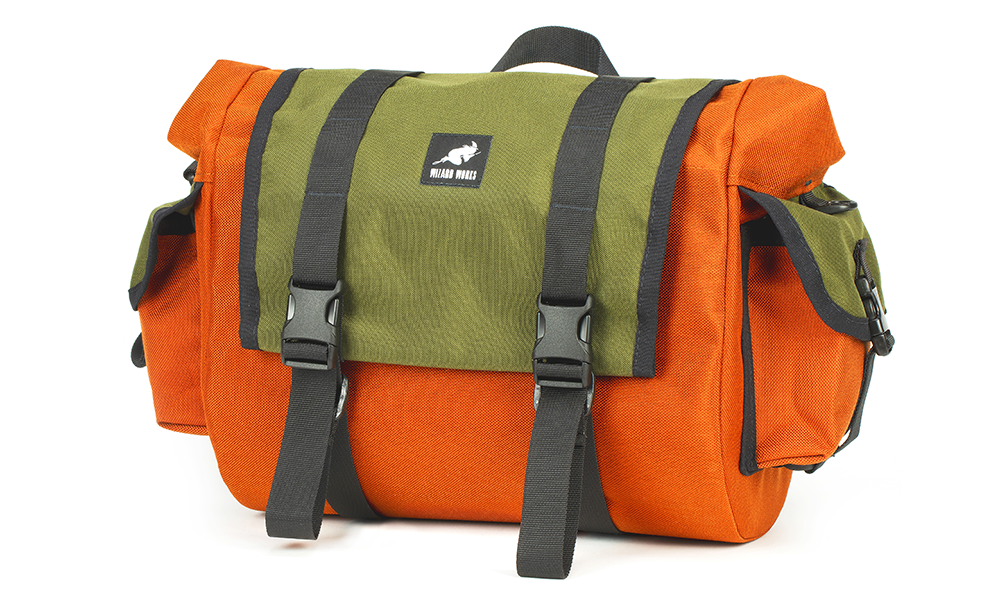 Ideal for adventurers or commuters who carry larger loads – £195-£205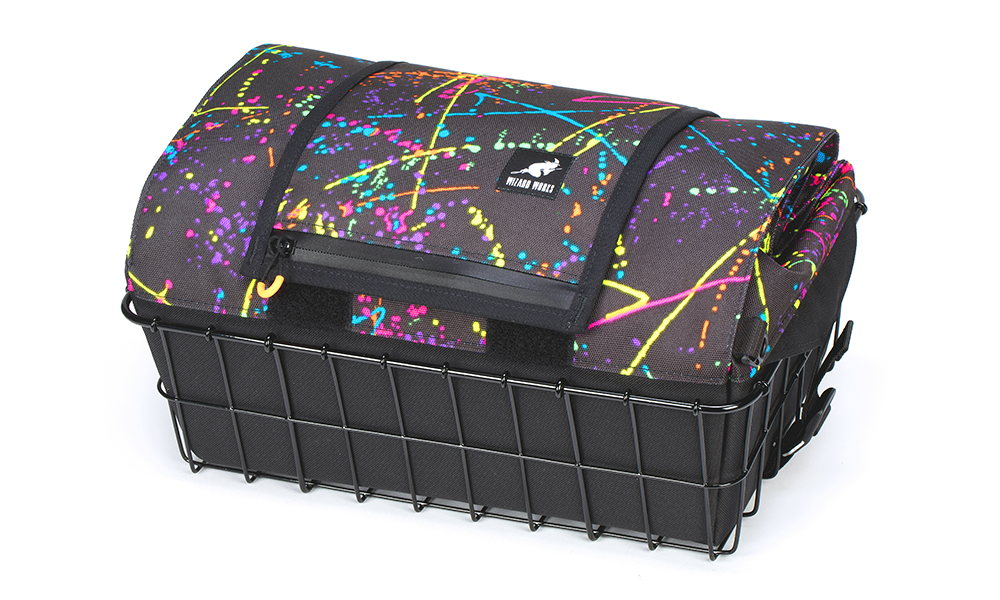 This bag easily expands and comes with straps for bigger loads – £148-£215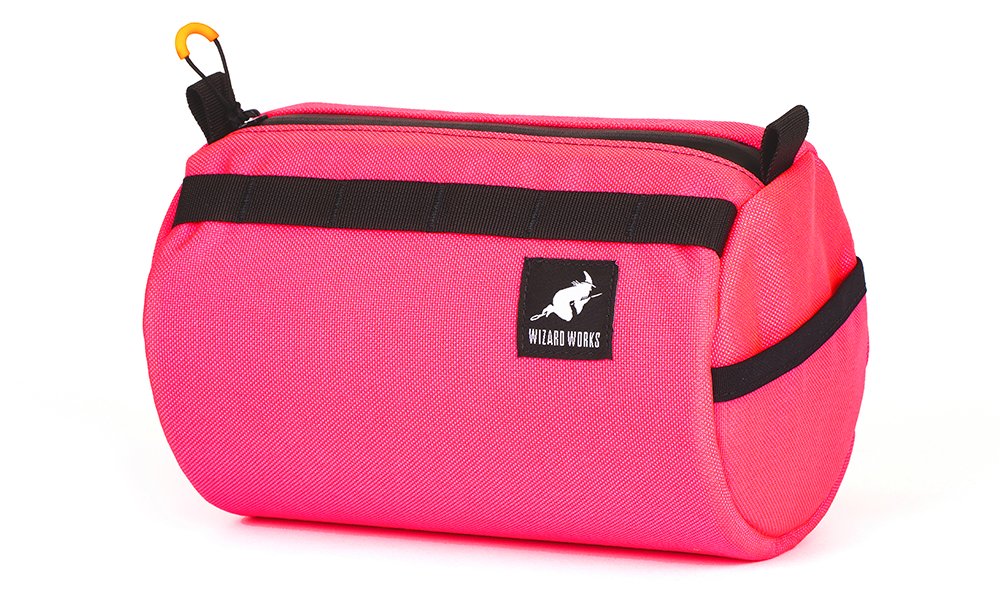 Mounts either to saddles or handlebars, ideal for the light packer – £68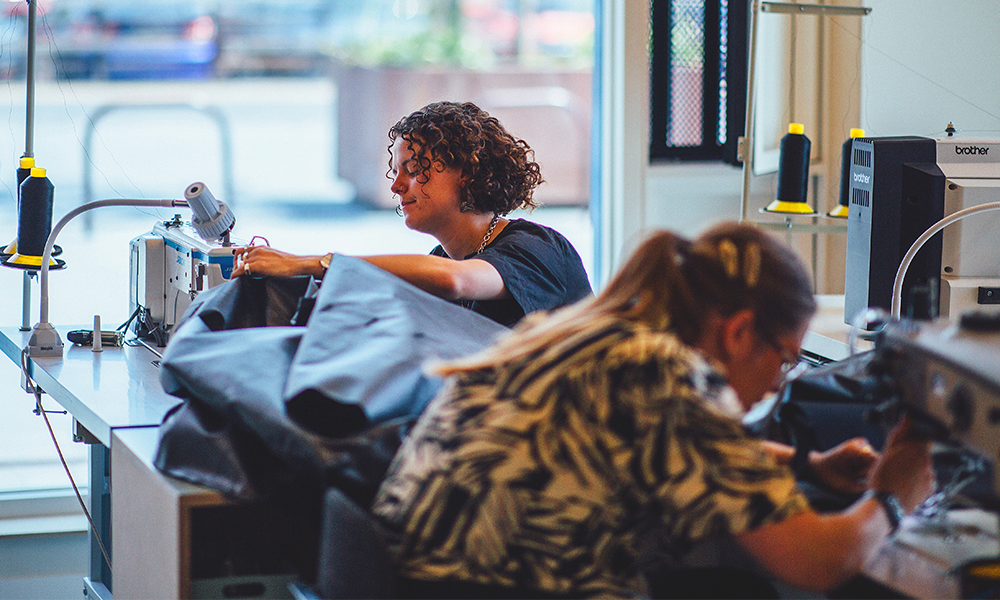 Read more: Discover the House Mill at Three Mills
Read Wharf Life's e-edition here
Subscribe to our Wharf Whispers newsletter here
- Jon Massey is co-founder and editorial director of Wharf Life and writes about a wide range of subjects in Canary Wharf, Docklands and east London - contact via jon.massey@wharf-life.com