Two-day festival is a celebration of soca music and the work of the late Brixton hip hop pioneer TY
Subscribe to Wharf Life's weekly newsletter here
There's a fair bit going on at Greenwich Peninsula over the warmer months with events and pop-ups scheduled by developer Knight Dragon, all with the aim of bringing life and entertainment to the area.
There's mini golf from artist Yinka Illori, table tennis from artist Camille Walala and JeeYong Lee's new installation at Now Gallery – Maiden Voyage – all running into September.
Also on the horizon is Just Vibez – a sonic rather than specifically visual attraction – set to take over a slice of land beneath the columns of raised public park The Tide.
Running over two days – August 13-14, 2022, from 1pm to 8pm, this free musical festival marries a line-up of DJs and MCs with dancercise and street food in a celebration of soca, hip-hop, afrobeats and reggae.
"Just Vibez is a collective of DJs, musicians, artists, different types of creative people, and we have crew in the UK but also in Singapore, Australia, Brazil and Toronto – our main goal is trying to put on events which will entertain or 'edutain' people," said Mark Chan Poon, one of the movement's coordinators.
"We run authentic Caribbean and African-American pop events, but it's not just for that community, it's to open up and be welcoming for all communities to enjoy.
"For us, 'edutaining' means entertainment where people also get to learn something, such as facts about the countries where the music comes from, or about their culture.
"For example, with the kids, we don't just have a colouring corner, we have Caribbean heroes they can colour-in, so they learn a little bit while being entertained by the music. They party, but with a bit of education as well."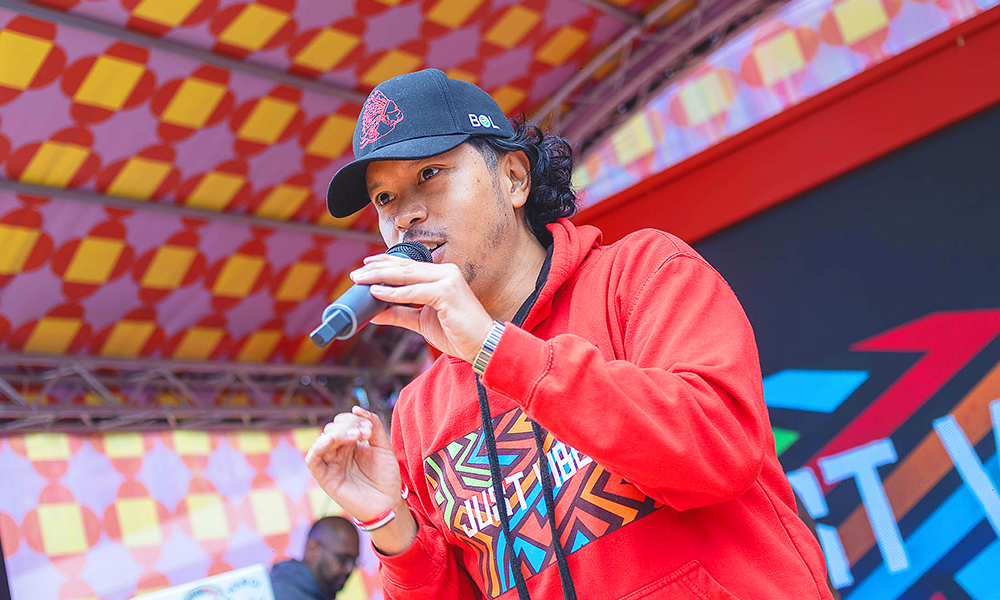 Mark, originally from Trinidad And Tobago, came to the UK via New York and Costa Rica.
He said: "Music's always been a big part of what I do and through that music I've had lots of collaborations in urban music, Latin music and hip hop.
"We're stronger together, so we wanted to pull this together as a crew rather than all of us doing our own things individually.
"Out of that desire came Just Vibez for the UK, but I'm not the only person organising it.
"It's been going loosely for more than 20 years, but probably a little bit more formally over the last seven or eight.
"I guess there are really three kinds of events that we put on. The most straightforward is the club nights with various DJs playing.
"That's adults only and probably takes place three times a month in London but also in Australia, Singapore and other places.
"We also do special events such as one for the F1 racing in Singapore – any excuse for a party.
"People may not know us or the music, but some people have even travelled to the Caribbean for the first time after hearing it.
"Finally there are the family-friendly days like the ones we're doing on Greenwich Peninsula.
"We encourage people to bring kids, nieces, nephews, as well as their older relations so that we have babies of maybe a few months up to people in their 90s.
"We try to programme the day so that it runs a bit more kid-focused at the start, with entertainment for them, such as bouncy castles, face-painting and colouring – even making a carnival costume – then later it will be the full-on carnival vibe, and similarly we do this for hip hop as well."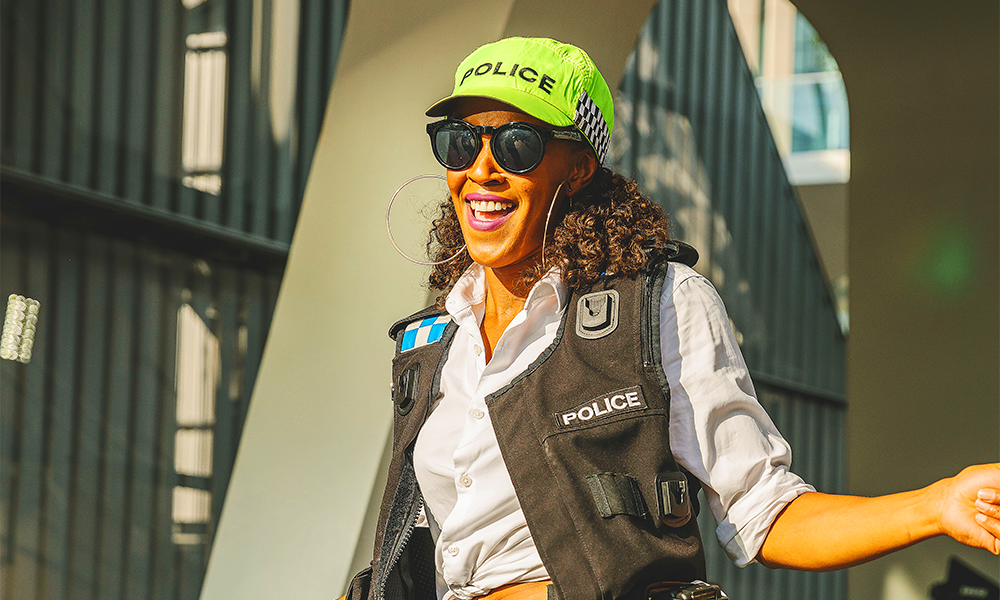 Just Vibez at Greenwich Peninsula will have two different themes on the Saturday and Sunday.
The event will open with Caribbean Vibez – The Soca Summit featuring UK soca artists such as Trini Boi, Joocie, Scrappy, Sun Divas, Miss Desire, Batch, Pahjo and One The Band.
"This will be up-tempo calypso from Trinidad, Barbados, Grenada and so on," said Mark. "Of course, there'll be dancehall and reggae too."
This will be followed by CelebrateTY on the Sunday – an event to mark what
would have been the 50th birthday of Brixton-born rapper, TY.
The line-up will include long-time collaborators Shortee Blitz, Billy Biznezz, DJ Croc and DJ Mr Thing as well as a live stream from Maseo of De La Soul and a set from DJ Sarah Love.
"Ty was a UK hip hop legend who passed from Covid in 2020," said Mark.
"We thought it would be a nice opportunity to have a good outdoor event, where a lot of his peers and collaborators could come out and perform – or just be there to celebrate. He was a great pillar of the hip hop community in London.
"On the Sunday we're doing special T-shirts for TY, a limited edition of about 200 – get one there and then never again. His mum and sister will be coming as well."
Mark said one of the core principles of Just Vibez was its mission to attract and entertain as many different people as possible.
"One of our lines is that Just Vibez is a 'everybody ting'," he said. "That means everyone is welcome to be there and that's really the main thing about it.
"Some events may be quite closed to their own communities, because, if you don't know the culture or the language, you would feel quite out of place – but that's not the way we do things.
"We also encourage people from our community to invite their neighbours, who may feel it's not their culture, so that they can have a taste of that.
"We've done a lot of events in Brixton over the last 10 years, but some people were very sceptical at the start. Now they come often.
"For example, there was an English gentleman I spoke to a little while ago who discovered soca music at our event in Greenwich in 2019.
"He's in his late 60s and joined Instagram just to follow us and now he comes to so many events and brings many of his family and friends who have never heard this type of music before.
"That's really satisfying to me – he even came to our special event to mark the arrival of the Windrush and also drove out to one of our events at Lingfield racetrack. That's really nice to see.
"With Greenwich Peninsula, people might know The O2 but some don't know about other things that happen there, so, by us doing these events, our followers will find other things too.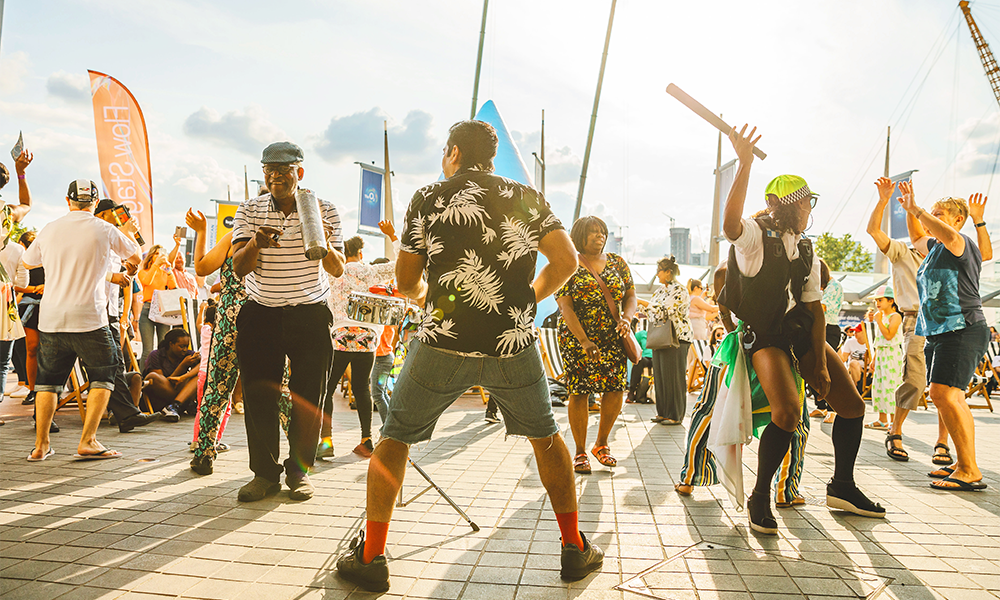 "We'd done events at places like the Royal Festival Hall and the National Portrait Gallery – cultural icons around London.
"So we were very flattered to be asked to do one on Greenwich Peninsula and now to come back again.
"We hope people will come for us, but also that they will check out all the other things on offer during the summer too."
In addition to a few surprise guests over the course of the two days, visitors to Just Vibez can expect a selection of street food to keep audiences fuelled for the dancing.
Those visiting the event can also find refreshment at Design District Canteen – a nearby food court or at the wide selection of restaurants on offer within The O2.
Read more: Sadler's Wells East set to run summer dance workshops
Read Wharf Life's e-edition here
Subscribe to Wharf Life's weekly newsletter here
- Jon Massey is co-founder and editorial director of Wharf Life and writes about a wide range of subjects in Canary Wharf, Docklands and east London - contact via jon.massey@wharf-life.com