UAL's East Bank campus hosts Designed For Life exhibition showcasing fashion as a force for positive change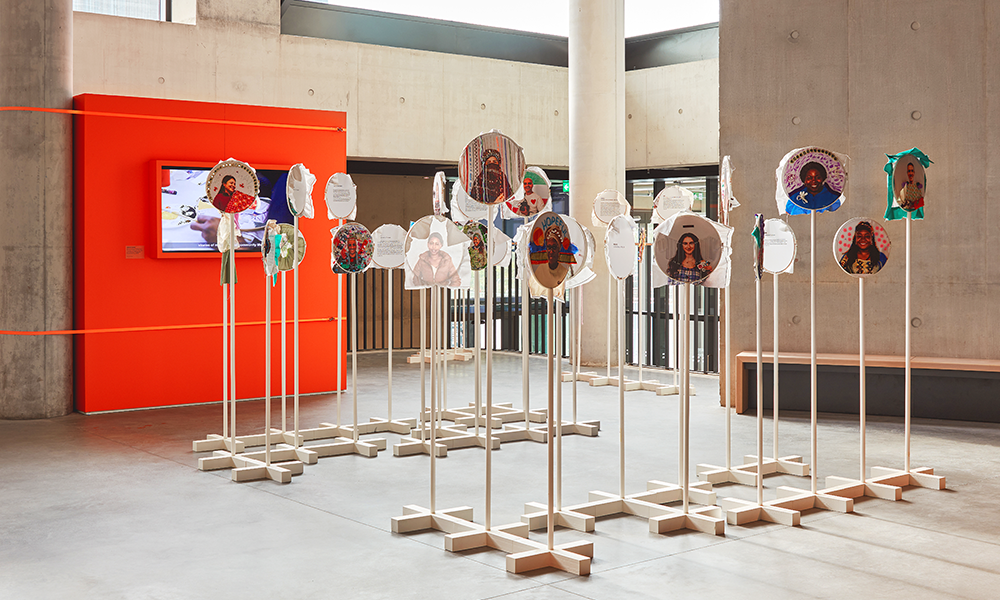 Subscribe to our free Wharf Whispers newsletter here
Even partially open, the enormity of East Bank cannot be overstated.
Its buildings on the edge of the River Lea may appear compact when viewed crossing the water from the Queen Elizabeth Olympic Park.
But this is largely an optical illusion due to the sheer scale of Stratford – the towering structures of International Quarter London and similar behind.
But, if the physical space afforded to the likes of the BBC Music Studios, V&A East and Sadler's Wells East is considerable, then the cultural, economic and psychological impact on Newham and the surrounding area is greater still.
Tom Daley splashing into the pool at the London Aquatics Centre and West Ham kicking a small round inflatable about may be sporting legacies of the 2012 Olympic Games.
But their true legacy – more than a decade later – is in the regeneration of the area and the prosperity this will bring in the long term.
How many students will walk through the doors of UCL East (part of East Bank, albeit located on the other side of the river)?
How many dancers will tread the boards at Sadler's Wells' new venue?
What music will be played for the BBC?
What sights will be seen at the V&A?
How many lives will now be enriched and shaped by what goes on in these buildings in a part of London that 15 years ago looked very different?
These are tantalising questions with thrilling answers that will undoubtedly shape Stratford in the years and decades to come.
Heartening then, that the first of the gang to open at the main cluster is already making significant early efforts to use its space for good.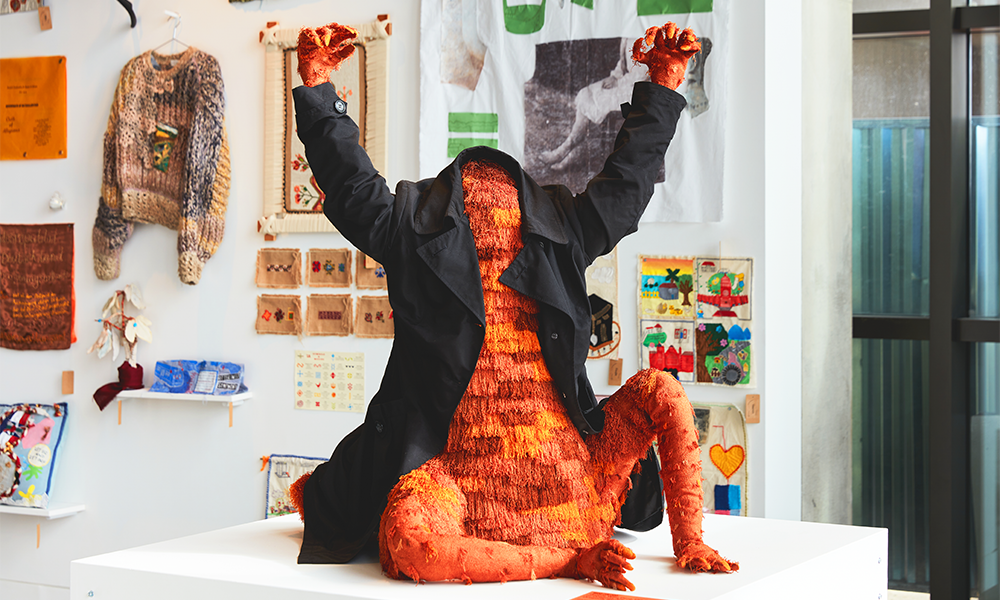 University Of The Arts London has consolidated the London College Of Fashion (LCF) at East Bank in a purpose-built tower, which opened earlier this year.
One of its first acts has been to fill five of the publicly accessible areas of the building with Designed For Life, an exhibition featuring textiles, design, film, photography, artefacts, personal testimonies and community building intended to showcase "the transformative power of creative action in shaping our world".
Suffice to say, there's a lot going on.
There's a dress made from a decommissioned refugee tent, an interactive living room reflecting the lives of people in east London, a cloth dragon in a trenchcoat, textile artworks created by migrants together with fabric portraits of them and much more.
Far too much, in fact, for this article to do the whole thing justice. However, the feel of Designed For Life is very much of using LCF as a platform to tell stories from the area – bringing people who might not usually be represented in such a building inside and putting them centre stage.
It makes sense, then, to focus on just one part of the exhibition and dig a little deeper into what visitors can expect to find among the swirling cast concrete staircases of the latest addition to Stratford's educational scene.
Head down a level from the entrance and you'll find items and a short film showcasing UAL's Decolonising Fashion And Textiles Project.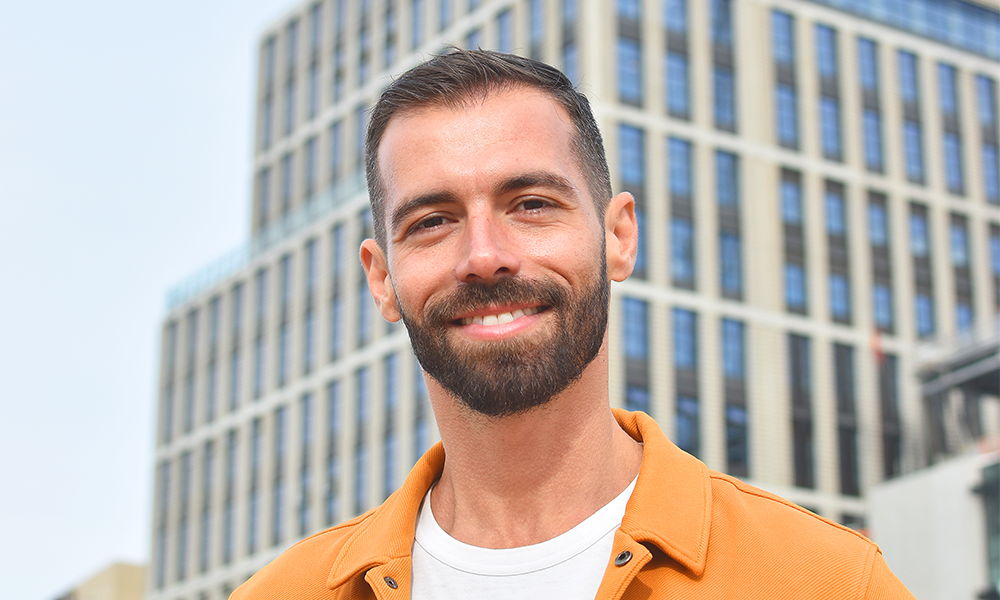 Dr Francesco Mazzarella, senior lecturer at LCF's Centre For Sustainable Fashion, who is leading the initiative said: "The project runs for two years and has received funding from the Arts And Humanities Research Council.
"First I did some ethnography to immerse myself in the context – the three boroughs we are concentrating on – which are Newham, Tower Hamlets and Waltham Forest.
"I wanted to understand the needs and aspirations of the local communities there.
"Then we did storytelling sessions with participants who are refugees or asylum seekers based in London.
"The stories were of identity, cultural heritage and migration – but also the participants' skills, needs and aspirations.
"In the sessions we were asking them to bring clothes, textiles and objects that meant something to them.
"We are very mindful that refugees are often interviewed, investigated or monitored, so we didn't want to do a study of them.
"Instead, as a team we all took part by bringing our own objects as a way to share each other's lives and also build empathy.
"People coming to view Designed For Life will see more than 40 artworks created by participants and ourselves with statements written to express our feelings.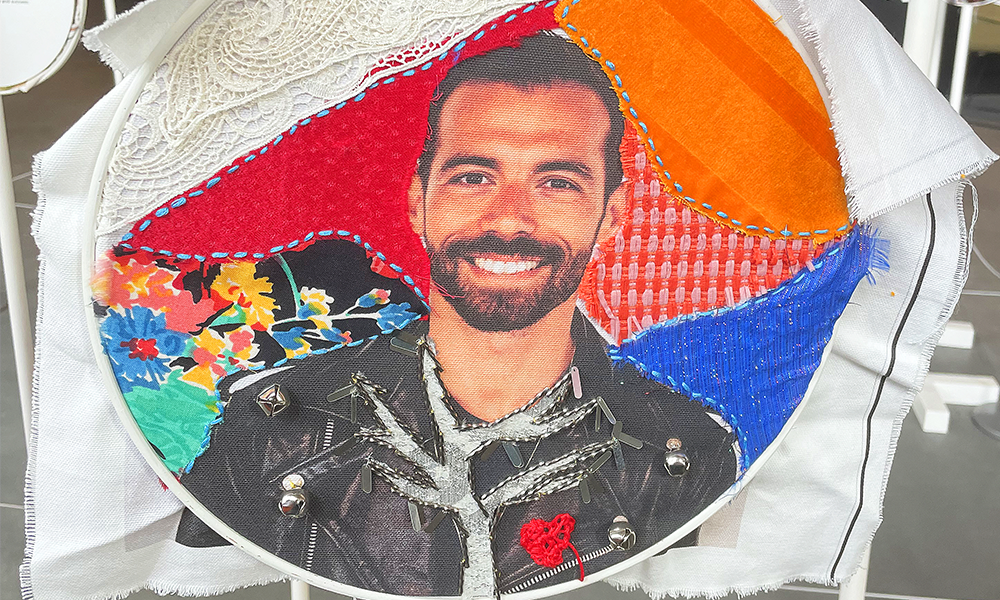 "It's really a celebration of the untold stories of refugees – which are often overlooked – with the exhibition aiming to shift negative or dominant narratives to show how people can bring their skills and talents to a local community and economy."
Francesco worked with local photographer JC Candanedo – a Catalan-Panamanian migrant who has a studio in London – to capture images of people taking part in the sessions.
The headshots were then transferred to fabric, with participants using multiple techniques to decorate, embroider and alter them.
Each work has its creator's statement printed on the reverse so visitors can discover more about the people they are seeing.
"What's beautiful is that every story is unique and challenges what it means to be a refugee or asylum seeker in London," said Francesco.
"People come here to escape from war, violence due to religion, gender discrimination or politics.
"What I like is the collective sense of all these stories – it's bigger than the individual parts.
"The coming together of all of this gives a sense of community and the mutual support which builds for refugees.
"People participated for different reasons.
"Some were interested in fashion and textiles, wanted to learn some skills, or perhaps worked in the industry and are aiming to rebuild their careers here.
"Others just wanted to meet new people and use crafts to enhance their wellbeing – especially those living isolated in hotels in very poor conditions.
"Meeting other people has helped them to rebuild their confidence, and making new connections has helped them to rebuild their lives.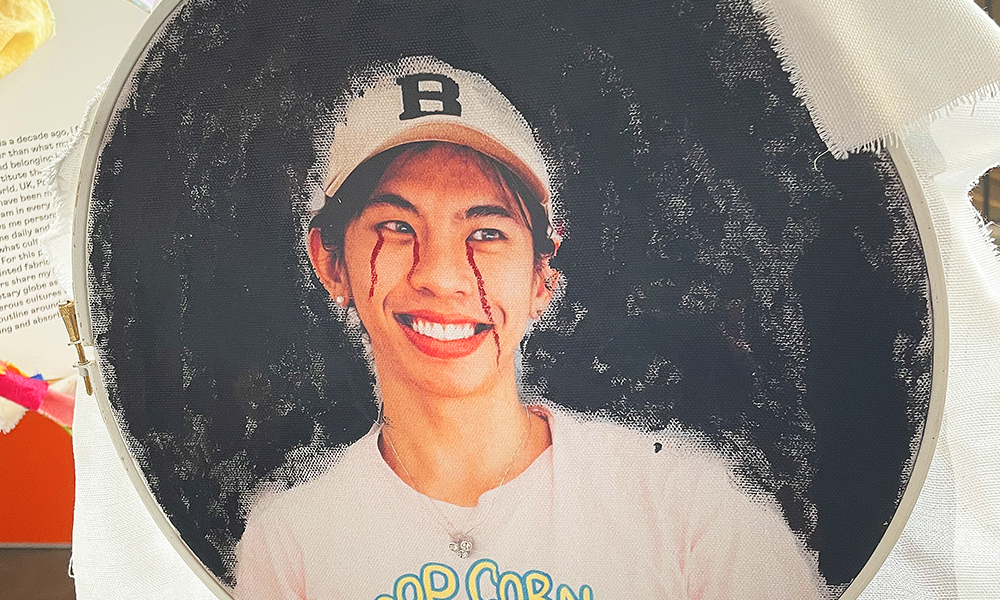 "One participant has two artworks in the exhibition.
"The first was created for a pilot we did last summer.
"It is very dark, with blood coming from the eyes.
"As a researcher I have tools to help people unpack their stories.
"At first she had an identity crisis about her heritage.
"She's from Singapore and, as a trans woman, she was the victim of rape, and when she reported this to the police, she was blamed for being trans.
"She came here and joined our project.
"At first she didn't care about fashion or want to pursue a career in fashion.
"She thought it was unreachable and not very inclusive.
"She wanted to wear more western clothes to feel more integrated into society here.
"She has very traumatic memories of her own country and wants deliberately to erase her own past.
"All through this project we tried to highlight something small that she had which could keep her grounded, and she realised that she always wore a necklace given to her by her mum before she left.
"You can see that in her second work.
"She wanted to add some glitter to this artwork as a sense of hope for a brighter future.
"Through this process she met many other people, and now she's volunteering for several charities and is feeling much more confident.
"You can see here that she has really embraced her gender and identity and is also tapping into different aspects of her culture and heritage by including batik from Indonesia, where her auntie is from, for example.
"In the second piece – called Smiles And Pain – she wants to unpack what it means to be an asylum seeker, where she says that, even if we wear a smile and are resilient, behind that there is a mountain of trauma and pain.
"She also wants to say that everybody wants to be treated with tenderness and deserves love and safety.
"Refugees may not have many material possessions, but they really hold onto their material culture and their heritage.
"Working with vulnerable people, we can't ask them to tackle the climate emergency from a sustainability point of view– they have more pressing issues socially.
"By plugging into their heritage, however, they can start gaining agency – a voice – and make connections locally that may point to education, employment and entrepreneurship.
"That's using fashion to drive positive change."
Remember, this is just one of five displays covering multiple projects at Designed For Life. Set aside an afternoon to explore the exhibition fully.
Designed For Life is free to visit with no booking required.
The exhibits are available to view at LCF at Stratford's East Bank, 10am-5pm, Tuesday-Saturday and will be in place until January 19, 2024.
Find out more about the exhibition here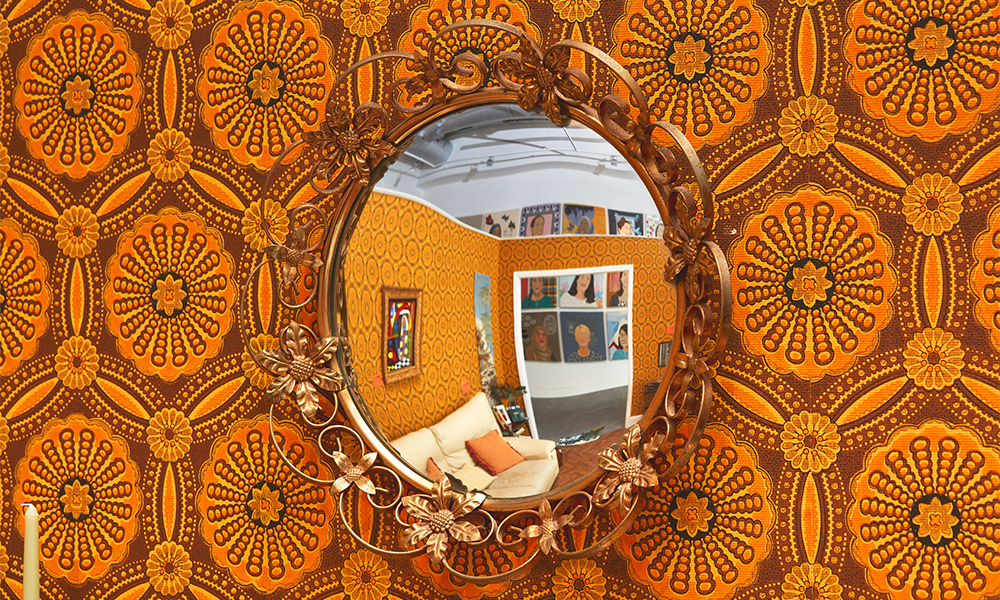 Read more: Sign up for the Santa Stair Climb at One Canada Square
Read Wharf Life's e-edition here
Subscribe to our free Wharf Whispers newsletter here
- Jon Massey is co-founder and editorial director of Wharf Life and writes about a wide range of subjects in Canary Wharf, Docklands and east London - contact via jon.massey@wharf-life.com