Co-founder Amin Hamzianpour on creating a membership model for creative content creators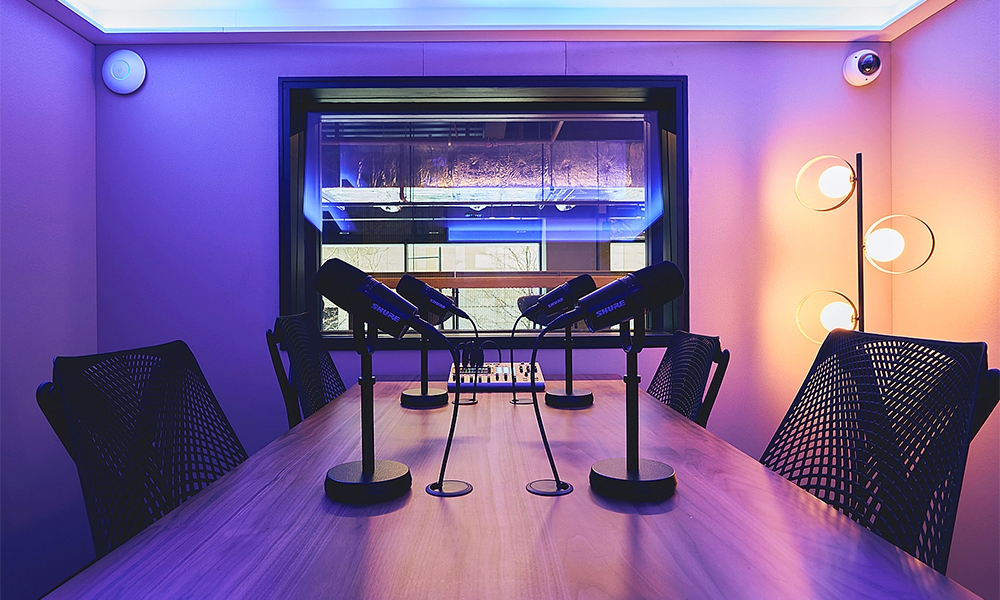 Subscribe to our Wharf Whispers newsletter here
The ever increasing numbers of people strolling though Wood Wharf will likely remain mostly unaware that a revolution is taking place on the first floor of a Park Drive office block.
It's not that Canary Wharf hasn't welcomed creative endeavours in the past.
It hosted a TV station in the 1990s – Live TV, complete with eponymous show Canary Wharf, a sort of soap opera-meets X-Files affair with a woeful budget and acting to match.
It's served as a backdrop to numerous films including both 28 Days Later and 28 Weeks Later as well as Welcome To The Punch with James McAvoy and Mark Strong facing off as a grizzled detective with a gammy knee and a notorious, violent criminal respectively.
Its Tube station stood in for the Death Star in Rogue One: A Star Wars Story, with Adams Plaza popping up again in TV show Andor as part of an evil Imperial base.
With the exception of the odd media company, however, what Canary Wharf has never had is a series of spaces dedicated to creative content generation.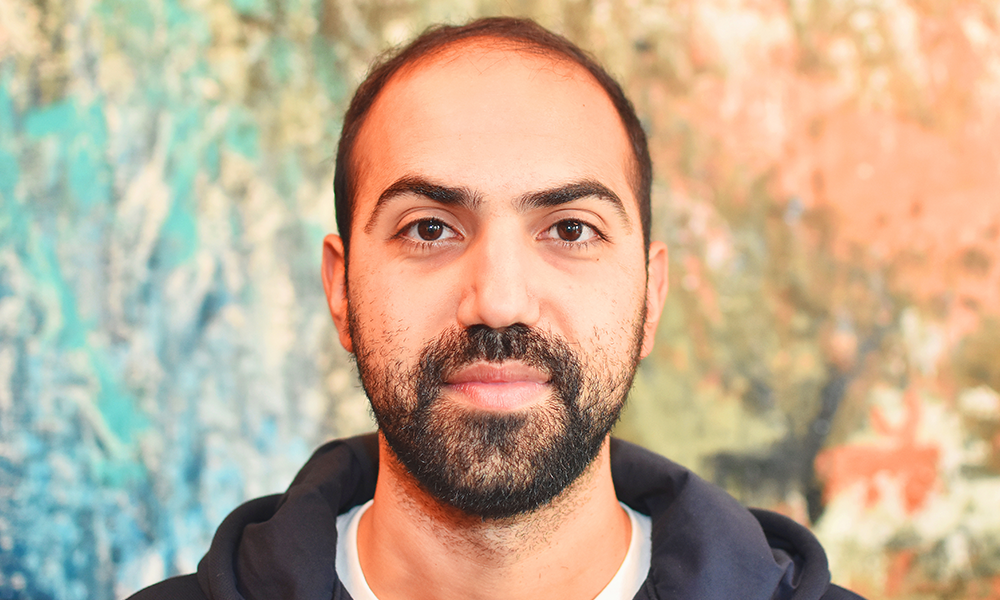 Enter Amin Hamzianpour – musician, music producer and former Morgan Stanley analyst, who is bringing The Qube to the estate.
In a nutshell, it offers flexible, plug-and-play studios for rehearsal and recording 24 hours a day. But it's also much more than that and here's how it happened.
"I have a bit of an eclectic background," said Amin.
"I did a degree in human sciences at Oxford and then, encouraged by my parents, I went to work in investment banking at Morgan Stanley, ironically in Canary Wharf.
"I didn't like it at all. I liked being around hard-working, ambitious, intelligent people, but the work wasn't what I wanted to do.
"I'd always created things – I was a musician, I played, wrote songs and also made animations when I was young.
"Working in banking felt as though I wasn't making anything, so I eventually quit to pursue a career as a songwriter.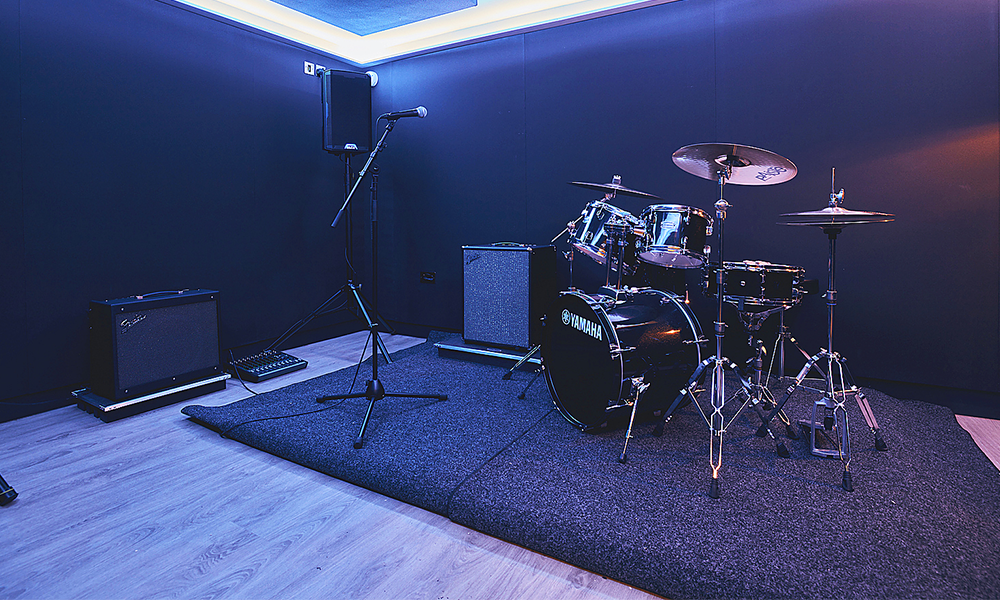 "My parents knew how hard-working I was, so they were very supportive.
"With finance, if you wait around long enough, the money gets so good that it's difficult to leave and I could see that happening to me.
"I thought that because I was working such long hours in banking, that, if I applied that effort to music, I might get 50% less money, but I would have a much more fulfilling life.
"I was quite naive about how difficult it was to build a career in the music industry.
"I rented a basement room from a friend and tried to soundproof it, but it was a bit of a disaster.
"Still, I started making music every day, emailed every single blogger and every single label, trying to get my name out there.
"After about six months someone very well connected on the blogging scene miraculously reached out and said they really liked my stuff.
"So I met with him, made one house record, he sent it out to the blogs and we made the alias quite anonymous.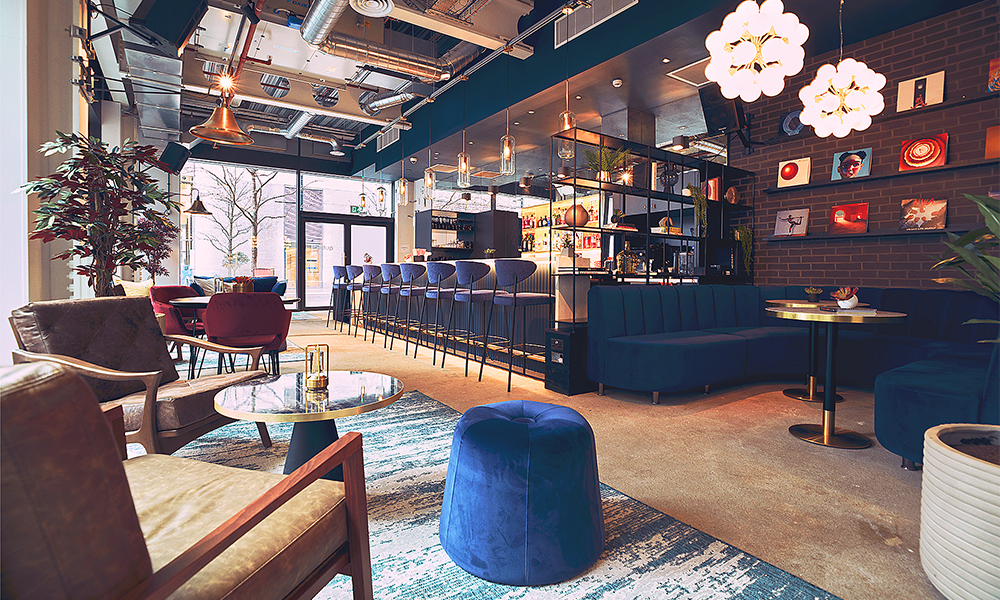 " The blogs picked it up and it exploded online, and the next thing I knew, I was getting offers from every major record label.
"It went from one day when nobody knew who I was to me having meetings with Universal, Sony, Warner, which was the dream.
"Having now had a career in music for five or six years, I now realise how ridiculously improbable that was, and it was a probably a bad thing, because at the time I thought that was just how easy it was.
"I signed to Spinnin' Records – a Dutch label – and Polydor picked it up and put it online.
"It got something like a million plays, which at the time was quite good. So I built my career thereafter and became a house artist when electronic music was really flying.
"I released quite a few singles on different labels – Ministry Of Sound, Universal, Polydor – and while nothing was majorly successful, I was making a living.
"Then I started writing and producing for loads of different artists."
It was at this point Amin discovered how difficult it was to find good studio space at an affordable price with the only offerings seemingly £1,000 a month contracts for a year or substandard dingy basement rooms with non-existent soundproofing.
Then he met co-founder of The Qube, Nick Sonuga, who was building studio spaces that would fill up immediately due to demand.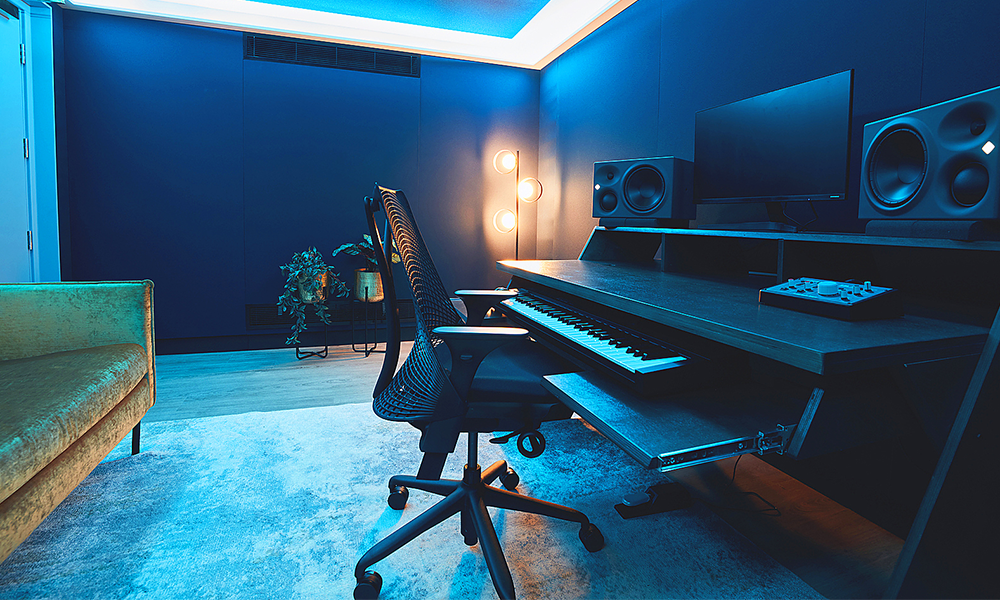 "Initially, I thought that if I did one or two studios with him, I could make a base salary and then continue making music," said Amin.
"One of the most frustrating things about being a musician is the variability in income, which could be 300% either way, with no way of predicting it.
"That was difficult as I was starting to get older.
"So I started talking to Nick about finding solutions to these problems.
"How could we come up with a space that provides everything creative people need, that is affordable, flexible and provides a community?"
The pair came up with the blueprint for The Qube, found a warehouse in west London and put down their joint life savings as a deposit before going out to investors to raise £2million.
Launched in 2020, it houses 40 studios designed for everything from creating music to podcasts and photography.
The spaces come fully furnished with equipment with members paying between £75 and £2,000 a month for varied levels of credits that are translated into studio time.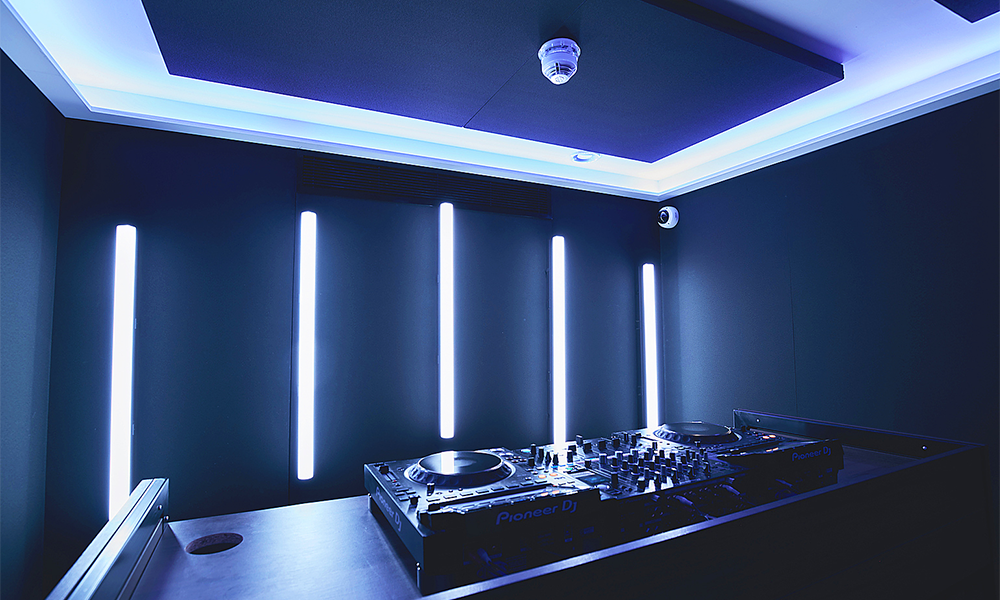 "It's open 24 hours a day and it did really well – miraculously it turned a profit within six months, which was quite staggering," said Amin.
"I think it was a testament to how much people want this product and there's no-one really doing this apart from us.
"While it is challenging to serve all the different markets – the podcasters, vloggers and musicians – we have a team of really experienced people from all walks of life to look after them.
"Every startup is an experiment. Everyone involved with The Qube is creative and we're developing products that we would want to use.
"We're trying to stay true to that. We think there's a huge opportunity here – already if you're a YouTuber, a podcaster or a music producer your parents will more likely be telling you to go for it than laughing at you.
"These people will need places to go and create work and wherever they want to do that there should be a Qube in their nearest city."
On that path to global domination, Amin and Nick selected Canary Wharf as their second site due to the ease of travel in and out and the safety of its environment.
Amin said: "The obvious choice would have been Hackney or Shoreditch but we wanted to give people the best experience possible.
"What we noticed about Canary Wharf is how unbelievably well connected it is, and that makes a huge difference, because people from all over London can get here quite easily.
"We also like the fact that we're so different to other businesses here and can be an oasis within a totally different culture.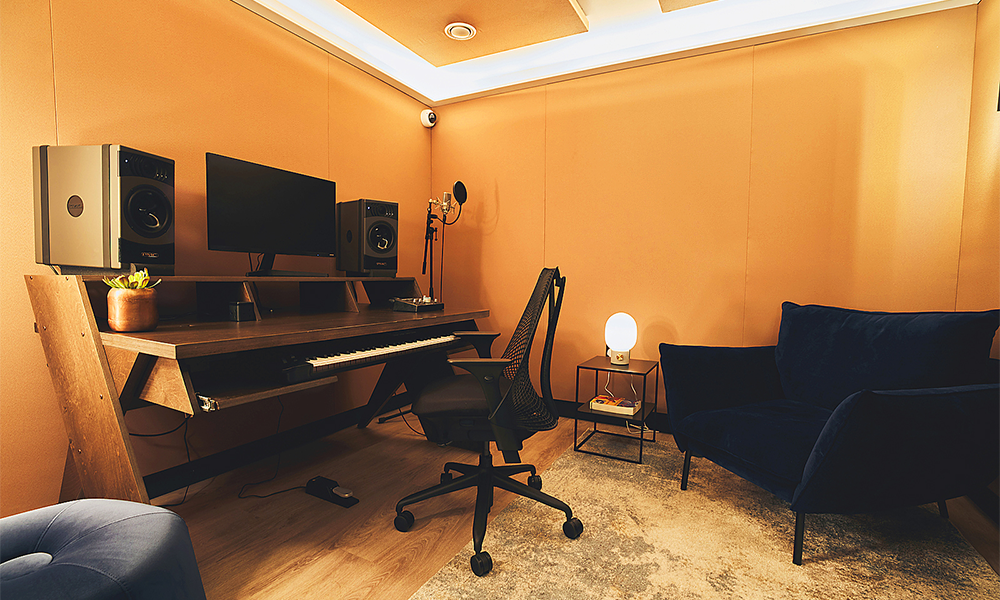 "Canary Wharf Group has been unbelievable in helping us get to the point where we can offer affordable pricing and build our dream as we wanted.
"While people love our west London warehouse because it feels organic, we've spoken to our creators – many of whom are women – and we are aware they can feel genuinely uncomfortable accessing some spaces, especially at night.
"It's a huge problem, but here it's so safe.
"A lot of our members are using these facilities at night, starting at 9pm and leaving at 4am."
It's perhaps because community is so central to The Qube's model that this is one of the driving factors in its decision to open in Canary Wharf.
"We are a members club and we curate every single application that comes in," said Amin.
"At the moment we reject around 70% and we take people purely on the basis of talent – whether we think they have high potential and are creating high quality content.
"It has nothing to do with how many social media followers someone has and it is somewhat subjective – would you be happy being stuck in an airport lounge with them for an hour – but that means membership isn't just about the value of the studios, it's about every other person you meet and knowing that they're going to be doing something really cool.
"We're trying to filter out all that pretentiousness and bravado in the industry – we hate that.
"It also means our bar will be a great place to be and we'll be opening that to non-members on Thursday, Friday and Saturday nights until 11pm, with an open deck policy on Thursdays and a resident DJ on Fridays."
Applications for memberships at The Qube are open now.
Qube East is set to launch on March 24.
Read more: Discover regular monthly wine tastings at The Gun
Read Wharf Life's e-edition here
Subscribe to our Wharf Whispers newsletter here
- Jon Massey is co-founder and editorial director of Wharf Life and writes about a wide range of subjects in Canary Wharf, Docklands and east London - contact via jon.massey@wharf-life.com