Founder Charlie Claydon tells us how he's bringing the chocolate factory and cafe back after a fire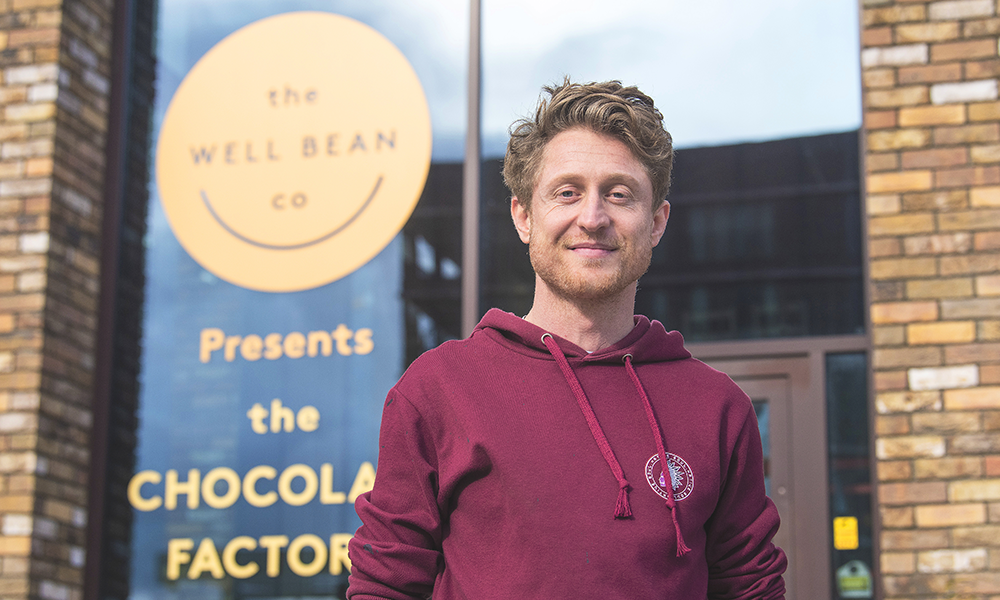 Subscribe to Wharf Life's weekly newsletter here
The story of The Well Bean Co at Royal Albert Wharf starts with its founder's social anxiety.
Suffering badly from an early age, Charlie Claydon struggled to make and sustain friendships.
"By the time I was 15 or 16, I was not in a good place with my mental health," he said. "I had considered taking my life – it was a really tough time.
"I ended up getting into drugs and alcohol really badly at a young age, because it was my way of medicating myself.
"I didn't know much about mental health at the time – it wasn't really talked about in school then.
"So I went down that path, making things worse and worse for myself until I realised that enough was enough.
"My life was pretty bad, my relationships with my family and friends had broken down and that's when I decided I needed to change direction."
an opportunity
Charlie moved away from the village where he grew up, stopped drinking, smoking and taking drugs. He also found a job.
"I managed to get a position at a bank – the manager was a lovely lady and, even though I didn't have the qualifications, she believed in me and gave me the job," he said.
"Within six months I was stepping in as deputy assistant manager – she'd given me a chance, something I'd not experienced a lot before.
"A lot of people had said I wouldn't amount to much and I'd started to believe that. I didn't particularly like the financial world, but it was good money, I was good at it and I didn't have many options open to me, so I kept working, moving into insurance and investments and doing some event management on the side."
Eventually his career led him to London and a role with the Financial Ombudsman Service, based on the Isle Of Dogs.
gut feeling
"I started off as an adjudicator – it was in the midst of the PPI scandal so they were employing lots of people from the industry," said Charlie. "I was assessing cases and trying to figure out if people had been mis-sold policies.
"It was the first time where I had a job where I was helping people and doing something positive.
"I quickly grew in the role and ended up becoming a lead adjudicator, making key decisions on cases, which was really exciting."
At the same time, Charlie continued to struggle with anxiety, trying multiple strategies and remedies to cope.
"It was at this time he read an article about an entrepreneur who'd treated his bipolar disorder through diet."
Long story short, Charlie tried a similar approach.
"I wasn't really drinking or smoking, so I gave up coffee, sugar, wheat, and within a week I felt like a completely different person," he said.
"It made sense to me – your brain and your gut are super connected, they're both signalling each other all the time.
"I kept experimenting and then, I remember waking up for the first time and not feeling anxious in the morning.
"Suddenly I felt calm, I even wanted to go and hang out with people, having spent my whole life avoiding it. Over the years it has kept improving."
shed heaven
Charlie's focus on his diet and mental health became the foundation of the business he runs today.
"I was getting into plant-based food to help with my mood," he said. "I was experimenting in the kitchen of the shared house I was living in – I'd never eaten plant-based food and it was tough to get my head around not having meat on my plate.
"Then I realised that I was also going to start missing things like chocolate, because it had dairy in it.
"At the time I couldn't find anything on the market so I looked on YouTube to see how people made it, bought some ingredients and had a go."
The experiment became a quest. Having failed to get great results with a bowl and spoon, Charlie continued on his mission to create quality vegan chocolate, buying machines to help with production.
Eventually, to save his relationship with his house mates, he negotiated with his landlord to build a small shed in the garden and kept going.
Recipe after recipe followed and he eventually took some into work for his colleagues to try. Positive feedback sparked a change in direction.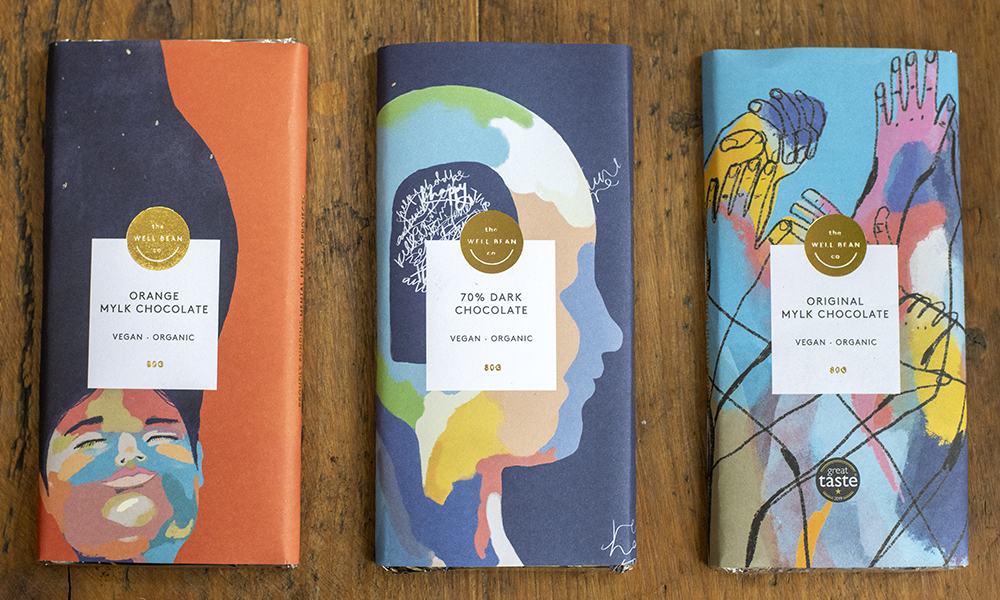 chocolate factory
"When I realised that I was creating a product that was pretty delicious, I thought it could be a business," said Charlie.
"I was already looking for a way out of the finance industry, because I wanted to do my own thing.
"I was already volunteering and I thought I was going to be fully immersed in mental health but, actually being in that industry can be really hard, especially if you're sharing your story the whole time.
"Having the chocolate was the balance – it was fun, so I thought I'd do a few markets and see how it went – people loved it. Because I'm impatient, I handed in my notice and decided to go for it."
bench mark
Despite the concerns of family and former colleagues, Charlie sunk all the money he had into equipment and negotiated some table space in a cafe run by Bow Arts at Royal Albert Wharf.
The idea was that it would be a cheap option for his fledgling business and fun for customers coming in.
One table turned into two, then three, then four. Eventually Charlie wound up taking over the whole unit.
cafe community
"Then Covid hit and it was a really scary time," he said. "We weren't big enough for people to look for us online, and all the shops we were stocked in closed.
"We'd watched this balance sheet going up, we were really excited, we were doing very well, we'd put all our energy into it, we'd done markets, we were trying to branch out and we were having meetings with Selfridges.
"It was an exciting time, and then it all just stopped. The money just went overnight and it was a very tough time. All I could think was that I needed to save the business."
The solution, it turned out, was for Charlie to take over the cafe, opening the doors during the pandemic to serve the local community.
Teaming up with actor Oscar Balmaseda – out of work due to Covid restrictions – the pair "fought like cats and dogs" as they served lines of hungry and thirsty locals, growing the business and working seven days a week.
In a year the business went from two to nine staff and Charlie had turned his thoughts back to chocolate as the pandemic receded.
cruel flames
"It was time to get back to chocolate – we had two people and a production plan up on our whiteboards with a smart social media strategy in place," he said.
"We'd just finished refurbishing the cafe and then two days later the fire happened."
Disaster. In December in the run-up to Christmas a faulty new machine in the chocolate factory overheated one evening and caught fire.
Fortunately, the unit's fire suppression systems kicked in limiting the spread of the fire, but smoke and water damage was extensive.
Worse still, the business was under-insured leaving a hole in its finances – a mistake made amid the chaos of the pandemic and the company's rapid growth.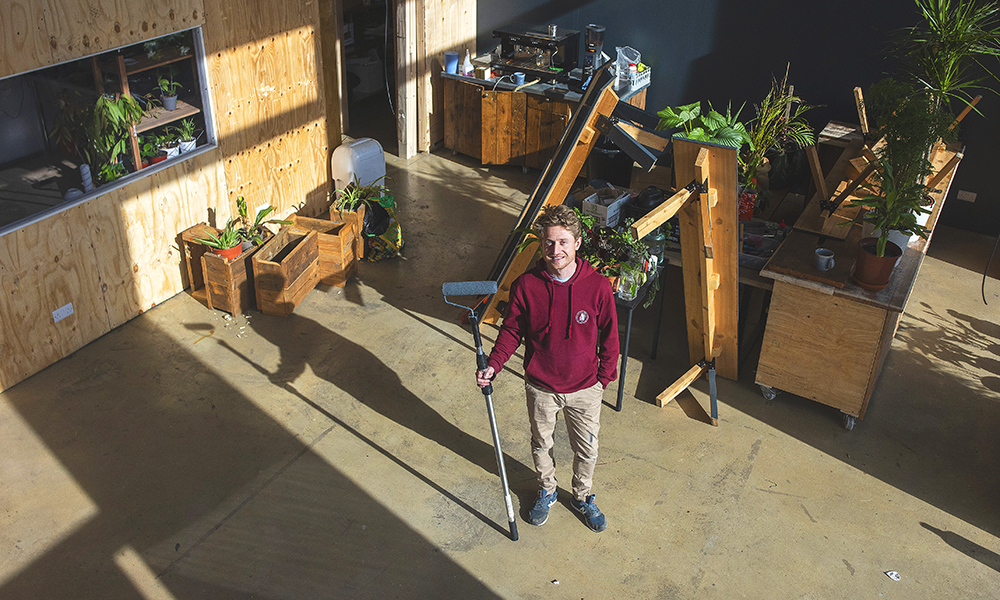 back once again
However, the fire will not be the end for The Well Bean Co and its cafe. Ceilings, floors and surfaces have been scrubbed. Furniture has been cleaned, repaired or replaced.
The local community pitched in, raising money to help Charlie, and he and Oscar (who has also gone back to his regular job, performing in Mamma Mia! The Party! at The O2 in Greenwich) are busy getting the cafe and factory ready to re-reopen
"We're painting this huge building, we've got a new counter made of scrap wood and I've had to learn new trades I've never tried in my life before," said Charlie.
"But that's being an entrepreneur – you have to be savvy and learn loads of skills.
"Some things will be the same – we'll still be serving our amazing hot chocolate that people travel miles for, but we've also taken the opportunity to change the menu.
"We'll be doing plant-based lunch bowls, breakfast bowls and toasties – all super delicious and healthy.
"The factory hasn't had its day yet, either – there are more plans we have for it – but I believe with a bit more love and attention, it can really soar.
"I want to say a huge thank you to the local community, because, when we had the fire it was devastating.
"This was because of the potential danger to the people who live above it, but also because my business was on fire, my livelihood, and I'd just finished refurbishing two days before.
"I didn't want to come back. But the number of people who messaged me daily to say they'd help me rebuild made me realise people loved what we'd built and that it was worth bringing back.
"They raised an incredible amount of money to help me pay staff for a bit longer and, to this day we get people coming by saying how good it is that we're reopening and offering help. The support has been amazing."
Read more: How Tondo Pizza was founded around a passion for food
Read e-editions of Wharf Life's print edition here
Subscribe to Wharf Life's weekly newsletter here