The Royal Albert Wharf-based creative talks dinosaurs and intuitive working in the studio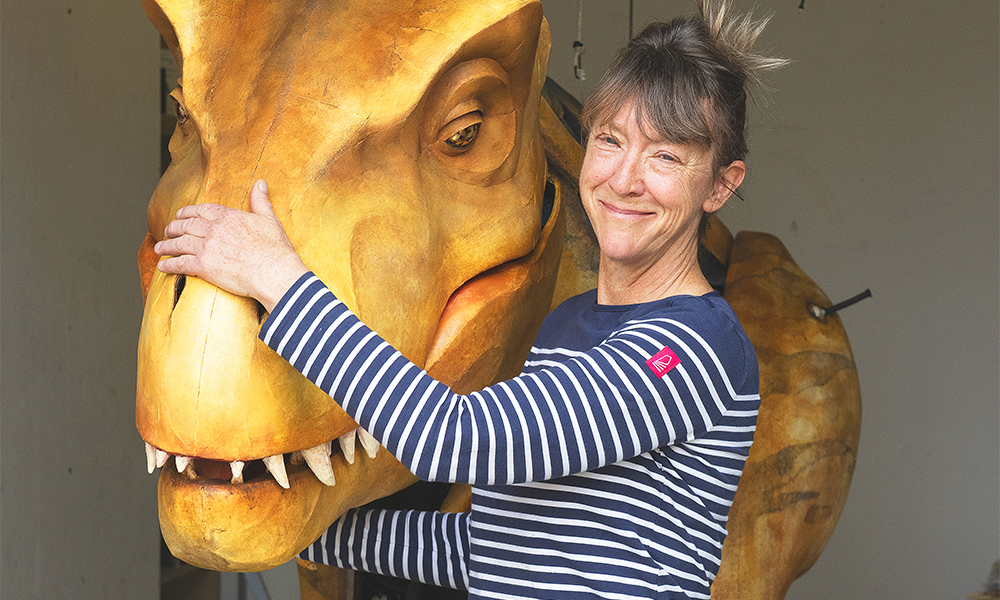 Royal Albert Wharf might look like a relatively ordinary residential area – brick clad oblongs arranged sensitively around both the waters of the dock and the older buildings in the area. But look behind the doors and windows of its lower floors and you'll find a thriving community of artists and makers.
The presence of Bow Arts and Art In The Docks – which recently opened its artist-led project space at the development – ensures a rolling programme of public activities, helping the work spill out to a larger audience.
So when puppet maker Charlie Tymms, strapped and velcroed into her latest creation, steps out onto the quayside – tail whipping behind her – it only causes a minimal stir.
The beast is  one of a series of creatures she has made for The Dinosaur Show, a new production that enjoyed its maiden run at the Blue Orange Theatre in August. It's also her first ever single-person puppet.
"He's a really naughty character on stage and chases after the palaeontologist and nicks sweets out of her rucksack – he's delightful," said Charlie.
"While we were doing our research and development for this project – a really important part of the process – we had a puppeteer, the puppetry director, two producers and myself play around for three days with basic prototypes.
"It was really good fun because it quickly became The Dinosaur Show That Went Wrong.
"We had the size of the theatre marked out on the floor and the sheer scale of the T-Rex – with its huge tail knocking things over – was where the part of the story about this one being really naughty came from."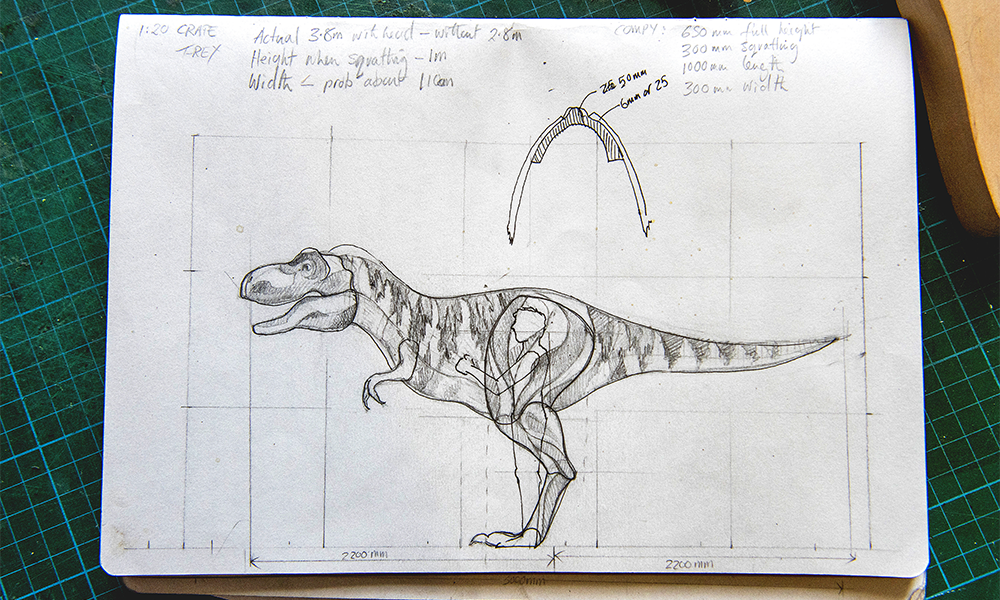 Collaboration has been a constant feature of Charlie's career, which began when she was asked to do some scenic painting 25 years ago for her mum's friend. She went on to work in set design and fell into her current area of expertise "by accident".
"In terms of puppetry, which I now specialise in, I was asked to sculpt a full-size elephant – a massive polystyrene thing – with four people inside for the legs that could carry a small child on its back," she said.
"It was for a Michael Morpurgo show called Running Wild and through that process I met this amazing puppet-maker called Nick Barnes, who is very well established. I've been making with him for years – almost as an apprentice – on loads and loads of projects. Then, through that, I've been gradually doing my own projects. 
"With Nick I've tended to be the sculptor and painter, while he designs all the armatures and mechanisms.
"It's a really nice process because everybody gets involved at some point – the puppeteers and the people producing the shows. I've gravitated towards collaborative projects because I like working with other people."
Every project Charlie takes on is different but all her puppet creations involve translating an idea into a physical form that can be manipulated.
"For the T-Rex, I made the first model out of cheap plumbing pipes to try out the length of it and the harness," she said.
"In the end the frame became more of a rigid structure as I decided on the best form of engineering for one puppeteer and the easiest way for them to control the dinosaur.
"I'm a very intuitive maker, so I don't generally pre-design – I do it on the hoof but I do loads of anatomical research, so I've got hundreds of pictures of skeletons of T-Rexes – their skulls and anatomy – and loads of sketches.
"Then you start with the human and build it around them. In the end you want to ask the audience to believe that this thing has a life and a spirit.
"The puppeteers are amazing creatures in themselves, because they can bring things to life, but the maker can help the process enormously by where they position all the joints and where the strength needs to be to operate the puppet.
"So, with T-Rex the thighs are really important, because they're just so massive – along with the head and the tail – visually they are the anchor points.
"Then the audience can use their imagination to fill in the gaps. In this model, for example, there is no rib cage."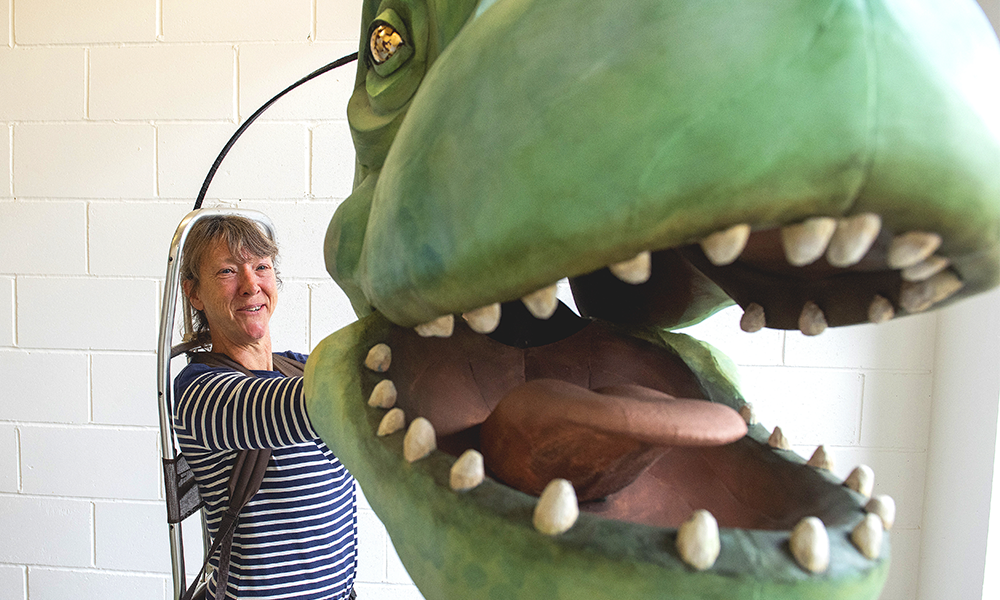 Those aged three and over watching The Dinosaur Show, will also have to use their imaginations when it comes to another of her puppets.
"We knew quite early on we wanted a large head of a brachiosaurus coming out and looking over the tree canopy, then craning into the audience," said Charlie.
"I wanted to make it really huge, but that would have been too terrifying so a head on a long neck is what we've ended up with. The children will be able to feed it leaves as it swings out."
Charlie, who has produced owls for Harry Potter And The Cursed Child, been on puppet hospital duty for Wes Anderson's Isle Of Dogs movie and created a Toto out of gingham scraps for Wizard Of Oz at the Chichester Festival, said watching her puppets in performance was always a mixture of anxiety and joy if the audience liked the show.
"With every job you learn a little bit more about how to do things in a better way, to solve problems," she said. "It's a very inventive life, which I love.
"Puppetry is definitely having a renaissance partly down to the success of His Dark Materials and especially War Horse, which put the puppet at the centre of the story.
"It was quite a radical statement for a theatre company to do that and it kind of lifted the genre.
"Then there's Lyndie Wright of the Little Angel Theatre who's a figurehead in our world and her daughter Sarah who set up the Curious School Of Puppetry a few years ago, that every year sees 12 puppeteers come out, which is having a real impact in terms of growth.
"Anyone interested in becoming a puppeteer should take a look at its website – curiouspuppetry.com."
Read e-editions of Wharf Life's print edition here
Subscribe to our regular newsletter here