How Gregorio Carullo and Dario Truden created a restaurant in celebration of their shared love of food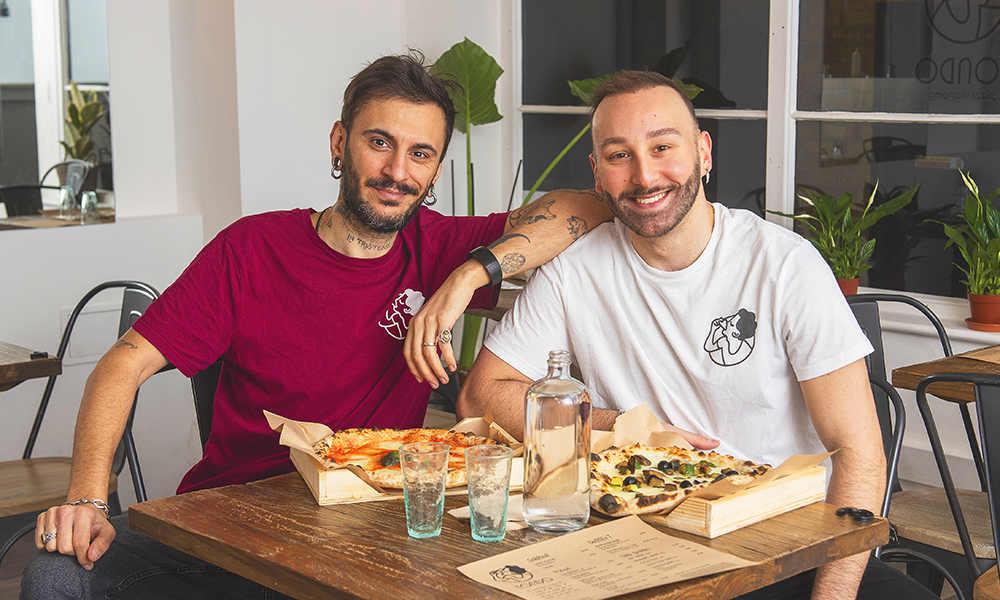 Subscribe to Wharf Life's weekly newsletter here
BY LAURA ENFIELD
It's a classic bromance. Gregorio Carullo and Dario Truden grew up on opposite sides of the Tyrrhenian Sea in southern Italy.
As growing boys, they feasted on pizza and, as men, embraced the sensual arts of nude photography and hairdressing.
Fate brought them together five years ago in London when, like so many residents of the capital, they found themselves thrown together as flatmates.
They bonded over their heritage and a shared passion for pizza, which quickly grew into a desire to share it with their new community.
There were ups and downs along the way but, two months ago, the story had its happy ending, when the duo opened Tondo Pizza in Wapping High Street.
The 24-seater restaurant serves up food that fuses traditional Neopolitan flavours with modern sensibilities. I sat down with married father-of-one, Gregorio to find out more.
how did the idea start?
Dario and I lived together as flatmates for two years and, although we do totally different jobs, we always had the same passion for Italian food and the dream of opening a small restaurant.
The idea of ​​Tondo started a long time ago when I had the opportunity to work in the evening in a pizzeria here in London and, over six years, accumulated the experience and the desire necessary to start this new adventure.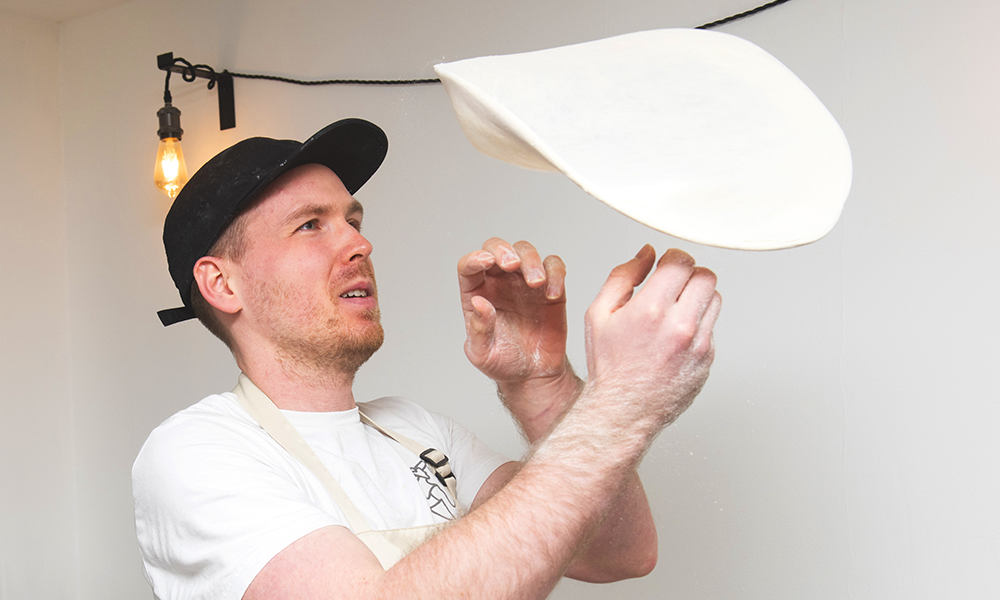 what inspired you?
We are both from the south of Italy. I was born and raised in Salerno and Dario in Sicily, so having the need to make great pizza is in our veins. We both grew up eating it and we wanted to recreate the flavours of our childhood in our own way.
what were the challenges?
There were certainly enough difficulties to carry out this project, starting with finding the right place and making everything functional. However, everything was possible thanks to the support and commitment of Dario who immediately believed in the potential of my idea.
why open in Wapping?
For me it is the most beautiful neighbourhood in London. It's an island of quiet in the middle of the largest city in the country. I loved it from the first moment I walked its streets back in 2016, when I first moved to London. 
I would come here often to take long walks and relax, away from the chaos of the city and I finally moved here in 2020.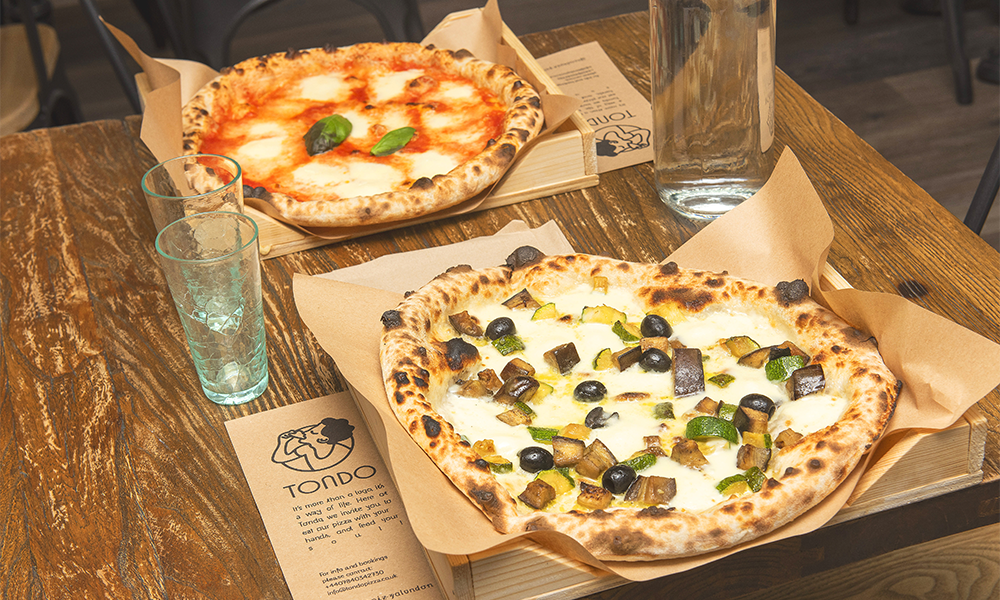 what do you love about it?
I love the architecture of its buildings and that it is a place rich in history.
what was your childhood like?
I was born in Salerno, and my childhood was carefree, my family is the typical family of southern Italy with its rules and traditions to respect. I am the youngest of three children and, perhaps for this reason, I have always been the most pampered.
your first memories of pizza?
My first memory is surely the one related to the pizza from the Aquila Nera restaurant, where I had thousands during my childhood. It was my daily appointment – almost a ritual – with my friends.
who taught you to make it?
My first teacher was definitely my mother, I will always be grateful to her for having transmitted to me the value of the Italian culinary tradition. 
Then I was able to refine my knowledge thanks to the help of colleagues over the years.
what's a Tondo pizza?
Tondo follows the tradition of Neapolitan pizza – using Italian raw materials that are always fresh and working everything slowly. Our dough rests from 48 to 72 hours to allow it to be light and delicious.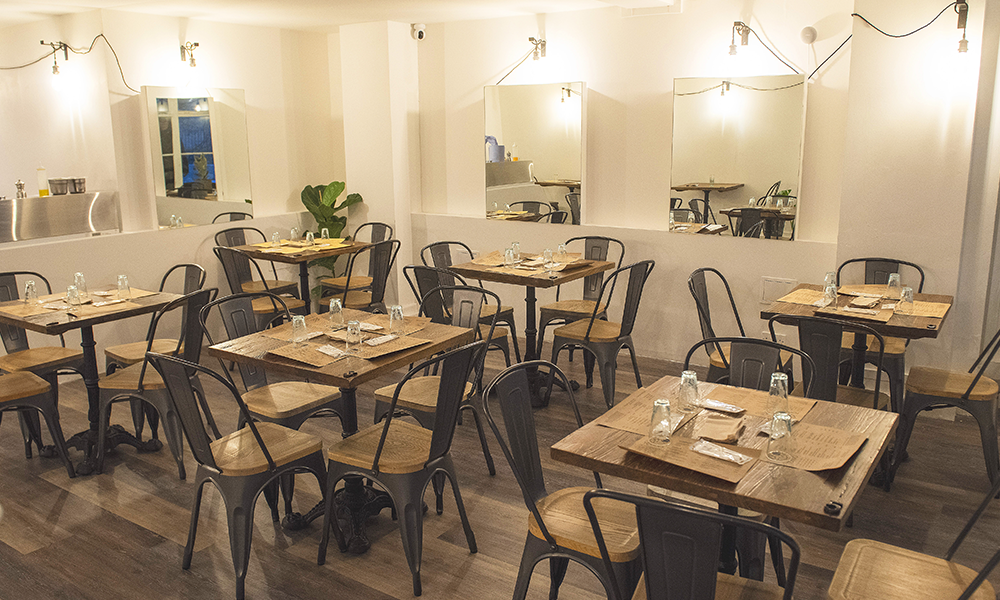 what kind of oven do you use?
A new generation electric oven that allows us to have a perfect temperature for cooking pizza and does not emit odours or smoke, respecting nature. 
We serve the pizzas using wooden trays with sheets of recycled paper, which gives us a water-saving of 90% and we recycle all our waste personally. 
where do you get ingredients?
All the ingredients are Italian Protected Designation of Origin (DOP) products, from flour to tomato, mozzarella and all the toppings. We are proud that all our ingredients arrive from the producer to our restaurant in less than a day.
what's on the menu?
Delicious starters such as meat platters or burrata and our pizzas range from the well known Margherita to our bestsellers Diavola, Panciona and many others.
We offer vegan and gluten-free options as well. There are also desserts such as Italian pistachio, chocolate and vanilla gelato and then the Neapolitan baba with lemon cream from the Amalfi coast or dark chocolate cream – absolutely worth trying.
why is your pizza special?
Tondo's pizza fully represents the taste of Italian tradition. Although we started this adventure just over two months ago, our customers have already rewarded us with enthusiastic reviews.
how does it fit with the day job?
Luckily I can manage the two activities quite well – by day as a photographer and by night as a restaurateur – like Bruce Wayne and Batman. 
Photography is a passion before a job, in fact, I tend to do only personal projects because only that can make you achieve great results.
what kind of photos do you take?
I do only nude art. I have been pursuing this career for nine years and it is always a great satisfaction to have the honour of photographing strong and independent women. 
They fight every day for their rights, putting themselves on the line, with a type of photography that is sometimes looked at from the wrong point of view by society.
which is tougher?
Without a doubt, pizza. Photography can be learned with courses and practice. Pizza must be in your soul.
Read more: Skyports set to bring electric aviation to the Isle Of Dogs
Read e-editions of Wharf Life's print edition here
Subscribe to Wharf Life's weekly newsletter here