Canary Wharf Group and The Felix Project launch long-term partnership to get food to those in need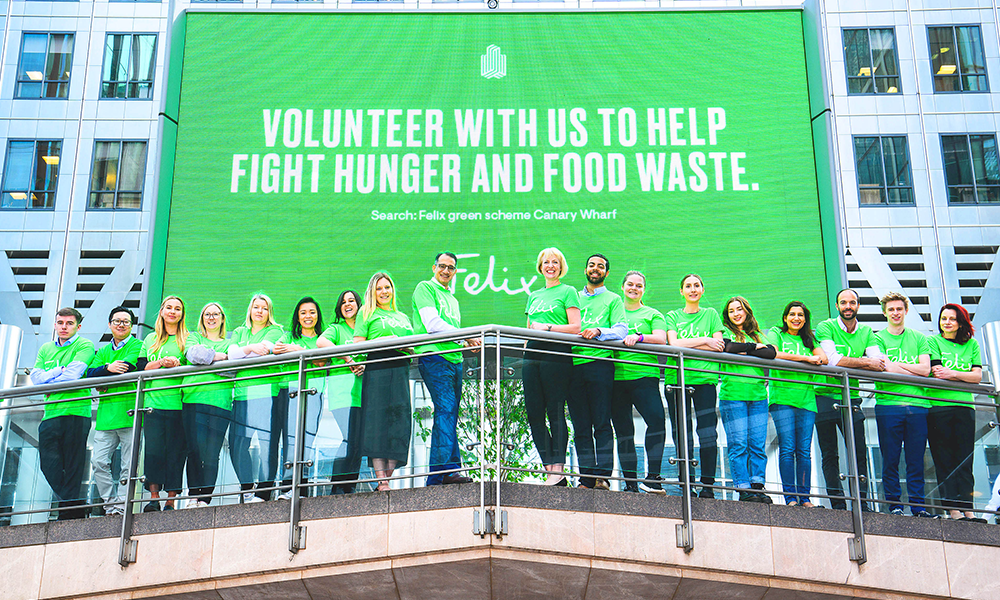 Subscribe to our Wharf Whispers newsletter here
Volunteers needed…
That's the simple message from Canary Wharf Group (CWG) as it officially launches a long-term partnership with The Felix Project – a charity that rescues surplus food and distributes it to vulnerable people through front line organisations, schools and community initiatives.
Together they have unveiled the Green Scheme – an ambitious project to provide more than 1,000 meals a week through around 10 local organisations, saving some 500kg of food that would otherwise have gone to waste.
To achieve that, they are looking to recruit as many as 1,500 people to ensure food is collected from retailers, restaurants and office kitchens on the Canary Wharf estate before transporting it to where it needs to go.
"What CWG is looking to achieve is really more than just having a positive impact in the buildings on the estate," said Jane Hollinshead, managing director of people, culture and customer service at Canary Wharf Group.
"It's about how we fit into the wider ecosystem in terms of being a responsible business.
"We'd had some conversations with The Felix Project about just doing some simple volunteering – that was really a corporate social responsibility thing.
"But this was at the time when the cost of living was really beginning to spiral out of control and there were huge issues around food waste, so I went over to see their warehouse in Poplar and it struck me what a natural partner Felix would be for all of the things that we. as an organisation. value.
Flash Back: How The Felix Project arrived in Poplar
"I thought that if we were to create something more strategic with them, then the reach we would get through their operations would be exponentially greater than if we were doing things on our own.
"From their side, our position as a landlord opens up opportunities for Felix because they are able to meet our customers, many of whom have surplus food at the end of the day – whether they are retailers or restaurants in offices.
"It's a really symbiotic partnership – we both bring things to further each other's purposes."
While CWG and Felix are still exploring the full extent of what may be possible through their collaboration, the Green Scheme is the immediate priority.
Retailers including M&S, Joe Blake's and Waitrose have already signed up, with support also coming from the likes of Morgan Stanley and Barclays.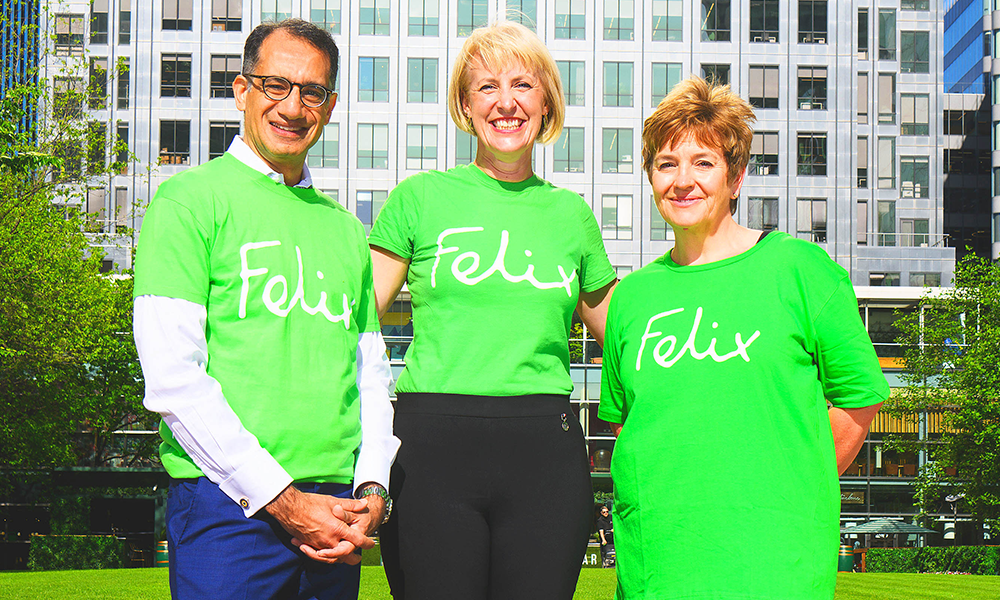 >> "Our purpose is to bring people together to enhance lives now and in the future," said Canary Wharf Group CEO, Shobi Khan. "Through partnerships like this, we aim to ensure Canary Wharf is more than just a place to live or work, but a place where you can be connected to the local community and can have a positive social impact.


"The business community at Canary Wharf has a big part to play in making The Felix Project a success and indeed some of our local companies are already on board, including Morgan Stanley and Barclays. 

"With such a concentration of retail and office businesses on the estate, a key part of our role as partner will be to introduce the charity to our wider community and bring the scale that's needed to have a real, lasting effect on local people's lives. 

"We have so many people who can play their part, whether they work, live or regularly visit here – I urge anyone willing to spare a couple of hours to sign up to volunteer and help us get surplus food to those who need it most."
The partners are now keen to attract more businesses and, crucially, volunteers to drive the project forward.
"For the Green Scheme, we will act as the hub," said Jane.
"That makes sense because we can keep the food fresh on the estate and then get it out faster than if it were sent to a warehouse first.
"It's also about bringing the individual volunteers out to the organisations that we and Felix are supporting.
"What happens is that the food is collected from the retailer or office restaurant by the volunteer who then delivers it.
"We wanted that to be done in a sustainable way so it will be either on foot, by bike or via a dedicated electric van that we'll charge up in our car parks.
"We are looking for anyone at all to volunteer for the Green Scheme – you might work or live in or near the Canary Wharf estate, or be a visitor.
"There are no boundaries when it comes to this kind of activity and we see it as a really good way to build relationships with the local community.
"We want as many people to help as possible – all volunteers have to do is to pass a health and safety induction and be able to carry a takeaway delivery service-style rucksack."
CWG is clear. This latest initiative is very much looking beyond the borders of the estate in a bid to get as much of the community involved as possible.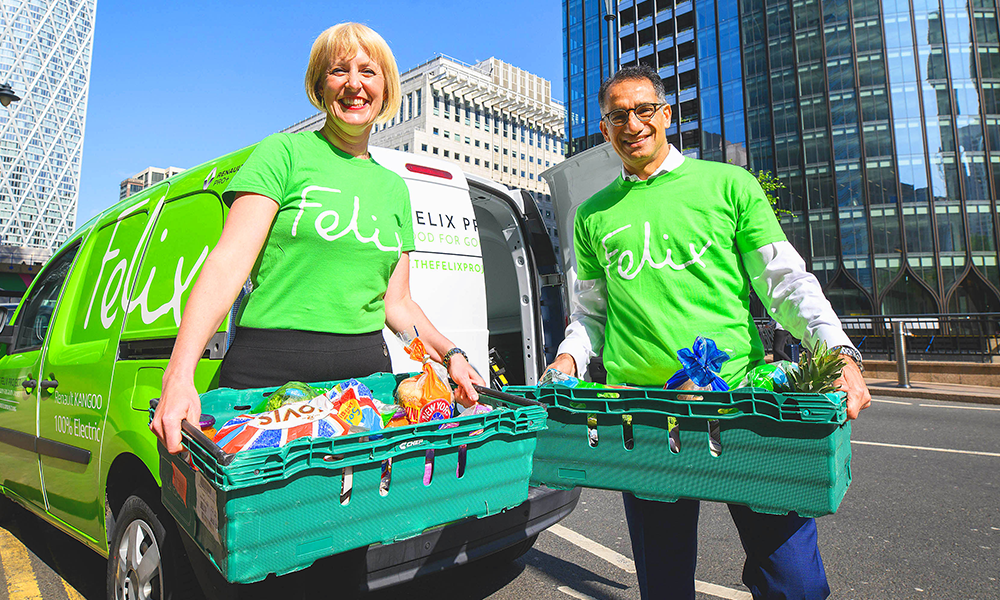 >> "In the UK, 4.7million people are struggling with the cost of food," said Charlotte Hill, CEO of The Felix Project. "This is an issue we cannot afford to ignore and the situation is critical as the cost-of-living crisis intensifies. Many Londoners are trying to feed themselves on less than £3 a day.



"We're thrilled to partner with Canary Wharf Group as they're in the unique position to be able to convene the hundreds of businesses, retailers, employees and residents on the Estate to tackle this issue together, meaning we'll have a much greater social impact than we would otherwise. 

"They have the access and logistics that we need to make the scheme a success at a time when the need is so high, and are committed to the same long-lasting, sustainable and meaningful change that we built our charity for."  
"I think the benefit from the volunteers' perspective is that they will be achieving something that's meaningful," said Jane.
"That comes back to what I increasingly see from our own employees and customers.
"When people come to their workplace, they want to feel they are doing something that really has value.
"When you have this huge cost of living crisis and you have in-work poverty – people who are relying on food banks even though they have jobs – then a partnership like this fulfils a purpose that is twofold.
"Firstly, it's reducing food waste, because there is so much that would otherwise be thrown away.
"Secondly, because of the significant challenges the UK has faced over the last few years, food poverty is also coming through as an immediate crisis.
"The next generation particularly want to feel that they work for organisations that share their values. Part of that is having an impact in the community and a strategy for that.
"Here we are delivering something that works for our people and has benefits for CWG and our customers but also for the Felix Project and all the people and organisations it helps."
While the Green Scheme itself is an ambitious project, Jane said it only represented the start of the collaboration between Felix and CWG – something that would grow in the months and years to come.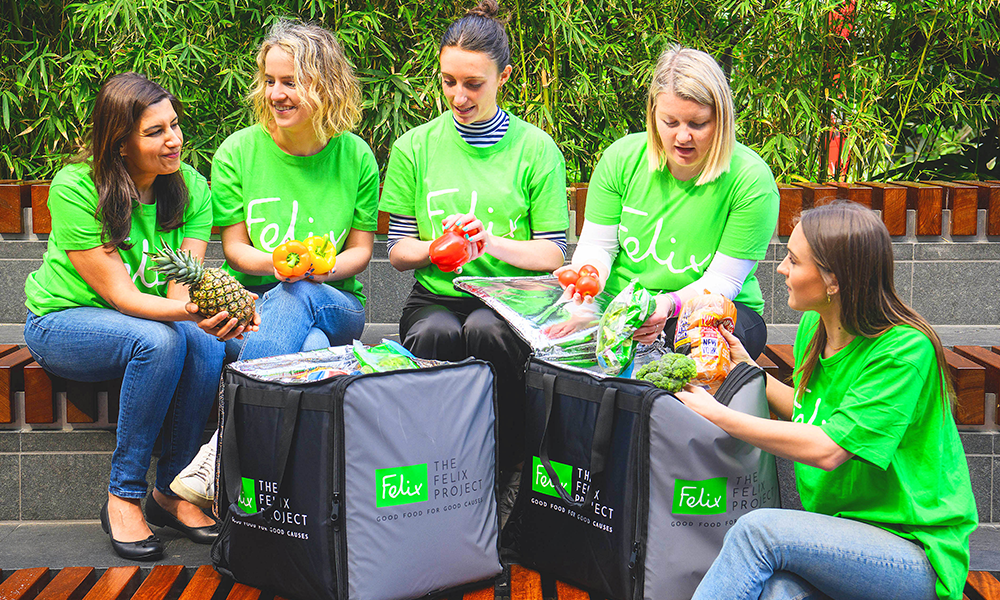 "We want to see how we can use the assets that we have as an organisation and explore how else we can help the charity," she said.
"We're looking at working with our office clients to see whether we can help them create a more diverse group of volunteers down at the Poplar depot.
"We're talking to Morgan Stanley – which has a very effective volunteering strategy – about how that best practice can be shared.
"We're also investigating how we can encourage people who are experts in their particular sector such as sustainability or professional services to volunteer their time to help the organisation.
"There's a contribution of expertise, so it's not just about the Green Scheme. It's really about sharing knowledge and asking how we can involve our supply chain.
"Can we make use of small businesses locally to help them deliver what they are doing, for example?
"The partnership is very much about setting out our stall to the outside world as an organisation – what our values are and what we stand for."
Those interested in volunteering with the Green Scheme should sign up online to find out full details of the project.
Read more: How Padium is set to bring padel tennis to Canary Wharf's Bank Street
Read Wharf Life's e-edition here
Subscribe to our Wharf Whispers newsletter here
- Jon Massey is co-founder and editorial director of Wharf Life and writes about a wide range of subjects in Canary Wharf, Docklands and east London - contact via jon.massey@wharf-life.com