Co-founder Tim Kayode and his team are all set to help clients achieve their movement goals pain-free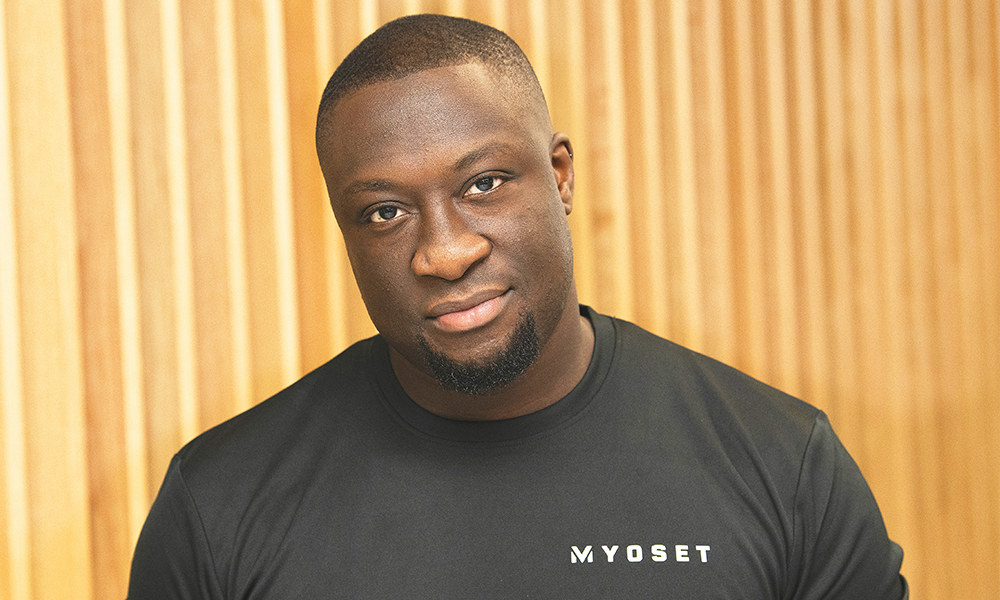 Subscribe to Wharf Life's weekly newsletter here
There's an energy about Tim Kayode, a determination to progress. Perhaps that's not surprising given his background. Born and raised in Hackney, he began playing football as a kid, winning a place at West Ham's Academy.
"I thought that was all I was going to do," he said. "I played professionally, travelled abroad and played in Germany, Japan and Australia."
But at 22, disaster. A dislocated kneecap, two years in rehab and then, a crushing blow.
"The doctor was very honest with me – I was going to struggle to play into my 30s," said Tim. "So, I had to decide – feel sorry for myself, or figure out what I'm passionate about and just do it.
"I had good support around me, a family who encouraged me, including my sister who gave me a good kick up the backside – I was broken, but she asked why if I'd been successful in one field, I couldn't be successful in another?"
While still playing, he began studying sports and performance therapy straight away – a natural move given his extensive experience of professional sport. After qualification he closed the door on football and launched a freelance practice.
"I found myself very fortunate, because I built a big, strong client base in a short period of time," said Tim. "I started working with elite athletes straight away, and my first big client was the WBA super-flyweight boxing champion, Kal Yafai who had also won silver for Great Britain at the 2008 Olympics as a flyweight."
A slew of high profile clients followed, but the need to travel with them, often for months, meant, as a freelancer, Tim was finding it increasingly difficult to find time to treat those left back home.
"My normal clients were getting frustrated with me because they needed to be looked after too," said Tim. "That was when I realised that I needed to expand, find a team of like-minded people I could trust who would work with me.
"The day the first lockdown started, was the start of this process. I had to pursue my goals and dreams. I had to go for it."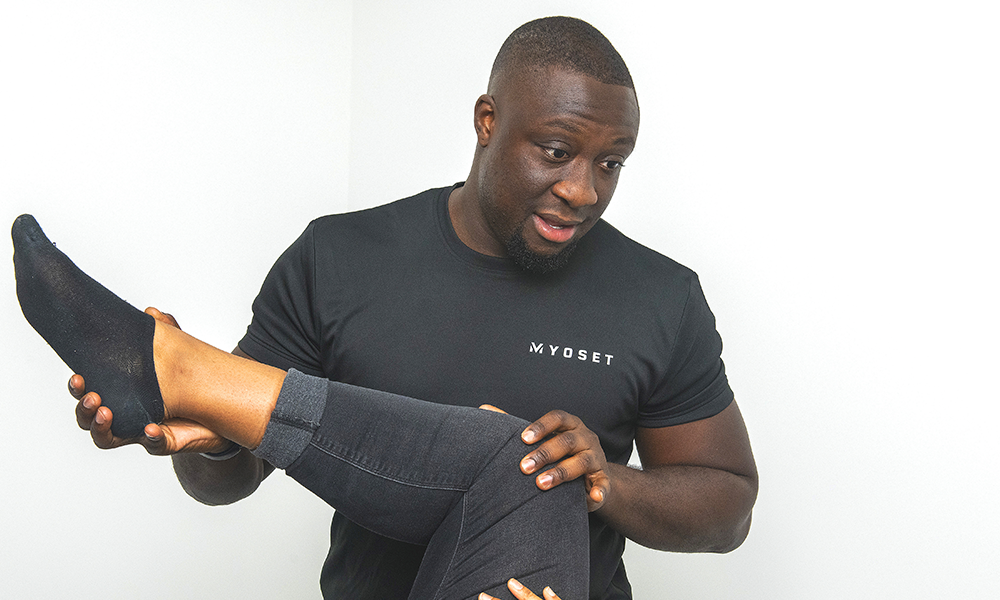 That process has resulted in the creation of Myoset, which opened its doors to paying customers this week at the Republic development in Blackwall.
Tim, along with co-founder Qasim Shah and five other staff members, has created a one-stop-shop dedicated to helping people do the things they want to do, moving without pain or encumbrance.
"The physiotherapy industry is quite outdated in terms of the ethos, the methods and techniques that are used," said Tim. "I feel that, with Myoset, we're going to shake things up, to push the envelope, change things and give it an update.
"Ultimately it's all about making people feel better. That's what we want – people to be healthier, and to do what they like doing pain-free while moving better – that's the aim.
"What we wanted to do was to create a space where people could come in and benefit from an overall wellness service.
"Not only will we be running massage, sports massage, manual therapy, acupuncture and chiropractic services, we will also have a recovery lounge, where we'll be using the latest, cutting edge recovery tools and we'll also have a nurse in, doing IV drips.
"In addition we'll be offering classes and next year we'll have a full body cryotherapy chamber as well.
"It's all in one place and it allows us as practitioners to put our clients in the best possible position to succeed."
Those are telling words, as Myoset's ethos is very much geared towards ensuring individuals are approaching their lives and exercises in a healthy manner.
"There is never a wrong time to see a sports and performance therapist," said Tim.
"The biggest problem that I have as a practitioner is that somebody will come to me when they're six months into the injury.
"My question is, why do we wait until we are hurt before we decide to look after our bodies?
"This is something that we should be doing anyway – you take your car for an MOT and a service, even if it's not damaged – we should be looking after our bodies at regular intervals in the same way so we can fine tune and future proof ourselves against getting injured. That's what we're trying to do here.
"Myo means muscle and that's what we're doing, setting and re-setting your muscles, your body, your alignment and, as a result, the way you feel.
"Everything we do is for that purpose. For example we'll be offering Pilates because I can get you out of pain as a sports and performance therapist, but the reason you're coming in the first place may be down to a lack of strength or that your posture needs correcting. 
"The way to do that is through Pilates, which we consider to be movement therapy. We want to educate as well, and empower our clients so they feel confident enough to do stuff in their own time when they're at home – that's how they will sustain and maintain their bodies."
Tim said he fell in love with Republic after one of his clients in Canary Wharf suggested he take a look at the area.
"The key thing for me over here is the community, and that's what we're keen on," he said.
"I don't want people to feel like they're going to the dentist when they come to Myoset for treatment.
"This is somewhere clients can come in, train, get treatment, do a class, get an IV drip and recover, all in one place
"In a few years time I would like this to be the go-to practice in the country, and I would like our ethos and methods to change the industry, particularly in the UK.
"I plan to open at least two more practices around London. We have a great team here and I feel we can achieve what we want."
First appointments start at £95 for an hour long assessment with follow-ups at £75 and £50 for an hour or half-hour respectively. Membership options covering a range of services are also available.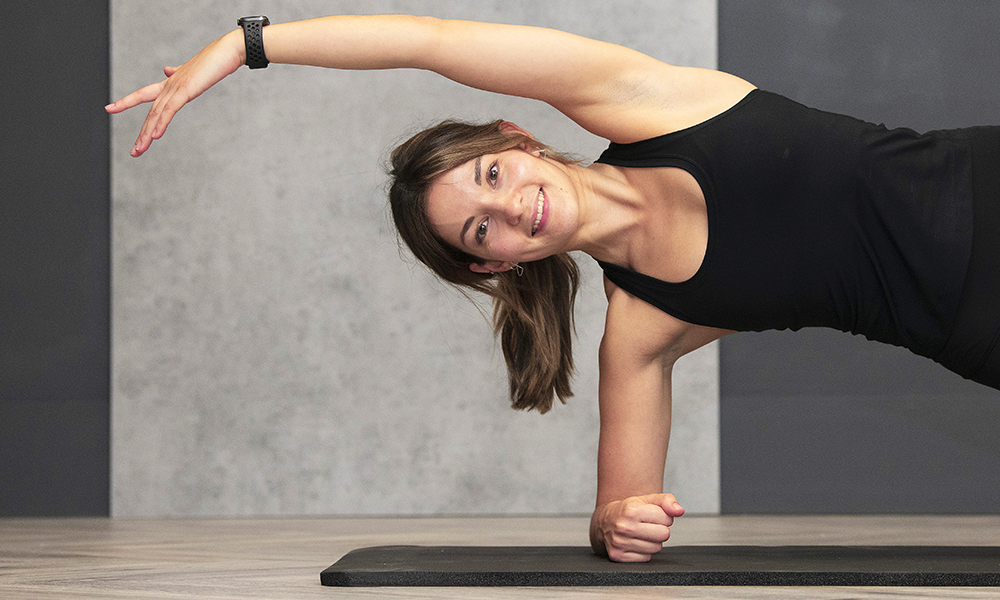 TRAINER PROFILE
Rhiannon Williams
Pilates Instructor
Myoset

Rhiannon Williams is well used to the principle of using exercise to help deal with pain. Having moved from North Yorkshire to London to train as a dancer, she discovered Pilates from the professional ballerinas training her.

"I actually had a lower back issue, which is how I got into Pilates myself," she said. "I was in a lot of pain and when I was breathing, I could feel pain in my lower back. Pilates is the only thing I've done since then which has nullified it, so I don't have any issues any more.
"That's why I had it in my head that I wanted to make Pilates my speciality.
"I qualified first as a personal trainer about four years ago, but I never found my niche. Now I live and breathe Pilates."

Rhiannon's role at Myoset is Pilates instructor and, alongside other duties, will take charge of the group classes at the venue.

She said: "Clients can expect to come into a comfortable environment and learn why their body is doing what it's doing.
"I think that what is key is that everybody's body is different. Yes, you may have a similar posture, but even if you had the same posture as the person next to you, there's something different.
"What people will learn here, for example, is why they feel tightness in their right shoulder rather than their left and what they can do when they're not in the clinic to address it.
"I have a very analytical eye, and I analyse people from the minute they walk in, finding those little things and homing in on them.

"It's a studio space here, with between six and eight in a class so people can get that one-to-one feeling.
"I love that because you can get up close and personal – you can really get into the nitty-gritty of what people are doing.
"I think for me, once I've gone through a Pilates session with someone, they'll come out and say: 'How I feel now compared with how I started is great'.
"No-one ever says that they feel worse – they always feel better.
"I know that it's something that has worked for me, so I know it will work for other people too and I really think it's something everyone should try.
"A lot of people ask me: 'Is it like Yoga?'. I feel it's an exercise method that's not known about as much as it should be – what you get from it and where it came from is fascinating.
"It's a full body workout, where you are lengthening the muscles, strengthening them and solidifying the foundations of your body.
"People can leave knowing that they've learnt something about themselves as well."

Follow @rhialign on Insta for more
Read e-editions of Wharf Life's print edition here
Subscribe to Wharf Life's weekly newsletter here