Berlin-born fast food brand unveils its 71st branch as it promises products made with lean meats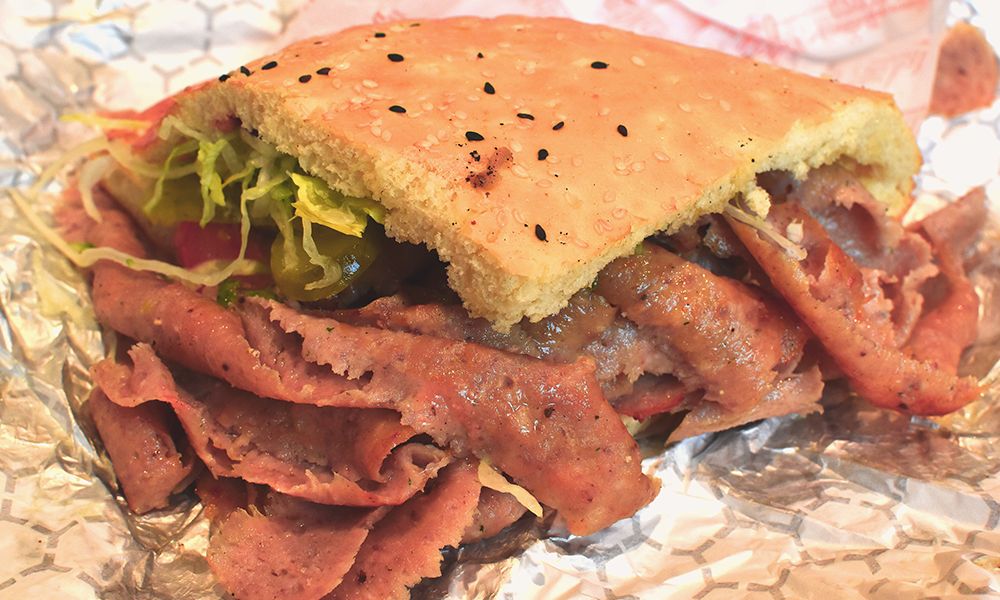 Subscribe to Wharf Life's weekly newsletter here
Much change is afoot at the top of Cabot Place's mighty cylinder of escalators. Ride to the top and you'll find hoardings abound as a fresh crop of restaurants moves in to Canary Wharf.
Lewis Hamilton's plant-based Neat Burger is soon to arrive as is Marugame Udon, which promises to supply oodles of noodles.
Already open though is German Doner Kebab as the chain continues its roll-out across the UK. Canary Wharf is its 71st branch in this country with a further 26 in the pipeline worldwide this year.
We called up the chain's managing director for UK and Europe, Daniel Bunce, to find out what Wharfers can expect from this emerging powerhouse of fast food.
what is GDK?
Our brand was born in Berlin in 1989 and expanded at the end of the century into the Middle East to Dubai. Then we came to the UK in 2015. We had six restaurants here at the end of 2017 and Canary Wharf is our 71st opening.
There is a fight about whether Germany or Turkey invented this kebab concept. Germany laid claim to it in 1971. What we offer is different from a  Turkish kebab.
We serve beef and chicken – you'll notice I didn't mention lamb. That's where we differ. Both our beef and chicken skewers contain 93% pure lean meat with the rest seasoning and binding – that's probably double the meat content you'd find in a standard kebab.
what should people try?
We'd always recommend you start with our Original German Doner Kebab with either meat or a mixture.
It's such a great product – that combination of the bread, the sauces, the salad and the meat. It's the right one to go to.
what other options are there?
We have an option called the Doner Box, which contains all the ingredients in a kebab and fries but allows you to avoid the bread – that's great as a lunchtime snack.
We're famous for a product we call the Boss Box, which has a rather large and grand feel. It was conceived during lockdown, originally for click and collect but it's proven to be a huge hit with customers.
You get a choice of kebab, sauces and a choice of fries – we do different kinds such as spicy flaming fries, cheesy fries and curry fries.
We also have a home-grown product, which we invented called the Doner Spring Roll. We take our meats, add some jalapenos and a spring roll pastry, so you get a full meal in a box, with a drink, which you could eat outside, if the sun is shining, or it's very handy to take back to your office and it's not going to create a mess. It's proving very popular.
MORE FOOD IN CANARY WHARF
Kaleido offers salads in rice paper roles
Yole sells sugar-free ice cream and frozen yoghurt
Urban Greens offers punchy salad bowls
what else are people ordering?
We do a selection of burgers with kebab meat in a brioche bun. We launched the Doritos Crunch Burger as a limited offer but it's proved so popular it's become a staple part of the menu.
Basically it's our standard burger jazzed up using Doritos crisps and some melted cheese, which gives us another flavour.
We also have healthier options like the gym box which has up to 44g of protein and no carbs.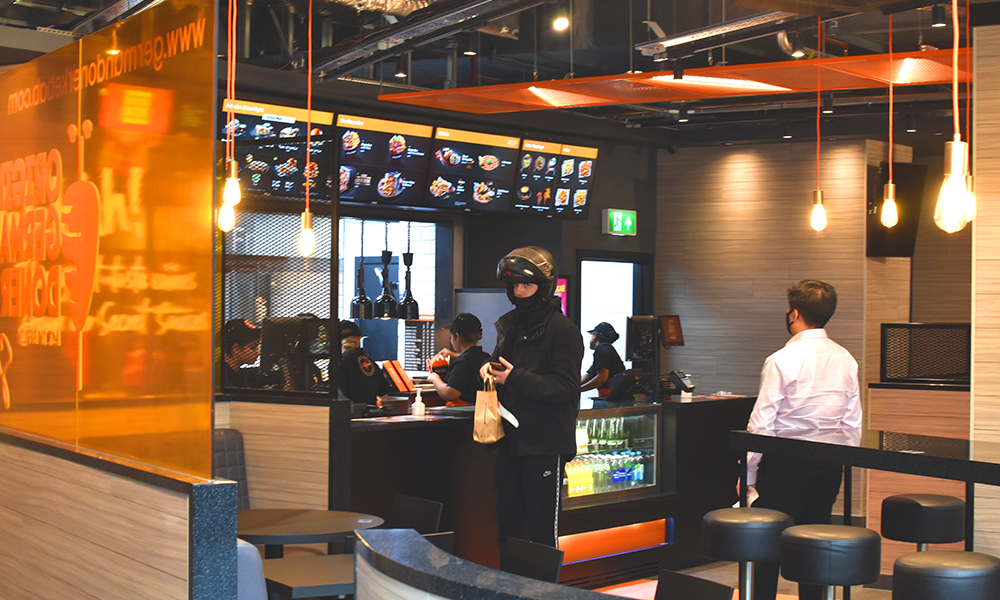 why Canary Wharf?
It's a prime real estate – a really prestigious venue and the consumer here is very much our target demographic.
We've opened up in very nearly every major city in the UK and we know that our customers are young professionals, although our products are also eaten by families at the weekend.
what's the restaurant like?
We don't look like a kebab shop – we're very bright with lots of colours and our kitchens are all behind glass.
We don't hide anything from our guests. All the veg that we use is prepared in the morning, or during the day, depending on the levels of business.
We don't carry any skewers of meat or any of our salad into the next day. So if you look into our kitchens last thing at night or first thing in the morning, there's no leftover food – everything's fresh and every single order is prepared in front of the customer. We're very proud of that. We like to say that we serve quality food done fast.
what about sustainability?
We operate with very little waste – we use the meat from our kebabs in your spring rolls and our vegetables are prepared on a day-to-day basis and we top up later in shift if we need to.
We shave our meat very thinly so our products need to be wrapped up well to ensure everything is kept in the best possible condition, but we've made a conscious effort in the last couple of years to reduce the amount of plastic we use.
We want to do more and it's definitely something we're working on as well as with our suppliers to overcome the challenges that are presented by a business of our scale.
Read e-editions of Wharf Life's print edition here
Subscribe to Wharf Life's weekly newsletter here