Crossrail Place fitness studio's Wharf Wellness session is booked up, but there's another way…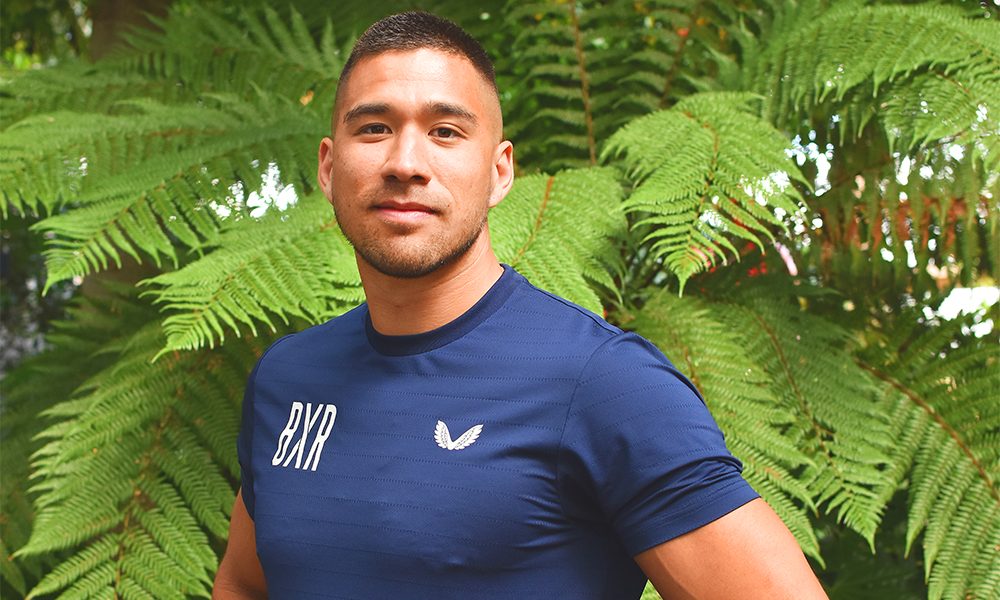 Subscribe to our free Wharf Whispers newsletter here
The free Sweat By BXR session – set to take place at Crossrail Place Roof Garden as part of Wharf Wellness – is now full.
But don't let that put you off investigating what the brand has to offer.
The pay-as-you-train studio, located in Crossrail Place itself, is currently offering free sessions to those new to its offering – so anyone who wants to can try one out.
Sweat is a sister business to BXR – a boxing focused gym that takes fighter training as its jumping off point for fitness.
The Canary Wharf facility offers cardio workouts in its VersaClimber studio, strength and conditioning sessions and boxing-inspired exercise as well as Pilates-based classes.
"It's one of the world's first elite boxing concept gyms," said Gareth Thoo, a trainer at both BXR and Sweat By BXR, who regularly runs sessions at the Canary Wharf facility and is set to take charge of the Wharf Wellness workout.
"The great thing about Sweat By BXR is you have three things to really focus on – cardiovascular exercise, skills-based boxing training and strength and conditioning.
"While most of our clients are not looking to become professional fighters, they are being coached by people who have fought in the ring and know what it takes to get there.
"The training techniques are very practical but they're also accessible to everyone.
"The classes are open to all levels and people with lots of experience, or none, will get something from them."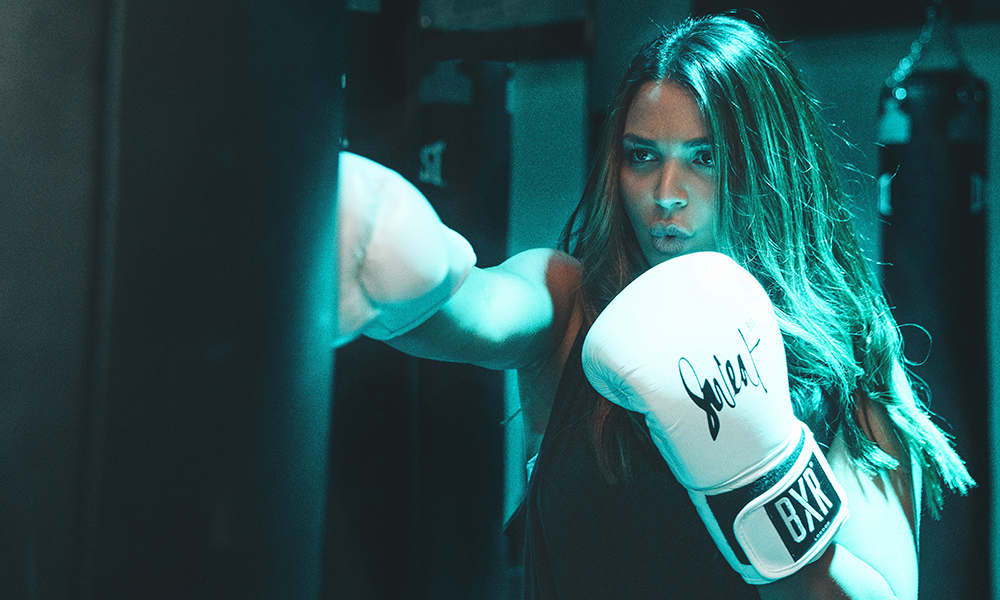 Originally from Australia, Gareth knows his stuff.
Having trained in mixed martial arts as a youngster, a passion for boxing saw him compete as an amateur and a pro for six years.
But, following a number of injuries, he decided to use the knowledge he'd already gained to become a personal trainer and combines that with working for BXR and Sweat.
After four years working in the fitness industry in Manchester, he's now brought his skills and expertise to London.
"There are many benefits to the training on offer here – building strength and making changes to your body composition, for example.
"Then there's cardiovascular and the boost to your mental health too.
"For people who have desk jobs and spend a lot of time sitting down, the workouts can help counteract the effects of a long day in the office.
"Then with the skills sessions, it's also nice to be learning something while you're training.
"These will always start with basic footwork – how to stand and how to move around, which are such important parts of boxing.
"Then they cover techniques like basic punches – straight punches, hooks and how to implement those in combinations, while working the bag effectively, as a boxer would strike it, hard, fast and very precise.
"People might feel, especially if it's their first time boxing, that a boxing gym could be an intimidating environment.
"But it's our job as coaches to make sure everyone feels really welcome.
"Clients might not know initially what their goals are so we structure the classes in a way where we teach the basics very often as everyone needs to know them.
"Whether you've been coming for two months or two years, we'll be drilling those in, but there will also always be new things to learn."
In addition to boxing skills, Sweat is known for its VersaClimber sessions – a machine that mimics the motion of rock climbing and can be used in time to music.
"Those are tough classes," said Gareth.
"Two minutes into my first one and my legs were burning, but it's a really great session, a trademark. Climb To The Beat is fantastic."
Music is something Gareth also relishes bringing into his sessions, putting together bespoke playlists for his workouts.
"It's about creating a high-energy vibe when I'm picking the tracks," he said.
"Music is such a massive part of my classes.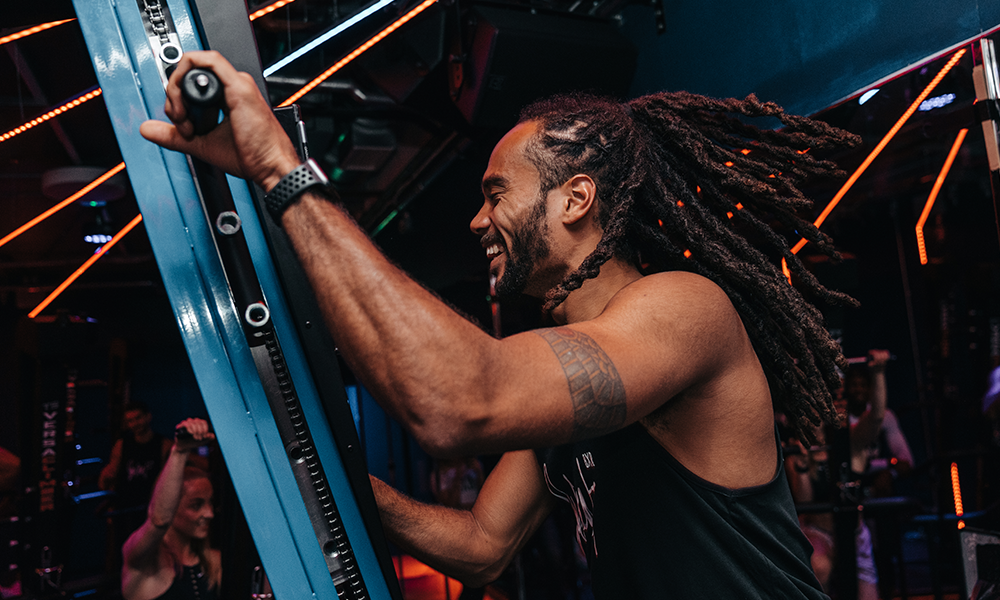 "For me there will always be a bit of hip-hop and some bassy house. In any of my classes, you can pretty much guarantee there will be something from the Notorious BIG and Kendrick Lamar.
"Another favourite is an Australian DJ and music producer called Fisher, who people may have heard of."
In addition to the obvious attraction of the soundtrack, Gareth said the key reason to train at Sweat was the breadth of the offering.
"This isn't just running on a treadmill and punching a bag – there are so many class concepts and you can do something different every day of the week," he said.
"There's a real option to mix it up, with a cardiovascular workout one day, a boxing session the next and then maybe a strength class.
"Then, on top of that, you can incorporate sessions where you learn some serious skills and that's really what makes it a great place to train."
Wharfers interested in having a go can download the BXR app and book a free class using the discount code CLASSONUS – terms and conditions apply.
Introductory VersaClimber classes and SweatBox sessions cost £30 for three and £40 for four respectively.
Sweat is located on Level -2 at Crossrail Place in Canary Wharf.
Find out more about Sweat By BXR here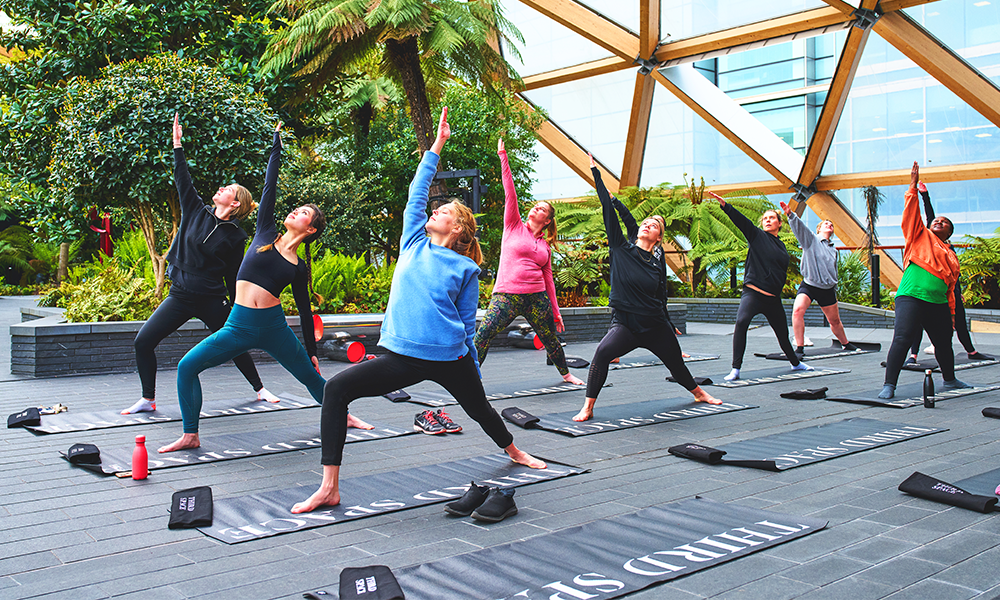 FIND AN OFFER
While many classes for Wharf Wellness are now booked up, the festival is also a celebration of stores and retailers on the Canary Wharf estate with the a number of businesses running offers across the four-day event from Sept 27-30, 2023. Here's our pick…
>>Randox Health
Get 15% off all health checks at the Cabot Place clinic booked during the duration of the festival with code WHARFWELLNESS.
>> Stretch Inc
Enjoy 20% off any assisted stretch at the Canada Place facility over the four days. Just mention WHARFWELLNESS when making an appointment.
>> Pure
Recently reopened at Cabot Place, the restaurant will be offering 50% off its new Nourish Bowl range. Those with a reusable cup can also get £1 off barista-made drinks.
>> Kiehl's
The Jubilee Place store will be offering 20% off all products as well as 25% off a £100+ spend. Offer runs Sept 22-Oct 1.
>> Farmer J
The lunchtime favourite will be offering 20% off click and collect orders on the Wharf with code FJAUTUMN20.
>> Urban Greens
Have promo code WW20 ready at the till when you visit the Bank Street store and you'll get 20% off salads.
>> Le Chalet Cryo
The Canada Place facility will be offering more than 40% off its Cryo and Hyperbaric Therapy starter packs with code WHARFWELLNESS.
>> Atis
Challenging even the might of Farmer J as the Wharf's most popular lunch, this salad-focused mini-chain is offering a fifth off bowls with code WHARFWELLNESS.
>> Weather And Palette
Head over to the Jubilee Place store for 10% off all skincare products and treatments for the duration of Wharf Wellness.
>> Malmin Dental
The private clinic on South Colonnade will be offering 10% off Invisalign treatments purchased during the festival.
>> Rituals
The Jubilee Place store has 25% off selected products for Wharf Wellness. The offer is valid on a maximum of three items.
>> Get A Drip
Last but not least, the Cabot Place clinic is offering free Vitamin D testing to visitors.
Download the Canary Wharf app for full listings and updates
Read more: Sign up for the Santa Stair Climb at One Canada Square
Read Wharf Life's e-edition here
Subscribe to our free Wharf Whispers newsletter here
- Jon Massey is co-founder and editorial director of Wharf Life and writes about a wide range of subjects in Canary Wharf, Docklands and east London - contact via jon.massey@wharf-life.com