CEO Richard Hilton says the funfair-themed venue will feature games, street food and cocktails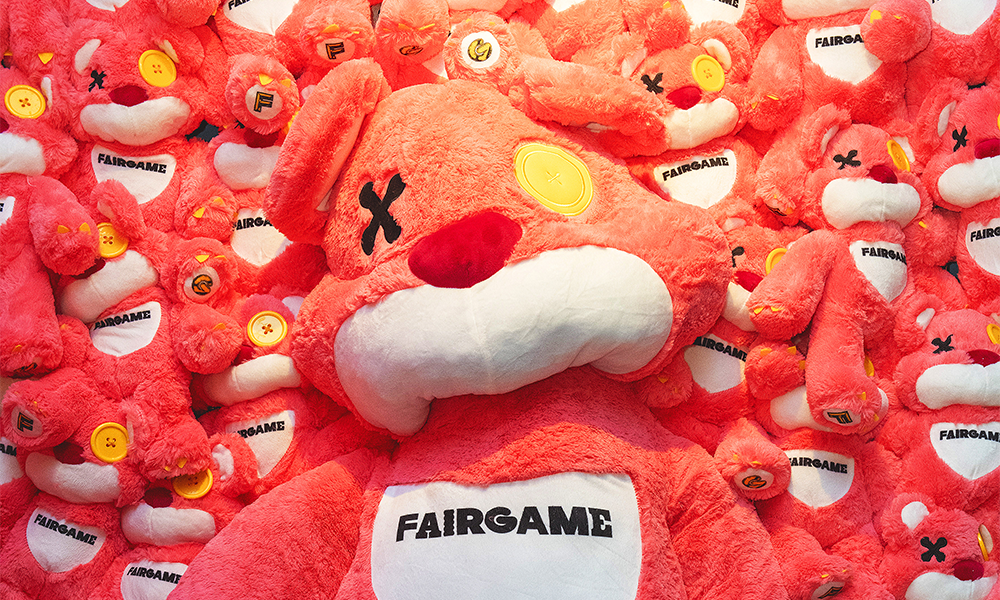 Subscribe to Wharf Life's weekly newsletter here
Fairgame is something fresh.
While competitive socialising has been around for a while in Canary Wharf, it's almost as though Electric Shuffle and the brightly coloured minigolf by Craig And Karl, were gateway drugs.
This new venue, set to officially open on October 4, 2022, is a pure sugar rush of grown-up silliness.
Overseen by a cheerful, furry pink bear, who may have been to a few too many illegal raves in the 1990s, Fairgame is a vast, 20,000sq ft funfair-themed bar, playground and street-food hangout.
There are cocktails, pizza, nine games to try and Prosecco-infused candy floss.
The venue's owners have taken spaces once occupied by Davy's, The Limehouse and The Merchant and knocked through to make a massive space with a terrace stretching down Fishermans Walk.
Don't worry too much about finding it, though. Helpfully there's a five-metre rubber duck sat in the dock right outside.
That, in itself, is a statement both of location for the venue, but also of wider intent for Canary Wharf.
What better way to let London know the direction the estate is headed, than by pointing the way with a giant yellow duck?
Like the dock its aquatic landmark sits in, however, Fairgame is more than just the ersatz glamour of a dodgy funfair.
Behind the fun is a serious operation run by some big names and the activities are scrupulously honest.
Fairgame's co-founders include Paul Campbell of Hill Capital Partners, who sits on the boards of Hawksmoor, The Alchemist and Blacklock, and music industry lawyer Andrew Myers.
But it's Gymbox founder and now CEO of this new venture, Richard Hilton, who takes me on at Gopher Broke, the venue's update of Whac-A-Mole.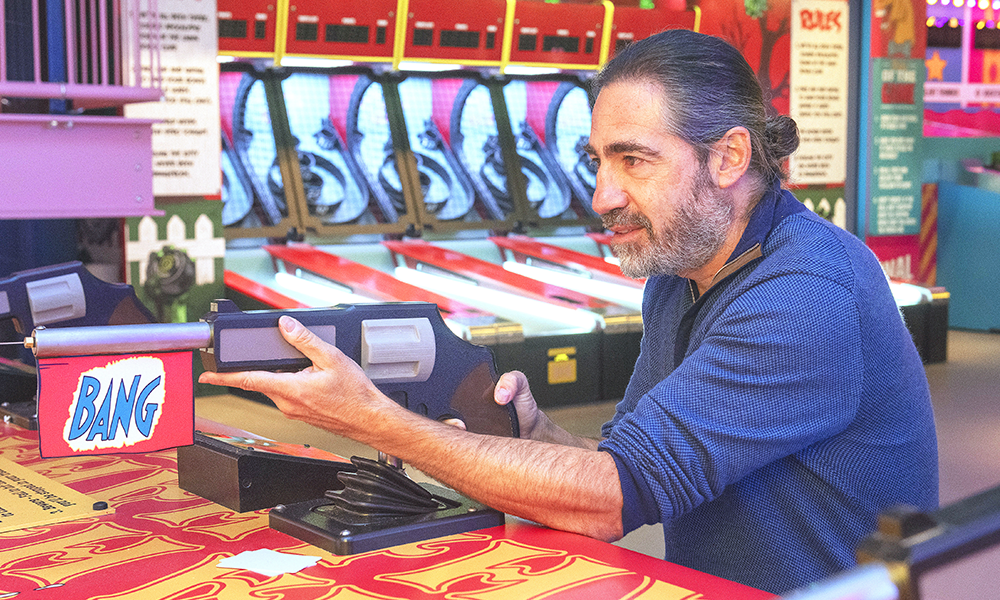 "Fairgame is a revolution," said the Watford-born entrepreneur.
"We want people who come here to feel elated. That goes for our staff too – it's vital they enjoy what they're doing to create that environment.
"When I was a little kid, I used to love going to the funfair.
"It would come round once a year and my parents would take me. The games were magical – the chance to win a prize.
"When you transition to being a parent yourself you realise it's really expensive and the experience is a bit grotty, but there's still something magical about the games – you can't help but love playing them and that's what I want people to feel, here in Canary Wharf."
While there's a whiff of nostalgia about Fairgame – its tagline is that it's the funfair "exactly like you don't remember" – the games aren't fixed or charged individually, they're played purely for the pleasure of competition, although cuddly bears are given as prizes for those who do especially well.
"We've genuinely reinvented them," said Richard.
"Every game has tech in it so people will be playing really slick games and competing.
"You can play in groups of two, five, 10, 15 or even 100 – which is great for a corporate day out – the number is unlimited.
"You'll be able to see how you've done in individual games through our leader boards and overall, once you've played all nine.
"We incentivise people with the bears, but really it's the joy of beating the people you're with that you're playing for."
Players pay £13 per person, which gets then 75 minutes to tackle each of the nine games at the venue, twice.
Packages that include food and drink are also available.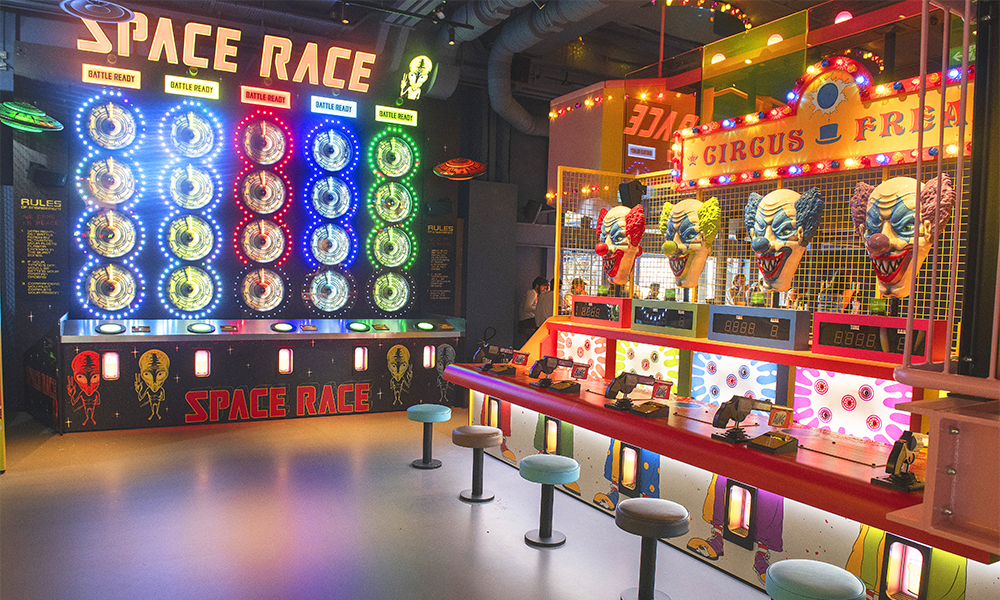 Playing is not mandatory, however, and Wharfers are free simply to visit the venue for cocktails at the Bumper Bar or dishes from on-site vendors Burger And Beyond, Rudy's Pizza Napoletana and Dos Mas Tacos.
Its terrace gets the sun in the evening and Fairgame plans to install covered seating and heaters for comfort.
Inside, visitors will find plenty of flashing lights, two bars, semi-private booths, a private events space, a candy floss and sweets bar and all the pun-tastic games.
Fairgame has reimagined and re-branded a multitude of classics such as Lawn Of The Dead, inspired by crown green bowling, Pantry Pandemonium – a game where missiles are thrown to knock targets off shelves and Circus Freak, where contestants try to accurately aim a water gun to raise a clown's head faster than their opponents.
It's the variety that Richard thinks will be key to the venue's success.
"I don't have a favourite – I love them all," he said. "That was the joy in selecting them – I chose the ones I enjoyed the most and was best at.
"Final Furlong – our roller derby – is great and we also have one called Dunk The Junk, which hasn't been made since the 1970s.
"You have to try and get as many balls as you can into these rubbish bins, but the lids keep opening and closing so you have to time it just right. I love it
"The majority come from the USA, but one – Phoney Island – our version of a duck shoot, comes from Oldham and is made by a guy who just takes joy in creating games.
"They all test different abilities – shooting, throwing, hitting – the idea was to do something more stimulating than having a venue dedicated to one thing.
"The reason funfair games are great is the variety, and nobody else has thought about putting them together like this in a circuit."
Richard himself has history as an entrepreneur.
Having started out in the advertising world, he spotted Crunch while working in New York and created Gymbox in 2001 for the London market.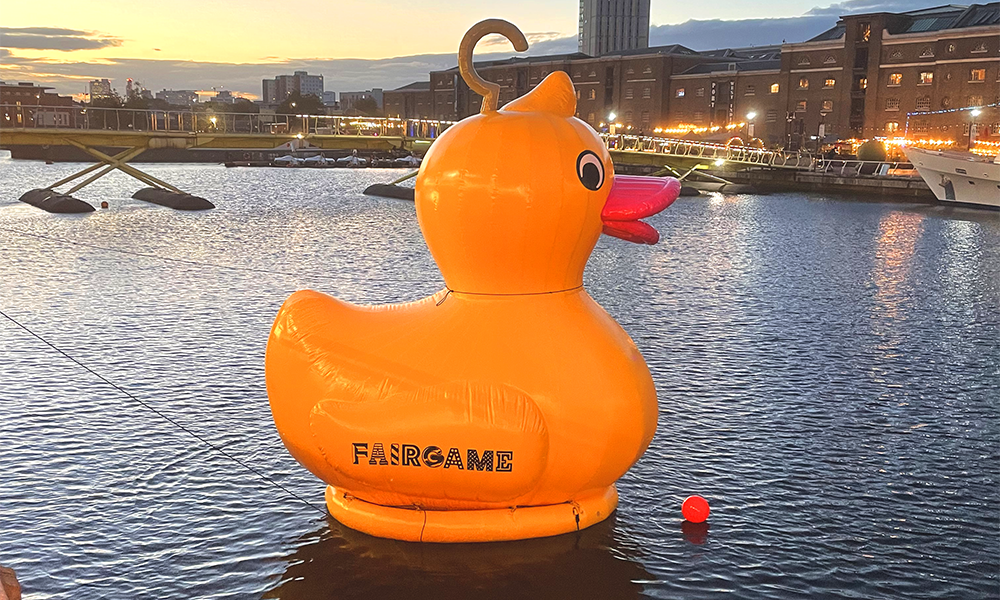 "I saw something in the States and wondered why nobody had done it in Britain," said Richard, who sold most of his shares in 2016, while remaining a director of the company.
"I was going to retire, but realised I was too young.
"My wife definitely wasn't ready for me to give up work, so I began to look into something called competitive socialising.
"If I go out, I'm quite happy sitting in a pub and talking to a friend, but the younger generation want a bit more.
"So I had a go on one of the golf concepts but found it a bit repetitive.
"That's where the idea for Fairgame came from.
"The reason we picked Canary Wharf for the first one is that it's a really interesting area and now that Crossrail is here, it's even more accessible.
"There's the business community but with Wood Wharf and the areas around the estate, there's a large residential population too.
"You're getting brands like Hawksmoor and Patty&Bun that I don't think would have opened a decade ago – it's evolving and changing.
"I live on the other side of London and it's not what I thought it would be.
"That's thanks to Canary Wharf Group – there's a vision for the place and it's going to get even better, especially now its five minutes from Liverpool Street and 13 from Tottenham Court Road.
"It's an exciting journey when you think what it was like even five years ago and it's great to be a part of it."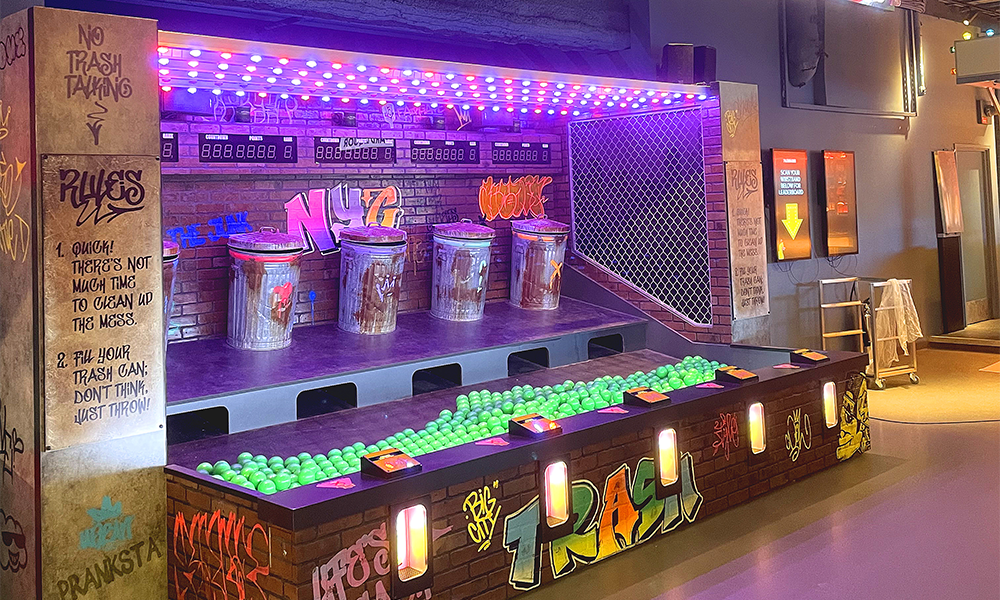 Read more: How The PA Show Canary Wharf is bringing a community together
Read Wharf Life's e-edition here
Subscribe to Wharf Life's weekly newsletter here
- Jon Massey is co-founder and editorial director of Wharf Life and writes about a wide range of subjects in Canary Wharf, Docklands and east London - contact via jon.massey@wharf-life.com