Store in Greenwich Market stocks more than 400 eco-friendly lines with no plastic packaging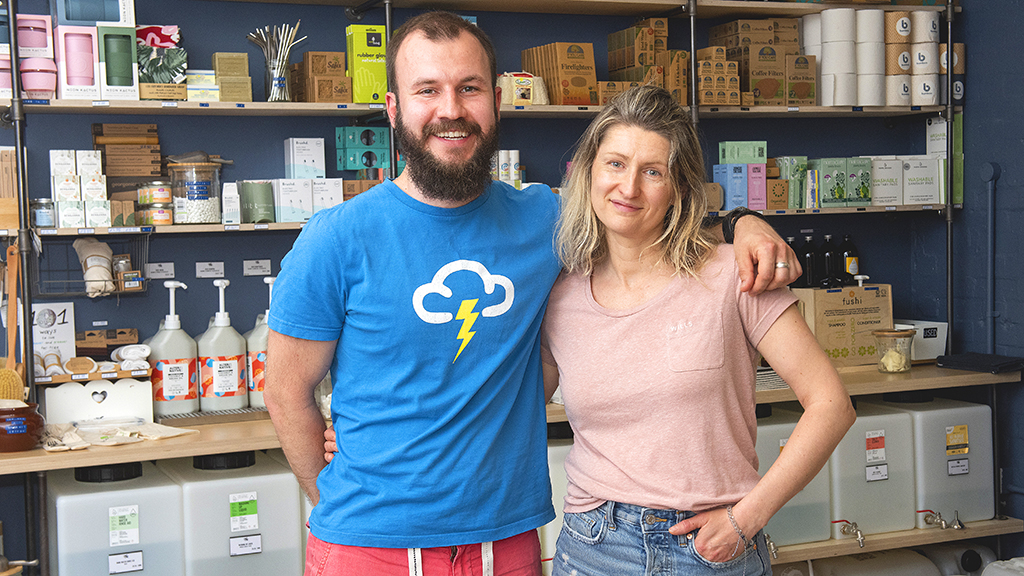 Vita Viskackaite and Justas Kanapeckas would love you to bring your own containers when you visit their shop in Greenwich Market. But if you don't it's no bother. The Art Of Zero Living is as ready to serve curious passers-by just as any convenience store would. But it does it without resorting to single-use plastic.
Opened two months ago, the shop carries more than 400 product lines – all carefully selected by the couple to meet their exacting environmental standards – including 240 kinds of food with 85% certified as organic.
how did you come to start the Art Of Zero Living?
Vita: It was born during the pandemic, when we were at home for eight months doing nothing, and we couldn't shop zero waste, because there was nothing around, so we decided it was the perfect time to start something.
I was working at Itsu in the logistics department as a supply chain coordinator.
Justas: I'd been working in a restaurant as a manager for the last 10 years, so I'm from a retail and hospitality background and Vita knew about supply and logistics, but retail was new for us.
One morning over coffee – we'd already watched a lot of Netflix – and we said, as we were locked at home, we should use the time for something.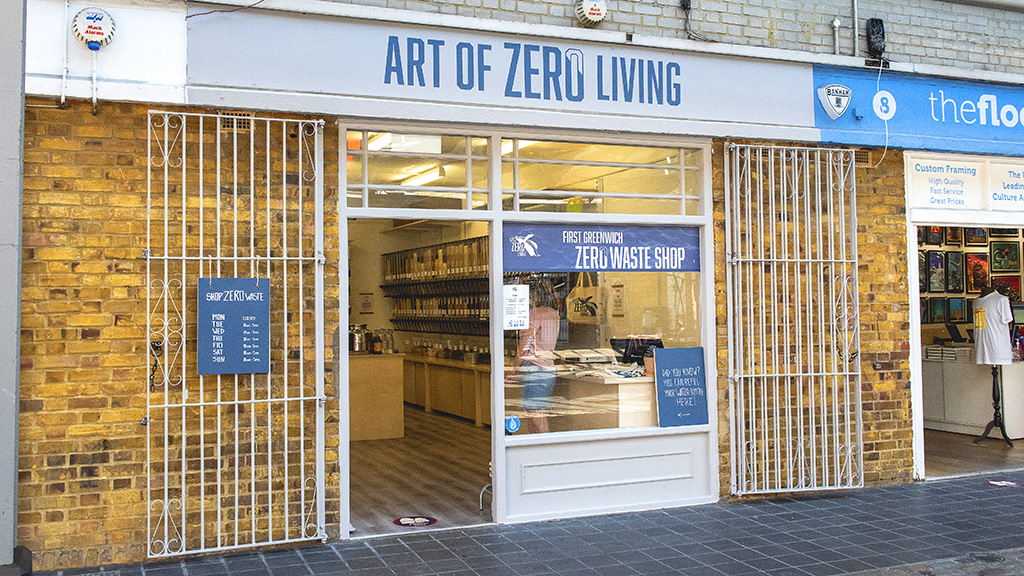 where did you find inspiration?
Justas: We'd read a book by Bea Johnson, who coined the term Zero Waste. We'd always been into nature and, because we have a daughter, we thought it was important to work on that area.
Vita: Bea gave me a kick up the arse. Her ideas had already pushed me to make changes – we refused to buy food in single-use plastic packaging, but during the pandemic we were forced to go back and buy it, because we didn't have anywhere to buy it locally in Greenwich. When you're purchasing this stuff every day, you don't realise – you think it's normal.
But when you start living a different lifestyle and then you have to go back, you realise that it isn't at all.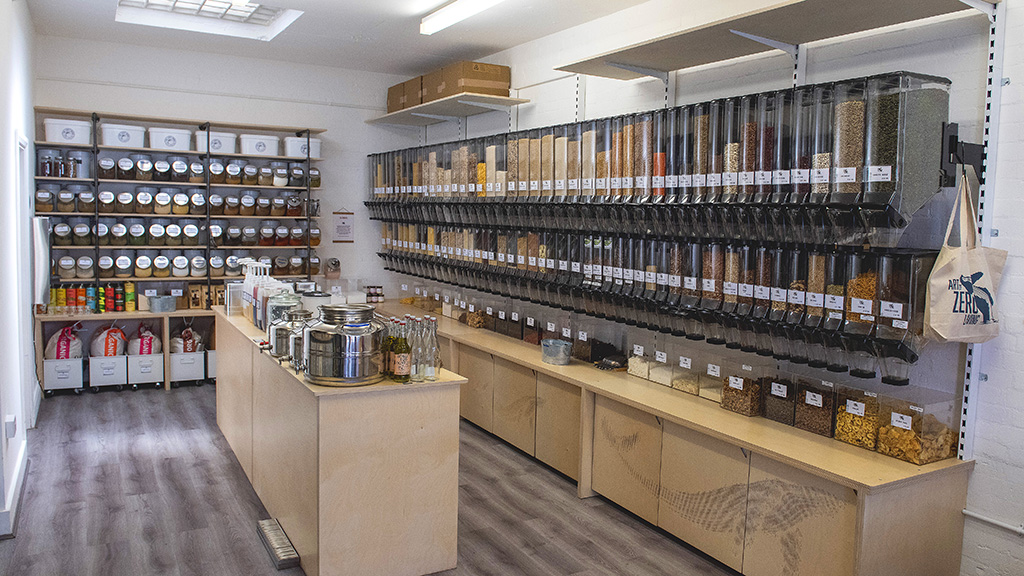 what will people find in the shop?
Vita: High quality, natural, sustainable food and other products – absolutely nothing that has chemicals in it.
It's all about being able to trace each product from the beginning to the end of the supply chain. We can provide all the information customers need and we believe in organic food and use all the products ourselves. I'm happy to stand by every single one – if we didn't like it, we wouldn't sell it.
Justas: We've done eight months of homework and we're still doing it if we decide to bring in a new line.
Customers can buy as much or as little as they like because the things we sell are mostly not pre-packed. We try to eliminate as much packaging as possible.
Of course, for first-time buyers we provide paper bags and containers free of charge. We live this lifestyle so we know how to encourage people.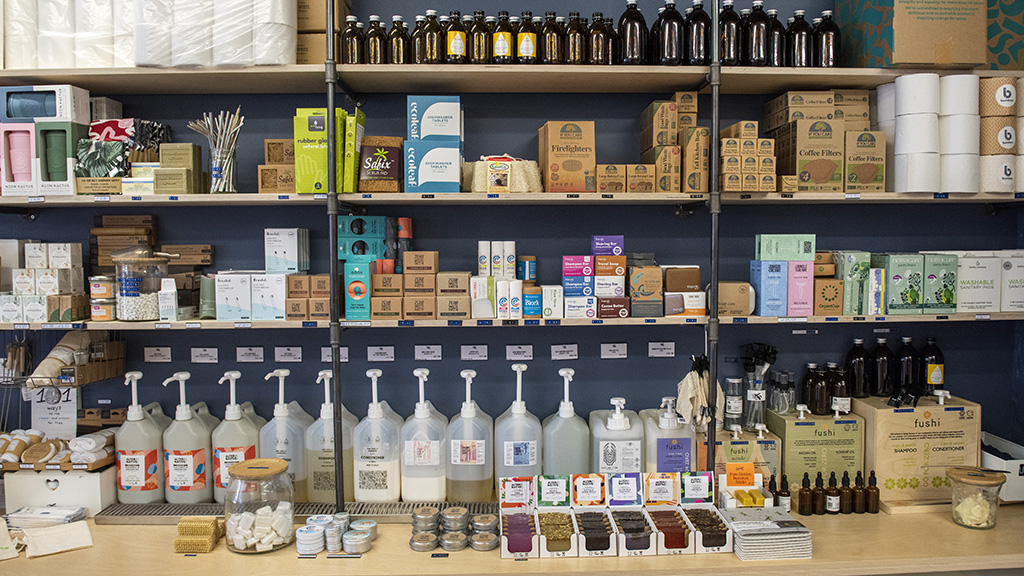 how does it work?
Vita: We explain that to everyone who comes through the door for the first time. Either people go back home and get their jars and containers, or use our bags.
I remember my first time shopping in such a store – it's very strange if you're used to a supermarket. You're afraid to drop the beans or that you might put something in the wrong place, because it's complete freedom for you to help yourself.
But nobody should worry – we're always there to advise customers that it's fine, that they can make a mess and it's normal. The shop is designed for this. Then they laugh and we make them feel welcome. We want Greenwich to know that we exist, because we are affordable. We said that we were not going to be expensive, even though we are organic. People should be able to afford this food and bring their own containers.
Justas: We've had Australians come to our shop – many of them – and they've said shops like this are on every corner in their country and wonder why it's not like that in the UK. We are the first shop like this in Greenwich.
how would you like to develop the brand in future?
Vita: Business is getting better and better – we knew that at the beginning it was going to be very hard.
No-one made a shop work in two or three months, it takes time – one year, maybe two – we don't know. But this is our idea, it's our lifestyle and it comes from the bottom of our hearts, so we're going to fight for it.
Justas: One of the good things is that everyone can buy from us, because they are not forced to buy a lot. We have literally had people spending 83p on nuts or some pasta.
I hope this shop will bring us more attention in general, and maybe we'll start a bigger project, perhaps open a few more or maybe teach kids in schools – that would be nice. It's not only business, it's spreading a message.
Read e-editions of Wharf Life's print edition here
Subscribe to our regular newsletter here