Founder Levan Peart talks dance at UEL, Britain's Got Talent and expanding his London operation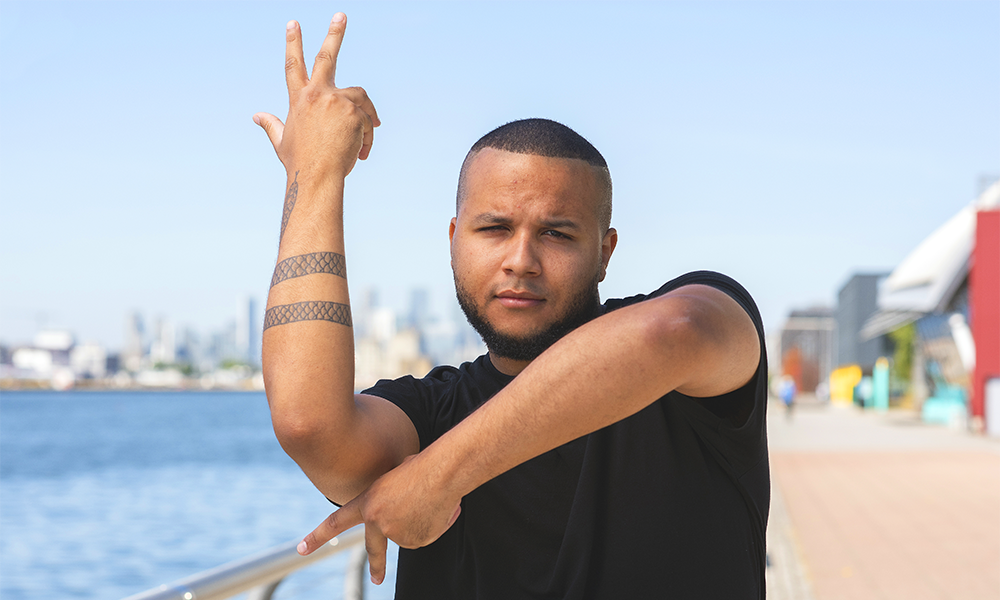 Subscribe to Wharf Life's weekly newsletter here
"Dancing feels liberating – to be present and grounded in the moment gives me an outlet and a medium to express, be and present myself and to connect with others – it's powerful," said Levan Peart, dancer, student, choreographer and social entrepreneur.
The founder of community interest company (CIC) Blackout Dance Camp is constantly striving to harness that power as a way to combat mental and physical health issues.
"I really think they are synonymous – when you address one, you address the other," he said.
"In the digital age, we can be frequently distracted – with social media, for example – so it's great to come into a space, connect with others and to have that freedom of expression.
"The exercise also releases endorphins so it generally improves your state of being and it stimulates your cognitive abilities because you'll be using your brain in ways you're not used to.
"You're having to think and coordinate with your body but at the same time, release and let things flow."
As a child, Levan danced with his siblings, discovering a passion that has been the foundation of his activities and one he is driven to share.
"I've loved dance since I was young – getting home from school and watching dance movies like You Got Served, Stomp The Yard, Streetdance, Step Up and Honey, and dancing to the music channels non-stop," he said.
"Then two of my sisters and me joined a dance school having seen a story in the local newspaper.
"I'm from Telford originally – a very small town with not many opportunities and not much diversity, but we joined that group and that exposed us to the street dance world a bit more.
"Then my sisters, me and some other people split off and formed our own group called High Definition, which appeared on Britain's Got Talent.
"My sisters and me also did Sky One's Got To Dance when we were growing up as well."
While still in his teens, he first created Blackout at school, entering national competitions before the project evolved further.
"I'd been approached by some parents who wanted me to involve their dependants in dance, so we formed a group, with regular classes and entering competitions," said Levan.
"From there, things just snowballed – I was getting into working with schools and meeting more and more teachers who wanted our services."
Next came a partnership with local community centre The Wakes, offering free dance sessions to young people from low income backgrounds.
"That felt incredible – to give that gift of dance, because it was something, growing up, that I struggled to access," said Levan.
"It was a real pleasure to be able to give that for free and there was a massive demand for it as well."
Through that project, he was put in touch with Nicky Kent of Social Heart CIC who helped him set Blackout up as a social enterprise, before a move to London's Royal Docks beckoned.
"I knew I wanted to get onto the Dance: Urban Practice course at the University Of East London (UEL), years ago," said Levan.
"It's the only course of its kind and I knew with my roots that this was the sort of environment I'd feel more aligned with.
"I'm not classically trained, I don't have that background and this programme covers dance from other origins.
"But it was a bit of a lost dream. I didn't have the right credentials to get enough UCAS points to be accepted.
"However, I did manage to get onto the New Beginnings access course at UEL – that meant travelling every week from Telford to London, a round trip of five hours."
Having completed that programme and been accepted onto the undergraduate course, Levan is now seeking to develop and expand his activities with Blackout in both Telford and London.
"For me, it's being able to balance Telford and London, because Telford is part of my roots and it's somewhere I'm passionate about," he said.
"The course at UEL has exceeded my expectations. For me it's been an incubation period, a time of transcendence – spiritual, mental and physical growth.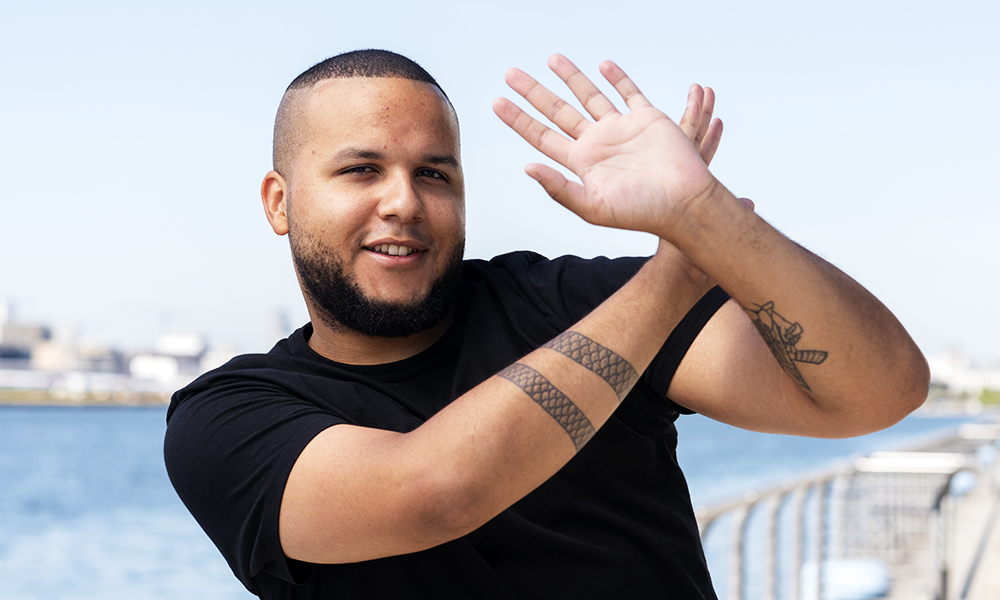 "Being exposed to new networks and meeting new peers – it really is a different life coming from a cold spot in the UK to such a bustling city, which is thriving and full of opportunity.
"With Blackout, we're at the stage now of establishing a presence in London and the course I'm on at UEL is exposing me to a whole group of people we can look to work with in the delivery of our own funded projects, going forward.
"We offer a range of specialist dance, education and wellbeing services, integrating Caribbean-style dance with commercial dance to create our signature style.
"Our organisation is split into three segments. There's the educational element, where we go into schools and deliver mass movement workshops where we can reach up to 400 children at any one time.
"We have our participatory element, which is our dance camps, workshops and intensives.
"The main aim of that is to bridge the gap between industry settings and community settings – to level the playing field for those from marginalised backgrounds.
"We welcome beneficiaries from all walks of life, however we do have a focus on members of black and ethnic minority communities, LGBTQIA+ dancers, neurodivergent groups and those living in low-income areas.
"The third element is performative, where we have showcases and the opportunity for beneficiaries to take part in short films and screenings."
Right now, Levan, 22, is focused on growing Blackout's operations in the capital.
"I want to continue to build up our programmes in schools in London – to build up a strong roster of people that we can use to deliver these services," he said.
"There's only so much you can do with a small team, so collaboration is key for the kind of mission that we have.
"I want to expand the team, expand the roll-out and also the organisation so there's more time to focus on the artistic vision.
"Eventually it would be nice to create full-length films to raise awareness about issues we're tackling through our work.
"Potentially, in the future, we'd even like to look at theatre.
"At the moment the programmes we offer in east London with our short films are on a call-out basis, so people should keep engaged with our social media profiles (@blackoutdancecamp) and keep an eye out for project opportunities."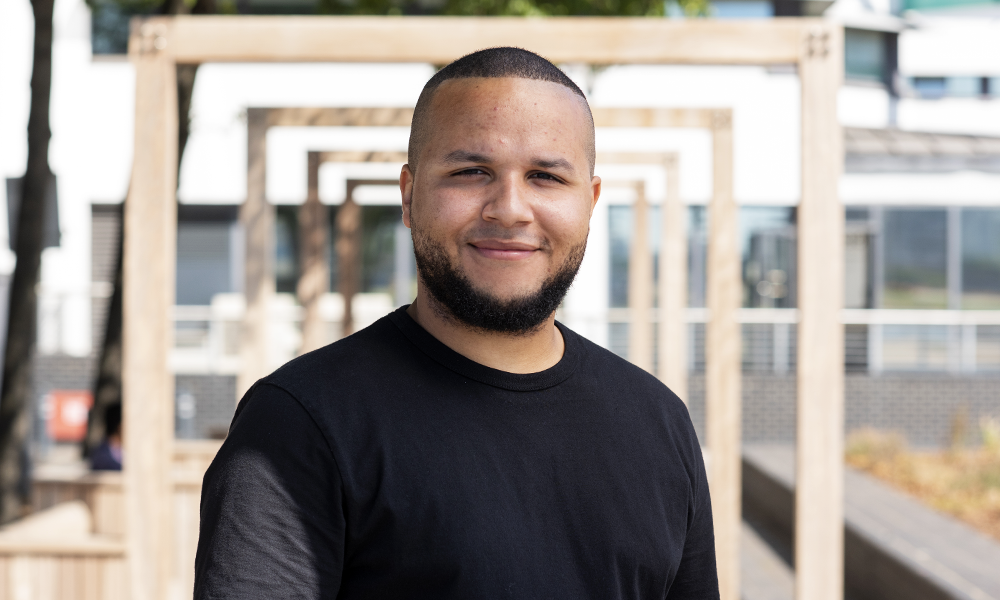 GAINING RECOGNITION
Levan has recently been honoured for his achievements at the Student Social Mobility Awards organised by charity upReach, attending a ceremony at the House Of Lords hosted by Baroness Helena Kennedy.
As well as winning the top Creative Industries Sector Award, he was also named as one of the upReach 10 in recognition of his grit, resilience and determination.
The accolade comes on the back of his success in winning the top prize of £2,500 in an incubator pitch competition organised by HSBC, where he impressed the judges with his entrepreneurial vision.
Levan said: "Winning that money didn't feel real for a moment, especially as UEL is so close to HSBC's tower.
"I was shocked but really grateful. It means a lot when you know where you came from and what you've had to do to get to where you are. It felt really good to get that external appraisal.
"With the Social Mobility Award, I didn't think someone from my demographic and origin would ever enter the House of Lords and take these awards with me.
"It's a demonstration of what we can achieve if we work for it.
"This recognition has made me more determined than ever to succeed. I feel like this platform has made me more accountable to myself.
"I've set a benchmark and I know what I'm capable of.
"I'm ready to spread my wings and help create a better society for Blackout's beneficiaries.
"That's the core of what I'm doing with Blackout – improving the lives of others."
Read more: M restaurant opens in Canary Wharf
Read Wharf Life's e-edition here
Subscribe to Wharf Life's weekly newsletter here
- Jon Massey is co-founder and editorial director of Wharf Life and writes about a wide range of subjects in Canary Wharf, Docklands and east London - contact via jon.massey@wharf-life.com