Co-created by German Olympian Moritz Fürste, the event will see thousands compete at the venue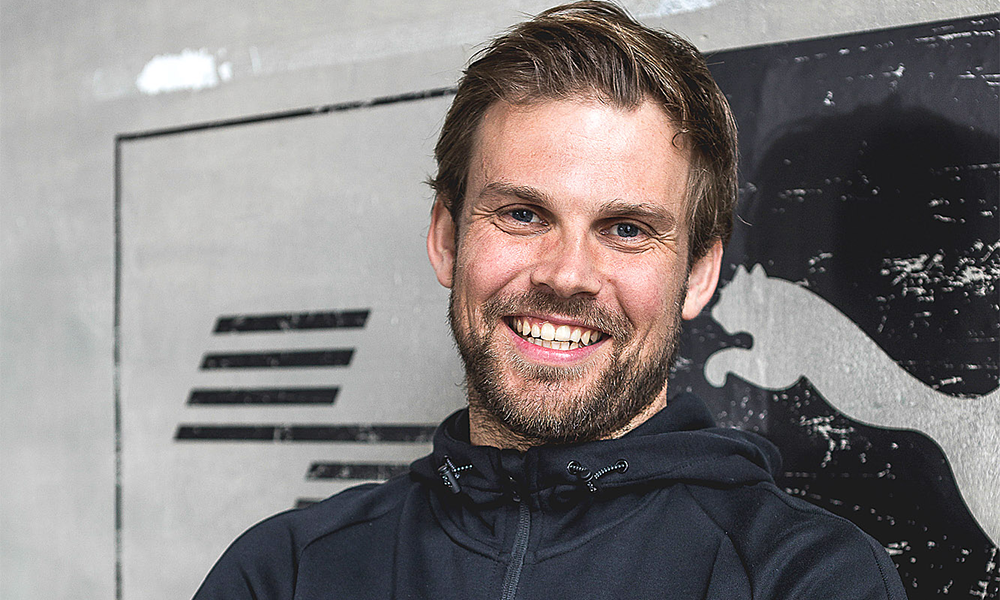 It's fair to say Moritz Fürste has a bit of a soft spot for east London.
The German won the second of his two Olympic Gold medals for hockey at the 2012 Games in Stratford, celebrating victory in Canary Wharf – although he can't remember exactly where. The party was obviously a good one.
But what do you do after you've reached the pinnacle of success in your chosen sport?
In Mo's case, the answer is to team up with global sports event expert Christian Toetzke and advertising and marketing specialist Michael Trautmann to create something new. Then spread it all over the world.
Hyrox is that thing and it's set to arrive for the first time in the UK at Excel in Royal Docks on September 25 with sister events in Birmingham on October 30 and in Manchester on January 29 as its fourth season progresses. But what exactly is it?
"Hyrox is a new sport that doesn't fit into any existing category," said Mo. "The idea was not just to create an event, it was about founding a complete new sport in the world. We're pretty convinced that we've discovered a field where there is a niche not used before.
"Go back 10 years and people would go to the gym, but they were often basketball players, football players or whatever.
"Nowadays more that 50% of the people that go the gym say that fitness is their sport, so that was the founding idea of our company. We had this thought of a competition, a race for those people.
"People want to show their skills and what they've learned. Fitness people are often very competitive, but there's no obvious way to showcase what you've got.
"Of course, there are very cool sports like Crossfit, which is like for the top 0.1% of the fitness world. Then there are obstacle races, which are cool, but they're not meant to be competitive – they're more about completion.
"Hyrox is a mass participation event for fitness, just like triathlon is a mass participation event for endurance. Essentially it's a combination of fitness and running, so that's why I call it a race."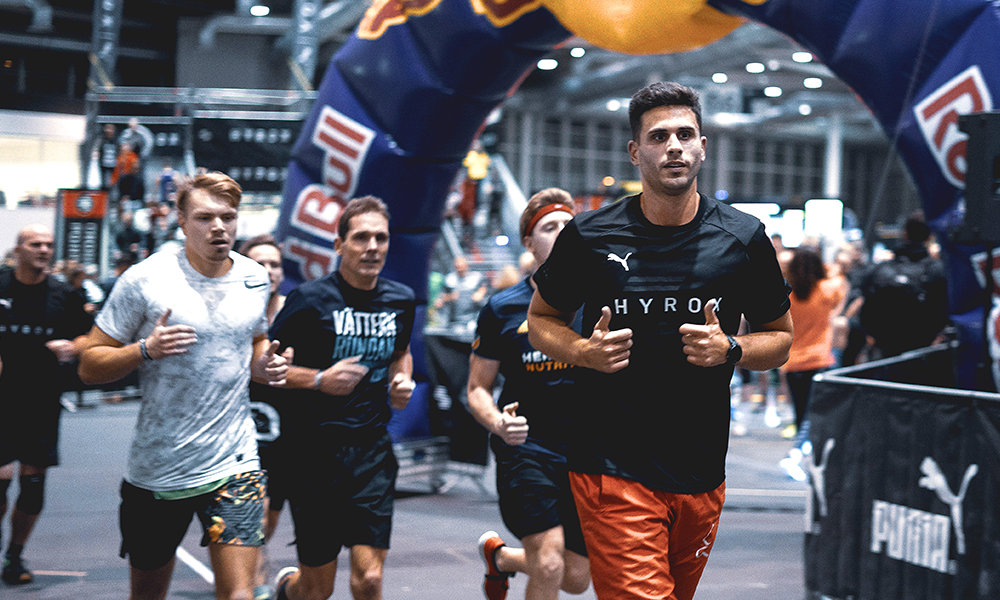 The format is comparatively simple – eight separate exercises separated by eight 1k runs. The aim is to complete the whole course in the fastest time possible.
"The exercises are always the same," said Mo. "The eight workouts after each run are always in the same order and they are doing 1km on a SkiErg, which is like a vertical rowing machine, then a sled push, where you have to push it over 50 metres of carpet.
Next you have to pull the sled back, then there are some burpee broad jumps for 80 metres in total and 1km on a rowing machine followed by a farmers carry with kettlebells.
"Then there are the sandbag lunges, with the weight on your back for 100 metres. The whole thing finishes with 75 or 100 wall balls.
"It's always the same workout, because we are convinced that successful sports all over the world don't change their logic every year. I think that people want to get better at what they do.
"The first question people ask when you finish a Marathon is what time did you finish in? Everybody can compare it, and then the next time you start you can compare it to your own time."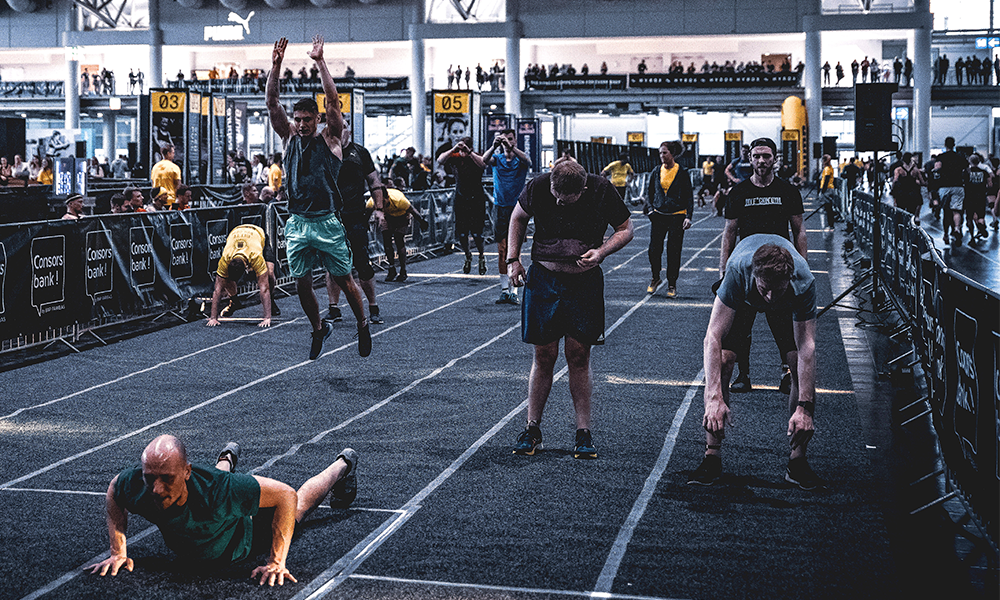 Mo himself completed the course in an hour and 20 minutes – about 15 minutes quicker than the average men's open race time – and holds the current Hyrox office record.
With events held across Europe and the USA, the current world record stands at 55 minutes while Mo said the slowest recorded time was "by a really nice guy in Chicago" who did it in three hours and 25 minutes.
With around 3,000 competitors at each event, a battalion of judges keeps watch over each event to ensure nobody is cheating. Those flouting the rules get a warning, a second warning and are then disqualified.
The UK represents a significant expansion for Hyrox, which will hold 35 events worldwide this season. Competitors compete for a place at the World Championships, where those with the very best times vie for the title.
"We're excited to be in the UK, because the UK is a massive fitness market," said Mo.
"The percentage of people signed up to gyms there is so much higher than the rest of Europe, except for Scandinavia for some reason.
"It's very interesting to see the amount of money that's spent in that area. People who do stuff like that buy the best shoes they can possibly get, because even the worst runner doesn't want their shoes to be any worse than they already are.
"London is the biggest city in Europe, so we're more than excited to get over to Excel.
"The biggest difficulty for us, regarding the UK events and introducing Hyrox to a new market is that people think it's not accessible from a strength and performance perspective – that's so far from the truth.
"We have a 99% finish rate – 99 out of 100 who start, finish the course. It is tough, really tough, but it is accessible – everybody can do it.
"There's not a workout where people keep telling me that they couldn't move the sled – we haven't seen that, ever. It's on a carpet, it's tough, but you will finish it. That's really important for us to explain from the beginning.
"Also, if they don't want to do it by themselves then they can do it in the doubles competition, because there's the mixed option where you share the workload."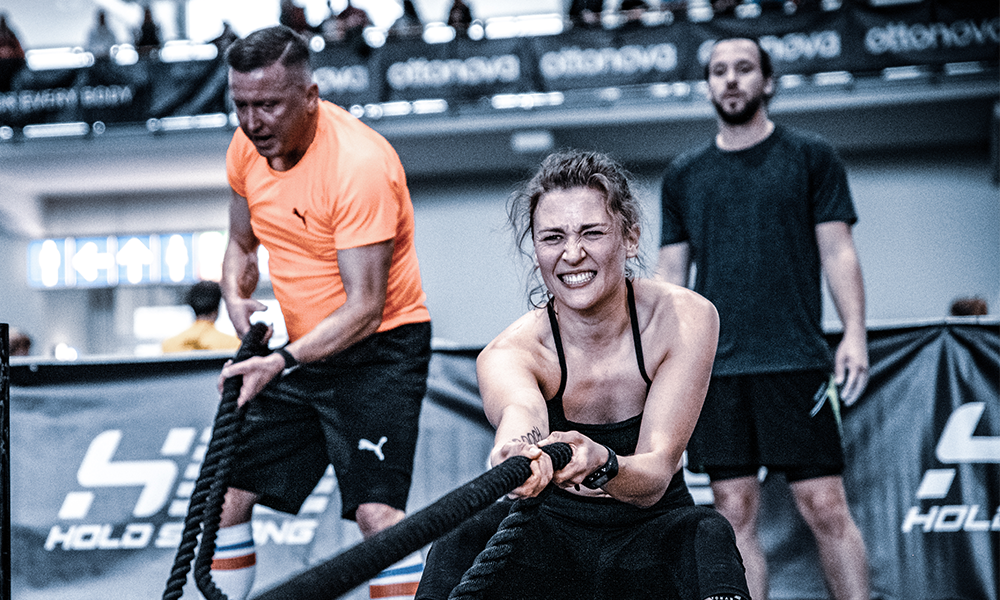 Prospective individual participants can register for the standard men's and women's races or the pro men's or pro women's competitions for £74 per person.
Single sex or mixed doubles registration costs £129, with spectator tickets available for £10, including a £5 gift voucher for use at Hyroxworld.
"Training for Hyrox is very tough and you have to run, so endurance is very important but, at the same time, you have to be a complete athlete and training for that is healthy," said Mo. "It's not like doing a marathon which is very hard on your feet and calves.
"Not a single muscle gets bigger than it should be – you don't have to run 42k – it's eight times one and that's a big difference.
"Running 8km is one thing, but running eight singles is a completely different ballgame.
"I really think Hyrox has the potential to be an Olympic sport one day. It's the perfect competition missing from the fitness world.
"Many people have been waiting for this kind of race to show up. Will we be at the Olympics in five years? Probably not. In 10? I don't know, but I think that's the path we should aim for.
"If not in the Olympics, at least making it that big and, if that doesn't work out, we'd like to grow it to something like the Triathlon World Series or the Marathon World Series and have it known as this huge world fitness event or race that people like to attend.
"In Germany we have about 450 gym partnerships – places that pay a small licence fee for a year to use the name and the workouts, which is a very cool offline marketing tool for us and allows people to train.
"I know that we have 18 partnerships in the UK so far and counting. That's something we'd like to expand as Hyrox continues to grow."
Read e-editions of Wharf Life's print edition here
Subscribe to our regular newsletter here