Co-founder Eleanor Warder talks inspiration and sustainability as the brand opens in Canada Place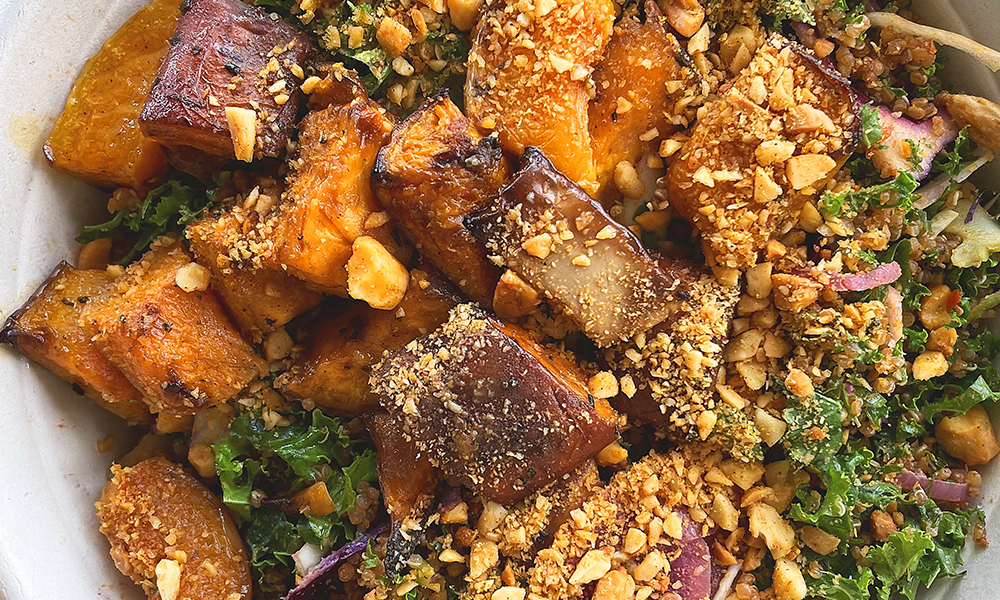 Subscribe to Wharf Life's weekly newsletter here
Canary Wharf has, as far as I know, only one takeaway brand that draws part of its identity from ancient mythology.
Atis takes its name from the Phrygian god of vegetation – a deity whose death and resurrection echoes the plants and trees that die in winter only to rise again in spring and whose cult spread from what is now Turkey through Greece to ancient Rome.
The branch the company recently opened in Canary Wharf is its fourth location but there are two more in the pipeline.
Evidence perhaps that its founders – husband and wife team Eleanor Warder and Phil Honer – would like to see the brand spread as widely as worship of its mythic namesake did in ancient times.
That, of course, will ultimately be down to the appeal of what it sells – bowls of salad with an approach inspired by time spent overseas.
"We lived in America for a bit before we launched the business in 2019," said Eleanor. "Phil was doing an MBA there and I joined him.
"We'd always wanted to do something in food.
"Phil had worked in financial services in London after university and always felt there was something lacking – a place offering simple, fast, healthy, delicious food.
"They say America is always a step ahead and they have companies like Sweetgreen there which are huge – all over the west and east coasts.
"We went there and to similar places a lot when we were living in Boston – we drew inspiration from them.
"So we came back to the UK in the summer of 2018 and spent a year developing the concept.
"It was particularly difficult in the beginning – when we were unknown – and finding our first location took about a year, but we opened in Old Street in September 2019 before going on to launch sites in Belgravia and Notting Hill.
"We want to grow and expand. I'm not sure we'll ever be the next Pret, although that would be fantastic.
"For us it's about quality, brand and experience – so we have to keep that in mind as our company gets bigger."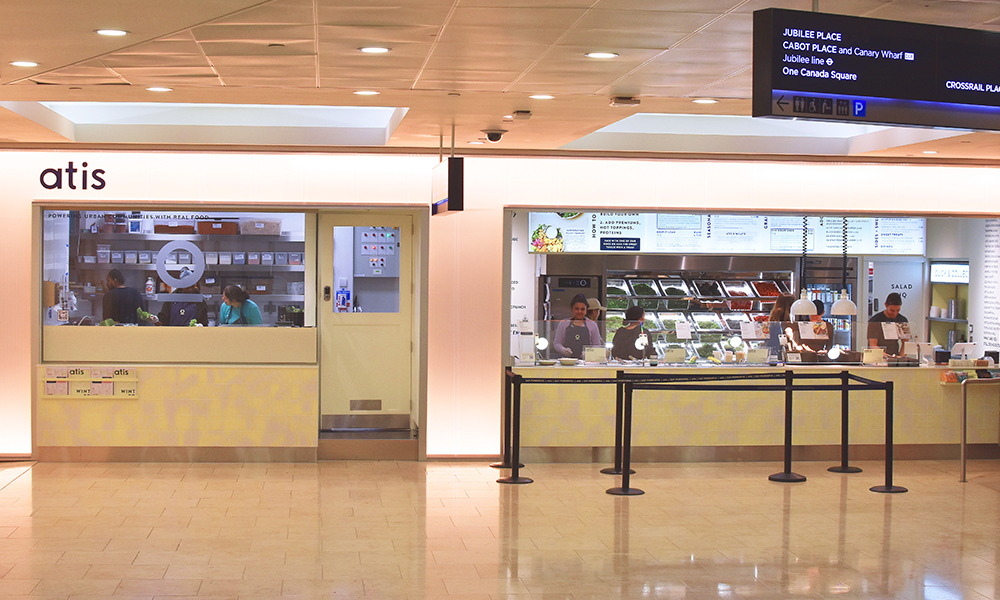 Atis does things a bit differently. About half of the unit it has taken in Canada Place's Crossrail Walk – between Waitrose and the Elizabeth Line station – is filled with staff preparing and cooking the ingredients it serves.
On the other side, a production line stands ready to put together its core range of seasonal salad bowls ranging in price from £6.50-£9.60 for a regular or £7.50-£10.70 for a large.
There's also an option for customers to build their own for £6.90 or £7.70.
Hot and cold premium ingredients are extra. The aim is to offer Wharfers filling, satisfying products that deliver on flavour – something Eleanor knows all about.
"We have worked with a really brilliant, creative chef to develop core bowls that are really interesting," she said.
"When people walk in, they see the line is predominantly fresh produce.
"The colour is really important for us – and the taste – so people get the full experience of the food they are buying.
"We're trying to create a balance between being innovative and giving people what they want. For example, people really love tomatoes, so we do them straight, rather than doctoring them.
"But then we have a section – our hot protein element – where we take things up another level cooking ingredients using lots of spices and marinades.
"This is our main selling point.
"You can have a bowl at Atis that is fully vegan or vegetarian
but people can also add our blackened chicken, for example.
"We toyed with the idea of being completely plant-based, but we decided against it because our ethos is that we shouldn't cut out food groups.
"The idea is that people can have meat one day and choose not to on another – they have that flexibility.
"The most important thing is that whether it's regular or large, our bowls leave people feeling satisfied and nourished.
"There's this old idea that salads are potentially quite grim and won't fill you up.
"We're trying to change that so our customers feel what they are getting is satisfying, good value for the price and high on flavour.
"My background is in the wine trade, originally in a startup importing and selling to small independent restaurants in London before I moved into hospitality and became a sommelier.
"With Atis, my focus is very much on the food we serve, developing the menu and the marketing.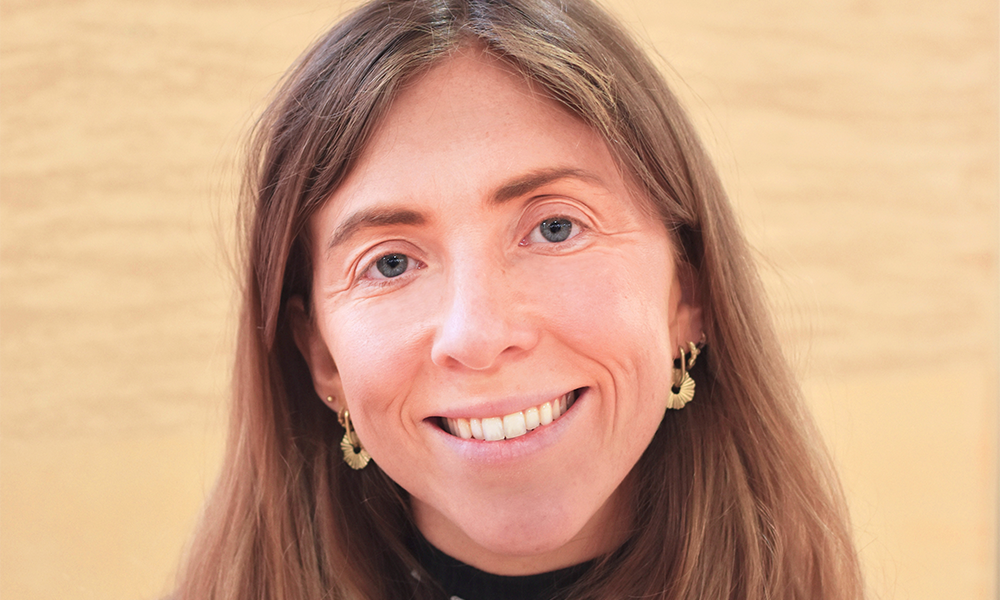 "Personally, I flip between ordering the core bowls, and then building my own.
"The latter is very popular, especially on our online platforms, which shows you that people do want control and flexibility over what they eat."
While Atis probably has Eleanor's joint honours degree in classics to thank for its name, its presence in Canary Wharf has more to do with Phil.
"Canary Wharf was already on our minds when we started the business," said Eleanor.
"Phil was very keen and had identified it as a place that would be really good, and I think he was completely right.
"He had worked here, knew that there would be a demand for us and that there were other operators doing really well on the estate.
"The real appeal for us is that our customers are a balance between commercial and residential, and the vertical density of population on the estate is really great for our business."
In addition to nourishment, sustainability is at the core of Atis' operation.
Eleanor said: "It's an area that's increasingly important for us, as it should be, and it's been a big learning curve – especially on the packaging front and it's something customers expect.
"What we have found is that parts of the UK don't necessarily have the infrastructure to be able to deal with recycling in the right way and that's quite shocking.
"People think they're doing good – putting their waste in the correct bin, but there's a whole other side to it, which makes things challenging.
"Coming into Canary Wharf – which is right at the forefront of sustainability – we've learnt that everyone has to really concentrate on making sure what should be happening actually is.
"Obviously there is also the food itself. We are plant-powered and that's a huge element when we're talking about sustainability.
"The UK is a small country and we can't get everything we use from these shores, but we do source whatever we can locally.
"We also have seasonal focus – changing our menu four times a year to reflect what's available and considering carefully what we can get from the UK.
"Right from the outset we've also been working with different partners, one of which is Too Good To Go, which helps to pass on food that would otherwise go to waste at a reduced cost."
Atis is open in Canada Place from 11am-9pm Mon-Thurs and 11am-3pm Fri-Sun.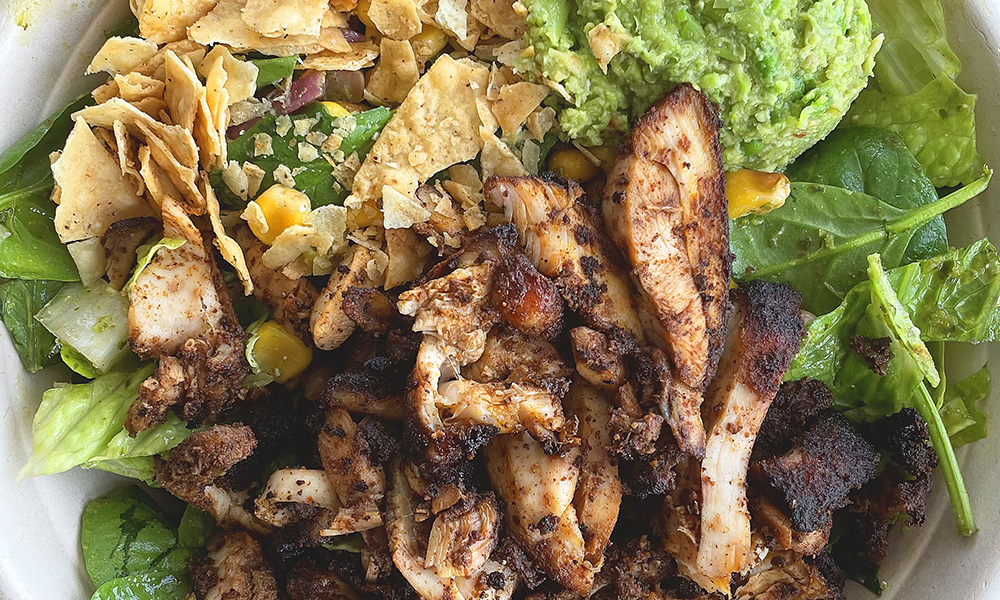 HOW IT TASTES
Azteca Bowl, £14.10 (£10.70 large bowl + £3.40 blackened chicken)
Large really does mean large when ordering from Atis.
The Azteca isn't quite a bottomless bowl, but by the time I'm done munching through the (optional) blackened chicken, there's little doubt the brand's mission to fill me up is a success.
This is more than just unctuous slices of well-cooked protein draped over some leaves, however.
There's real depth to the Azteca, coming as it does with black eyed beans, charred corn, baby spinach, chopped romaine lettuce, something called "sustain yo'self avo smash", picked red onions, Feta cheese and some crumbled tortilla chips all topped off with a lime and coriander dressing.
At a chunky 965 calories without the chicken, it's a pretty serious pot of food but there's a freshness to it that makes good on all Atis' fine words.
I've no idea what's in the smash, but it's delicious and comes together perfectly in a blend that's balanced enough to let all the big ticket flavours have their space.
If the other salads are this good, Atis will rapidly find its place in the hearts of many Wharfers.
Read more: How Bread And Macaroon serves up treats in Wapping
Read Wharf Life's e-edition here
Subscribe to Wharf Life's weekly newsletter here
- Jon Massey is co-founder and editorial director of Wharf Life and writes about a wide range of subjects in Canary Wharf, Docklands and east London - contact via jon.massey@wharf-life.com