FlawBored's Greenwich Theatre show employs satire and glittered-up canes to explore its topic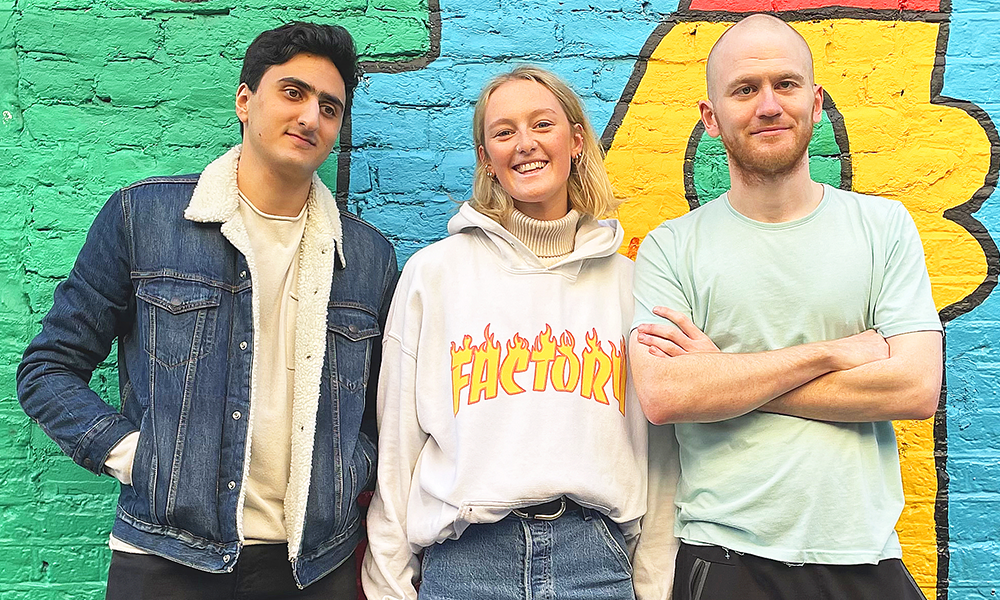 Subscribe to Wharf Life's weekly newsletter here
"I think there needs to be a big shift in theatre to consider disabled audiences, and how you can make work that aims to be more inclusive," said Chloe Palmer.
"No show is ever going to be 100% accessible, but having companies that are evaluating what they can do and how they can support people with disabilities has been a catapult for us."
Actors and devisers Chloe, Sam Brewer and Aarian Mehrabani make up FlawBored – an emerging, disabled-led company – that's set to stage three performances of its debut production at Greenwich Theatre in September, 2022.
A work in progress, It's A Motherf**cking Pleasure is a satire encompassing blindness, influencer culture and non-disabled anxiety about trying to get things right and do the correct thing.
"It's really good fun, not harsh and nasty," said director Josh Roche.
"It's about the way some people presume to know what is good or useful for those with disabilities and gently mocks that anxiety.
"It's very funny, very fast-paced, very playful, and it tends to let you know where the floorboards are and then unsettles you and turns things on their head.
"It's also about how disabled identities talk to each other and how they're competing for space.
"It focuses on a young influencer who is trying to give disability a social cachet and the compromises they have to make, just like other social justice movements at the moment."
The hour-long show follows "megalomaniac blind talent manager" Tim who's on a mission to rebrand disability with "ambitious but naïve" blind influencer Ross as his possible golden ticket.
Audiences can expect glittered-up canes, blind TV spin-offs and hijacked political causes in the mix. It's fair to say there's a lot going on, with accessible layers to match.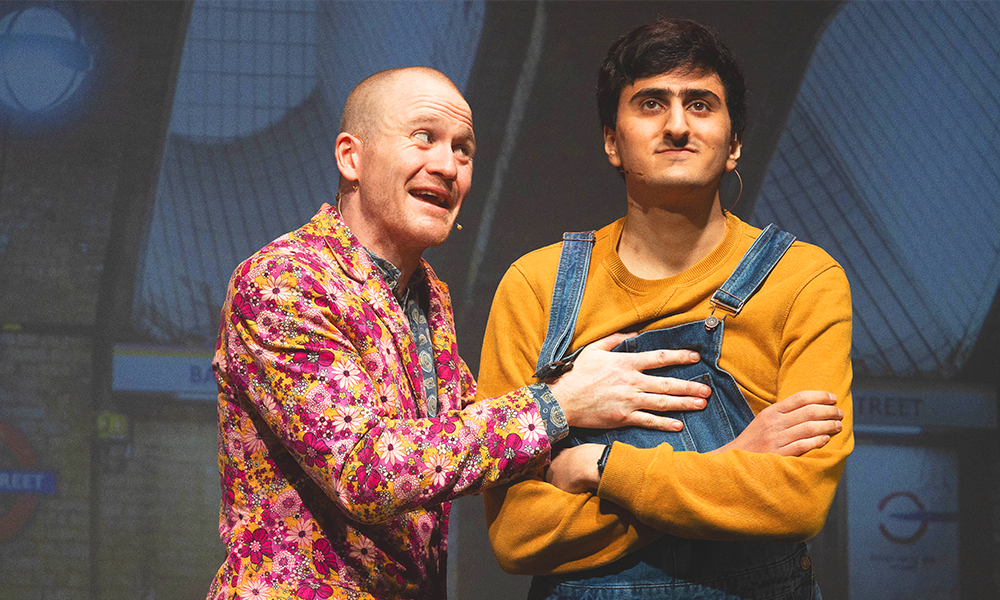 "This is a piece we've worked on for a year," said Chloe.
"Sam came up with the original concept and approached Aarian and me to ask what we could do to explore how blindness could become dramatised?
"We then spiralled from that. A lot of our process is based on doing research and focusing on ideas we want to explore within the theatre world.
"We go away and explore a question and, because access is so important to us as a theatre company, we also make sure that every idea we come up with can be made accessible.
"Alongside the devising, we have an access language and we look at how captioning and audio descriptions can be integrated into the script and scene – it's not something we do at the end with limited time.
"Sometimes in theatre the audio descriptions are done by companies who don't have much to do with the production process, but we say that you should start with access in the forefront of your mind and it should be turning in your head while you create work, which will be enriched because of it.
"You think about the language you can use in a play and the form it can take, and access is just another language, which allows the audience another way to experience your work.
"For example, captions can add an extra layer of experience for anyone who can read them and you can use them however you want.
"I think the support we've had for this project is a testament to the fact that a lot of theatre is still inaccessible.
"You've got people exploring these languages but not necessarily the know-how to use them."
In some senses that's less of an issue for FlawBored because Sam and Aarian are blind.
Having graduated from the Royal Central School Of Speech And Drama in 2020, the three actors teamed up with the idea of making a show together, before finding support and funding in the form of a company.
One of the missions of that company is to put blind characters on stage that don't conform to tired stereotypes.
Sam said: "I'm blind and so is Aarian, but we are very different people. We simply find ourselves lumped together by the happenstance that we are blind.
"This is one of the things we're trying to find our way around.
"There are a lot of tropes around vision-impaired characters, historically – oracles in Greek tragedies, soothsayers, characters who see the world differently – that's all rather boring."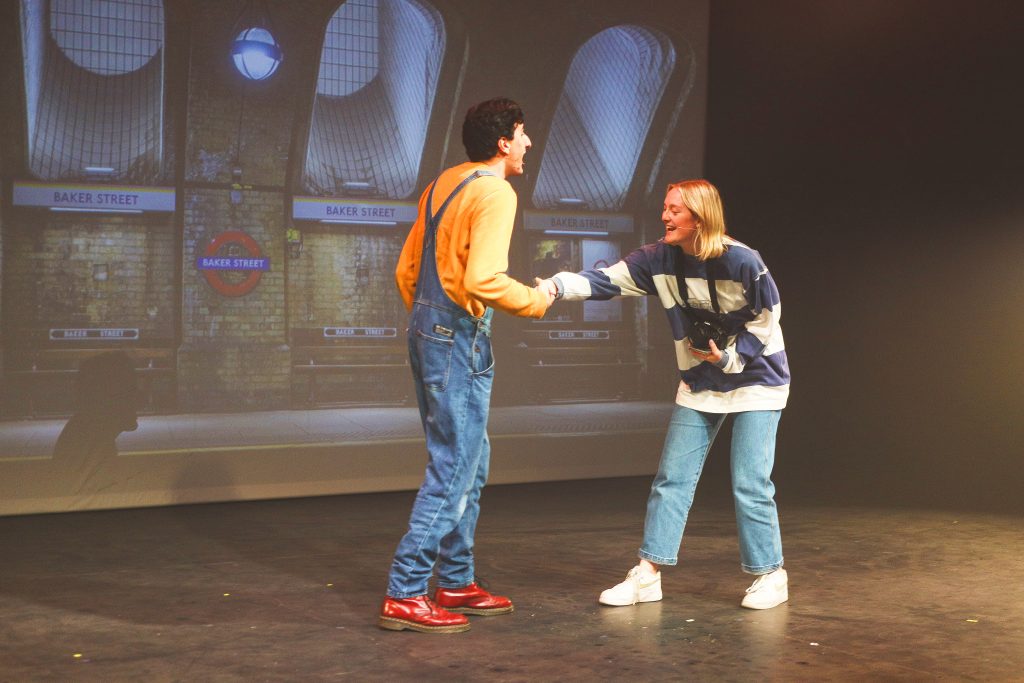 Aarian added: "We're trying to show that people are an amalgamation of many identities – our gender, class and nationality, for example – blindness is just another one of those differences.
"Sam and I are both visually impaired but that's just where our similarities cross – we've got completely different life experiences.
"All of the characters in It's A Motherf**cking Pleasure are fully rounded and deep. Inherently they all have loveable and likeable characteristics, but are also deeply flawed.
"It's a complicated relationship between the characters and the audience and we never want to be saying: 'These are the blind characters – and you know how to treat them'."
Josh said: "You always know which identities on stage are allowed to be themselves and which are treated with kid gloves.
"Visually impaired people are typically clairvoyant or see life in a deeper way than those around them.
"When you allow them to be just as flawed as all of the other characters in a play, you're understanding that visually impaired people are just people – they're as good or as bad as anyone else."
Having won support from Arts Council England, Greenwich Theatre (which presented FlawBored with its 2022 LET Greenwich Theatre Award), Theatre Deli, Camden People's Theatre, Les Enfants Terribles, Wildcard Theatre, Watermill Theatre and Extant, there's clearly an appetite in the industry for the company's work.
Sam said: "I think theatre can be really good at doing moments, but it's about how those artists can then be developed."
Josh added: "I think there's a difference at the moment in the way arts funding is focusing towards different identity groups and the way they're perceived in wider culture.
"I think there's a reverence about the way funding operates, which can be incredibly useful but can also be quite restrictive – it's not always as playful or bold as it could be.
"There's a distinction between this and, for example, the way social media represents different identities.
"The hope is that others will find it easier to develop work in these areas and these ways if people have already done it."
Performances of It's A Motherf**cking Pleasure are set to take place at 7.30pm on September 14, 2022, and 7.30pm and 2pm on September 15, 2022. Tickets cost £15.
Read more: Disabled dancer set to perform Sleepwalker in Canary Wharf
Read Wharf Life's e-edition here
Subscribe to Wharf Life's weekly newsletter here
- Jon Massey is co-founder and editorial director of Wharf Life and writes about a wide range of subjects in Canary Wharf, Docklands and east London - contact via jon.massey@wharf-life.com