Weekend dance spectacle returns to the estate as part of Greenwich+Docklands International Festival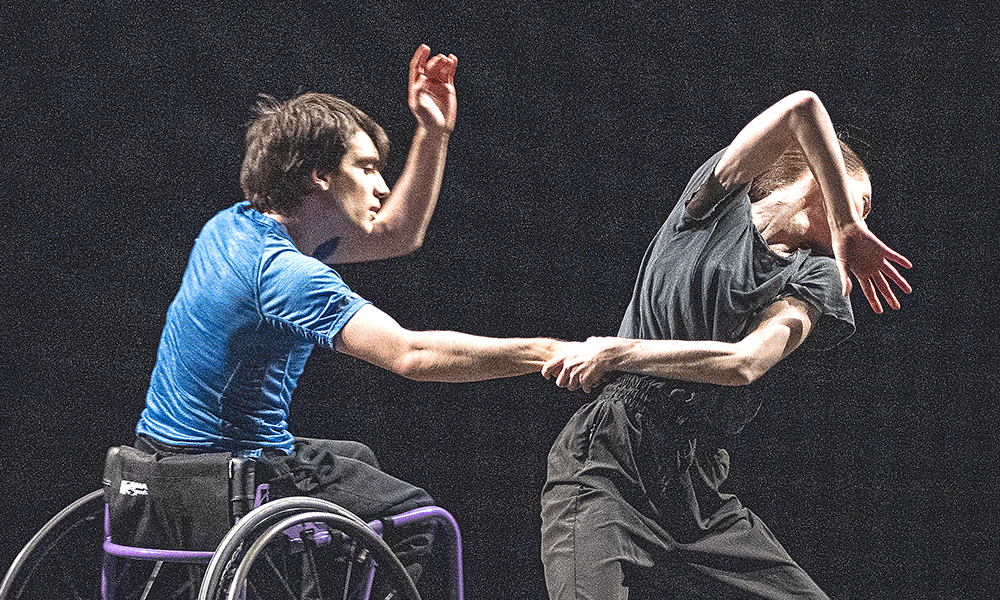 Subscribe to Wharf Life's weekly newsletter here
Dancing City is back.
One of the regular pillars of the sublime Greenwich + Docklands International Festival (GDIF) will once again take over Canary Wharf for a whole weekend, filling the estate with free shows for all to enjoy.
Running from 1pm to 6pm on both September 10 and 11, 2022, this year's outing will see 12 separate companies and artists put on some 22 performances in eight locations.
Consequently, its 2022 iteration offers the familiar opportunity to both explore the estate on a Saturday and Sunday, while catching some very high quality dance in the process.
While it's worth aiming to see all of the shows – GDIF has a well deserved reputation for giving a platform to artists of the highest quality – there's a real buzz around one of this year's pieces.
Sleepwalker is a collaboration between disabled dancer Joe Powell-Main and the Royal Ballet in a story that has almost as many twists and turns as the choreography.
Born in mid-Wales, Joe began dancing aged five, auditioning for the Royal Ballet School's junior associate programme, travelling to Birmingham to train every Saturday and going on to perform with the Birmingham Royal Ballet.
"From there, when I was about 10 years old, I auditioned for the Royal Ballet Lower School in Richmond and gained a place there," said Joe.
"There were dancers competing for a place from all over the world and they only took a dozen girls and boys each year.
"I studied there for about three and a half years, and I was lucky to perform with the Royal Ballet in Nutcracker."
But then disaster struck – a period of prolonged growth meant Joe developed problems in his left knee that led to surgery and further complications.
Then he was involved in a serious car accident that left him unable to use his left leg, meaning he had to leave the Royal Ballet School.
"That's when I acquired my disability," said Joe. "It was a very tough time. Since I was young, I'd poured my heart into dancing.
"My parents had supported me and taken me everywhere. I'd put all my eggs in one basket, and having the rug pulled from under me like that at 14 was not a nice thing.
"What was difficult for me as a child and as a teenager was that I had been very active.
"Then there I was, in a place where I was having difficulty with my physical mobility – it was difficult for me to see what I could do with my life."
It took some time, but Joe found his way back to dance.
His mother spotted some classes for wheelchair users on a trip to see his ballet teacher sister perform and, although they were in Manchester, the family made things work.
He spent a few years dancing Latin and ballroom, going on to win competitions before embarking on a performing arts course at college, initially in musical theatre before switching to dance with the encouragement of his teachers.
A degree in dance and performance at the Arden School Of Theatre in Manchester followed during which time he was making efforts to connect with ballet dancers with disabilities on social media.
These endeavours led him to connect with Ballet Cymru in Wales where he first attended a summer school, gained acceptance as an apprentice and joined the main company in 2020.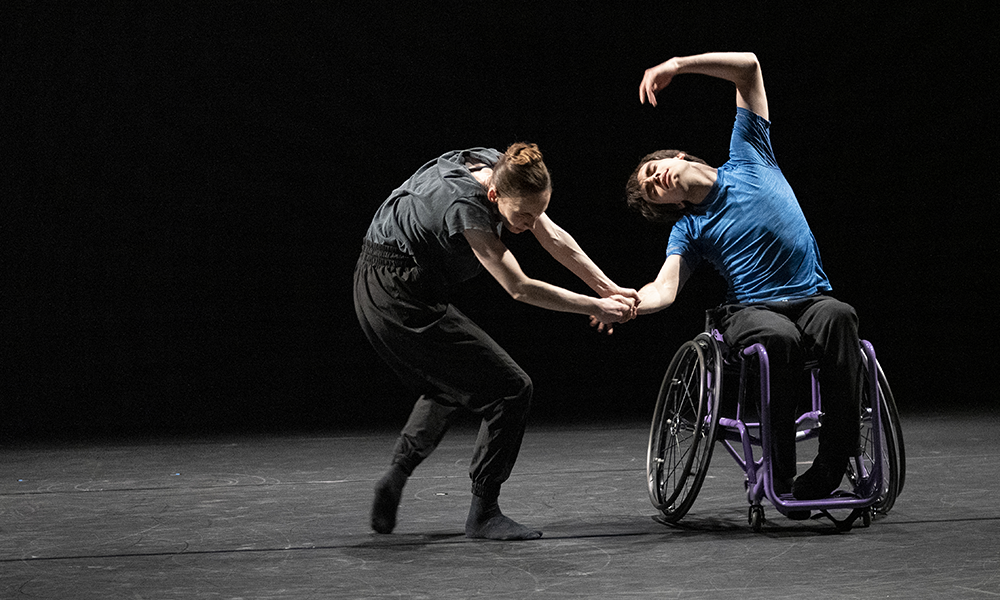 "Because of lockdown, it was a year of waiting, but in 2021 things started opening up and we did some performances of Giselle," said Joe.
"Then someone reached out to me from the National Lottery to be a part of the ParalympicsGB Homecoming ceremony.
"They also made the decision that it would be cool to reach out to the Royal Ballet, given my connection with them previously and we did a performance last September at Wembley Arena.
"That's how I became the first dancer in a wheelchair and on crutches to perform with the Royal Ballet and returned to that connection.
"I was asked if I would be interested in doing something for GDIF this year – another collaboration with a company – and luckily the Royal Ballet were really interested in keeping contact going between us and seeing what was possible."
That has led to Sleepwalker, a piece directed by Royal Ballet principal dancer Alexander Campbell, which explores themes from George Balanchine's ballet La Sonnambula.
"It's something people haven't seen before," said Joe.
"We started the process of creating the 10-minute piece in March with some research and development. I think there's a perception, especially with classical ballet that dancers make everything look easy but one of the beauties of this duet is that we're not afraid of showing the work that's going on
"I think the audience will have an expectation of what's coming next, but they really won't know. Also, because people will be all around us, everyone will view it slightly differently and that's exciting as well."
While he acknowledges that his childhood classical training prior to acquiring his disability puts him in an unusual position, Joe hopes his performances and career will serve to inspire companies to embrace greater diversity in the dancers they work with and the programmes they develop, not least so more people can enjoy the benefits of performance.
"While rehearsing, outside of performing, I would classify myself as quite shy," he said.
"I don't know what happens but when the music comes on and I'm on stage I gain confidence from somewhere.
"I'm not sure where that comes from, but it's very enjoyable.
"What's most important to me is the sound of the music I'm performing to.
"You can explore the choreography, but when it all comes together, that's the most exciting thing.
"In front of an audience I'm not the world's most confident public speaker, but when I'm dancing I can express things through movement – you don't need words.
"Even if it's a piece you know well it feels new every time you perform.
"It might be finding something different in the venue or in the movements and I find that really interesting.
"I've not been to Canary Wharf before but I've seen pictures and I think performing the piece outside will be a big change with people all around us.
"I hope that our audiences for Sleepwalker will have their perceptions of what a classical ballet dancer might look like challenged.
"I also hope they seek out opportunities to see more dancers like me.
"I hope companies will also be more willing to bring disability and classical ballet together – if we can keep an open dialogue, we can tackle anything."
Sleepwalker will be presented at 1.35pm and 3.55pm on both days of Dancing City at Canary Wharf's Columbus Courtyard.
DELIVERING THE FESTIVAL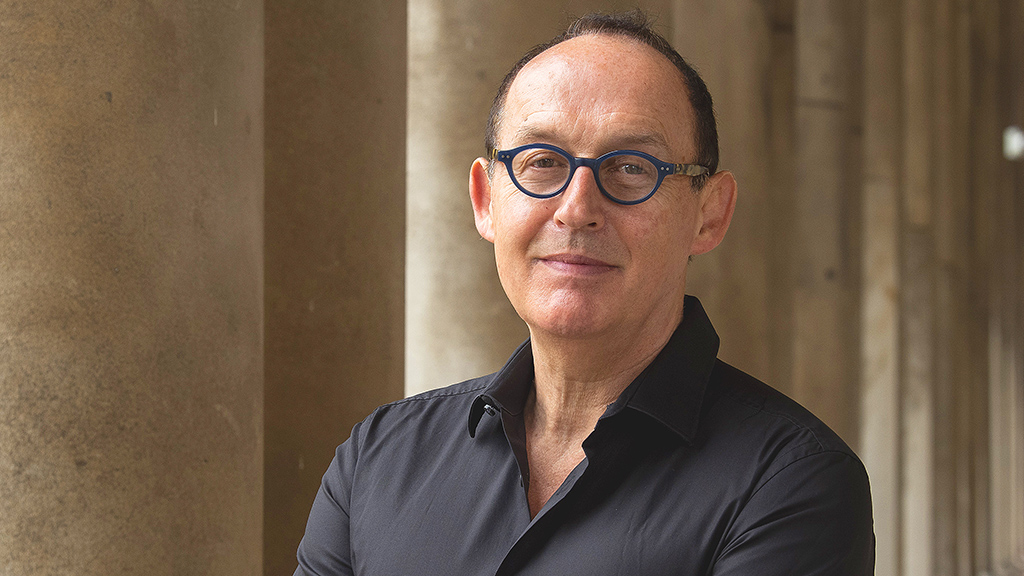 "As always, for Dancing City, we like to make a virtue of the stunning outdoor spaces, piazzas and waterfronts which characterise Canary Wharf," said GDIF artistic director Bradley Hemmings.
"We'll be down at Jubilee Plaza, Westferry Circus and Wren Landing, but we're also trying to explore more spaces on the estate than we have in the past so there will be events at Crossrail Place and at Harbour Quay Gardens at Wood Wharf.
"It's an event where you can imagine you're in a European city with all the squares and open spaces – that's the spirit of it.
"We all know Italy, Spain, Portugal and France, with their wonderful street cultures and that's what this part of the festival does for east London.
"This year we have a range of fantastic shows on offer including Migrare by Cia Maduixa, which is presented entirely on stilts as four migrant women fight for a new place to call home.
"Then there's Four Seasons at Westferry Circus by James Wilton Dance with capoeira, acrobatics, martial arts and classical dance all set to music by Vivaldi.
"There's new work from the hip hop company AndroidX + MHz called Crowd_Ctrl.
"This integrates movement with a projection screen behind, which will be like watching a choreographed graphic novel at Jubilee Plaza.
"That's a London premiere. And there are so many other things besides.
"We're so pleased to be supported by Canary Wharf to fill the estate with companies from the UK and overseas again for 2022."
Read more: Greenwich+Docklands International Festival is back for 2022
Read Wharf Life's e-edition here
Subscribe to Wharf Life's weekly newsletter here
- Jon Massey is co-founder and editorial director of Wharf Life and writes about a wide range of subjects in Canary Wharf, Docklands and east London - contact via jon.massey@wharf-life.com